It's official. The countdown to the two highest-grossing holidays has begun, and online merchants must take the necessary precautions to guarantee they are ready for the next shopping bonanza.
Black Friday and Cyber Monday are perhaps the most important shopping days of the year. Every year, individuals search for the best and lowest prices on every item to complete their Christmas shopping during this sale.
However, this year's shopping extravaganza will be a little different than previous years as Covid-19 is still a major worry at the moment. As a result, retailers are more likely to offer their goods through digital marketing and eCommerce. So let's have a few stats regarding last year's sales when Covid was still lurking in the corners.
According to a Statista study conducted in October 2020 in the United States, about one-third of respondents planned to spend less than $500 during Black Friday sales in 2020. The inclination for online shipping was amplified in 2020, making it the leading form of buying for that season.
Take a look at these figures to get a bigger picture of the situation at hand.
Black Friday shopping and spending pattern in 2020 – amid Covid-19
In 2020, Cyber Monday was the most popular shopping day, with 30% planning to shop Cyber Monday deals vs. 24% planning to shop Black Friday bargains.
Thanksgiving weekend in 2020 attracted 186.4 million shoppers in the United States. However, this was down 1.7% from the same weekend in 2019, when 189.6 million Americans went shopping.
Online sales for Black Friday 2020 (Thanksgiving plus Black Friday) totaled $14.13 billion. That works up to $9.03 billion on Black Friday and $5.1 billion for Thanksgiving. This represents a 19% increase over the previous year.
2020 set a new high for eCommerce, with 100 million people shopping online (up 8% year-over-year). Meanwhile, in-person Black Friday shopping has plummeted, with only 58.7 million people visiting stores on the day (down 37% year-over-year).
Early shopping was also a theme in 2020, thanks to merchants launching Black Friday specials weeks ahead of schedule: 52% of customers took advantage of early deals, and 38% of that group indicated they made holiday purchases in the week leading up to Thanksgiving.
But, wait, isn't that last year's news? This year's holiday season is quickly approaching, and it's time for you to get excited. Analysts estimate that this year's numbers will outperform last year's, with millions of more sales raising Black Friday and Cyber Monday totals.
So what does this mean? It means that your website needs to be ready now more than ever. To take advantage of the increased traffic, you must first ensure that your website can manage it. We've put up a list of things you can do to get your eCommerce website ready for Black Friday and Cyber Monday.
Ready? Steady? Go!
All-Things Website Optimization for BFCM
Check to see if your store can handle the traffic surge
Nothing is more aggravating than trying to access a website only to be met with pages and graphics that take an eternity to load. However, in today's world, even the tiniest delay can send users back to the search page, where they can obtain the information they need on another website.
Once you've built your Black Friday/Cyber Monday campaign, double-check that your hosting provider can handle the increased traffic. Too many requests at once can potentially cause your site to crash, albeit this typically requires a significant quantity of traffic. But you might be surprised how many people will come knocking on your door.
Make eye-catching sale banners
Any successful marketing plan requires the creation of an impactful Black Friday display campaign. However, it's a competitive day, and you must earn every impression and click against the clock.
When customers visit your website, you need to let them know that you're giving excellent bargains for a short time, and what better way to accomplish so than with eye-catching graphics? Customers will access your site from various devices, so keep this in mind while planning your campaign.
Let's take a look at Walmart's Black Friday banner from the last couple of years.
If you want to succeed with your sales campaigns, you'll need an attractive Black Friday sales banner. Black Friday is a gold mine, but it's all about being prepared, having the appropriate techniques, and having the right tools as a gold rush. Only then will you be able to outperform your competitors.
Create impactful pop-ups to get people excited
Pop-ups use exclusivity, novelty, and fun to create experiences that can be shared and remembered. As a result, they generate enthusiasm among consumers that can be powerful (including people who weren't at the event itself) and long-lasting. According to Sumo, a simple pop-up can convert at least 3% of average viewers, and they also have excellent conversion and click-through rates. Those viewers clicked on the pop-up, signed up, became leads, or bought the product or service.
Create a sense of urgency
The whole point of Black Friday is to create a sense of urgency and shortage. Therefore, the more effectively you can communicate why potential consumers should buy now rather than later, the more money you will make from your emails.
As we've seen, one method is to provide a limited-time sitewide discount. Another is to remind readers how many items are left so they quickly get their fair share. The Banana Republic, for example, advised its subscribers in 2019 to hurry up and act because there were only a few bombers and sweaters left in stock.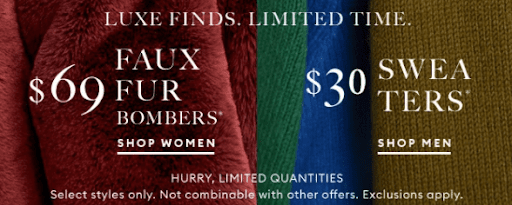 Scarcity and urgency, as always, are most potent when they are genuine. So when it comes to marketing on Black Friday, and in general, don't lie.
Give your customers further options
And by further options I mean, those tiny little suggestion bars on a clothing website at the end of the product page that says "Other people have bought this" or "You might also be interested in this," and "When or how to use it." Just like in the example below from Asos.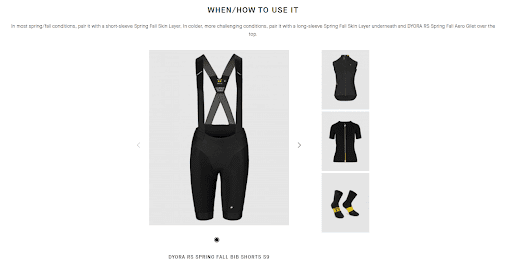 Or, the other example that fits the puzzle here is from About You.

These kinds of categories can be advantageous to both retailers and customers. They can aid in the strengthening of buyer relationships and the increase of average order value and income. The primary responsibility of merchants in this scenario is to offer products appropriate to the demands of purchasers to obtain all of these benefits. Customers, on the other hand, benefit from internet buying since they have a better experience.
Provide a seamless checkout experience
Creating a seamless checkout experience ensures that customers may check out as quickly, easily, and painlessly as feasible. In addition, it results in satisfied consumers and home runs for you!
That's why the quality of your checkout page is critical to your Black Friday success. Your consumers must feel entirely safe providing their financial information here, and they must find the process seamless and enjoyable.
Customers quit shopping carts for various reasons, but friction is at the root of it all.
They may encounter an unplanned step or cost that irritates them, forcing them to bounce immediately. Mobile checkouts are the most common example of this. If you've been paying attention to eCommerce trends, you've probably seen that you either have to go mobile or go home, which brings us to the second thing on the list.
Make sure your website is mobile responsive
Smartphones evolved from being an expensive, thrilling new technology to months of a commonplace part of daily life. We now consider it unusual for someone to leave the house without their phone. People looking at their phones are a common sight everywhere, from hospital waiting rooms to theater lobbies (when they were open, that is).
For website owners, this means it's long past time to make your site mobile-friendly. While the distribution of online traffic varies by website, around half of your visitors are likely to be reading your website on a phone's small screen. As a result, it is no longer optional to have a mobile-friendly website, especially for a Black Friday and Cyber Monday campaign.
Now that m-commerce is the new e-commerce, and online shopping via mobile is king on Black Friday, your online store must be mobile-friendly if you don't want to hit the curb.
Show off trust badges
With more people doing their shopping online and online fraud on the rise, online shoppers seek trust and security assurance. So how do people know your store is trustworthy among the tens of thousands of others on the internet?
By placing trust badges and labels on your store, you can notify customers about your safety standards, provide them with important information, and enhance conversions. To put it shortly, a trust badge shows the site is secure and reliable.
For example, the badge could include security features, such as badges assuring customers of a secure checkout. Other types of trust badges include those that inform customers about the product's quality, such as "Awarded by Nutrition Experts," and those that reassure customers about specific ingredients, such as "Gluten-Free." Such badges help you establish confidence without the shopper having to look up information about the quality or safety of your store.
Below are a couple of trust badges we've put together to understand the whole concept better.
Another thing you could do is highlight the causes behind your online store and what are the values that you believe in. Just like the folks from Lush did it.

Use BOGO promotions – buy one, get one
Buy One Get One (BOGO) is a sales campaign offered to the merchant or the user. The purchase of one unit of a product is encouraged or rewarded by providing a second unit of the same product for free or at a significant discount.
Discounts, promotions, and vouchers are an essential aspect of eCommerce promotions, and they can help boost engagement and conversion rates from marketing campaigns.
These sales techniques make it simple to persuade cautious customers to buy. They can also convince previous customers to stay loyal and spend more as repeat customers over time.
However, keep in mind that not all discounts and deals are profitable or successful, and not all are designed and implemented identically.
Because each targeted group has different needs, small businesses must experiment with discounts to discover the right frequency and timing for giving out too much too often.
Leverage push notifications
Nearly 85% of internet users use Chrome, Safari, Opera, Yandex, or Firefox on a PC. Website notifications provide a direct and quick way to engage these users with a particular website, blog, application, or piece of media content.
A web push notification is a message sent by a browser to a device (mobile, tablet, or laptop). It is a powerful communication tool that you can use to keep your target audience informed about new services, products, discounts, and other information.
Here's a look at some conversion stats regarding the web notifications and how they performed on a Black Friday season.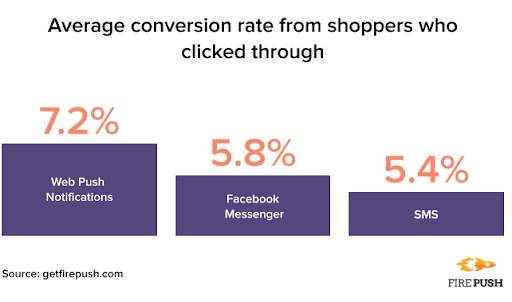 Like other marketing channels, you can only send a website notification to people who have agreed to receive them. People commonly opt-in when they visit a website that displays a pop-up asking to receive updates. If a user selects the "allow" button, they will be subscribed to these updates automatically.
On the other hand, you can also use mobile app push notifications. With the rise of smartphones, push notifications became a marketing phenomenon. You can use them to promote sales, increase app engagement, as well as boost app retention.
In the example below, a mobile app push notification is used to reduce cart abandonment.
Test discounted bundles now to increase profitability
Most e-commerce companies offer discounts on popular items for Black Friday. Instead of single-item deals, try bundling popular products with other things. Offering bundles could help you realize the lifetime value (LTV) of your customer quicker. It could also develop better customers than you'd get offering standard promos.
According to Charlie T, this method may result in a large number of sales, but it often lowers your average order value (AOV) and does not ensure a significant profit. Another crucial factor to consider is being ten steps ahead of the game. Months before your sale, practice selling these bundles. Now would be a good time.
Now that we've covered everything you need to optimize your website for Black Friday and Cyber Monday let's continue with the juicier stuff.
Develop a Referral Program
First off, what is referral marketing?
Referral marketing is all about empowering and incentivizing your current customers to invite their friends to experience your product for the first time. It tries to harness consumer advocacy and put in place the instruments to encourage, reward, and track customer recommendations, also known as refer-a-friend marketing. So why are referral efforts particularly successful over the holidays?
1. The influence of peer pressure. Close friends have a more significant impact on their shopping decisions than celebrities or influencers. This is even more effective during the pre-holiday purchasing frenzy.
2. Considerable discount. Customers are on the lookout for lower costs, and the referral discount is frequently the largest of all the deals available on the website. As a result, we experience delight when we can obtain something we desire more readily or for a lower price than we would otherwise expect.
3. An experience you can enjoy with friends and family. Another suggestion comes from consumer psychologist Kit Yarrow, who says that shopping is analogous to a family custom, allowing us to connect with others through a shared experience.
A referral program's purpose is to encourage customers to make their first purchase with your company. Of course, there is no ideal amount, but we've found that shops with at least a 10% discount over the holidays have a higher referral rate.
Take, for example, Cycleboard.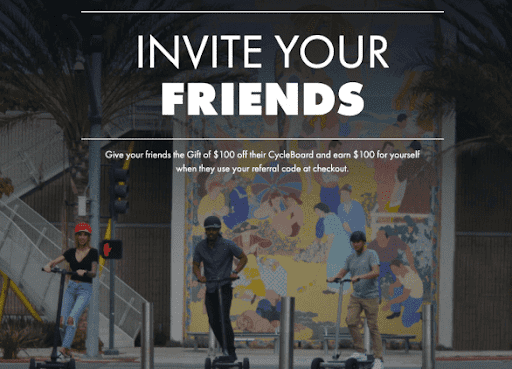 The technique it's known as a two-sided referral program, and it's what Cycleboard performed here. It means that both the advocate and the new customer are rewarded; the advocate receives the referral offer, and the new customer gets the buddy offer.
Develop a Mobile App
With the holiday season approaching, every retailer is looking for innovative methods to draw in more customers. Given the amount of money at stake, you should be willing to go to any length to ensure that you get your fair share. Now, we've already talked about the need of having a mobile-responsive website, but how about creating a mobile app for your online store?
In 2019, mobile shoppers were getting ready for Black Friday by downloading the Amazon and Wish mobile applications, in high demand across the US, UK, France, and Germany.
Black Friday and Cyber Monday enthusiasts will undoubtedly use mobile apps to connect with shoppers. In addition to the giant retailer apps, specialty retailers such as Nike (despite being arguably a big retailer) offer apps that go far beyond simply showing you deals.
So now that you are convinced and determined to develop a mobile app, you have only one more thing to do. Make use of push notifications.
The key is to personalize your notifications as much as possible. For example, instead of informing the user that 10,000 items are currently on sale, you could say a 30% discount on one of the items on their wishlist (or on some of the items they recently viewed).
Other tried-and-true methods for increasing push notification engagement include the following:
First, stay ahead of the curve by sending early.
Second, make your copy irresistible.
Lastly, emphasize the value you are providing.
Make Use of Email Marketing
It's time to break out the paints and tools to create your Black Friday and Cyber Monday email marketing campaigns.
One tip that will work for all retailers is to provide information to customers ahead of time. Buyers are tech-savvy and know how to plan ahead of time for the sales season to get the best deals on Black Friday.
Did you know that 81% of consumers now conduct online research before purchasing? So send them pre-sale emails with a teaser of what's to come and provide them with all the information they need to make an informed online shopping decision at least a week in advance.
Further tips for your Black Friday email marketing campaign holds the following:
First, pick the best Black Friday email template. Then, here are a few guidelines to follow to avoid a design tragedy:
Maintain a straightforward structure with columns (easier to get your email responsive).
Maintain a healthy balance of images and text (about 60/40).
Ensure that the fonts and sizes of your messages are aligned.
Choose which CTA buttons to use and ensure they are visible in a contrasting color.
Don't be too mysterious.
Sending emails that only focus on the actual discount should be avoided unless you are confident that everyone knows exactly who you are and what you offer. Sure, a good CTA and a sleek design can go a long way, and some Black Friday emails are true works of art. But think again: this could be an excellent way to tease your loyal customers when you launch a brand new mysterious collection.
Instill a sense of urgency.
We've talked about it before. Concentrate your language on deadlines and scarcity, such as:
"Get it before it's gone" or "Time is running out."
"Sale ends tomorrow" or "Sale nearly over."
"Last opportunity" or "While supplies last."
This way, you will urge them to join your email list to avoid missing out on your product deals. For example, you could use teaser emails, just like the folks from Bellroy did.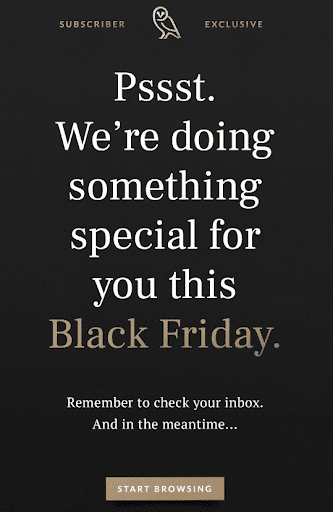 Create Black Friday and Cyber Monday email campaigns that complement each other.
Are you planning a Black Friday or Cyber Monday sale? Make sure your contacts recognize you by combining your Black Friday and Cyber Monday emails, which should have similar designs but slightly different messages.
Take, for example, Jonathan Alder.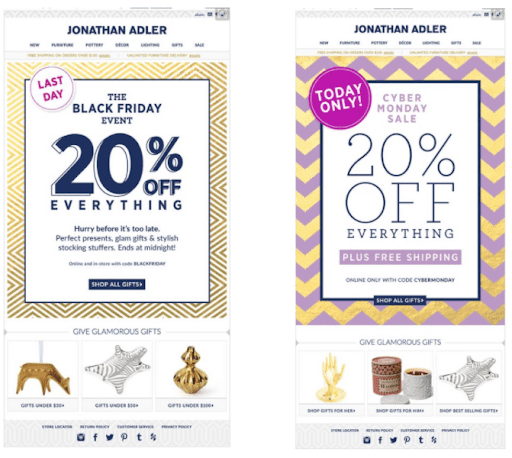 Aren't these email twins just what the doctor ordered for Black Friday and Cyber Monday?
Showcase your products to get people's attention.
Suppose your contacts don't immediately understand what's on offer. In that case, it's either double or nothing: either they'll be intrigued and click to see more, or they'll be slightly annoyed that you're asking them to do their research and move on to another email. So yes, your contacts can be slobs: don't underestimate them.
Make Use of SMS Campaigns
Customers' purchasing decisions are influenced by the day and year you send Black Friday SMS messages. If you send messages at the wrong moment of the day, customers may not respond even if they see your messages.
They do not have time to act. If you send advertising materials too close to Black Friday, customers may have already concluded which products they will purchase and thus disregard your offers.
Here are a few things to keep in mind to help you maximize your sales potential via SMS.
The time of day. Remember that what works for one retailer may not work for you, so try out different windows. Send messages between 12 p.m. and 3 p.m. on weekdays and 3 p.m. and 5 p.m. on weekends, for example, to see which times have the highest open and follow-through rates.
Black Friday messages. Customers are bombarded with messages in the weeks leading up to Black Friday. Consider starting your Black Friday SMS campaign earlier than your competitors to stand out. When you begin your promotional campaign early, emphasize the advantages of online shopping, such as not having to battle crowds to find bargains. After you've determined the best timing, use your SMS campaign to tease upcoming sales. This allows you to pique your customers' interests and create anticipation.
Tailored messages. Did you know that 50.4% of Black Friday shoppers are women, and 53% are millennials? To increase your chances of closing more sales, tailor your messages to the preferences of this audience. For example, if you sell electronic devices, share the most recent phones and gadgets to appeal to millennials, a tech-savvy generation.
Leverage Influencer Marketing Campaigns
According to Hubspot, 71% of consumers said they were more likely to purchase based on a social media recommendation than any other form of marketing. As a result, influencer marketing is quickly becoming a go-to strategy for assisting retail brands in spreading positive word of mouth.
So, this year, why not let your customers drive your Black Friday campaign? Influencers are a great fit for this season for several reasons.
Running an Influencer Marketing campaign in the run-up to Black Friday can help you reach a larger audience while spending less money. Micro-influencers (creators with 3K-100K followers) often generate more engagement than celeb ambassadors – and for the same price as partnering with one celebrity, you can have countless numbers of micro-influencers creating content for your brand.
As the market becomes more crowded, using an influencer's voice to urge their dedicated followers to check out your products over others could make all the difference. Ask influencers to describe why they adore your items to their audience and include any promotional material to direct traffic on the big day.
Embrace The Power of Social Media
When it comes to promoting online items, social media shines. Consumers are enticed to click and buy straight away by engaging social media posts and adverts. With this year's Black Friday being primarily online, it's critical to have not only excellent social media posts but also great social media ads. On Black Friday, the competition between retailers is fierce. That's why mastering your social media ads and driving sales are critical.
Here are a couple of things you need to consider when advertising on social media.
Make use of hashtags. Many people scour the internet for Black Friday bargains. Hashtags are one of the most effective ways to spread the word about your deals on social media. Your followers will see your posts, and leveraging popular hashtags will allow you to reach an even larger audience. Look up the hashtag #BlackFriday to see what other popular retailers are utilizing.
Create promotional videos. Video is an excellent way to captivate your audience. It is exceedingly easy to absorb, unlike long-winded text. We're all guilty of skimming through our social media feeds on autopilot, and only the most exciting stuff gets our attention. What better way to advertise than creating video content and sharing it across all of your social media channels?
Explore Instagram opportunities: shops, reels, stories, IGTV, etc. Instagram has established itself as a go-to platform for social media marketing. For example, the Instagram Shops feature allows users to make purchases without ever leaving the app. It's simple (and free) to set up an Instagram Shop, but the approval process can take a few days, so start planning your Instagram Shop at least a week before Black Friday.
Nonetheless, it is also the most popular social media channel for businesses, according to buffer.com. Instagram includes several dynamic and interactive tools, like Stories, Reels, Guides, and IGTV. These tools can help you get your brand in front of more people.
Take Reels, for example. Reels are short videos 15 to 60 seconds long that you can overlay with music and text. Unlike regular video posts on your feed, reels play automatically as you scroll from reel to reel, providing the user with an attention-grabbing stream of entertainment that you can use for your benefit, of course.
And what about IGTV? IGTV is a vertical, long-format video channel, allowing users to create or upload videos from 1 to 60 minutes in length. Videos are best viewed in a full 16: 9 aspect ratio to fill the user's entire mobile screen. IGTV videos appear on your Instagram account profile under the IGTV tab, and there is also a separate IGTV app. Thanks to the length of its format, you can retain your followers longer with IGTV. These videos are best for high-quality educational content; you can even present them as episodes.
Consider Paid Advertising
To stay ahead of the competition, you'll need the most up-to-date information on overall traffic trends and market analysis for all of your marketing channels. As a result, you must devote your paid efforts to testing. The lousy ad, bid, or the wrong settings can ruin your day or even your year.
It's critical to know what promotions you'll be running. So, first and foremost, determine:
What will your proposals be?
Will you have enough budget?
What's your target audience?
Which platforms is your audience using? Are they on TikTok, Twitter, or LinkedIn?
If you don't have a large stock, consider being less aggressive in your bidding and focusing more on the marketing strategies mentioned above.
Skim through the following checklist to make sure you have everything in control.
Examine last year's performance. Despite the ever-changing landscape of PPC, there are several areas where you can learn from past performance. Among these are:
What did you learn from the advertisements you ran? Is there any generic messaging that performed better than others?
Did ads that described the product's benefits/features perform better than ads that included price, shipping, and other specific information?
How much did you have to bid to get into first place?
The critical thing to remember here is that you must learn from what happened last year to get the most out of this year.
Make the most out of Ad Copy. For example, in the case of Google Ads, make sure to utilize the recent product and feature updates for search ads, such as a third headline and second description line for expanded text ads, as well as responsive search ads, to capitalize on Google's machine-learning. They're an excellent way to show tailored ad copy to your target audience.
For example, make it clear in your ad copy that your Black Friday deals are only valid for a limited time over the weekend to create a sense of urgency. In addition, configure ad copy extensions such as price, site links, callouts, and structured snippets. Ad extensions are essential in determining the ad rank of your advertisements, but they also encourage additional clicks to the site by providing additional information.
Beware of targeting options. As publishers, targeting possibilities, creative formats, ad-buying alternatives, and measurement develop at a greater rate than ever before, the complexity for brands grows, and this is where you must be cautious.
Pew Research Center performed research in early 2021 to learn how Americans use social media, online platforms, and chat apps. YouTube and Facebook continue to dominate the internet scene, with 81% and 69% of those polled claiming to have used these sites.
So, to construct a well-established intelligent social media campaign that precisely targets the individuals you want to reach, you must first understand:
Now, each platform allows you various targeting options. Let's go through some of them briefly to understand which would be a good fit for you.
Behavior targeting takes into consideration user interaction inside the platform. For example, TikTok and Facebook allow you to target users based on how they've interacted with videos.
Keywords targeting can be used in Google ads, Twitter. For example, if someone types "buy yellow tulips" in the Search Engine, he'll see some relevant ads showing up. Also, for display ads, Google looks at web pages that contain your chosen keywords. For example, let's say we are promoting German online classes. We can choose to show our ads on pages with the following words "how to learn German," "learn German fast," etc. In the case of Youtube, the algorithm looks at the description and titles of videos. On the other hand, Twitter takes into consideration the words used in tweets or Twitter searches.
Life events are a targeting feature available in Facebook and Google Ads. For example, in the "About" section of any Facebook user profile, users can state if they got engaged, married, or got a new job. So let's say you're a couples photographer; you can target all those who recently got engaged.
Remarketing is a type of targeting encountered on most ad platforms out there. It usually brings a good return on investment. If someone has already been to your site but did not buy or bought some items from you, but you want to tempt him back with a special offer, you can use this strategy. Remarketing is a great strategy to increase customer lifetime value.
Lookalike audiences / similar audiences allow you to build on top of existing audiences. For example, let's say you have a list of emails from previous customers. You can tell the LinkedIn, Google, Facebook algorithms to build an audience of people that have behaviors similar to the people in your email list. Instead of email lists, you can use remarketing lists.
Placements, this is where you tell Facebook, Youtube, Google, or TikTok were to show you ads: Facebook feed, Instagram, Facebook Messenger, Instant Articles, specific Youtube channels, specific websites.
Affinity audiences: reach people who already have a strong interest in relevant topics. These topics are grouped in buckets by Google and available across Youtube.
In-market audiences: find customers that have a high intent of buying a product similar to yours. These are also pre-defined buckets by Google, meaning that you can find them when creating ads for Youtube.
Besides the options presented above, you can also target locations, age, gender, even income, depending on the platform.
Increase your financial resources. Increased traffic means increased competition. To cover the increase in traffic, you must boost the budget of your campaigns to ensure that they receive the necessary impressions and clicks. The budget increase works in the same way as the progressive promotions described above: you start with a somewhat larger budget than usual and gradually raise it. Your funding will increase correspondingly as your campaigns approach closer to the events.
Run Google Shopping ads. Make sure you optimize your shopping feed. And have as many products available as possible by fixing disapprovals. Increasing exposure by reactivating non-brand campaigns and increasing bids based on priority labels like seasonal (bestsellers), stock, price (competitive price against resellers), and margin can also be a significant game-changer.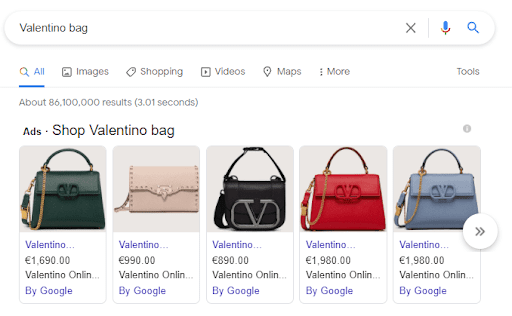 Implement brilliant shopping campaigns available on Google Ads to run alongside your standard shopping campaigns. Smart shopping gains retailers more product inventory exposure across three different networks – Google search, Gmail, and YouTube, driving traffic to your online shop.
Monitor, analyze, and optimize. It's crucial to keep track of all this data on your eCommerce website. Consider gathering helpful information from platforms like Google Analytics and other real-time tools. By doing so, you will better understand the performance of your campaigns throughout the Black Friday and Cyber Monday seasons. Consider spending more time and investing more in optimizing your activity than looking at reports over and over again.
Develop an affiliate program
Affiliate marketing is a popular strategy for generating considerable online revenue and driving sales. The increasing drive toward less traditional marketing strategies has proven quite advantageous to both companies and affiliate marketers.
Affiliate marketing is the process of earning a commission by promoting the products of another individual or firm. The affiliate simply finds a product they like, advertises it, and receives a portion of the profit from each sale they make.
For merchants and affiliates, Black Friday is both a great opportunity and an enormous challenge. It's a great way to put your talents to the test while also making some money, whether you're new to affiliate marketing or a seasoned pro. First, however, regardless of the type of material you intend to publish on your website, you must ensure a complete winner that will draw in the ratings and keep your audience interested.
Offer customer support
Customer service is essential for preparing for increased traffic during peak sales seasons. So if you've been following our e-commerce series for Cyber Monday and Black Friday, you're almost ready to take on the year's most difficult days for apps and websites.
If you want to stand out and become a customer-centric company, you must provide service and assistance to your clients both during and outside of work hours and even live chat. Providing constant 24/7 aid is critical for your company's performance during peak sales season, as it improves customer experience and increases engagement.
Over to You
That's it, folks. This brings us to the end of today's story.
It's now time to put these Black Friday marketing plans into action. But, if you want to take advantage of the increased deals on the year's busiest retail weekend, don't wait. To get the most out of this big shopping weekend, use the strategies that work best for your store.
Also, don't take anything for granted when it comes to time! Black Friday and Cyber Monday are approaching quickly! So start planning and strategizing well in advance to guarantee that your business is appropriately prepared for the year's biggest shopping days.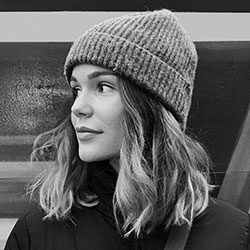 Gabriella is a Digital Content Writer and Marketer with a zeal for all things WordPress. When she's not researching and drafting the upcoming articles, you can find her in the open air exploring the outdoors with her dog.