Do you ever have the feeling that you just want to buy everything you see on a website? Then, without any hesitation, click Add to Cart, especially if it's on sale. "Only $10?" you might think.
That $10 quickly turns into $100, and you're staring at your shopping cart. Then, before you know it, you've hit the little 'x's on the screen, abandoning your cart.
Am I correct? Does this sound familiar?
Shoppers who add items to their cart but abandon them at checkout are the most significant leaks in most eCommerce organizations' sales and marketing funnels.
However, this is not today's news. According to the Baymard Institute, more than 70% of your customers will abandon their carts during checkout, and this number has been steadily increasing in recent years.
There's a high chance that you won't be able to persuade all of your cart abandoners to complete the checkout process and treble your revenue. And that's fine. Think of it this way: some buyers never intended to buy in the first place. However, it's worthwhile to make an effort to eliminate as many lingering doubts as possible.
But first, let's answer the first obvious question that pops up: 👇
Why Do People Abandon Their Carts?
The issue of trust is one that many online stores face. Although web users have become more comfortable providing credit card information over the internet, many users are still hesitant to provide financial information to unfamiliar websites.
High shipping costs are another major factor to blame in this case. Customers frequently abandon shopping carts after experiencing sticker shock after learning how much their order will cost with shipping. However, you can avoid this by offering free shipping promotions.
Below is a list of the top ten reasons for cart abandonment:
High additional costs (shipping, tax, fees);
The website requires you to create an account;
The checkout process is far too long and challenging;
Not being able to see or calculate the whole order cost upfront;
The website was down due to errors;
Sketchy checkout process and payment gateway;
Slow website loading;
Inadequate return pol;
Insufficient payment options;
Declined credit card.
As you can see, everything matters when it comes to consumers deciding whether or not to trust your store and make a purchase. The good news is that you can always turn things around and save the day.
Two ways to do so:
Abandoned cart emails: If a user entered their email address during the checkout process before leaving your site, you have the option of sending them an abandonment email. This is typically some offer or coupon code to entice the user to return to your site and complete the purchase.
Abandoned cart retargeting – Ad retargeting is another effective tactic in cart recovery. Retargeting involves placing an ad pixel on your checkout page and then remarketing to those users on ad platforms such as Facebook and Google. The benefit of retargeting is that it works even if the user did not enter their email address, and it allows you to stay top of mind for the customer while they are browsing the web.
So let's discuss abandoned cart emails.
What Are Cart Abandonment Emails?
Cart abandonment emails are emails sent to re-engage shoppers who abandoned their carts without finishing the checkout process. It's essentially a follow-up email sent to a buyer who has placed things in their cart but has left before completing the transaction.
Here's a quick example: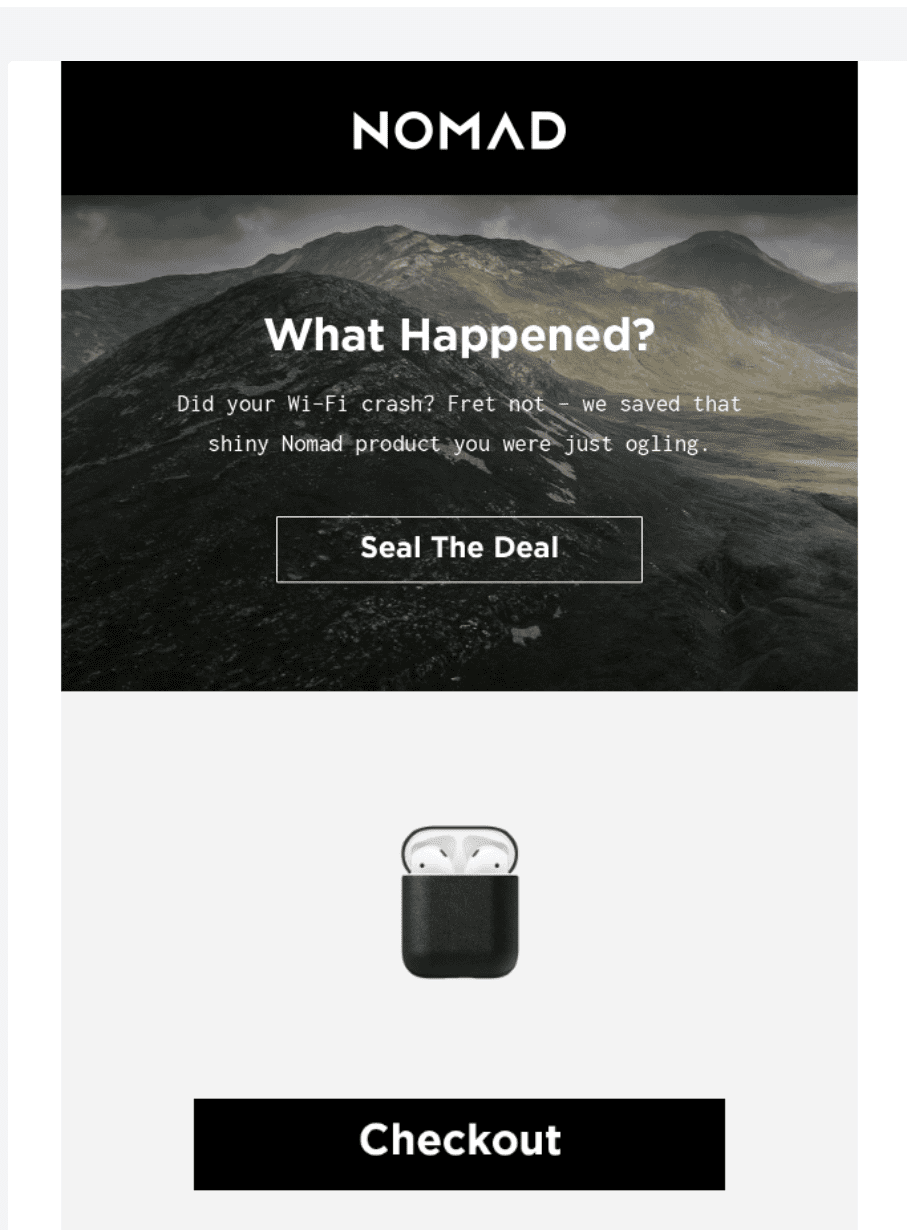 As you can see, the messaging in abandoned cart emails is relatively straightforward. It has the following structure:
Catchy subject line;
Introduction text;
Products left in the cart;
Checkout button or call to action (CTA)
Now, there's a catch: time sensitivity. Cart abandonment emails sent within the first hour of abandonment perform the best. For this to happen, setting up a campaign trigger to send an email immediately after the cart is abandoned is recommended. Then, whatever the reason is that shoppers abandon their carts, you have a concise window of opportunity to win them back.
And this is one of the crucial elements that can make or break your cart abandonment email. So now, let's see what else you can implement in your strategy to make those folks come back.
But first, some myth-busting, because we love proving them wrong.
Three Cart Abandonment Myths That You Gotta Know
Myth #1: Customers forget about their cart.
You assume that your buyers put goods in their cart that they wanted to buy but then got distracted. Somebody knocked on the door. They suddenly remembered to feed the cat. They quickly left their cart, intending to complete the transaction at a later date. However, you're confident that a gentle nudge will suffice to inform them that their checkout isn't complete.
Let me clarify: it's a frequent misperception that shopping carts are left unfinished due to simple forgetfulness. The statistics, on the other hand, show a different narrative.
According to research, forgetfulness is not only an unusual reason for shoppers abandoning their carts, but it also ranks low. Unexpected expenses and complicated checkout processes, on the other hand, are driving your customers out the door—things you can manage.
Myth #2: The only way to encourage customers to buy is to provide a discount.
Using an incentive to sweeten the deal effectively drives customers to the checkout finish line. But what kind of motivation is this? The obvious choice is a discount. It isn't, however, the only strategy to get buyers to finish their purchases.
Financing and free shipping are two more popular and effective choices. Alternative financing boosts client purchasing power and aids retailers in recouping sales, particularly on higher-priced items that elicit more significant hesitation.
Discounts, without a doubt, can be effective. However, retailers should not believe that they are the only option to reclaim customers.
Myth #3: Cart abandonment emails are spammy.
We're all swamped in emails; it's no secret. However, this isn't to say that cart abandonment emails are spam. The thing is, it's not the email to blame, but the way it is presented.
According to one study, even if a message irritated customers, 69% of them claimed cart abandonment emails were beneficial or influenced their purchase choice. Furthermore, 7% of respondents claimed that they invariably return to complete the purchase if an email has an offer or discount code.
We'll go through a few things that eCommerce businesses can do to lessen consumer frustration and improve the performance of these emails in the next chapter. 👇
How to Write Converting Abandoned Cart Emails
There is no one-size-fits-all approach to writing an effective abandoned cart email, but there are several necessities and best practices to keep in mind. So let's get started with some of the most effective abandoned cart email samples.
According to Jordan Pritikin, team manager for HubSpot's email and growth marketing team, "Personalization is essential when writing an abandoned cart email. For example, what exactly was the abandoned product or service? What are the value propositions that are most appealing to the person to whom you are sending? The more personalized your abandoned cart email, the better your chances of success!"
Every cart abandonment email should include a compelling copy and a simple way to return to the cart or, at the very least, a display of the product left behind. In addition, you might want to consider including the following suggestions in your next email:
Build a well-designed subject line.
Did you know that 64% of people decide whether or not to open an email based on the subject line? So if you want to stand out among the avalanche of emails in someone's inbox, you must make your message immediately understandable.
For example, here's a cart abandonment email from Rudy's.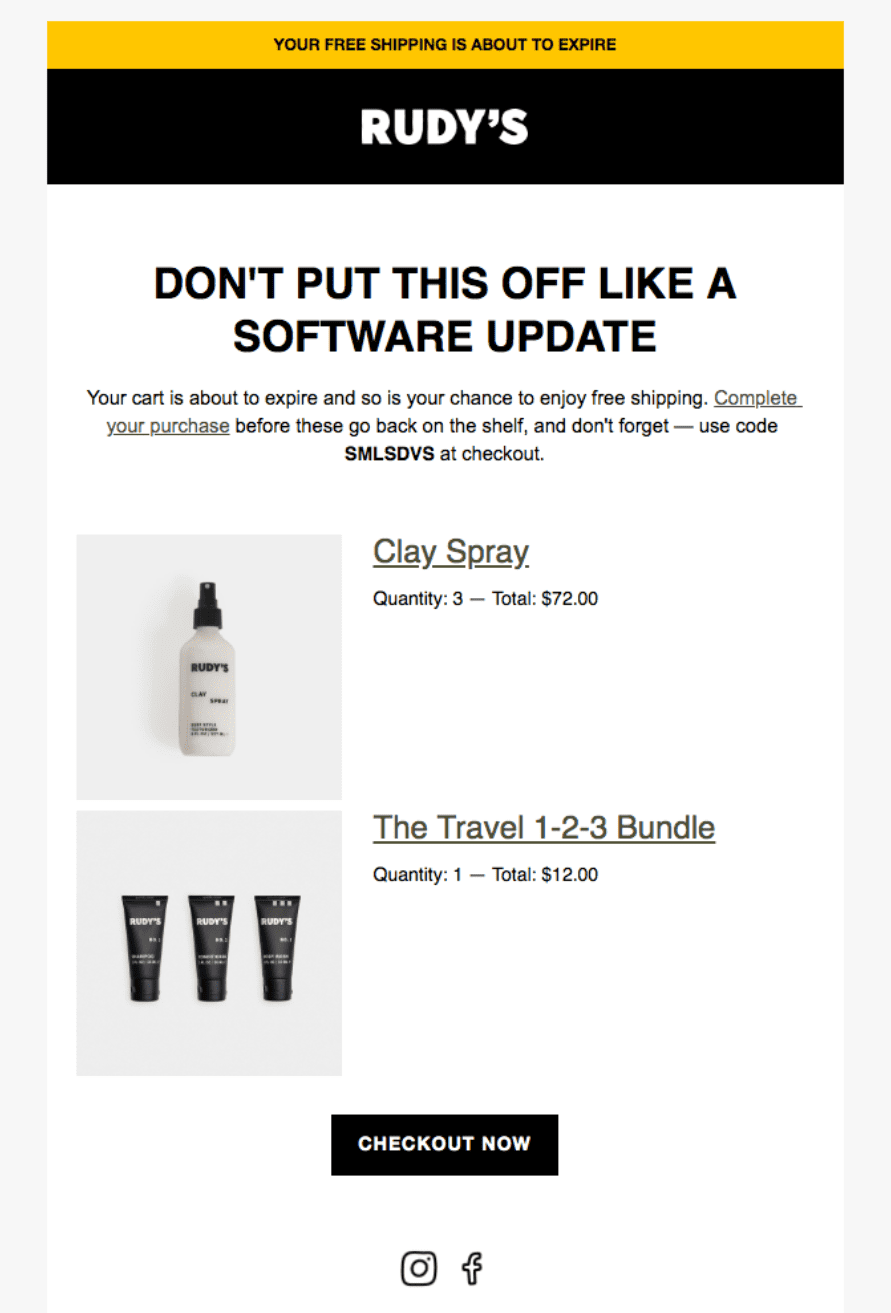 The subject line is both amusing and catchy. It may cause someone to reconsider whether or not they have completed their order, and it may imply that there is something in it for them as well, such as free shipping—the formula for success.
Get personal.
Another helpful strategy to consider is providing a personalized email. You can accomplish this by personalizing the subject line, posing a question, or doing both. Here are two good examples to get you started:
Personalized: Tom, you forgot how much you wanted to spend on this!
Personal + Question: Hello, Sarah! Isn't there something you're missing?
Remember that personalization here isn't limited to the shopper's name but can also include the specific item left in the cart.
For example, Huckberry.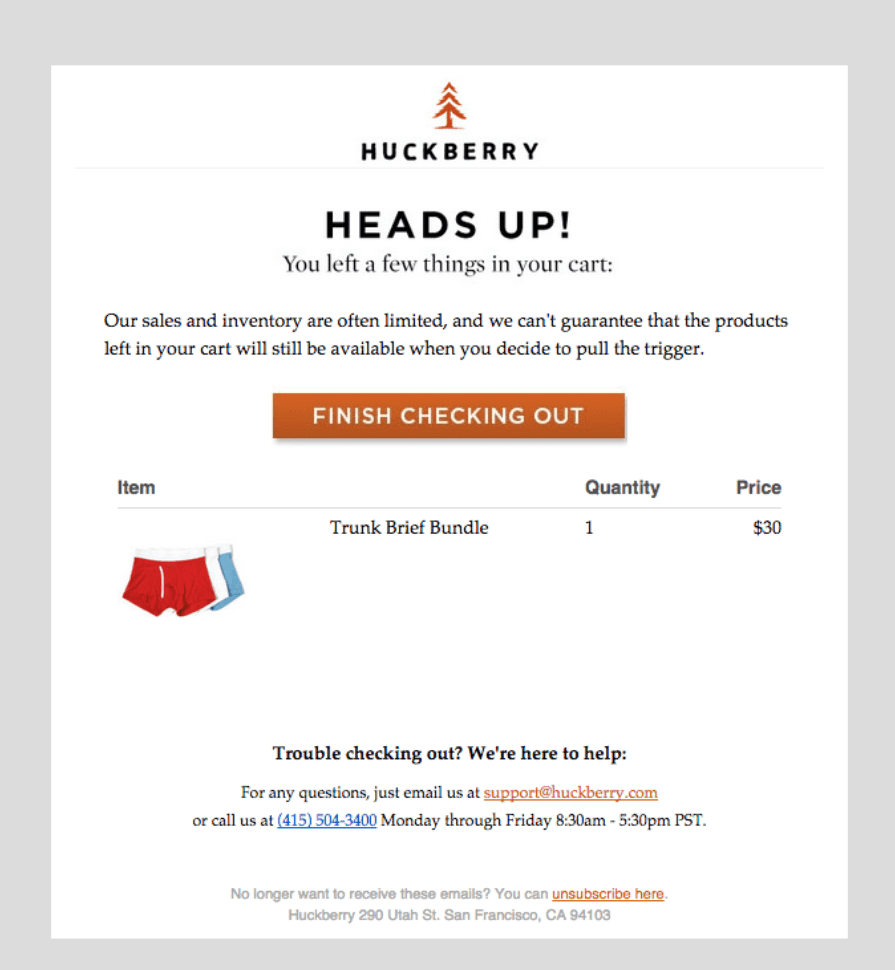 In this example, Huckberry highlights a few things:
The subject line. They use an obvious and straightforward approach by saying "Heads Up!" which gets the user's attention.
They include an image of the product and indicate whether or not the item is still in the customer's cart.
They include a clear and concise CTA button that is very visible, making it simple for the user to complete their purchase at every touchpoint.
Finally, the contact information is highlighted at the bottom of the page, making it simple for customers to get in touch if they have any questions.
Make it breathable, keep it simple.
A fancy design and a detailed overall look are not required for an email that converts and works. On the contrary, a well-performing cart abandonment email requires a clean layout, great visuals, and a strong CTA.
A quick example here, Dyson.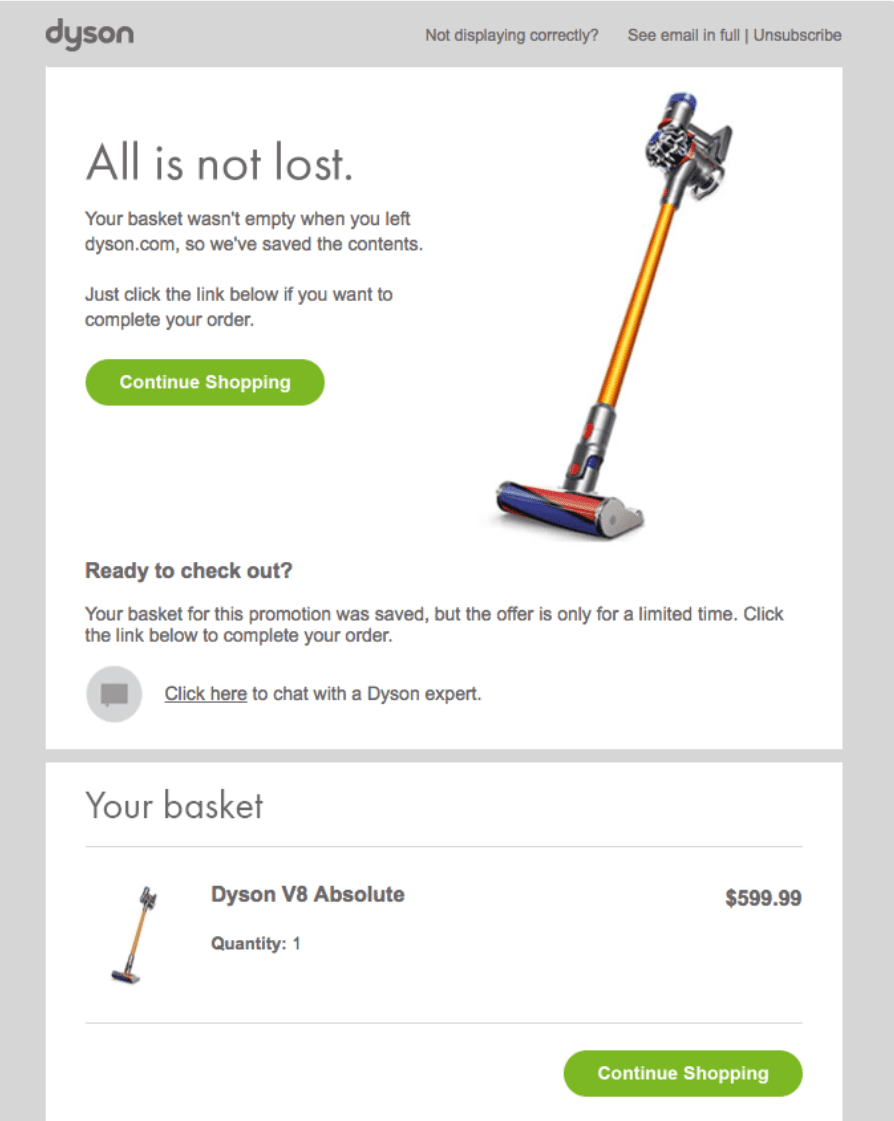 Dyson covers everything you would wish for from a cart abandonment email, short, sweet, and to the point. The overall structure of the email is not crowded; you can see every element and focus on what's important.
Make it rewarding.
As previously stated, unexpected costs and shipping fees are the leading causes of cart abandonment. Many customers calculate the final price by adding up the items without considering tax or shipping costs. When the total exceeds expectations, it's an easy excuse to leave the site and continue shopping.
So, where is the tipping point here? Instead of making your customers unhappy, why not reward them? Just like Chewy does.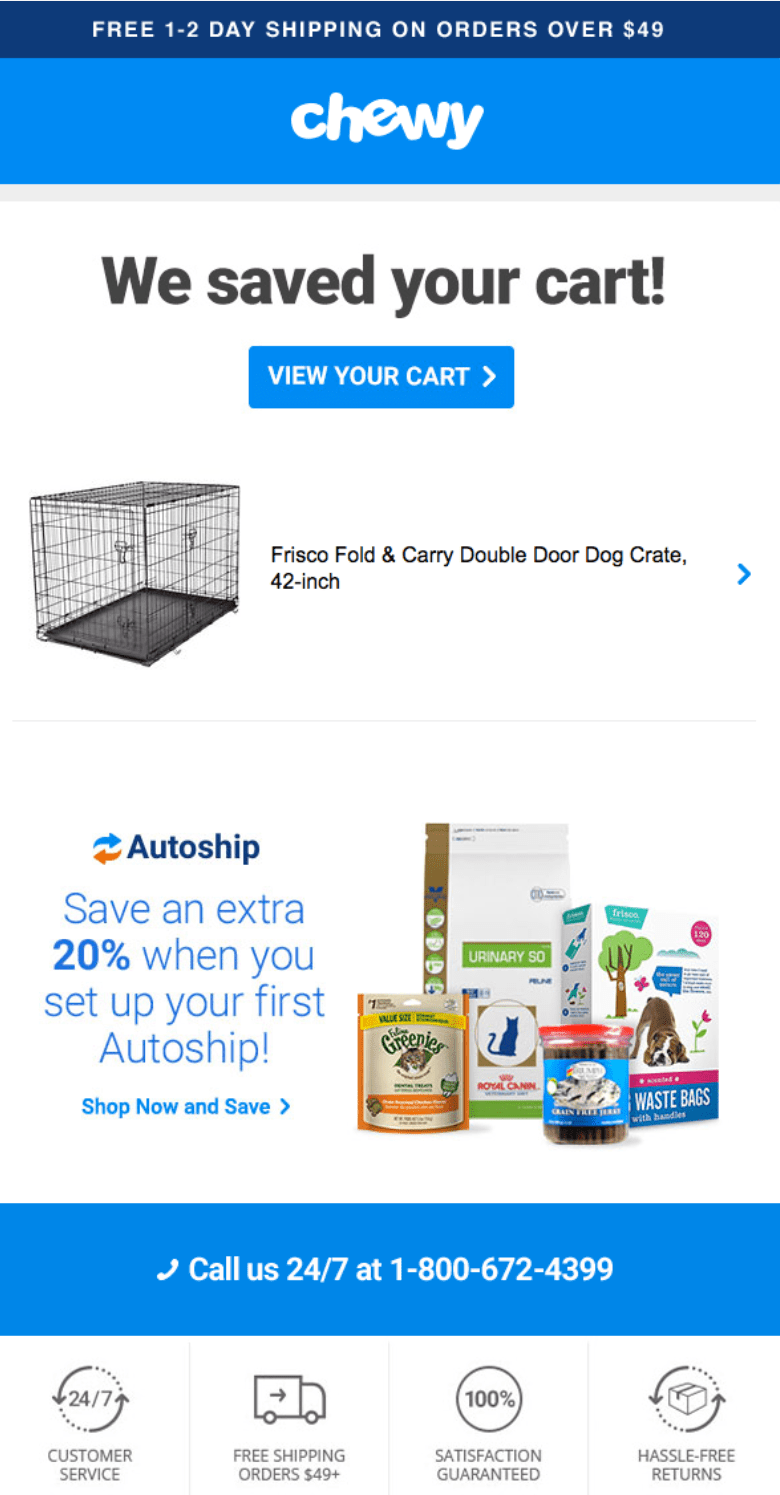 The message is clear: Chewy offers free shipping on orders over $49, and in addition, you get a 20% discount when you set up your Autoship account. It sounds like a pretty good deal! Overall, this email contains all of the necessary elements while also displaying a sleek, clean design that is easy to read.
Be up-front.
You don't need to go overboard to persuade a customer; the mere fact that the buyer overlooked or forgot about an item can be enough to entice them to open the email. "Complete your purchase," "You still have products in your cart," or "We're still holding your order" are all effective subject lines and work pretty well.
Take a look at Beardbrand, for example.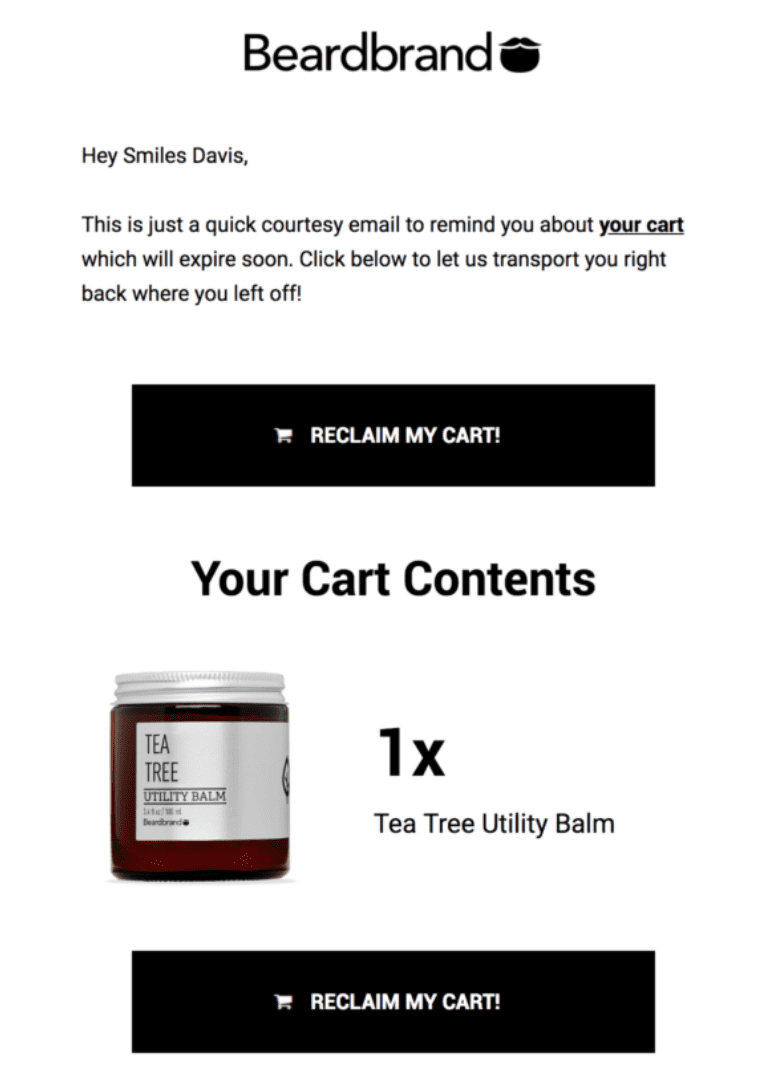 There's nothing here that will wow the buyer. However, it has the potential to persuade them to return and complete their purchase.
Now that we've got all that jazz out of the way, it's time we get down to business.
WooCommerce Plugins for Cart Abandonment Emails
There are several plugins out there that can help you out send out cart abandonment emails. Let's check them out:

Abandoned Cart Lite for WooCommerce works quietly in the background, sending email reminders to customers who leave your store with items still in their carts. It applies to both logged-in registered customers and guest users.
This free plugin's main features are as follows:
Customers can recover their shopping carts with a single click.
Identification of information relating to abandoned orders, including products left in the shopping cart;
Captures both registered and unregistered customer carts (the latter are charged at the checkout after the customer enters their email address);
Tracking the value of abandoned orders in comparison to recovered orders;
Notifications of recovered orders sent to administrators via email;
The default template is pre-installed.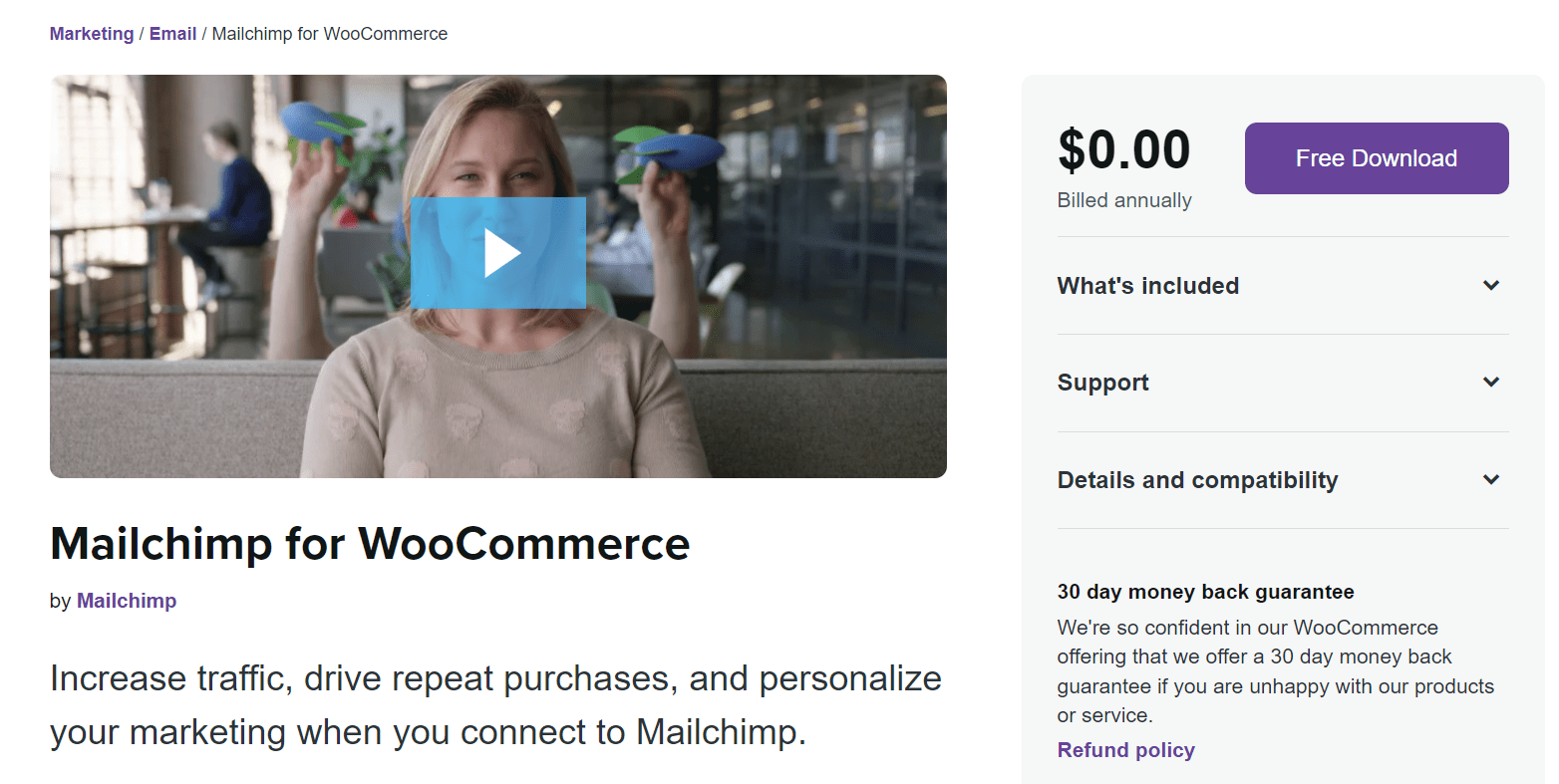 Mailchimp provides eCommerce retailers with the tools they need to increase sales. And, with our robust tried-and-true features combined with our newest offerings, Mailchimp's all-in-one marketing platform is precisely what online retailers need to grow their business by leveraging conversion-driven tools.
By linking your online store to Mailchimp, you'll gain access to powerful sales-driving marketing features that will allow you to engage better and build relationships with your customers. As a result, increasing customer loyalty and repeat purchases will bring more sales to your company. Oh, and it is entirely free!
The Sendinblue add-on enables you to send WooCommerce confirmation emails via professional SMTP. Deliverability optimization ensures that your confirmation emails arrive in the inbox.
Using the Sendinblue add-on, you can directly populate WooCommerce order variables within your Sendinblue email templates. In addition, the responsive design tools provided by Sendinblue make it simple to create email templates that are both engaging and include the most critical order details.
Among the plugin's features are:
Send confirmation emails that are more likely to be delivered;
Use WooCommerce order variables in your Sendinblue email templates;
Keep track of the most critical email metrics, such as delivery, open, and click rates.
After order creation or completion, enable and manage customer subscriptions: opt-out, opt-in, or double opt-in.
Order tracking: Sendinblue saves transactional data (order ID, price, etc.) to enable powerful segmentation.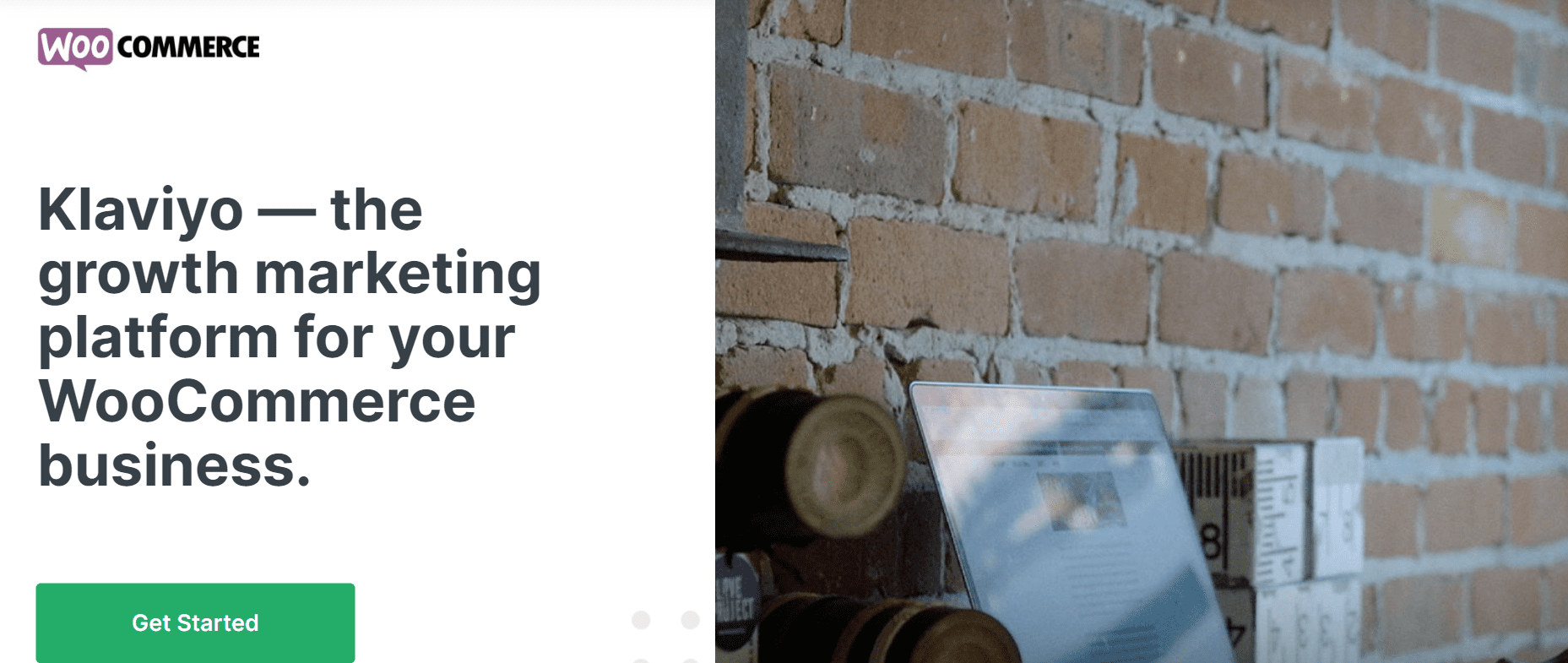 The Klaviyo WooCommerce WordPress plugin lets you add a newsletter signup form to your website, track website activity, and collect data on when people start checkouts and view products so you can send abandoned cart emails.
Site tracking, segmentation, 360-degree customer profiles, drag-and-drop email designs, custom activity fields, 1click integrations, and ROI-based reporting are all available with Klaviyo.
Its segmentation enables users to deliver messages to the correct audience. It allows marketers to use real-world data such as recent purchases, email history, and website browsing tracking to determine the message that customers want to receive.
How to Create WooCommerce Cart Abandonment Emails with Abandoned Cart Lite
Abandoned Cart Lite for WooCommerce operates in the background, sending email notifications to your guests and logged-in customers to remind them of their abandoned orders.
In the free version of the plugin, you can generate an unlimited number of email templates and schedule them to be sent at predefined intervals. Intervals begin one hour after a user abandons their shopping cart. You can also personalize your emails (e.g., first name) and stop sending emails once users complete their purchases.
Follow the steps below to start using Abandoned Cart Lite for WooCommerce:
Step 1: Download and Activate the Plugin
First, you need to head over to your WordPress Dashboard → Plugins → Add New and type in the plugin's name in the search bar, then hit Download and Activate.
Step 2: Head over to the Plugin's Customization Page
After you successfully download and activate the plugin, go to WooCommerce from the left sidebar → Abandoned Carts. See the screenshot below.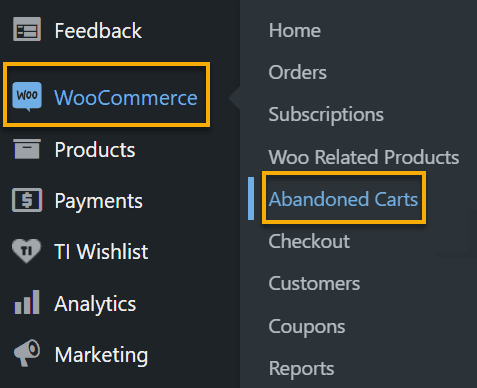 Once you click on it you will be redirected to the plugin's Dashboard, from where you can make all the edits you want.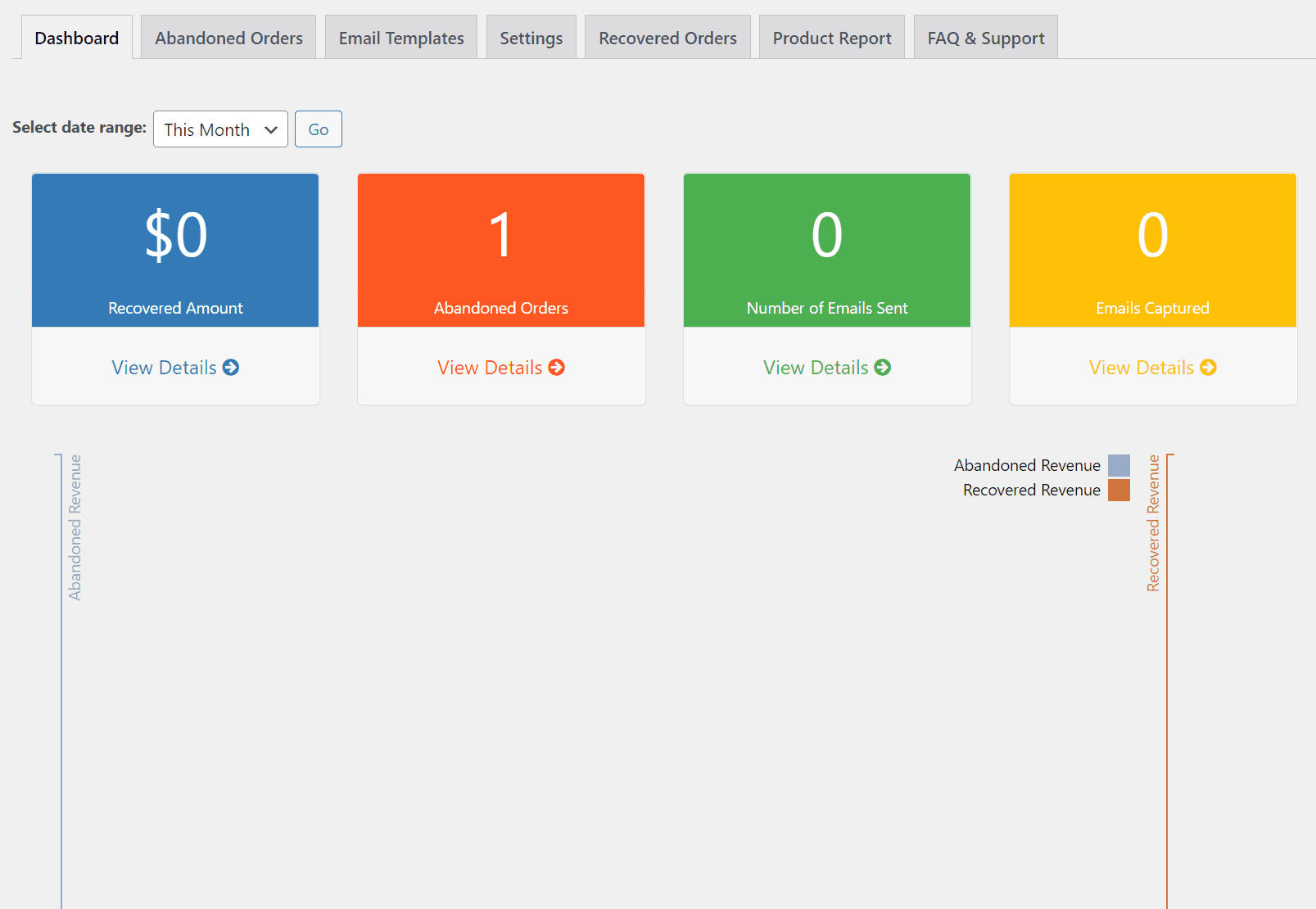 Step 3: Define Your Abandoned Cart
This is critical because you don't want to irritate customers who haven't forgotten about their cart.
Go to the Settings tab to configure it: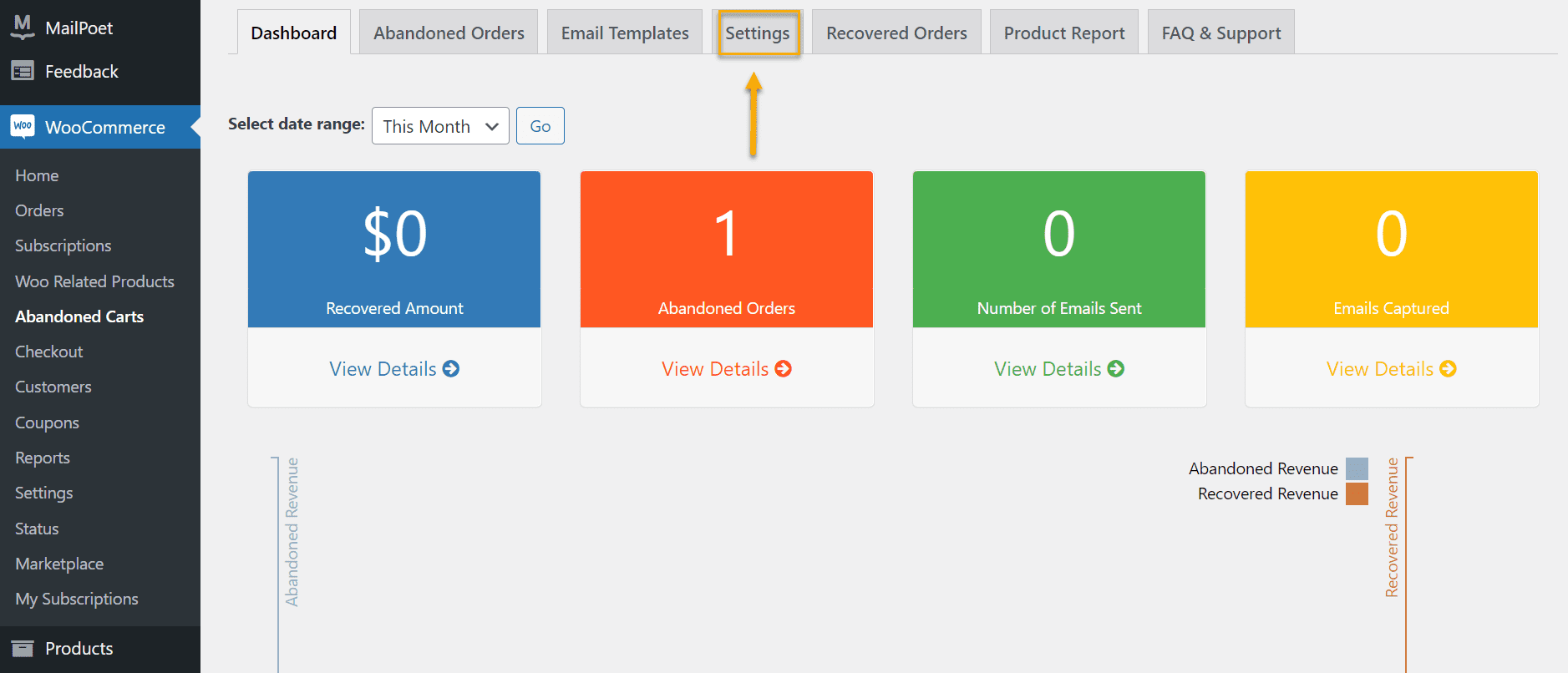 Here you'll see something like 'cart abandonment cut-off time.'
The "Cart abandoned cut-off time" is the time after which an abandoned cart is considered abandoned. When the time for setting "Cart abandoned cut-off time" is reached, the cart is declared, and the same cart is displayed as "Abandoned" under our plugin's "Abandoned Orders" tab.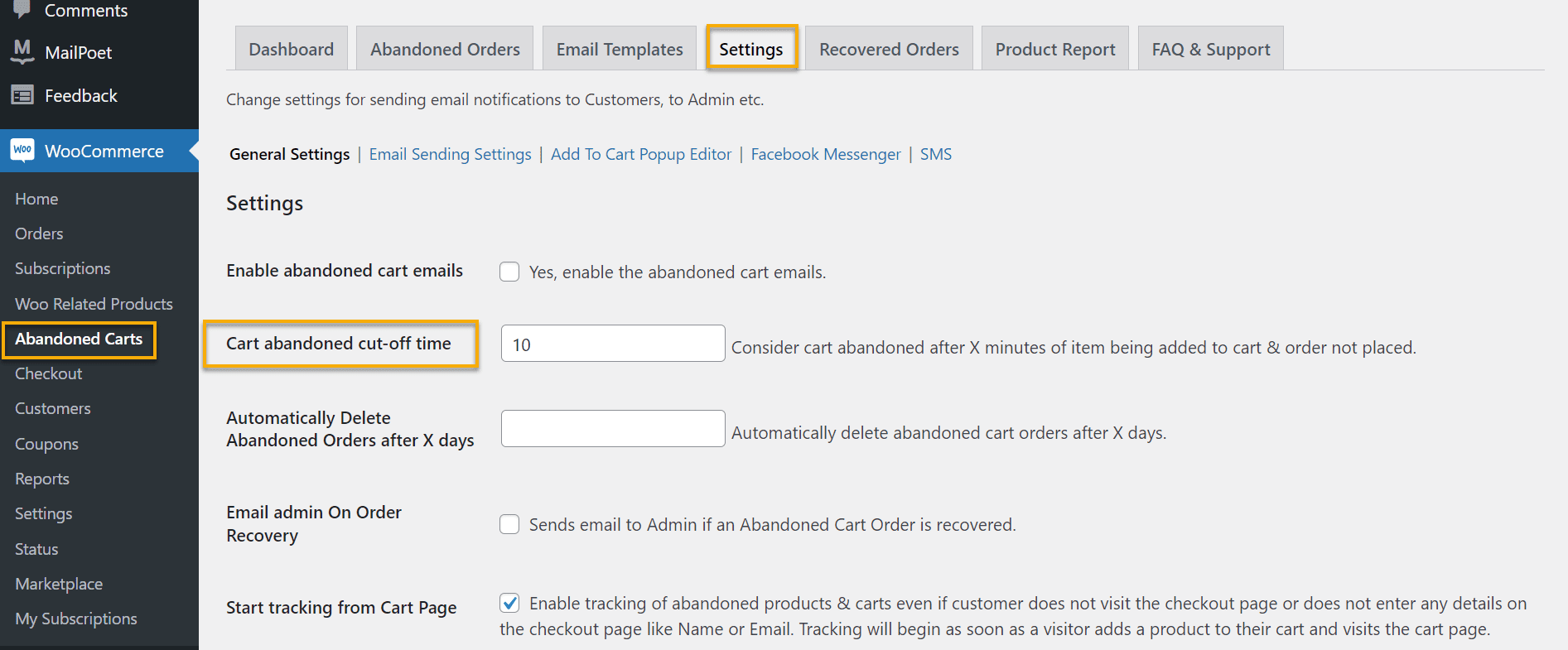 The default time is 10 minutes, but you can change it depending on how aggressive you want to be with your emails. Please keep in mind that this is NOT the time between sending emails. Later on, you'll select another number to determine when to send. This number only determines when a cart should be marked as abandoned.
Step 4: Configure Email Settings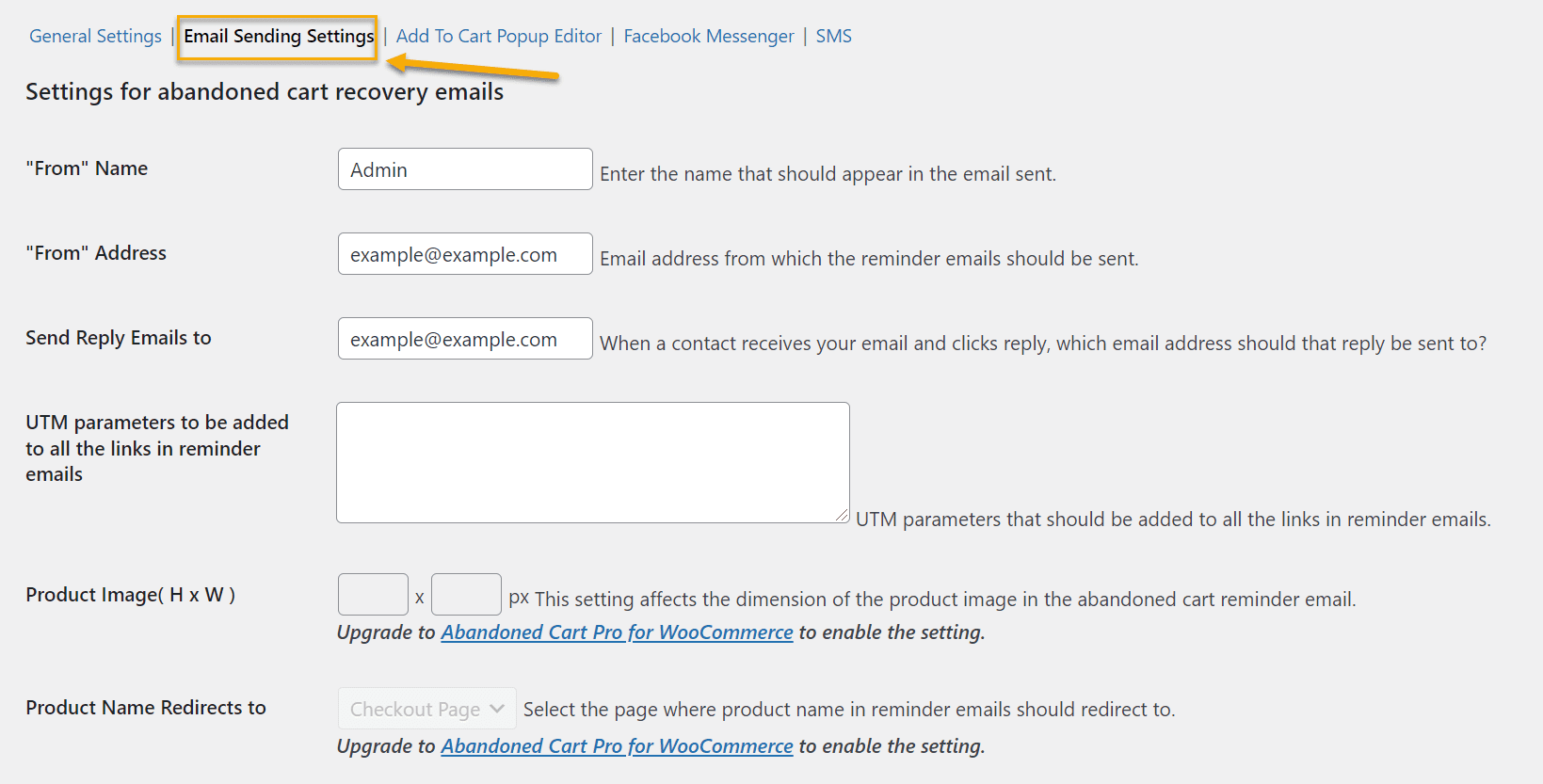 Similarly, you should configure dome email settings as well. On the Email Sending Settings page, enter the name and email address from which you want your WooCommerce abandoned cart emails to be sent:

Hit Save Changes at the bottom of the page, and that's it for the configuration part. Now it's time to create an email template!
Step 5: Create an Email Template
To create emails, go to the Abandoned Carts area's Email Templates tab. Then click the Add New Template button:

Click on Add New Template and you'll see all the editing options you have: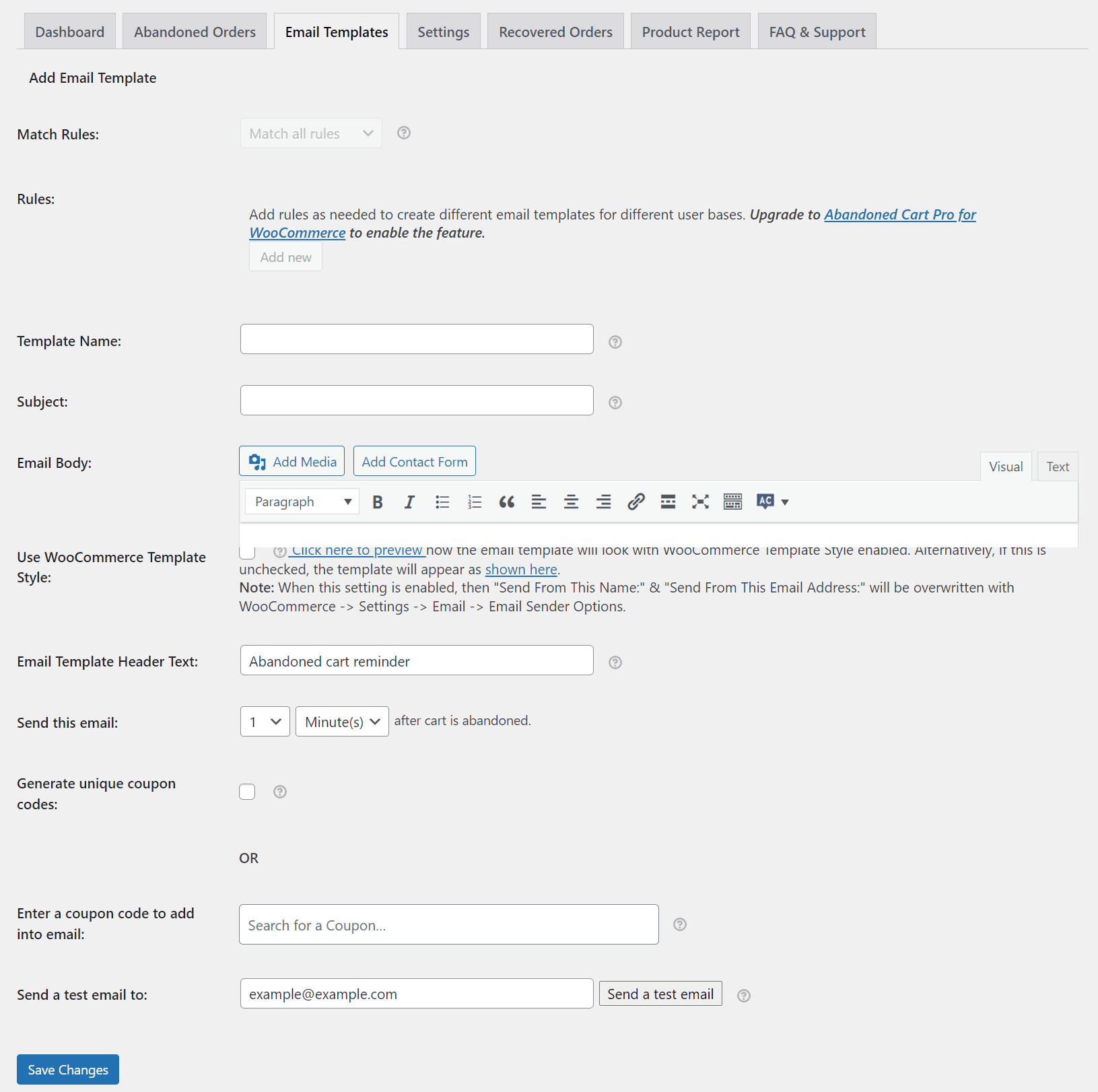 Give your email a Template Name and Subject first. The Template Name is only used internally, and your customers will never see it. The Subject will be the actual subject of your email. Then, type the body of your email. You might want to fine-tune the copy a little. Return to the first section of this guide to learn how to compose an email body.
Then, type the body of your email. It may appear to be a standard WordPress editor box, but don't overlook the new shortcode button. You can use it to automatically insert a customer's first name, last name, cart content, cart link, and other information.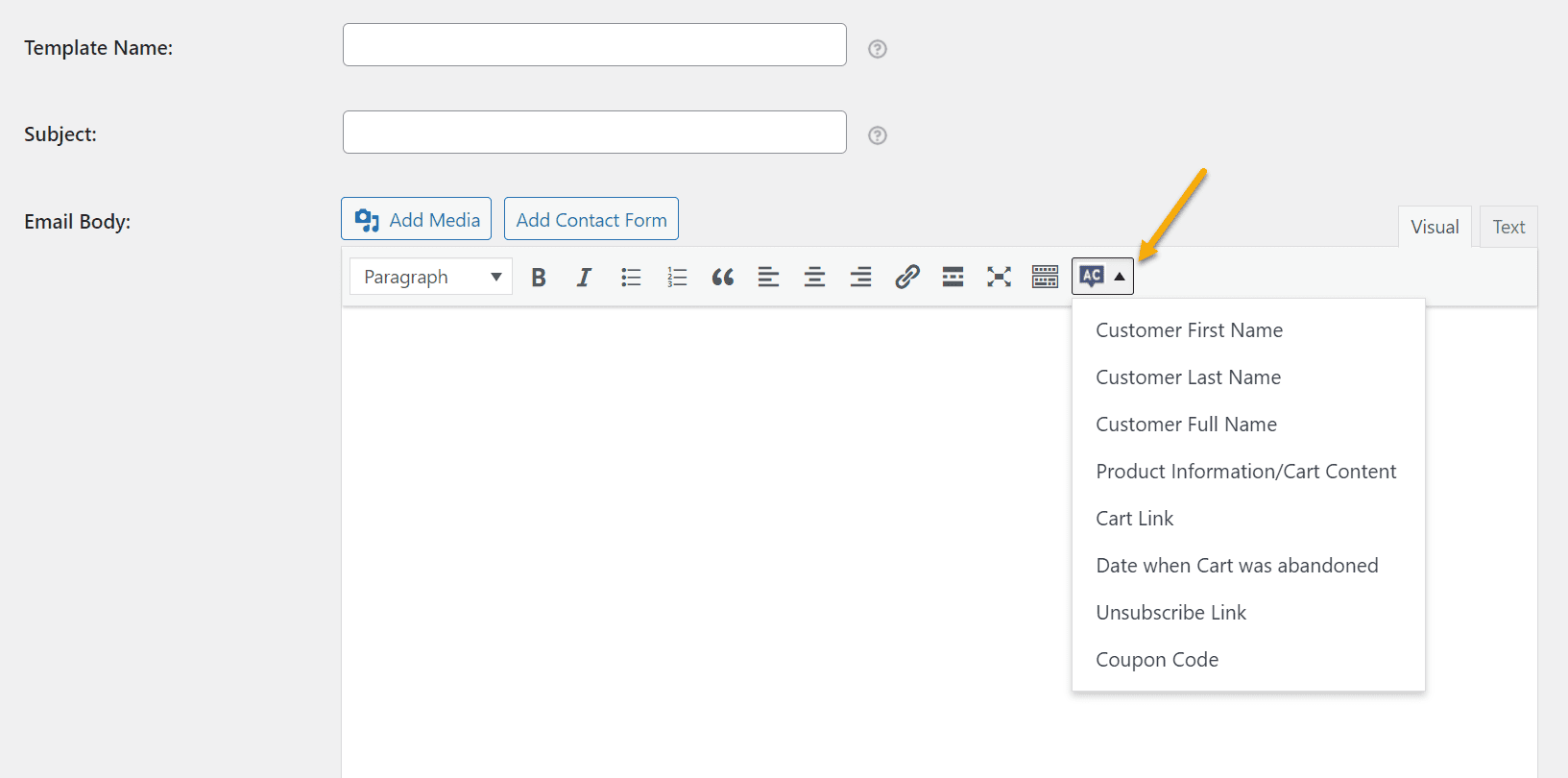 Here's how your email should look like: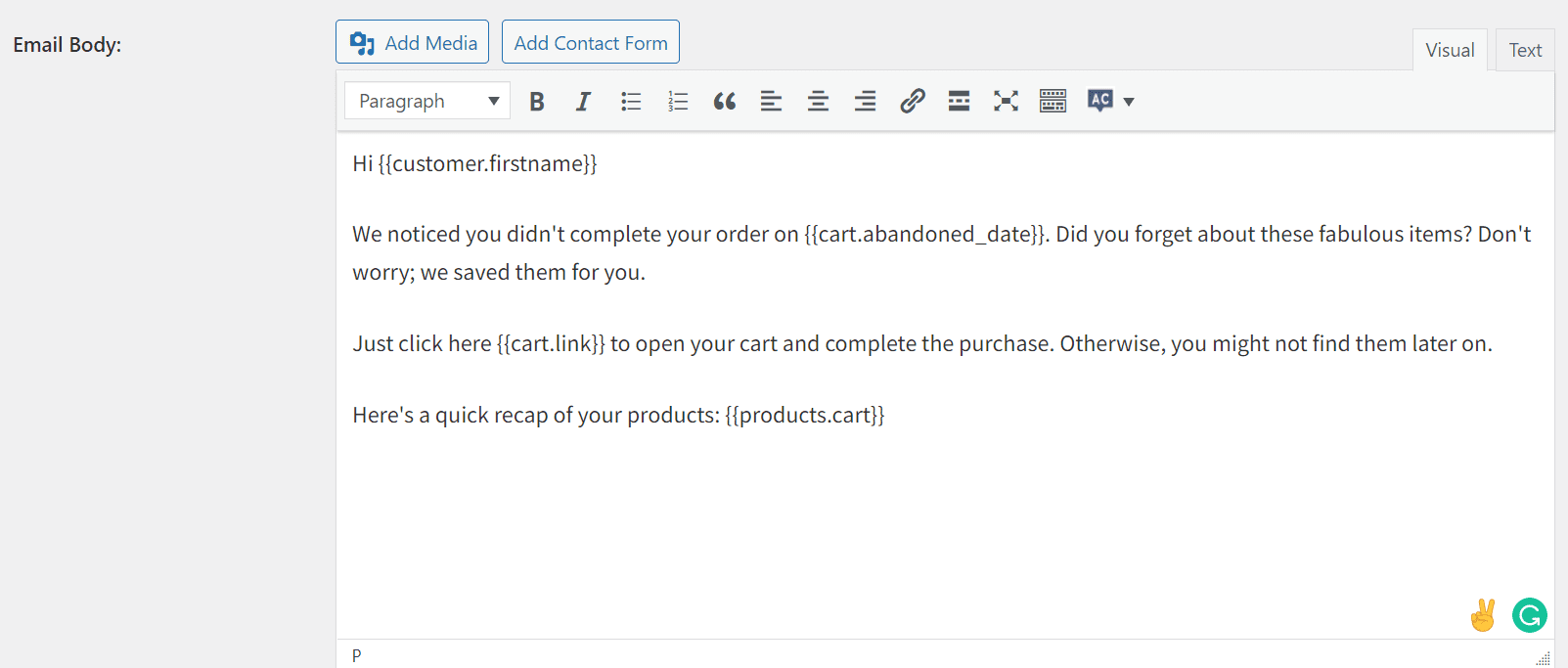 Step 6: Choose Your WooCommerce Template Style
Following that, you must decide whether or not to use the WooCommerce Template Style. We recommend that you check this box. It will give a clear and breathable design to your email.

Once you're done, you can test your email by sending the first draft to yourself. Just remember to hit Save Changes before sending and exiting the page.
If you are not satisfied with this free version of the plugin, you can upgrade Abandoned Cart Lite to gain additional features. The professional version costs $119. It allows you to add conversion-boosting coupons, provides pre-made templates, and has many other features.
Wrapping Up
Abandoned cart emails are both art and science at the same time. Finding the best subject line, copy, email design, recommendation strategy, and incentive to offer requires constant optimization, and experimentation with the data you have is definitely a challenge.
WooCommerce cart abandonment emails, on the other hand, are an excellent way to increase your store's conversion rates and put more money in your pocket. With how simple it is to get started, there is no reason not to test abandonment emails.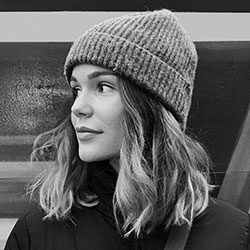 Gabriella is a Digital Content Writer and Marketer with a zeal for all things WordPress. When she's not researching and drafting the upcoming articles, you can find her in the open air exploring the outdoors with her dog.