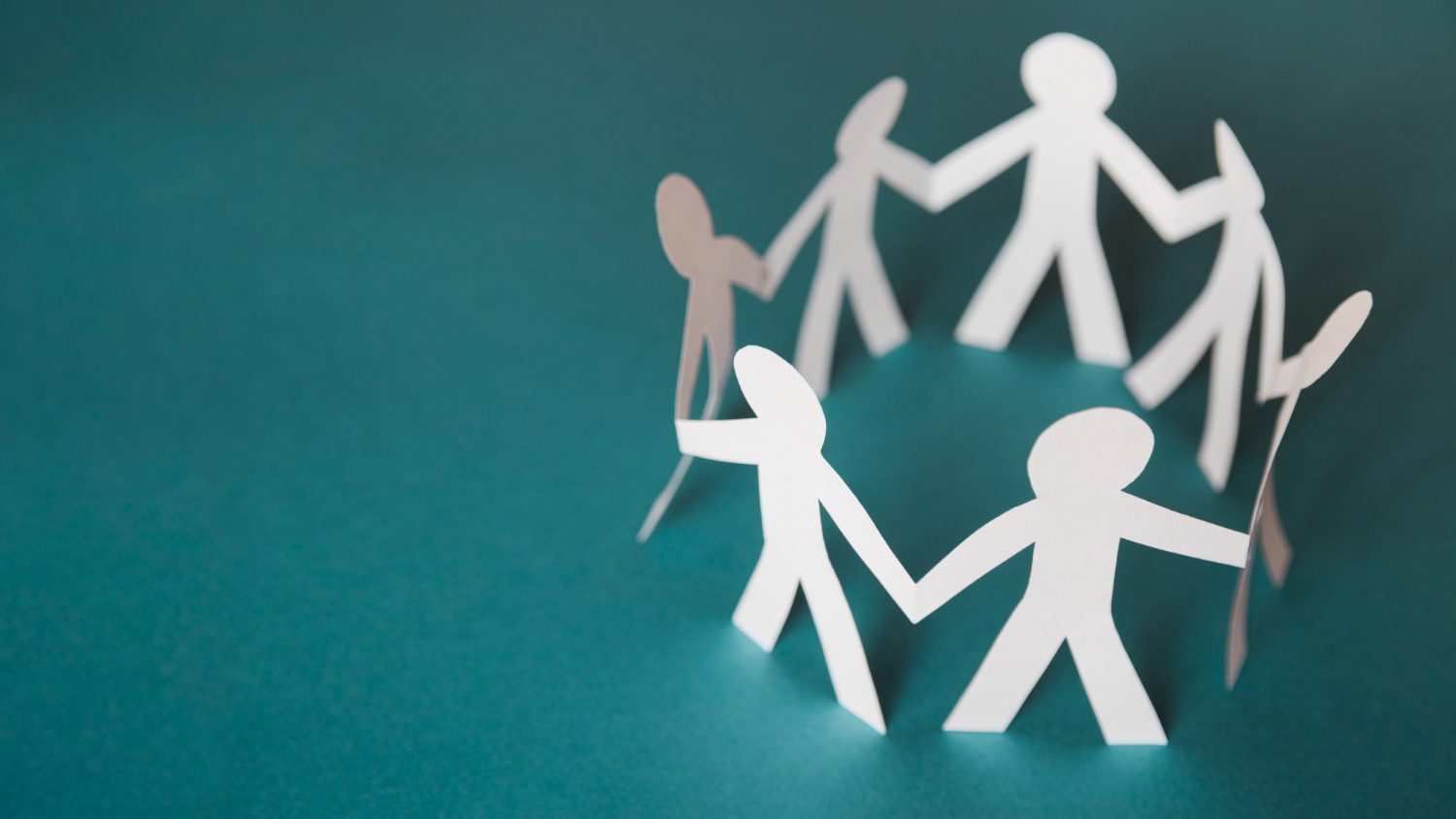 Every eCommerce store aims to get repeat customers who make purchases. However, it's not as easy as one would imagine. You must first build loyalty with your customer base to get repeat business. Give people a reason to come back, so to say. A membership program could be an excellent way to increase sales in your eCommerce store. You can quickly build a loyal following by rewarding devoted customers with special deals and discounts.
To get things started, we'll examine in detail what a membership website is, what benefits a membership website has for eCommerce purposes and how to create one for your WooCommerce-powered store!
We'll also look at some real-world examples of eCommerce membership websites and discuss the steps to get you started on creating your membership program.
Ready to roll up your sleeves?
What Are Membership Websites?
A membership website, in its most basic form, is a gated website with members-only content. Nonprofits, associations, clubs, and companies use them to "gate" content so only members can access them to add value. These members may be complementary, fee-based, or part of a tier system with varying membership levels available for various values.
Let's take the example of the good 'ole Amazon Prime: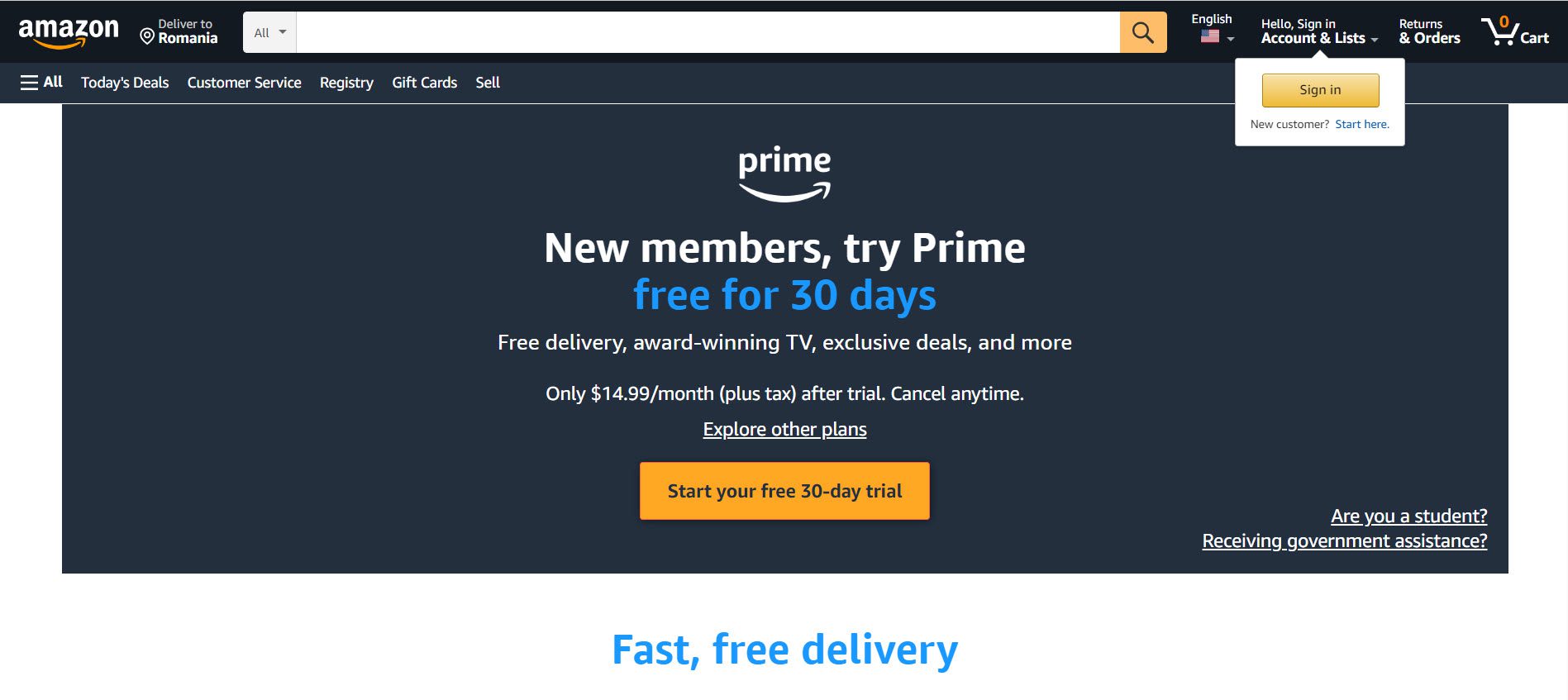 The most well-known and popular online membership service is Amazon Prime. And because of how well it has worked out for the company, other online retailers are now considering implementing similar upfront, fee-based programs.
Essentially, by becoming a member of an online store or learning platform, you get access to unlimited deals, special courses, discounts, products, insights, and so on. And who doesn't like that?
Benefits Membership Websites
A membership website uses content restrictions, which means users must log in to access the site and interact with other members. Specific content is usually hidden behind a member login page; visitors must have an active membership account on the website to view it.
Their primary advantage is that it is created on a platform that unifies all the features members require to access the total value of their membership. For instance, online community membership websites typically include at least some of the following:
Payment to become a member. For example, Ryanair, a low-cost flying company, launched a fee-based frequent flier scheme that gives members free standard seat selection, fast-track airport access, priority boarding, and a 10kg checked baggage allowance. Passengers who sign up for the 'Ryanair Choice' program will need to pay €199 a year.
Numerous ways for the community to interact, such as threaded public conversations, polls, virtual events, and online courses;
Additional ways to foster member connection include direct messaging, member tagging, and mentions;
A payment platform that allows members to manage their subscriptions easily.
As you've already realized by now, membership sites may offer both free and paid membership levels or both. There may even be different levels of membership involved, each with its access privileges and rights.
So, what makes these websites so unique? The strength of a membership site lies in the membership itself. Users will be willing to pay a membership fee to access your protected pages if they are particularly valuable or sought after.
What About eCommerce Membership Websites?
Now, this is what really interests us.
Product or brand subscription services are not a new business strategy; they are one of the oldest. And the truth is that retaining a loyal customer is far more profitable for a brand than constantly seeking hundreds of new customers.
So let's see what notable benefits eCommerce membership websites offer:
Enhancing customer loyalty;
Increasing sales flow;
Predicting shipping and packaging costs;
Discovering shopping habits (product types, frequency, common dates);
Creating personalized newsletters and email campaigns;
Building anticipation by providing exclusive or early access to offers and products;
Fostering a sense of exclusivity (terms like club or VIP member).
But the question is, is there a difference in eCommerce membership types? Are they all the same? Let's find out!
Types of eCommerce Membership Programs
Replenishment
Example: Amazon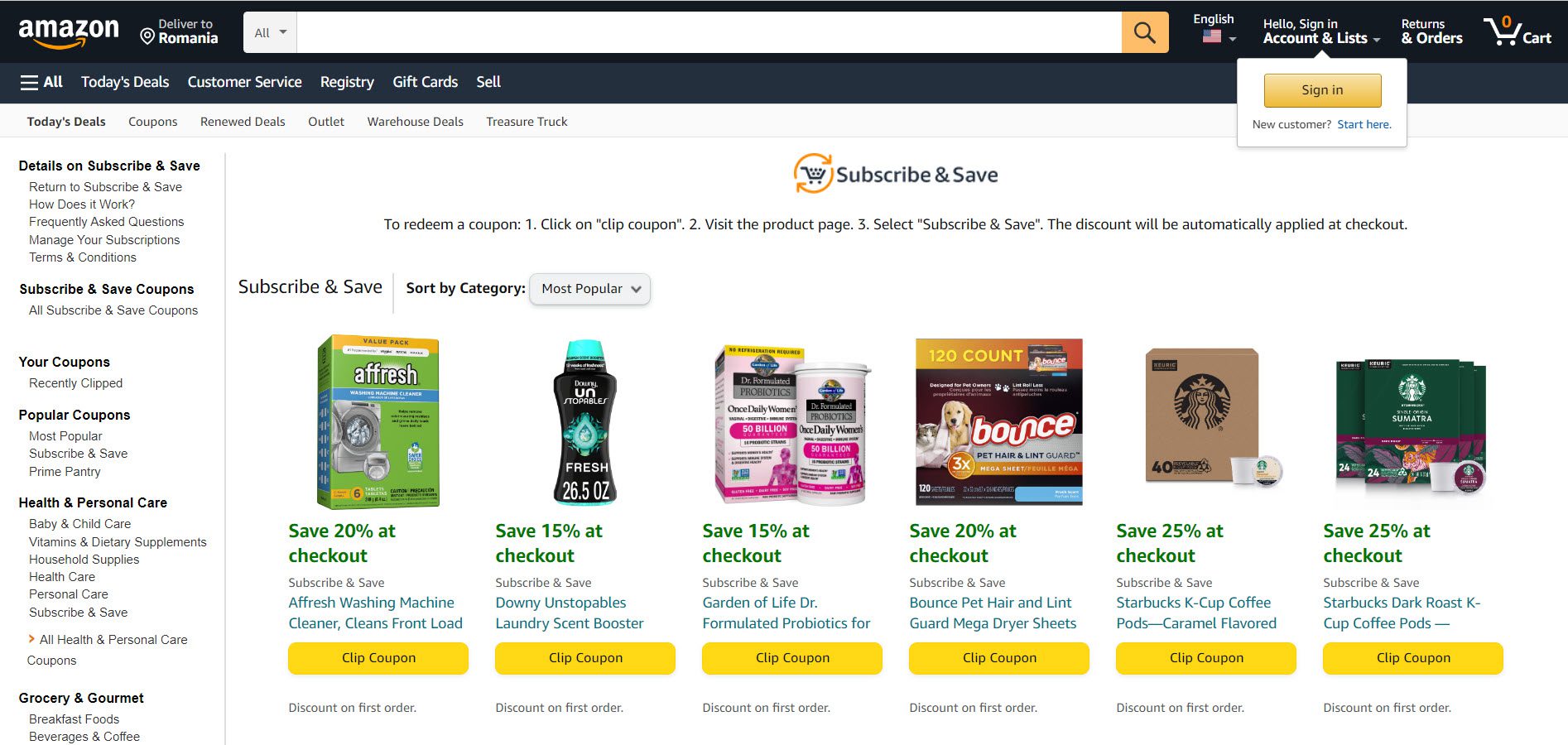 This is the most common subscription box membership option. It entails shipping products weekly, biweekly, monthly, or regularly.
Customers can select the frequency and volume of shipments, such as whether they want something every month or every two weeks, or leave it all up to the seller.
For staple products, such as food and toiletries, it is more common for the buyer to choose the frequency and quantity. In contrast, monthly surprise subscription boxes may be more famous for leisure or complementary products, as we'll see below.
Subscription programs
Example: Bloomberg
These subscription boxes have grown in popularity as a form of eCommerce discovery, particularly among young people. Customers will receive a package at their door every month containing a surprise selection of products in exchange for a low monthly fee.
These can be from a single category or a combination of the retailer selling an experience (for example, a "relaxation box"). They may also include various brands or specialize in a single company, allowing customers to discover multiple new products each month.
Category programs
Example: Freekaamaal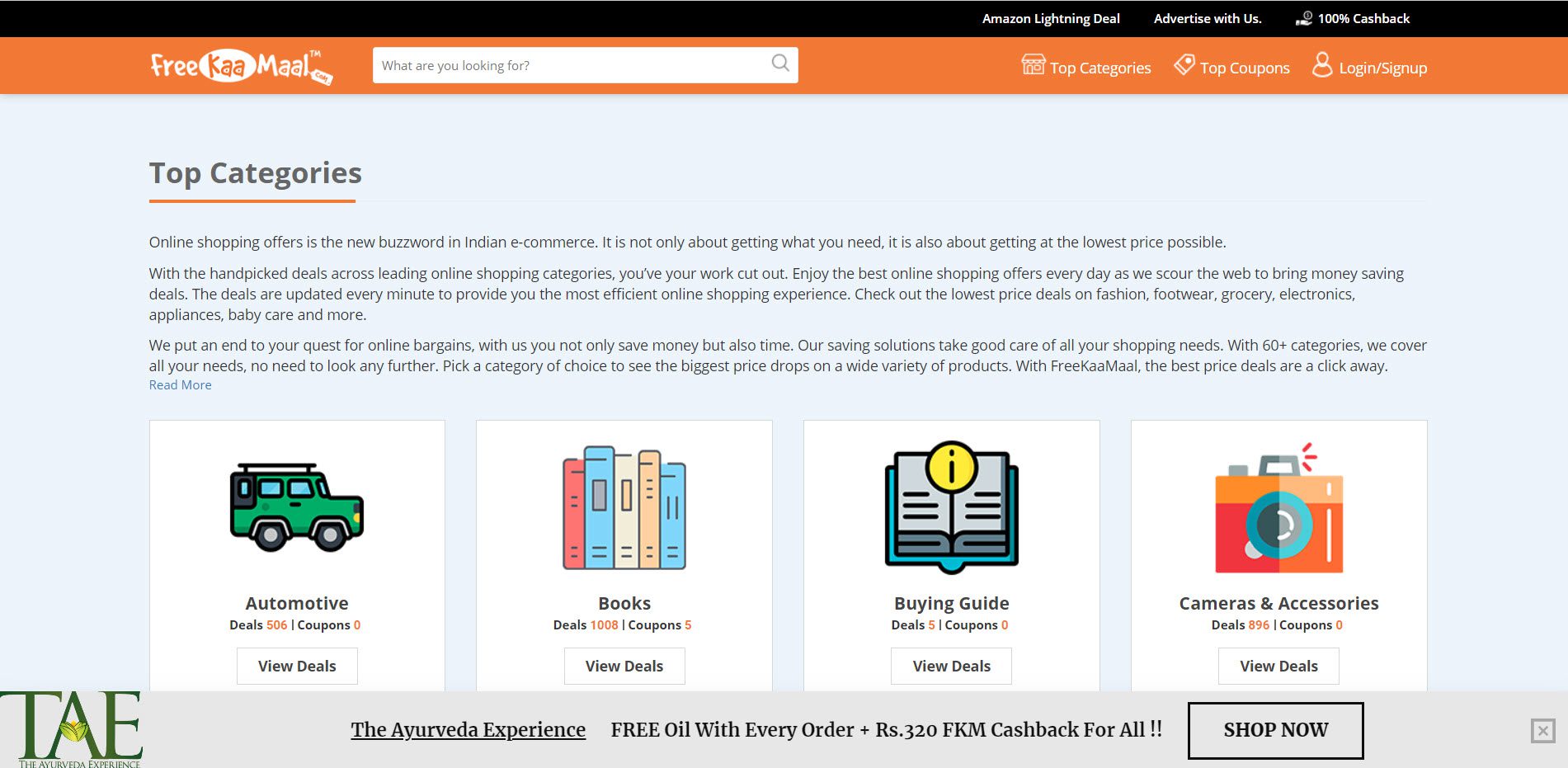 This form of membership system is prevalent for services: basic, premium, and business packs, with prices increasing as more features or extras are added.
It easily applies to eCommerce via boxes or orders of various volumes and categories. For instance, a package that only contains seasonal vegetables or one that also includes fruits or even a few tins of fine dining foods. The thing is, offering various types of membership is an excellent way to determine your customers' average spending and which types of products they are most interested in.
Offers
Example: Priceline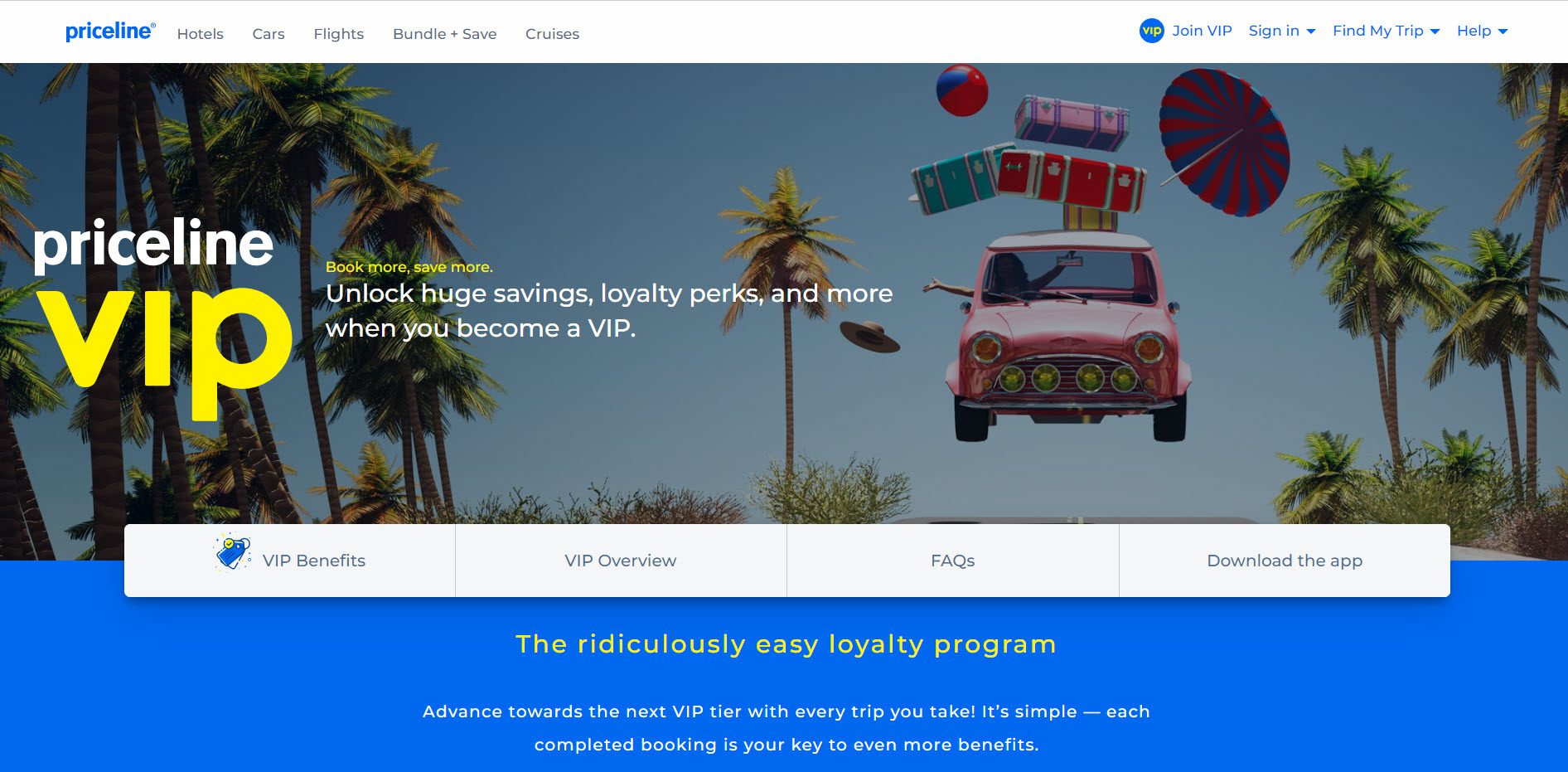 Last but not least, many clients will only sign up for a membership if it comes with financial advantages. This kind of eCommerce subscription, like traditional retail chain clubs, comes with enticing terms like free shipping, coupons, and the accumulation of points that can be used to get discounts.
This system may be helpful for businesses or retailers looking to periodically get rid of excess inventory while providing privileged customers with the best deals. But, except for mass discounters, it is not particularly profitable.
Customers frequently leave clubs that offer challenging benefits to obtain more quickly (such as a small gift card for your birthday or a discount after making a certain amount of purchases at the brand or store). However, these can be useful for learning more about your customers and their buying patterns.
So, what do these eCommerce websites have in common? Besides the fact that they all have some sort of membership program. They're all powered by an eCommerce platform.
So, if that's the case for you, and you have an eCommerce website powered by WooCommerce, and you want to create a membership program for your customers, stay tuned because that's what we're going to talk about in the next chapter.
How to Set Up a WooCommerce Membership Program
When it comes to creating a membership website with WooCommerce, it's all a piece of cake. So, if you have a WooCommerce store, creating a membership plan is especially simple because there are numerous plugins available in the WooCommerce community to assist you in setting up a membership plan in your store.
WooCommerce membership plugins to choose from
We will present you with a couple of WooCommerce membership plugins that you can easily download and start creating your membership program immediately.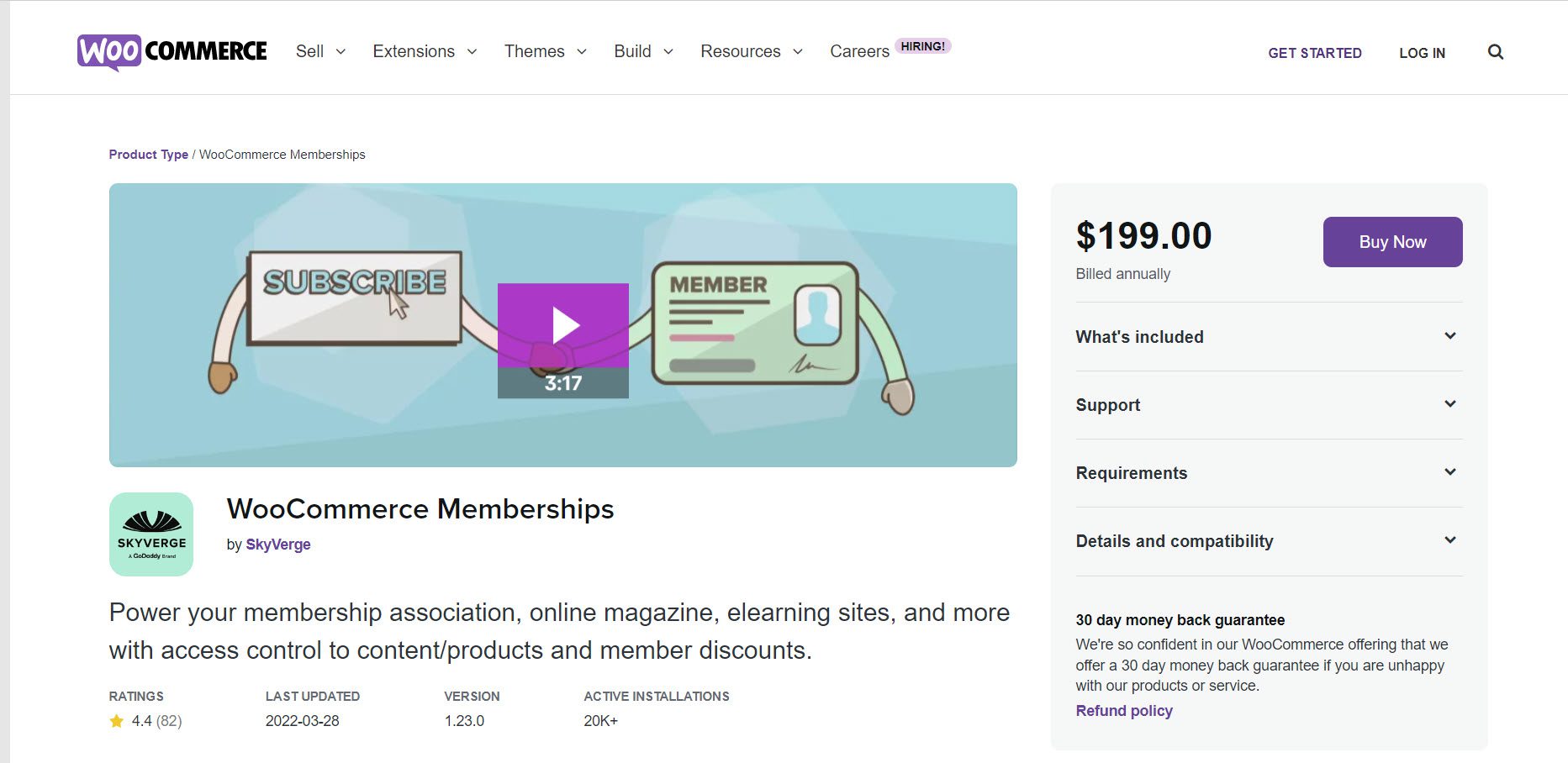 This extension is a comprehensive solution for combining multiple aspects of your site. When you strategically align your store's content, products, and memberships, magic can happen. According to WooCommerce experts, the plugin has a solid foundation and is easy to set up and manage.
Plugin features:
Allow access to a membership as part of a product purchase — for example, buy a meal box subscription and get free access to the recipes section;
Allow access to the same membership through multiple products (for example, a yearly purchase or a monthly subscription);
Manually assign memberships for an invite-only members area;
Import and export member's data in bulk;
The 'Membership notes' feature will keep you informed of special requests from members.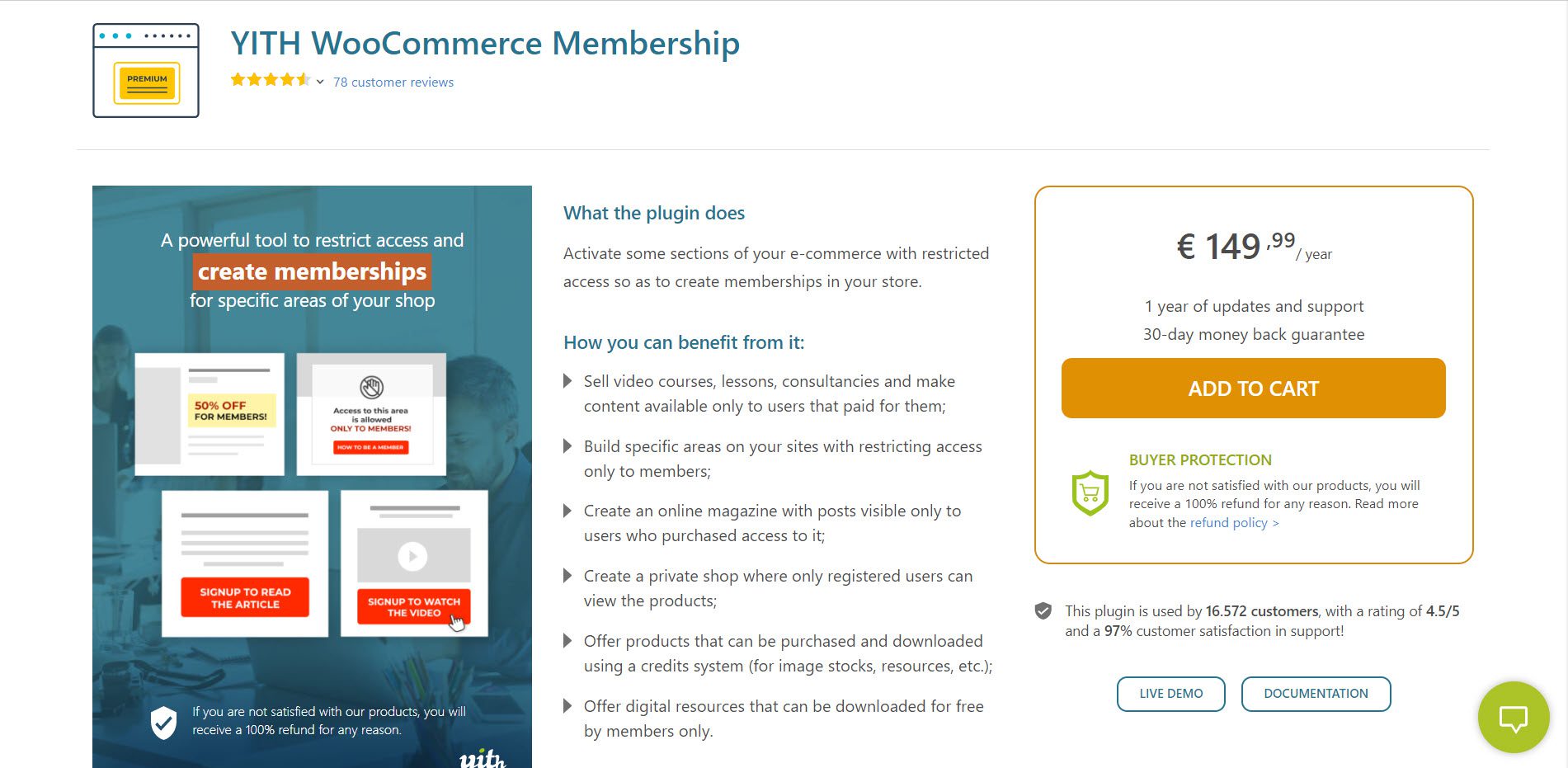 The YITH membership plugin allows you to give members of your site exclusive access to courses, e-books, and other premium services. Indeed, you can create personalized content for your members, increasing the quality and value of your site or service.
The plugin aids in the management of training courses or services at your store. Furthermore, it enables you to provide exclusive access to premium content on your website. You can keep your members loyal by sending timely reminders about renewal, expiration, upcoming publication dates, and so on.
Plugin features:
Access to specific content;
Unlimited memberships;
Selective content access;
Unlimited memberships;
Add more content to existing memberships;
"Messages" widget that allows members to contact you instantly;
Delete or modify content in a membership plan;
Manage unregistered users;
Send notifications of expiry and renewal;
Hide the price and the Add-to-Cart button.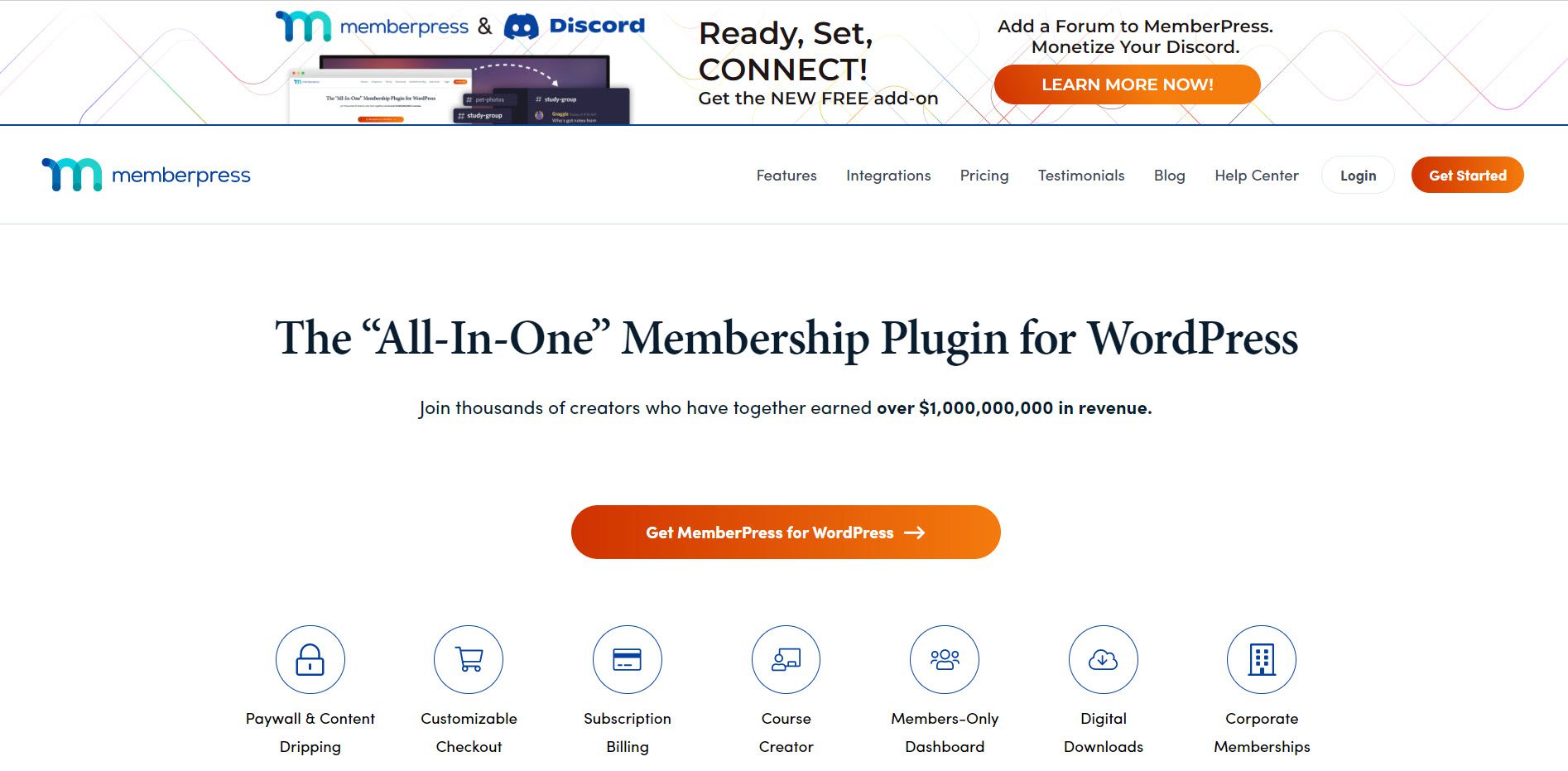 MemberPress includes all the advanced features needed to run a WordPress membership site. You will be able to charge users for privileged access to your website and accept credit card payments.
The plugin will allow you to sell downloadable products and membership subscriptions on your website quickly. Furthermore, you can control how selective access is granted to your users.
Plugin features:
Paywall and content dripping;
Customizable checkout;
Self-service dashboard, fast setup, reports, and automated emails;
Authorized users can access posts, pages, videos, categories, tags, feeds, communities, and so on.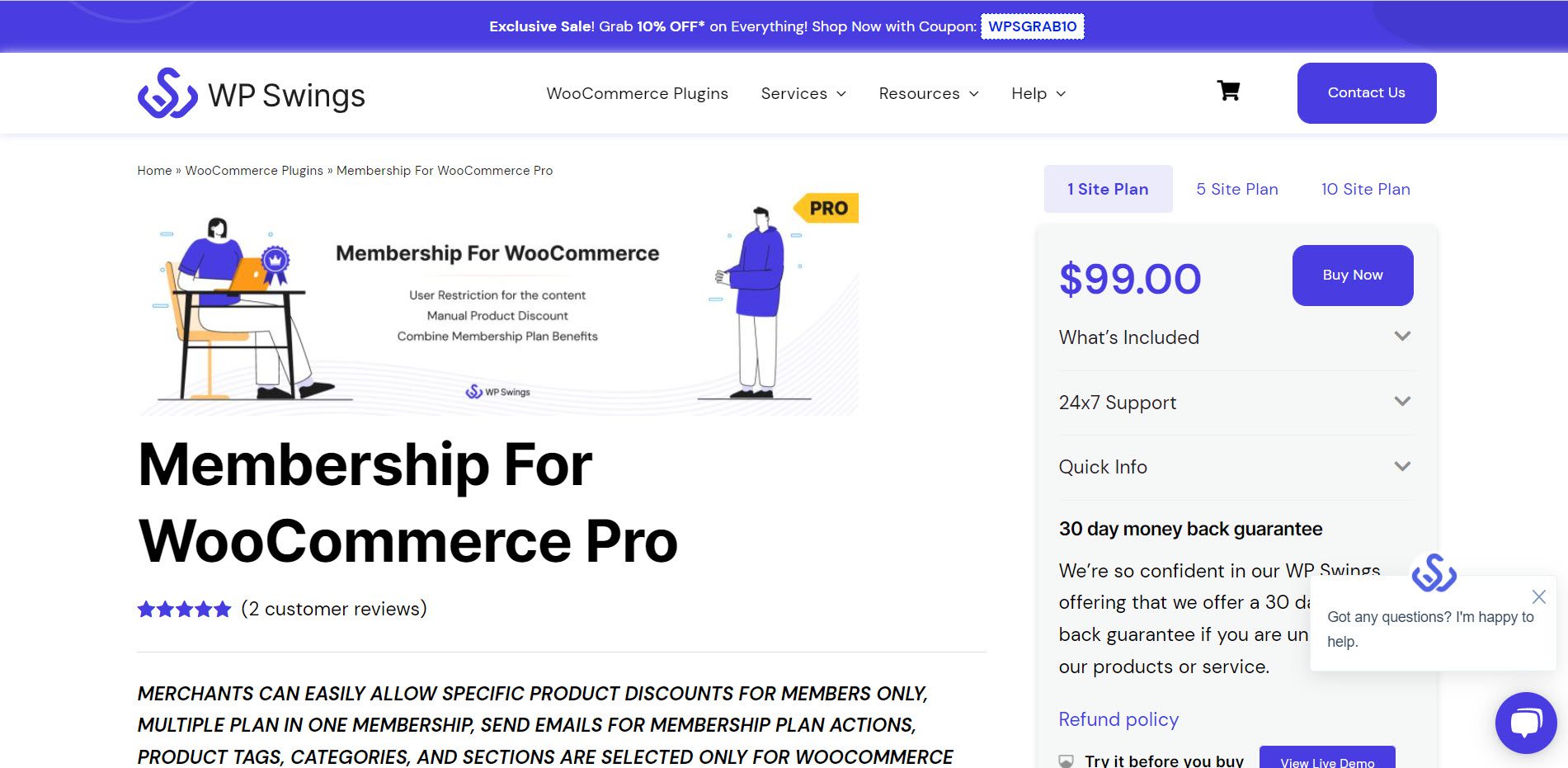 Membership for WooCommerce Pro is a premium solution for selling, managing, and designing membership plans that are comprehensive, useful, and user-friendly. With WooCommerce groups and memberships on your eCommerce store, you can earn recurring revenue and provide members-only discounts on selected products.
Plugin features:
Individual product discounts are only available to members;
Combine the advantages of multiple membership plans into one;
Send emails informing members of membership plan actions;
Certain product tags, categories, and sections are only available to WooCommerce members.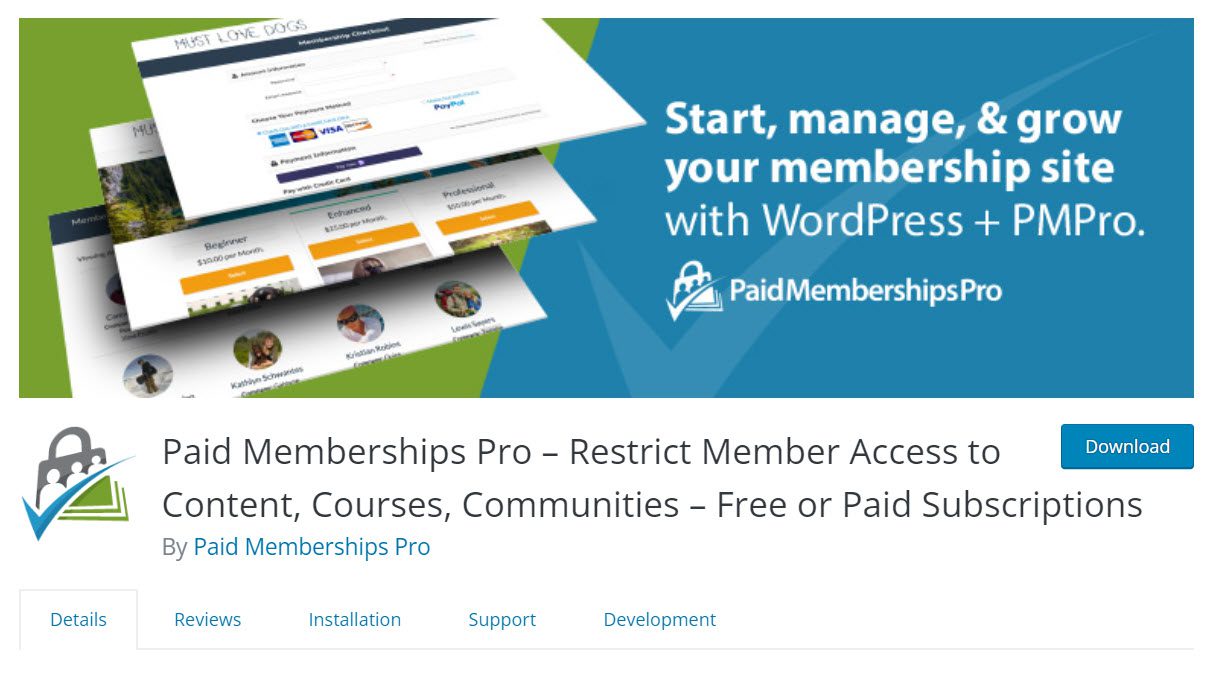 Paid Memberships Pro has been around since 2010 and has grown alongside WordPress to become one of the most feature-rich, user-friendly plugins available.
This WordPress plugin lets you create a membership site and charge customers for access. In essence, it works as a paywall, allowing only members and subscribers to access it. In addition, it provides support, manages subscribers, drip-feeds content, and reports on their activities and revenue.
Plugin features:
Payment gateway flexibility, content dripping, custom pages, advertising, and email marketing integration;
Membership categories and a directory;
Each member has their own content page.
Menus tailored to each membership;
Personalized themes and customization.
How to Set Up a WooCommerce Membership Program with Paid Memberships Pro
This section will walk you through the two basic steps required to integrate Paid Memberships Pro with WooCommerce and create a membership program for your Woo store!
Step 1 → Create an account on Paid Memberships Pro
It is important to create an account in which your email address is provided, so you get access to the license key of the plugin, which you will need later on when you install it on your WordPress site.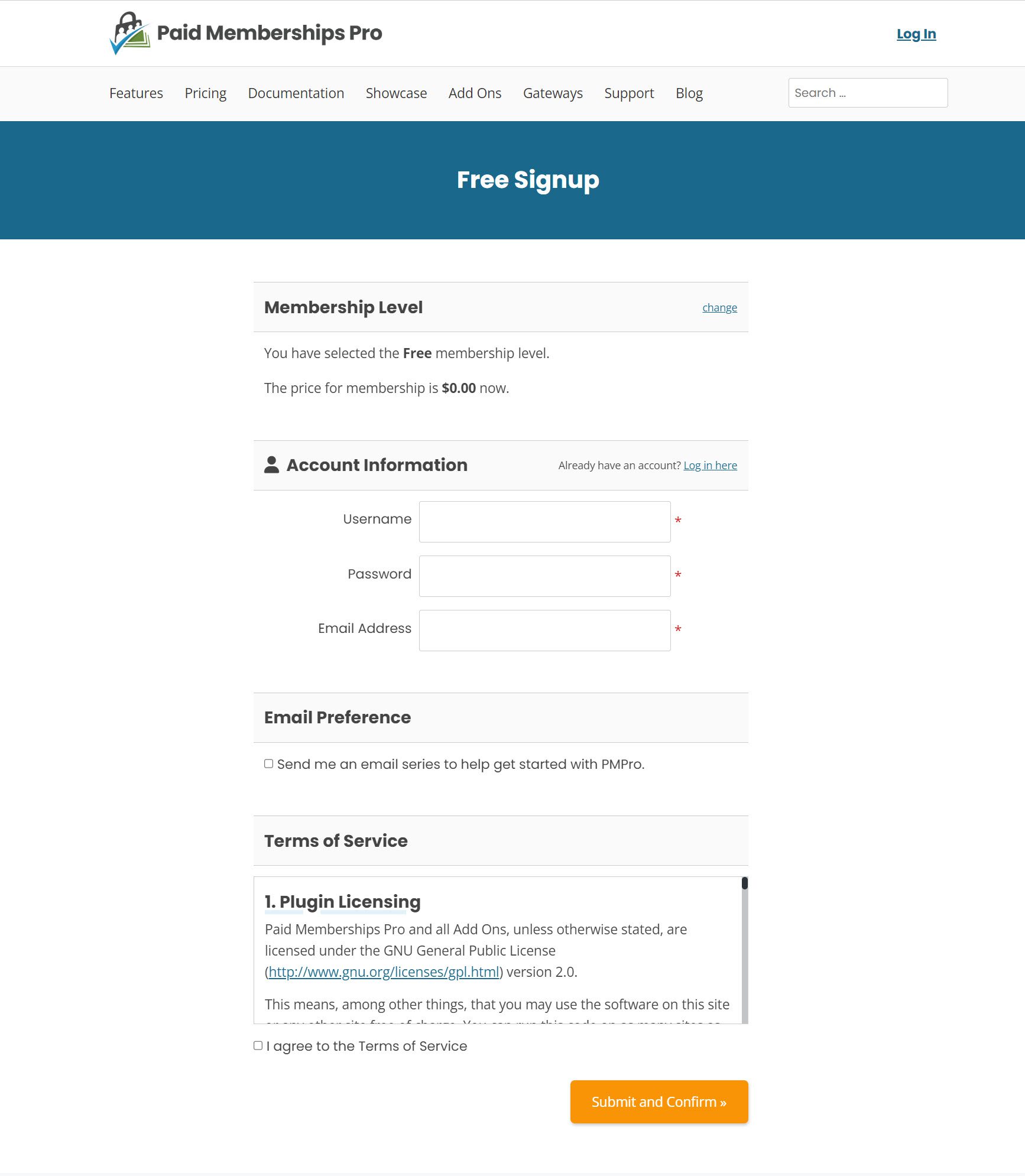 You can start with a free account and access all of the documentation and free downloads, or upgrade to a paid version and gain access to premium add-ons within the plugin. The following are the prices: Standard: $247 per year; Plus: $397 per year; Builder: $697 per year.
Once you have completed the registration process, it's time to download the plugin.
Step 2 → Install and Activate Paid Memberships Pro
You can do this by installing the plugin from the WordPress dashboard. To begin, sign in to your WordPress account. Then, in the WordPress dashboard, hover your mouse over Plugins and click Add New.
Next, type in the plugin's name in the search bar, then hit Install Now.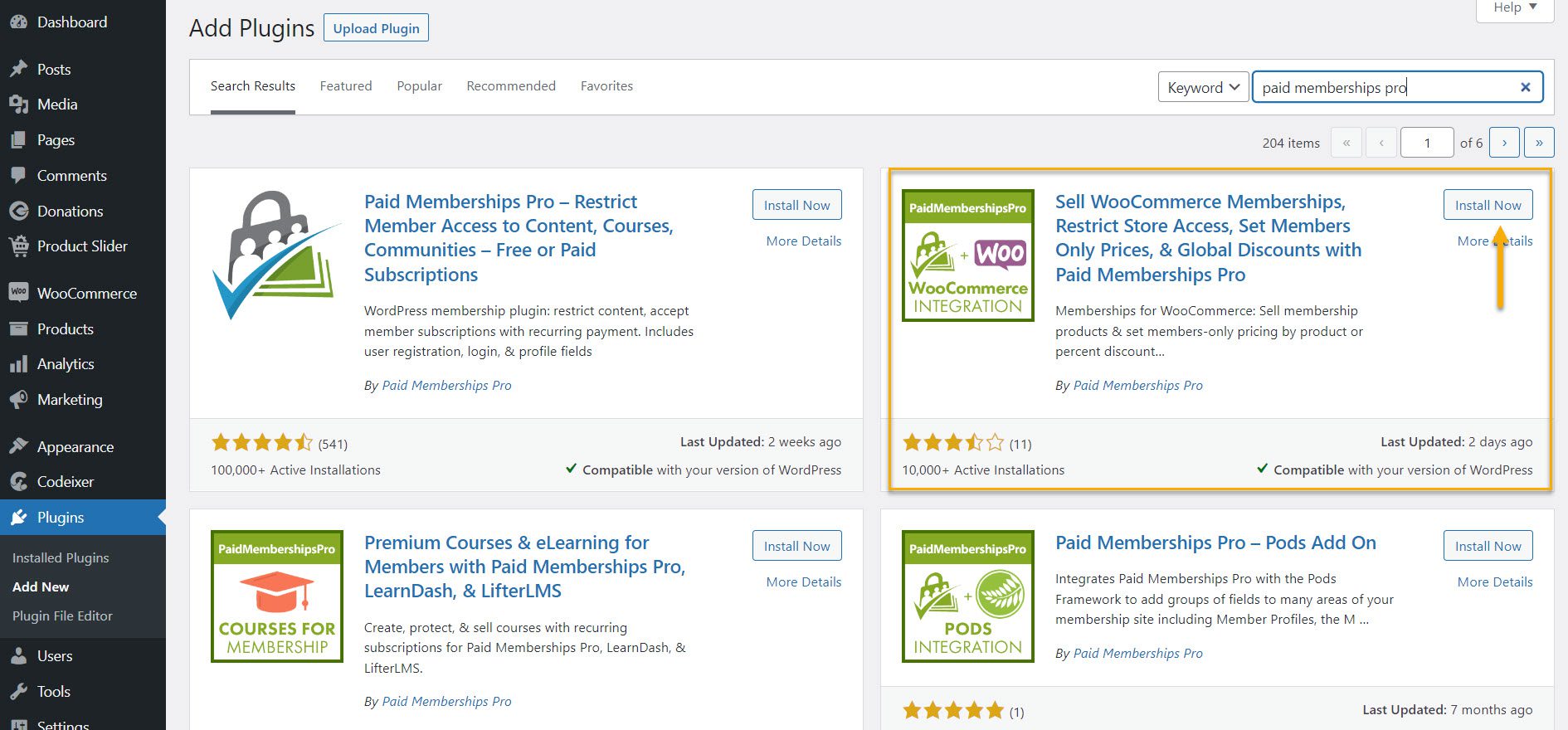 Now, from your WP admin dashboard, navigate to Memberships →License and enter the license key you received via email.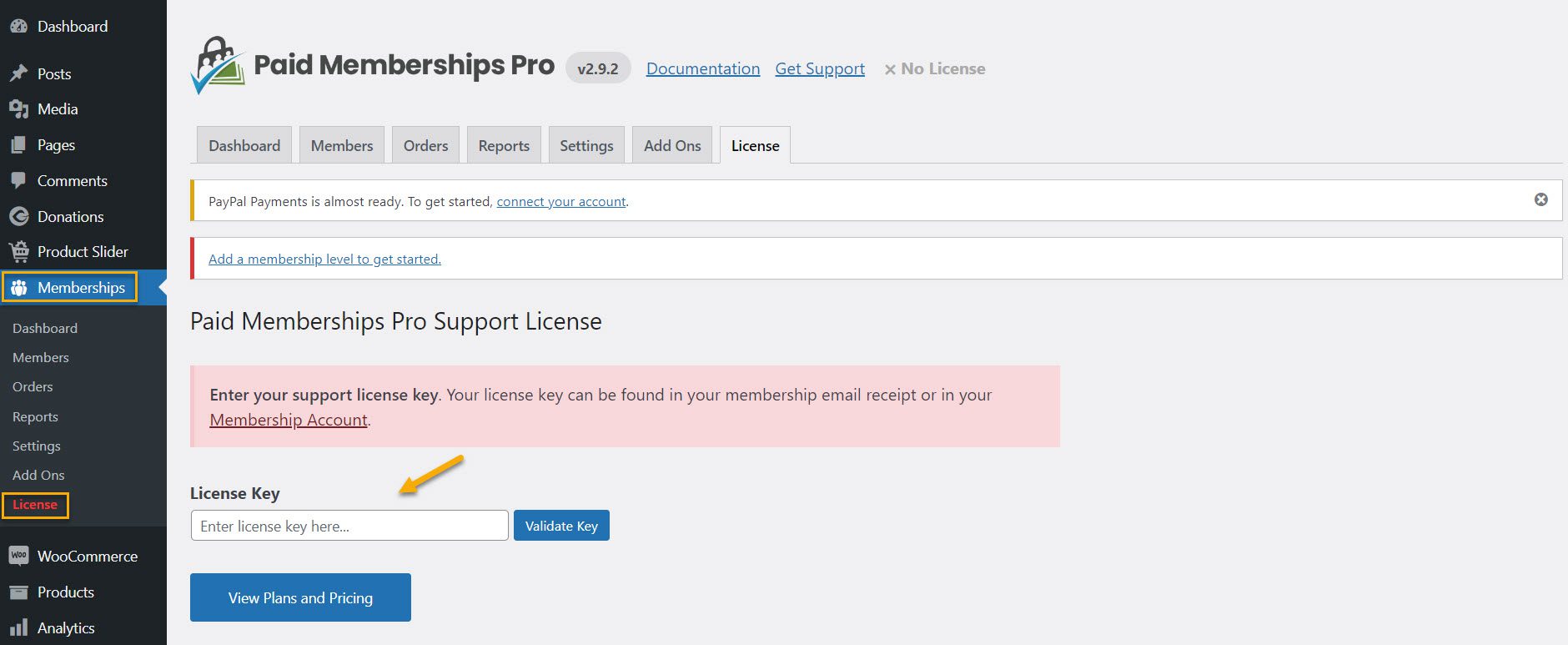 Entering the license key will ultimately activate the plugin. After activating the plugin, you will need to create a membership level.
Step 3 → Create a membership level
Go to Membership from your WP dashboard → Settings → Membership Level.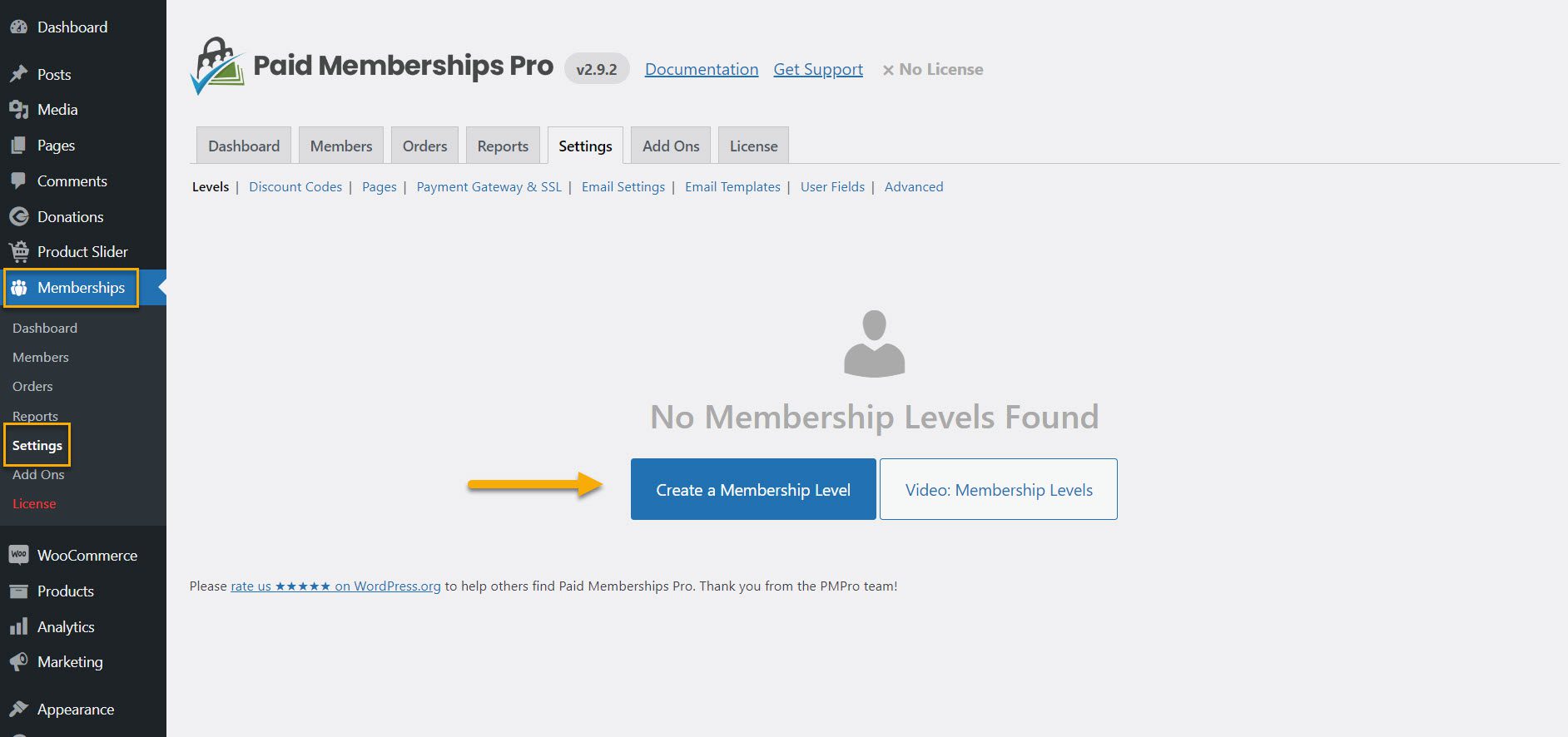 Upon clicking on the Membership Level tab, you will see several membership types, such as monthly, one-time, trial, annual, etc. We're going to go with the Monthly plan for this tutorial.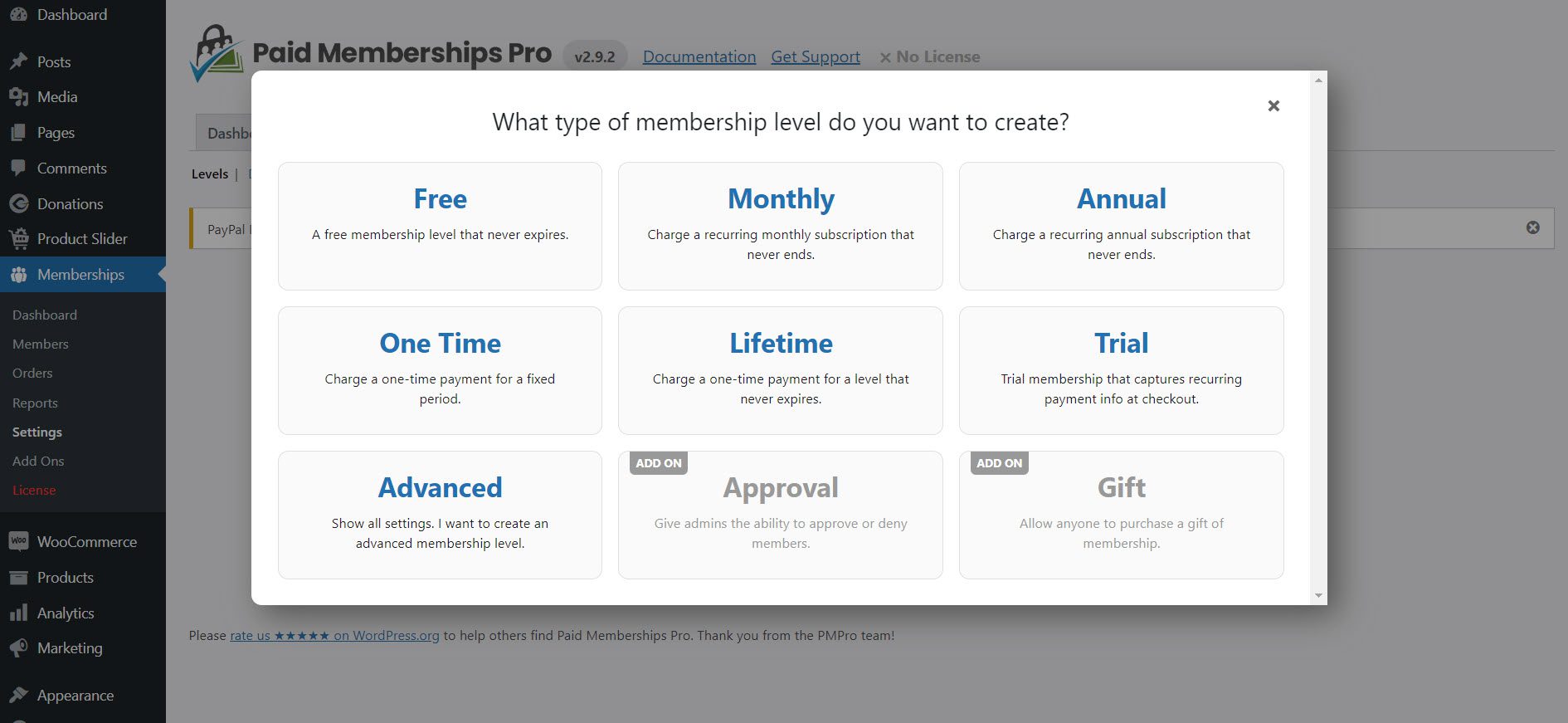 This how your editing page will look like once you choose a plan: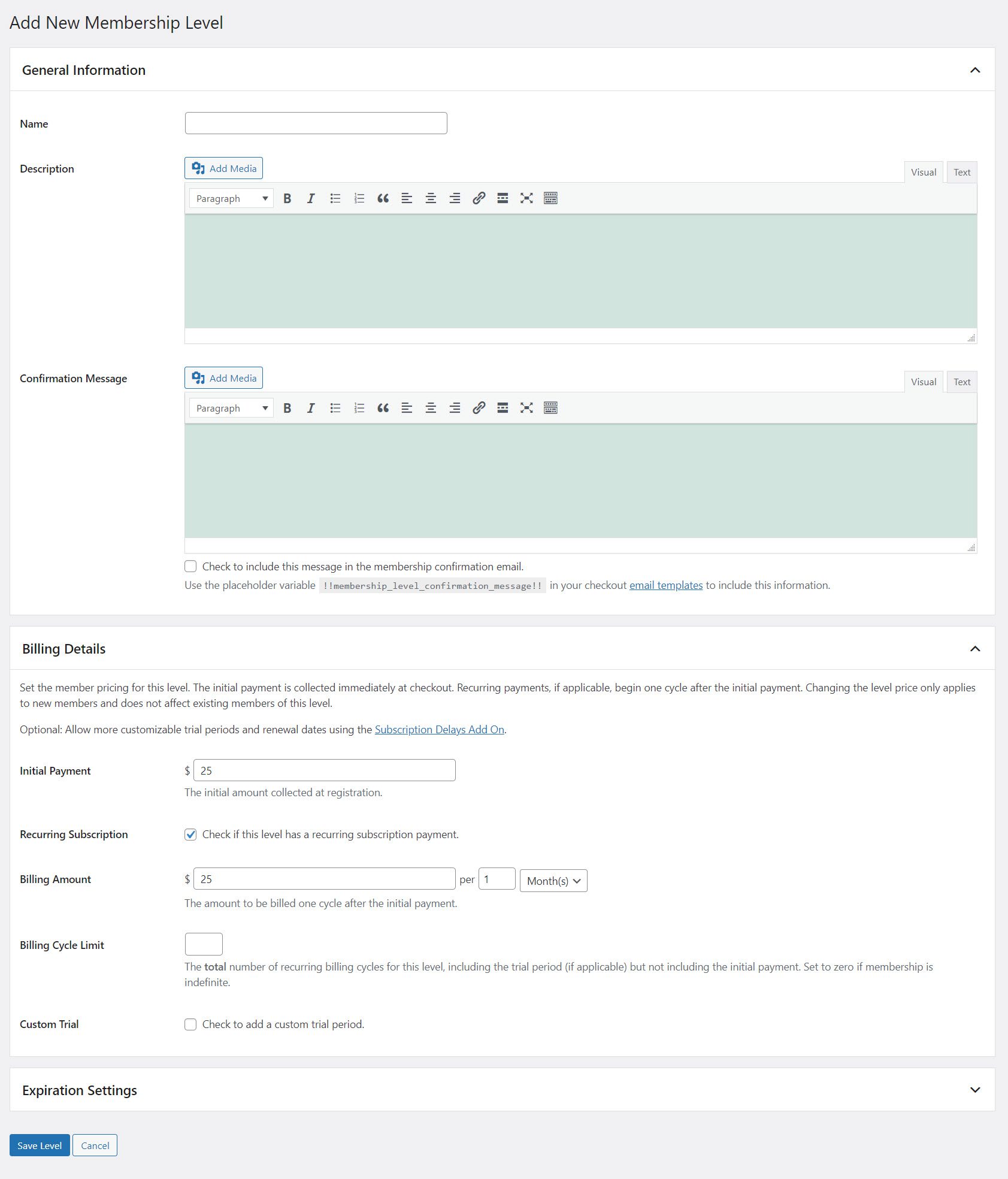 Here's what you need to know:
General Information
Name: Your Membership level's name (public)
Description: Optional content is displayed on the checkout page.
Confirmation Message: An optional message is displayed on the checkout confirmation page.
Billing Information: In this tutorial, we'll make a $50/month budget.
Initial Payment: The amount charged at the time of purchase. Enter 50.
Recurring Subscription: Check the box if you want to set up a regular payment.
Billing Amount: The amount to be billed one cycle (day(s), week(s), month(s), or year(s) after the initial payment. Enter 50 for one month.
Now, type these in as you set up your first membership level. Once you are done, hit Save level.

Now onto the next thing: adding products to your membership program.
Step 4 → Add products to the membership level
After activating the plugin, a Membership tab will appear in your WooCommerce products' Product Data section, allowing you to configure any product as a Membership Product. First, select which membership level will be linked to the product.
So go to Products → All Products, choose a product you wish to add to your membership level, and hit Edit.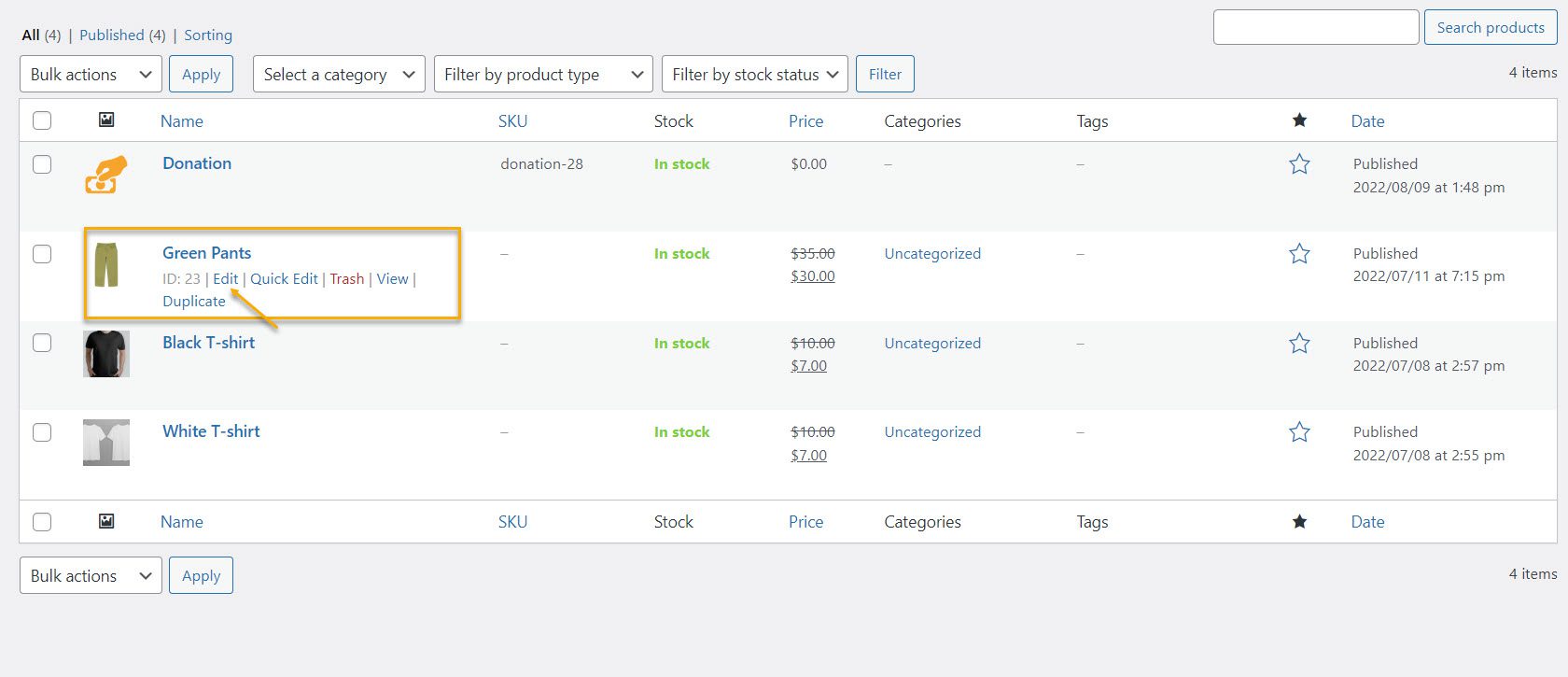 When you scroll down to the Product data, you will see the Membership tab: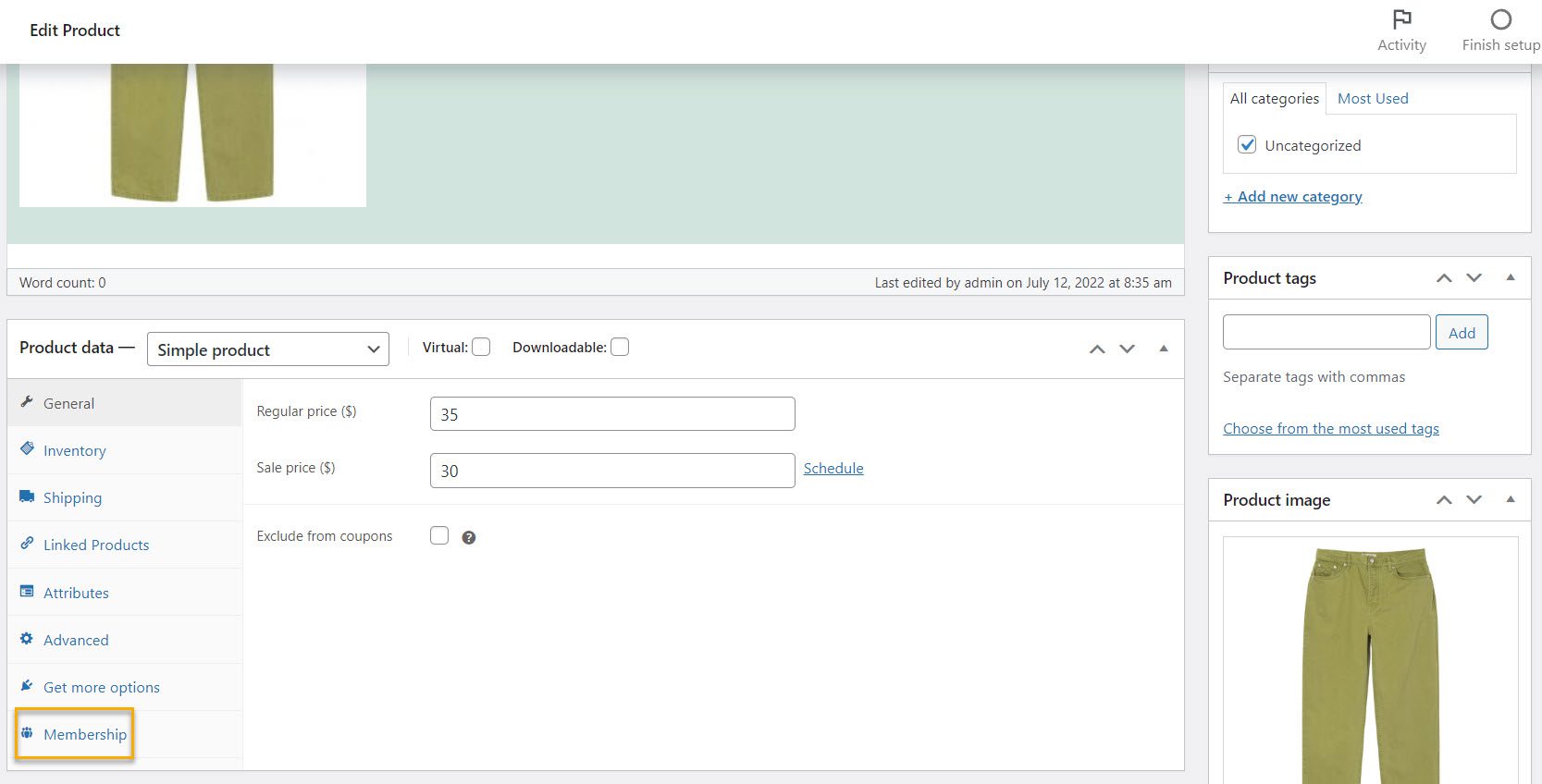 Lastly, choose the membership level you have just created that you will see in the options bar.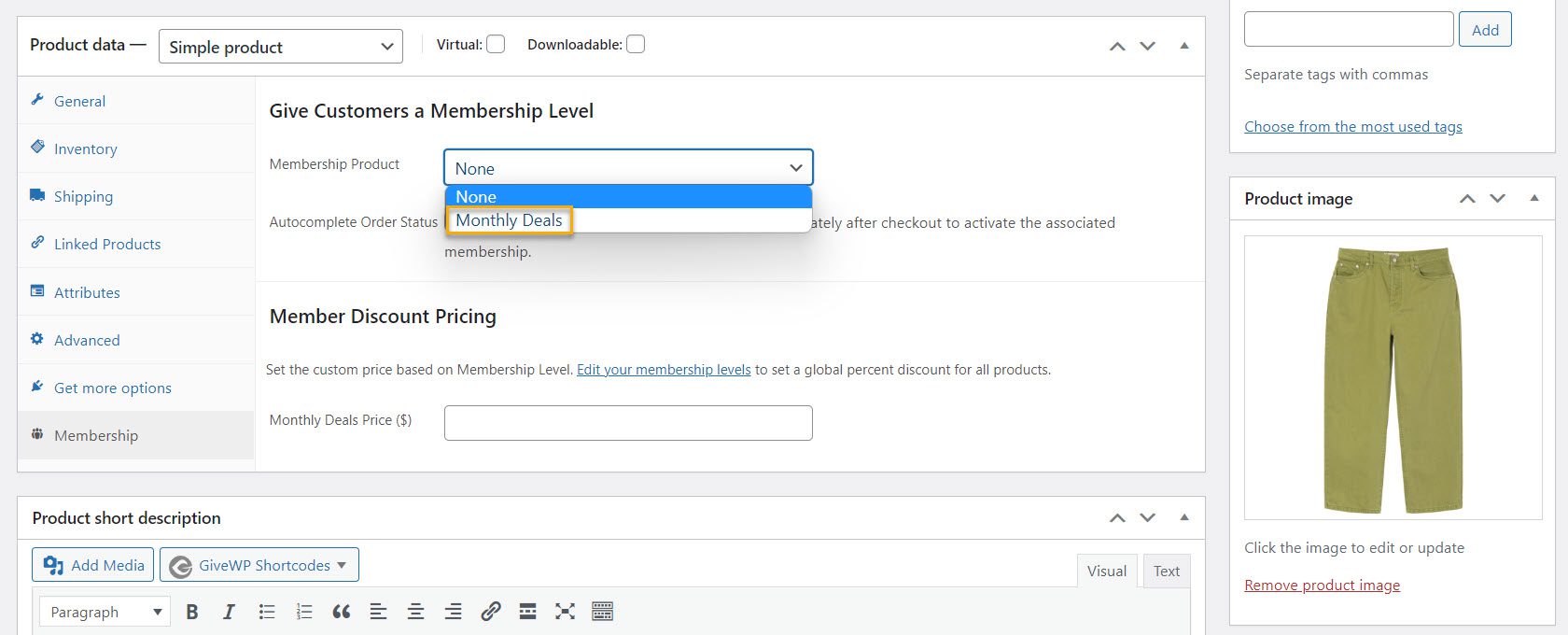 Check the autocomplete order status to mark the order as completed immediately after checkout to activate the associated membership.

Then enter the monthly deal price based on how you wish to set up your membership. And there you have it! This product is now part of a membership group of products that you will pass on to your customers to enjoy in the future.
Over to You
So there you have it.  You are now a skilled professional on all-things membership websites, eCommerce membership websites, and how to create a WooCommerce-powered membership program for your store and increase customer confidence. What else can one ask for? We hope you find our instructions to be helpful and informative. Now it's time for you to get to work!
Also feel free to check the rest of our articles on our blog. Enjoy!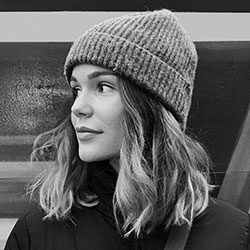 Gabriella is a Digital Content Writer and Marketer with a zeal for all things WordPress. When she's not researching and drafting the upcoming articles, you can find her in the open air exploring the outdoors with her dog.