So you want to run fundraising campaigns and hope to find the perfect WooCommerce extension to help you with that? Rest assured that you are in the right place.
But first, before we review the best options and dive into the technicalities, let us look at some of the critical reasons why WooCommerce store owners want to use a WooCommerce donation plugin.
Why should you use a WooCommerce donations plugin?
Whether you have a non-profit WordPress website or an eCommerce website and wish to donate a percentage of your sales to a cause you're supporting, you must keep two things in mind. First, inform and educate potential donors about your organization and its missions. Second, collect online global donations.
A WooCommerce donation plugin is intended to assist you in implementing a framework that allows you to receive funds quickly, and there are numerous reasons why WooCommerce store owners may want to use a donation plugin on their site, including:
Promoting a cause & running a donation campaign
This one should go without saying. Some WooCommerce store owners who sell a specific category of products may want to promote some causes with which they are involved. A donation plugin would allow them to do this in addition to selling their products.
Here's an example: Sam Adams and the $2.1 million restaurant donation to the Strong Fund.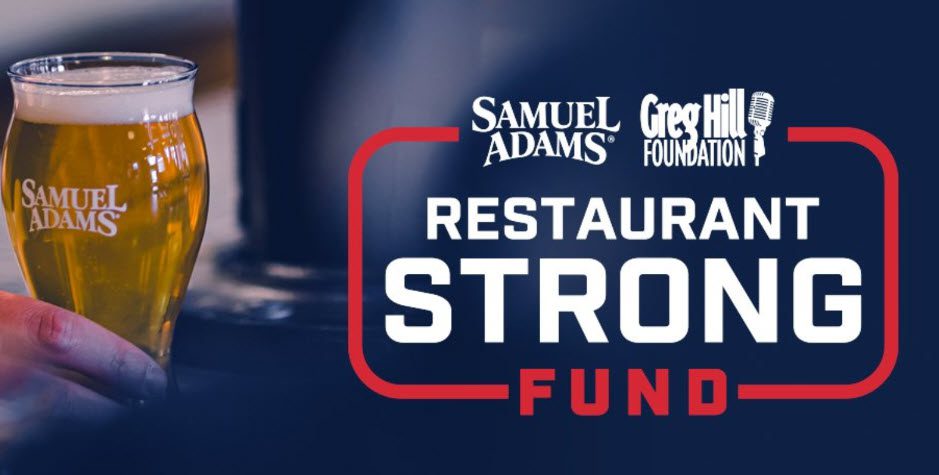 When the pandemic struck the United States, millions of people who registered for unemployment benefits may have suffered some of the most severe overall income losses from those in tipped industries. Compared to non-tipped employees, their wages are significantly more volatile regularly.
Samuel Adams and the Greg Hill Foundation are partners in the Strong Fund Restaurant, which began accepting online donations when Massachusetts restaurants closed. They reached their first $100,000 in less than twenty-four hours. On just the first day of the pandemic, Massachusetts restaurant workers lost more than $300,000.
Soon after, Sam Adams increased the number of states they were supporting Restaurant Strong to 20. Each additional state has already given $100,000 to launch its Restaurant Strong campaigns. However, no other state has yet raised anywhere near the $825,000+ that Massachusetts has.
How did they do it?
Implementing donation plugins like GiveWP on WordPress websites run by nonprofit organizations is a component of managing fundraising efforts. These people have done it for every charity website they've updated or created over the last years.
Five WooCommerce and WordPress donation plugins for accepting donations on your website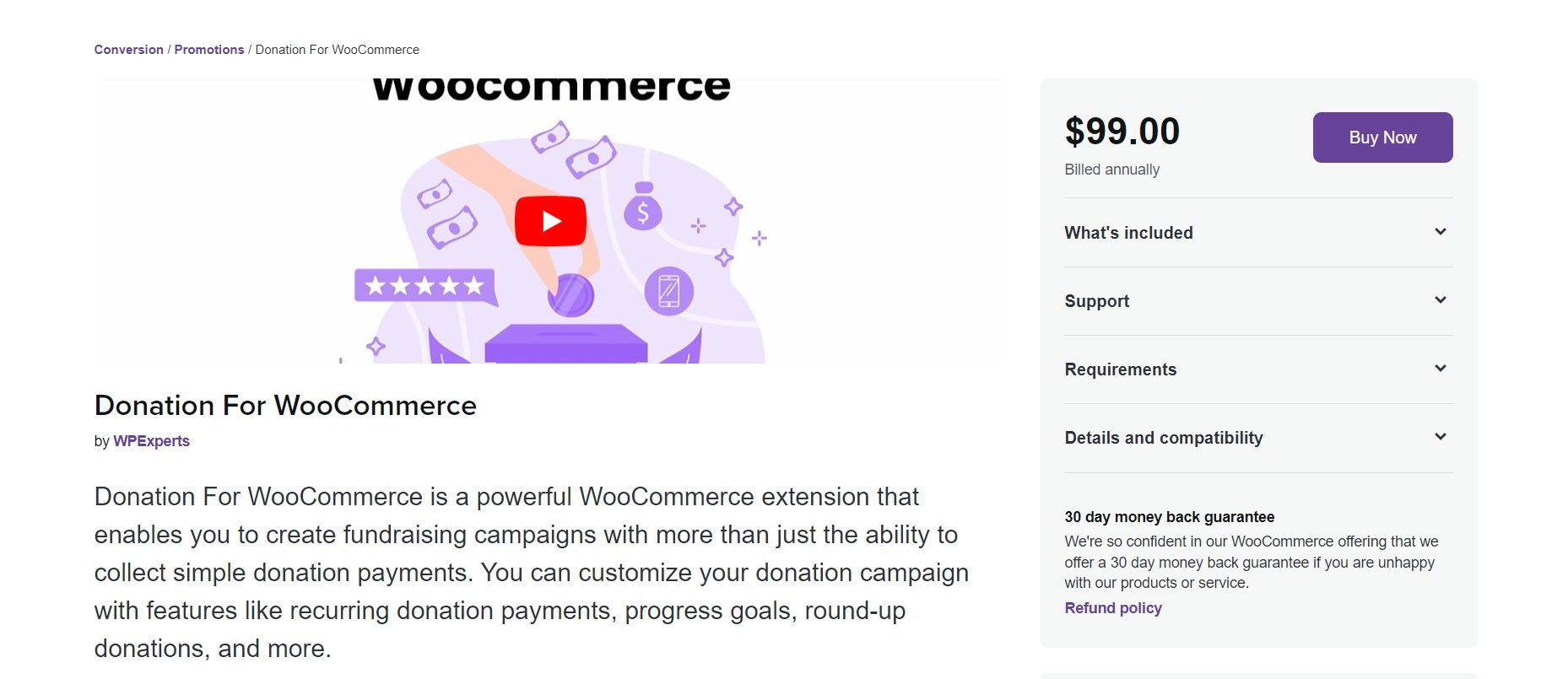 Donation for WooCommerce is one of the most comprehensive donation plugins. It includes many features and functionalities and the ability to make a wide range of customizations.
You can collect donations from all over the world. You can also set up recurring donation campaigns and multiple donation levels. Users can select from various donation types based on their donation amount or preferences.
This plugin allows you to place the donation button anywhere on your website. It could be a product page, a cart page, or even a checkout page. You can set the donation option wherever you want. Additionally, if desired, this plugin will generate and display a donation progress bar on your site. Your visitors will be able to see how much money has been raised and how much money is still needed to reach your desired donation fund.
Finally, it includes "currency switcher" functionality. So if you have visitors from all over the world, they will also be able to donate in their currency.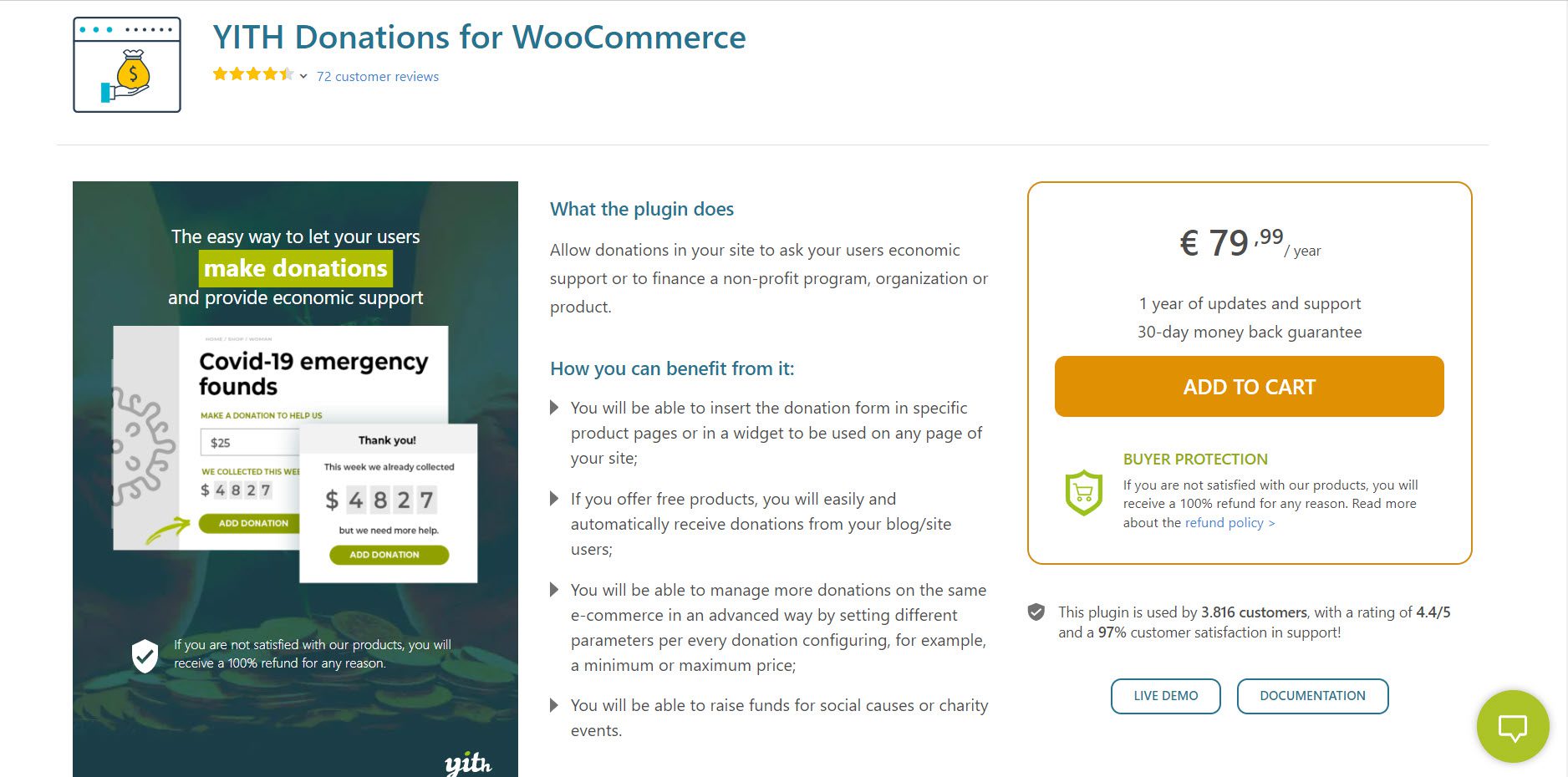 Another popular WooCommerce donation plugin is YITH Donations for WooCommerce. It also has a long list of features. Among the most notable features is the ability to set a minimum and maximum donation amount, add the donation box to your product page or cart page, support different payment options for your customers, and customize and send an email to your subscribers that include the donation details.
Furthermore, this plugin can donate mandatory on one or more of your product pages. You would also be able to separate orders containing donations from the rest of your orders.
The YITH Donations for WooCommerce plugin costs $79.99 and includes a year of support and updates. There's even a money-back guarantee of 30 days.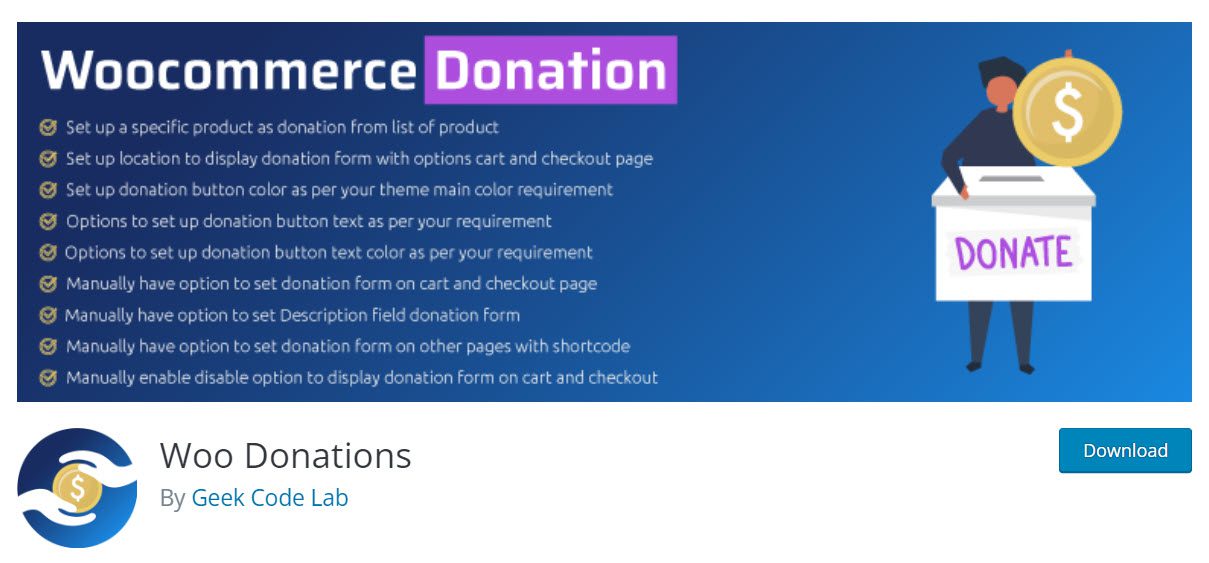 Woo Donations is a free WooCommerce donation plugin that includes all the essential features for running simple donation campaigns or creating donation products.
You can create a donation product with no shipping or tax, allow users to donate any amount they want, display the donation option on the cart and checkout page, and get all the other standard features. You can change the color and text of some aspects of the donation button, layout, and labels too.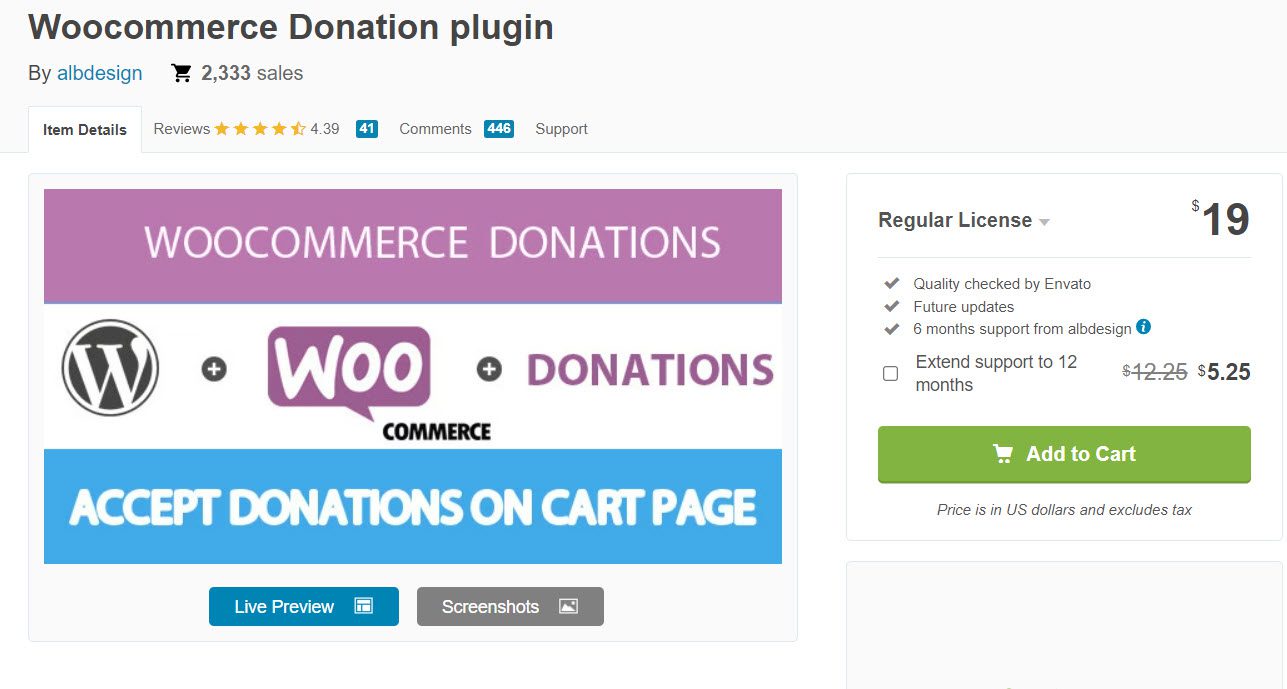 WooCommerce Donation Plugin may be a better option if you want something more straightforward and less expensive. It lacks many of the advanced features in the preceding plugins but provides the necessary functionality at a much lower cost.
You can add a donation option to the cart or create a donation campaign as a WooCommerce product. For example, if a visitor proceeds directly to the checkout page after selecting a different product from your store, you can also include the donation option there.
You could also choose to accept only a fixed amount or to allow the customer to select a custom donation amount. The plugin works well with various template designs. It also generates comprehensive reports on your donation campaigns.
GiveWP keeps things as simple and light as possible. This tool contains everything you'll need to raise funds through your website. In addition, it includes valuable features such as customizable forms that allow you to choose the suggested donation amount, donor management tools, recurring donations, and text-to-give donations for high conversions.
It also works perfectly with any of the best WordPress themes for nonprofits.
How to accept donations with GiveWP
So, now that we've covered all of the WooCommerce donation plugins you could use for your website and the reasons why you should, it's time to see some action. For this tutorial, we've gone with the GiveWP plugin.
So, install and activate it from your WordPress dashboard by going to Plugins → Add New.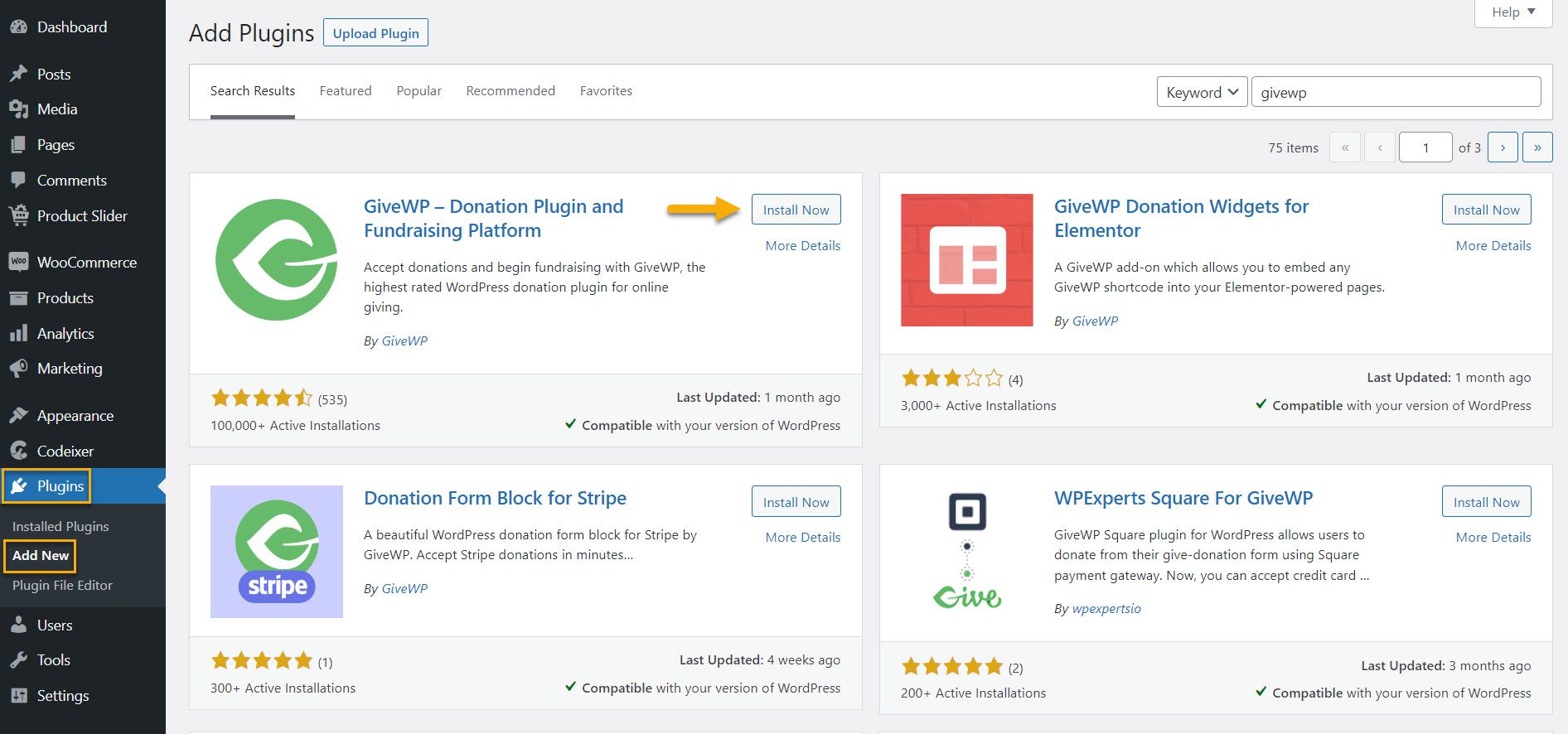 Once you install and activate the plugin, you will see it on your dashboard sidebar. Go to Donations → Settings to begin setting it up.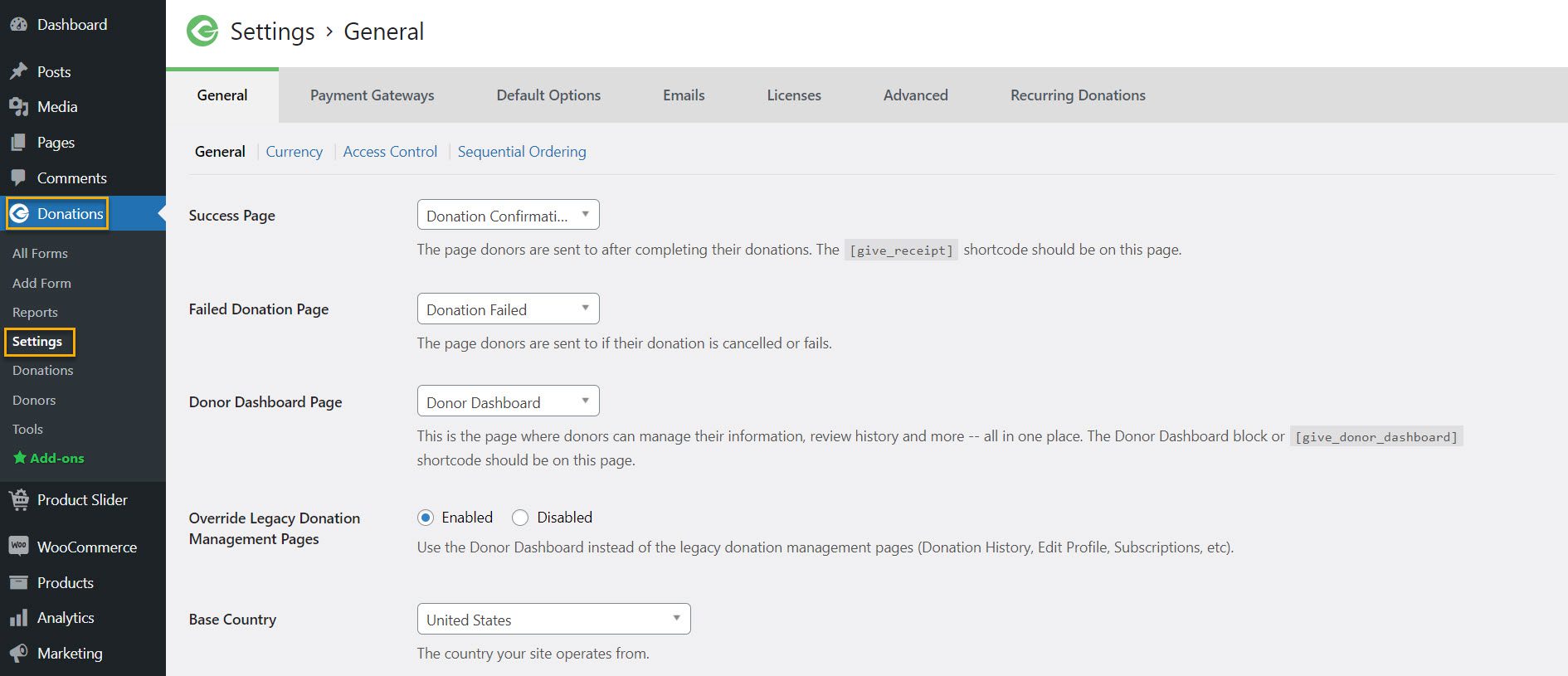 Connect GiveWP to your payment gateway once it has been activated. To accept donations, you can immediately connect to Stripe or PayPal. After you've set up your payment gateway, it's time to create your first donation form.
Navigate to Donations → Add Form. To begin, select a donation form template or the GiveWP legacy form. Make sure you customize your options by going through each setting in the form. Set a donation goal if desired, and update all form settings as necessary.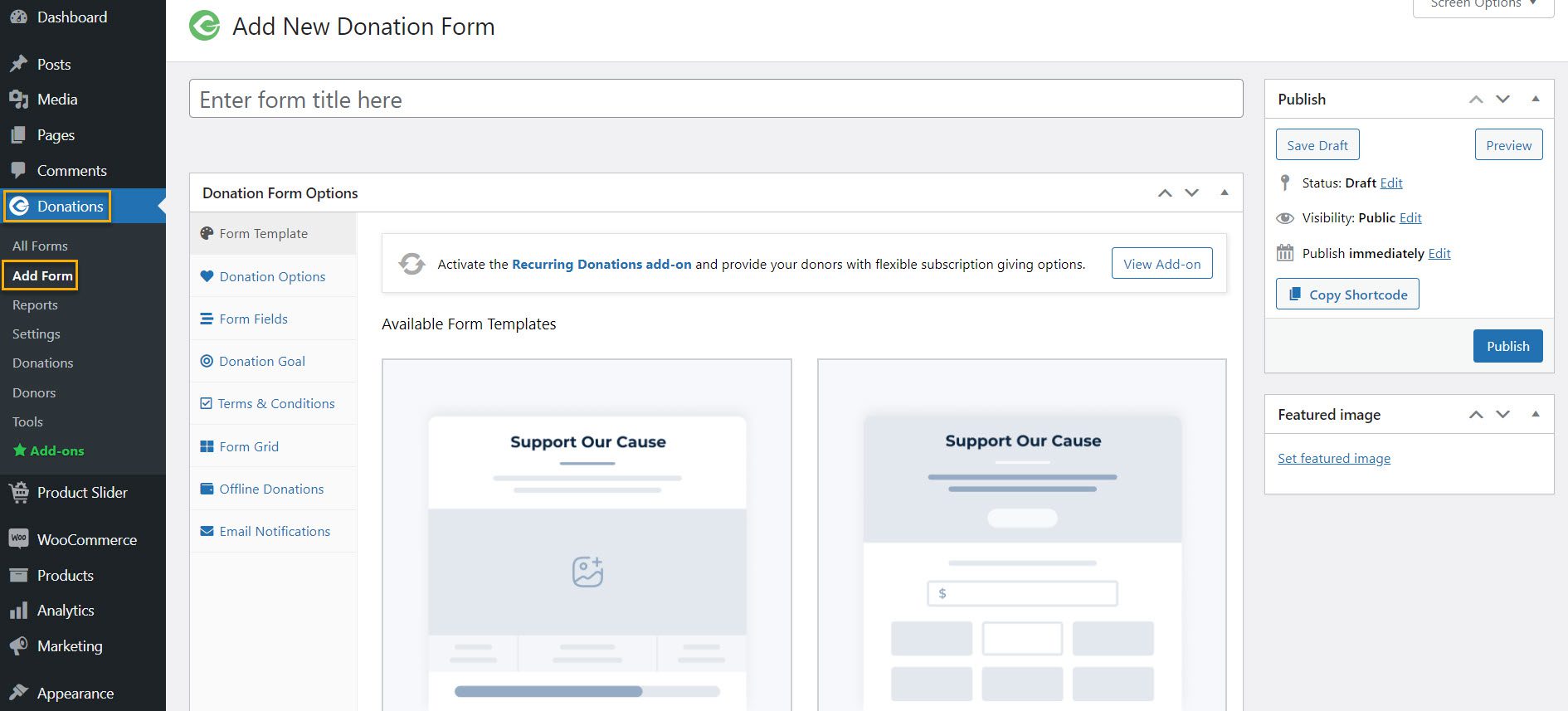 You can customize everything here, including the form template, grid, donation amount, limit, and custom text. Publish your form once it has been customized for your fundraiser. You can now use the form on any page of your website.
But first, ensure that you test your form anywhere it is embedded on your website. And that's it; you can start inviting people to it to raise funds!
After receiving a few online donations, you can access your fundraising report via your WordPress admin dashboard. Your fundraising report summary includes an overview of your total income, average donation amount, the total number of donors, and total refunds.
You will also receive a more detailed income breakdown, showing which payment gateways were used the most to give, payment statuses, and individual donation form performance.
Over to You
Accepting donations could be a great way to help your business. Contributions are not limited to non-profit organizations; anyone can request one for a worthy cause.
The donation plugins for WooCommerce and WordPress mentioned above provide a straightforward solution for accepting donations whether you are the site's owner, a blogger, or looking to raise funds for a business or non-profit organization.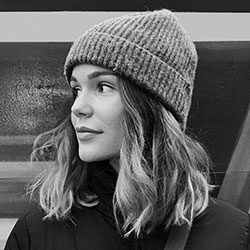 Gabriella is a Digital Content Writer and Marketer with a zeal for all things WordPress. When she's not researching and drafting the upcoming articles, you can find her in the open air exploring the outdoors with her dog.