Do you own a spa & wellness company? Are you concerned that your website isn't functioning correctly and isn't bringing in new clients or generating additional revenue? Do you want to stand out in the health and wellness industry?
If so, you've come to the right place.
The market is very competitive these days, and many health practitioners have realized that having an excellent health and wellness website is no longer sufficient. To attract new clients, you must also use effective digital marketing methods to drive more traffic to your website.
And this is what we are about to discuss in today's article.
So, let's get started!
Why would you need a marketing strategy for your wellness website?
Did you know that 83% of users leave a website due to poor design?
You can think of your website as the digital face of your company. Obviously, it should be your best salesperson, ambassador, and most crucial marketing statistic. To get the most out of your website, you must know what customers want today and stay up to date on the latest web design trends.
Wellness and spa brand marketing is a much more delicate process than advertising for other businesses as it requires a greater sense of tact. In addition, you need to be able to build trust and a more profound understanding of connection with your clients.
After all, you are in the business of wellness!
So if you are running a spa & wellness brand, you should guide your users through the conversion process by creating informative pages that will steadily move them toward each step in the purchasing process.
For example, if you're driving consumers to purchase relaxing essential oils, you might want to list the unique benefits of that specific product early on in the content they're consuming so this way they will be more eager to purchase that specific product.
Listing your specialties and services guarantees that you capture leads from your ideal client base. Initially, you may be eager to take on as many clients as possible. However, to see client successes and build a positive reputation, it is critical to focus on clients who can benefit from your experiences and certifications. While leads are looking for a provider who is a good fit for them, you should be looking for clients who are a good fit for you and your company.
Next, we will look at famous spa & wellness companies and see how they optimize their website and develop their marketing strategy so you can have some inspiration and starting points.
Website design examples from famous spa & wellness brands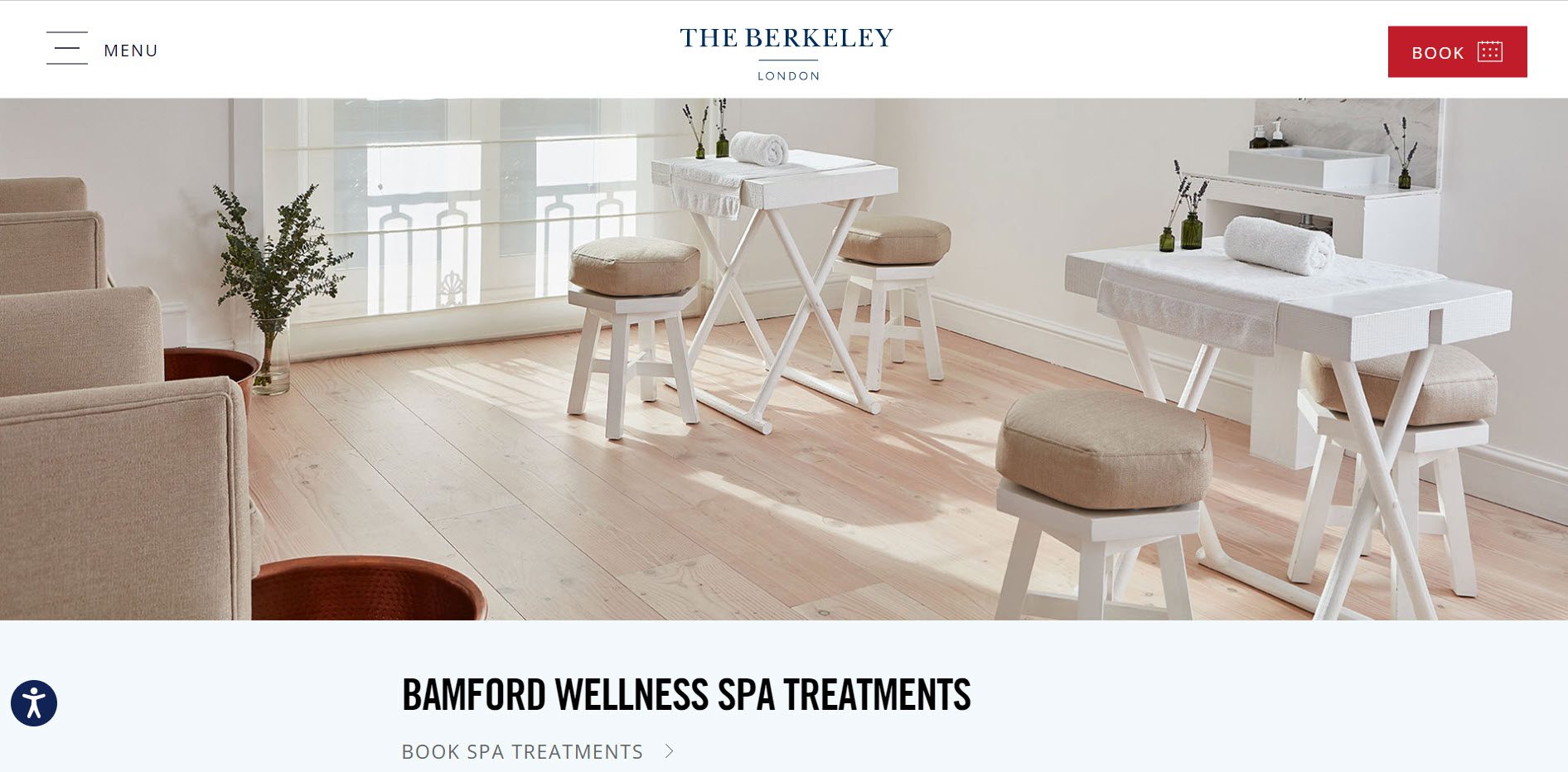 There is no doubt that a spa website must be visually appealing because it is the best and most effective marketing tool for attracting new users and generating new business. This spa website design dazzles right from the homepage, combining the brilliance of a full-page design and stunning photos of the spa.
The parallax effect creates beautiful transitions while scrolling through the site. The fullscreen design is not only smoothly animated but also immersive, enticing visitors with eye-catching layouts.
The website for Bamford Wellness Spa exudes calm, with a clean and simple design that still includes all of the necessary elements.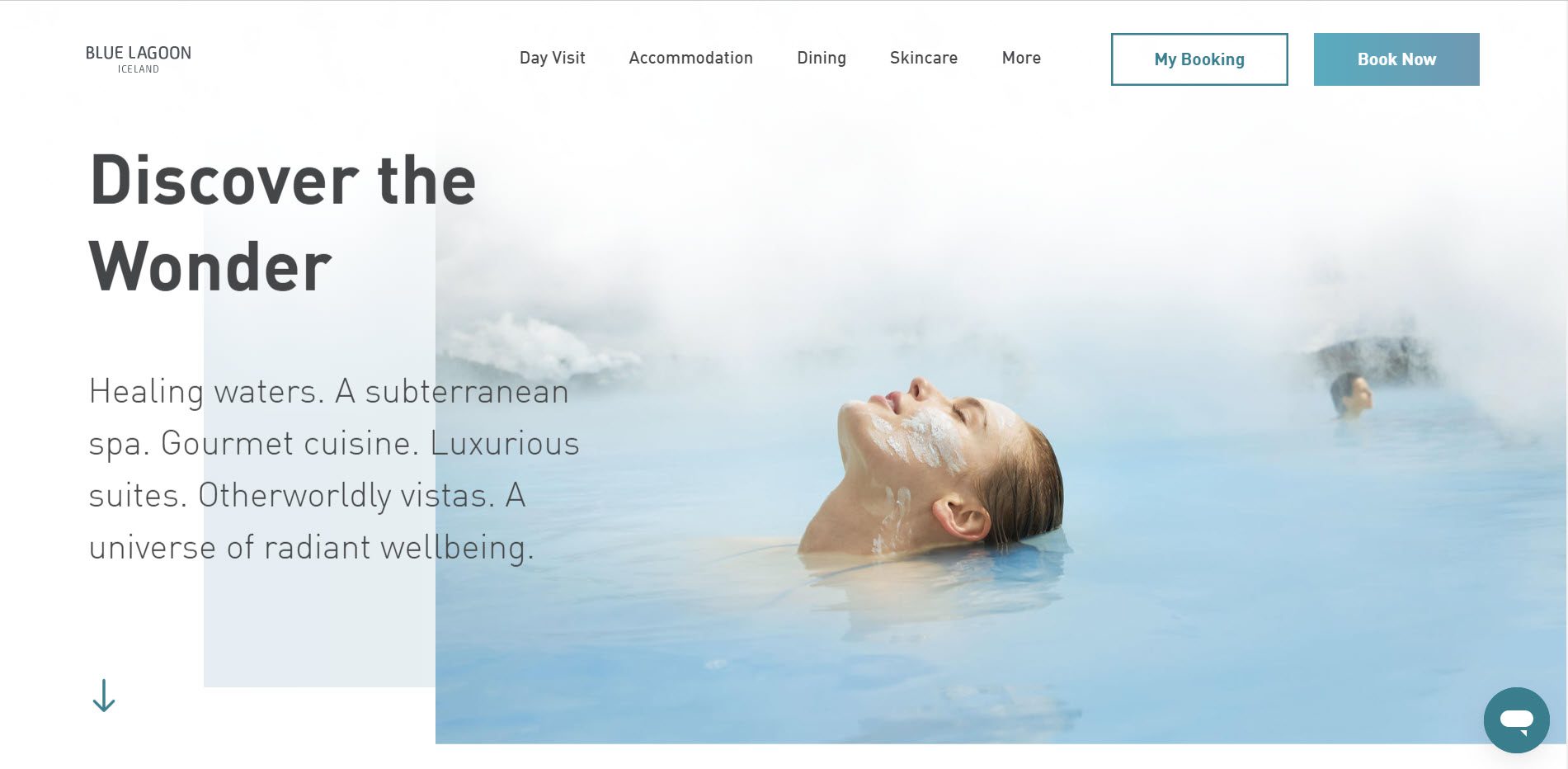 This stylish website is in a nordic minimalist style, which is appropriate for an Icelandic geothermal seawater spa. It's a fantastic mix of fresh and light outdoor images with moody and dark indoor photos, all arranged in an asymmetrical and dynamic layout.
It also clearly communicates with its visitors and tells a compelling story about its product, service, and brand. They can immerse their website visitors in a unique online experience by using parallax scrolling.
And speaking of parallax, this website makes excellent use of parallax scrolling, with images of the menu and blog stories appearing as you scroll down.
They are completed by other design techniques, such as the graphics moving slightly as they appear on the page, which is a very cool effect and an example of parallax scrolling embracing context. The vibrant images and use of the color blue also contribute to a sense of well-being and satisfaction.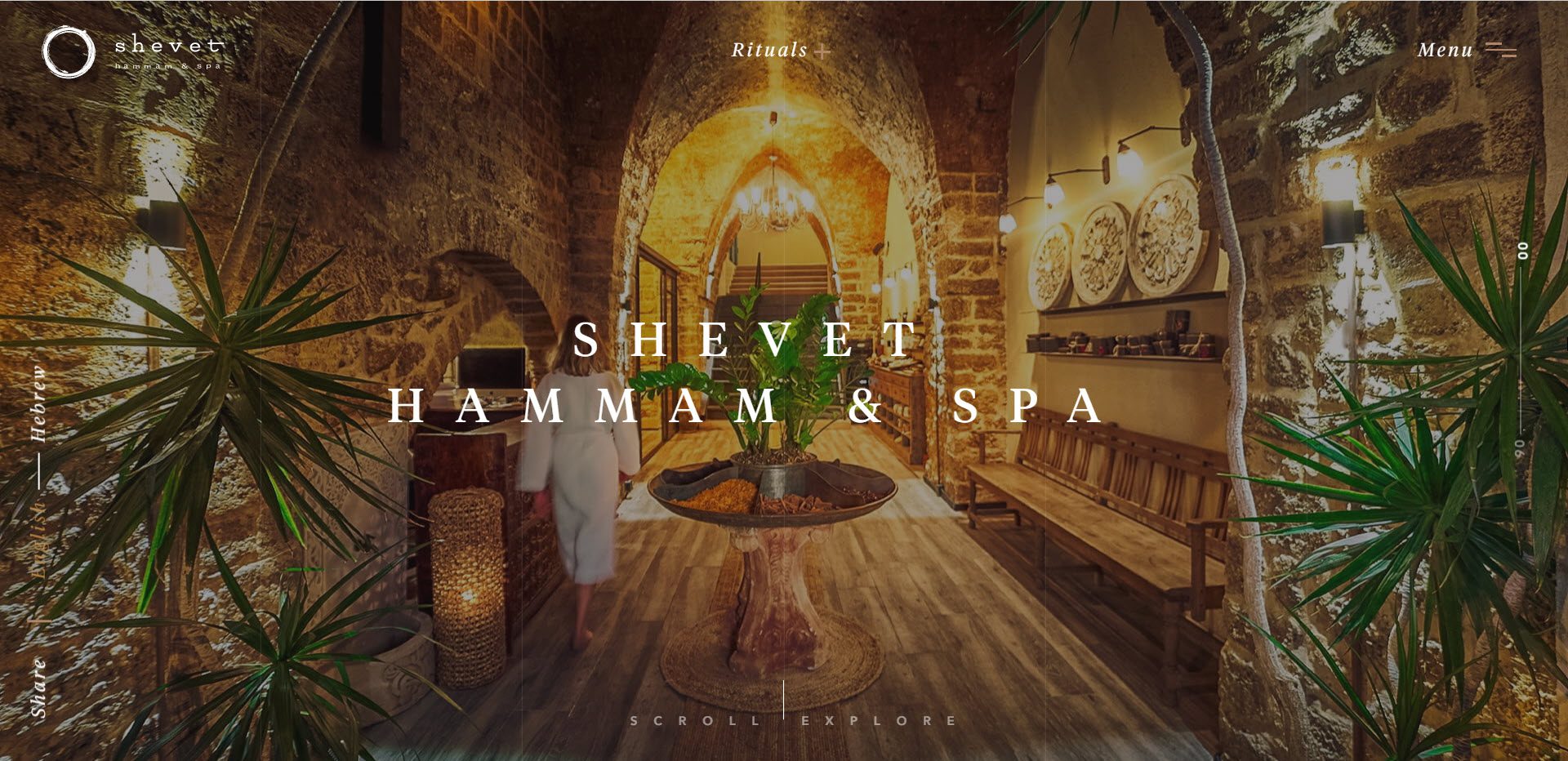 This spa website design wows right from the homepage, combining the brilliance of a full-page design and stunning photos of the spa. The parallax effect creates beautiful transitions while scrolling through the site. In addition, the fullscreen design is not only smoothly animated but also immersive, enticing visitors with eye-catching layouts.
Moreover, Shevet's website is designed as a vertical slider, with the page's information divided into multiple full-screen sections. Each section's purpose is to separate the website's information so the user can digest it more easily. In addition, the menu in the top right corner allows visitors to navigate between the various sections of the website.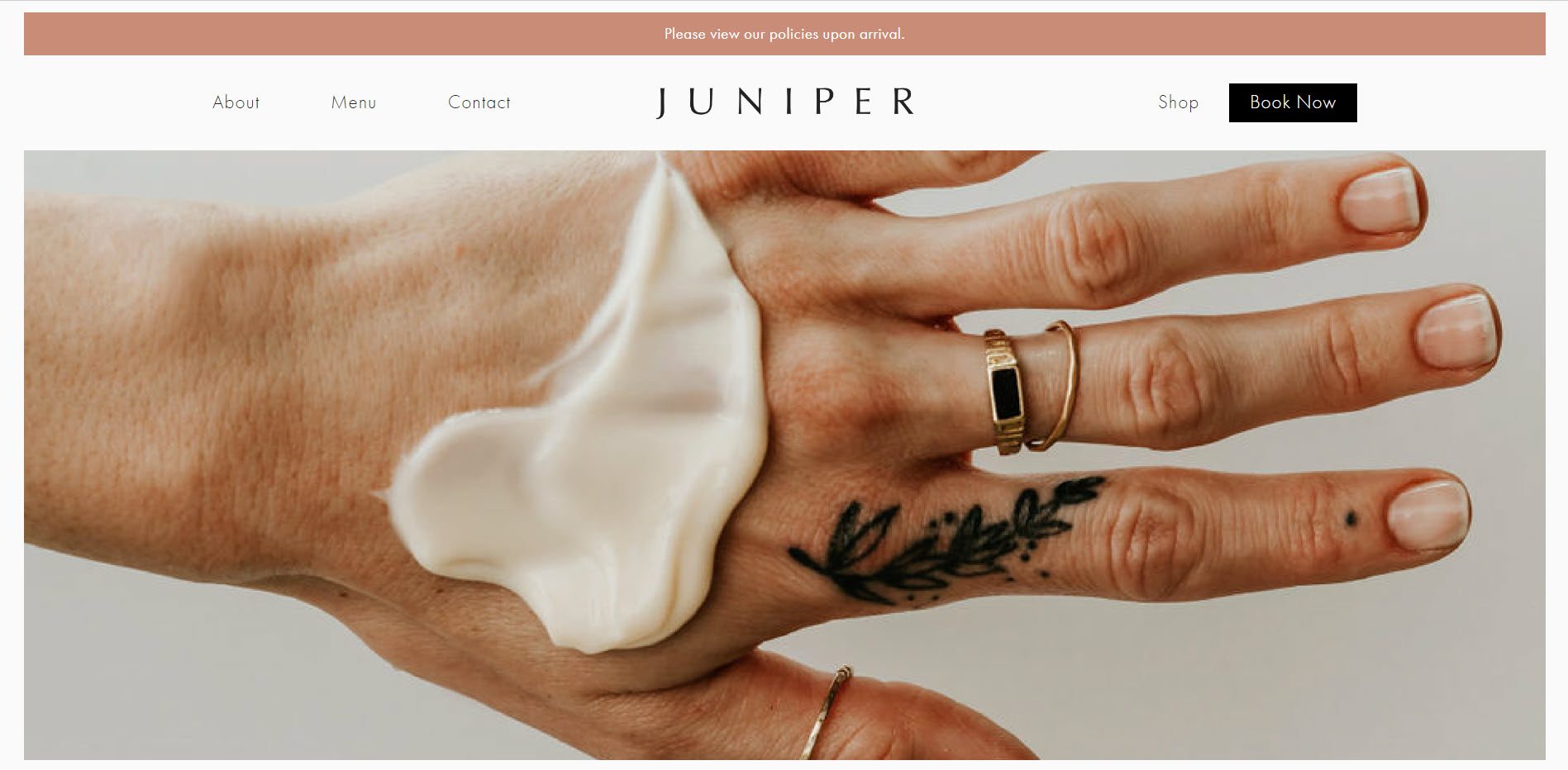 When you visit Juniper's website, you first see a high-quality, zoomed-in image of a hand. It has to be one of the smoothest, best-kept hands we've ever seen. It immediately draws the viewer's attention right away.
The color scheme is carried throughout the site, with beautiful tiles showcasing what it plays a leading role in.
There are also testimonials from previous customers about the establishment's excellent service. The menu directs visitors to the About, Menu, Contact, Shop, and Book pages. Everything about the design of this spa's website is laid-back, including the invitation to follow them on social media.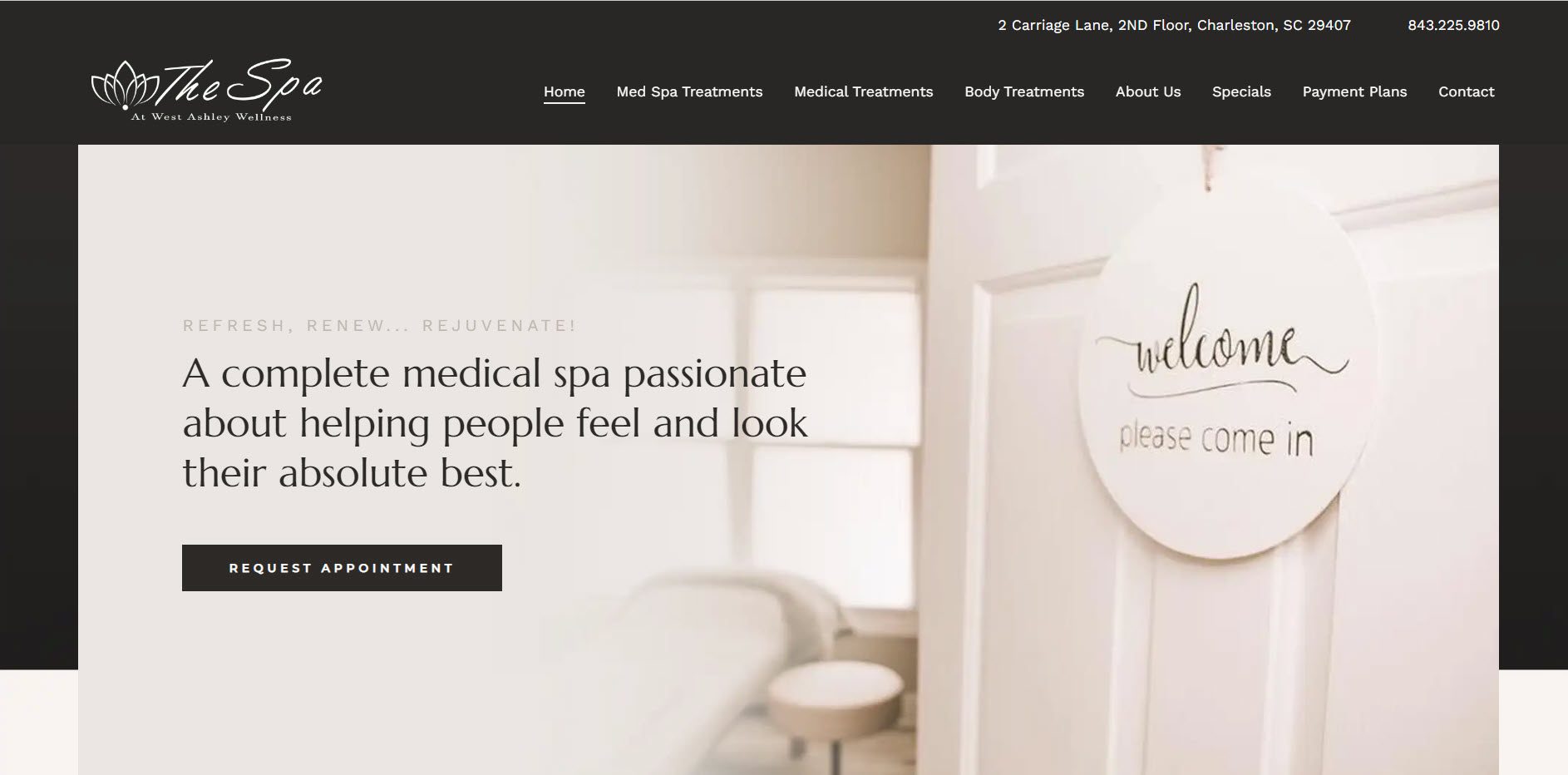 Compared to the other websites we've looked at, the Medical Spa at West Ashley has a much more subdued appearance. It starts with a simple picture that doesn't cover the entire screen and some text telling you the name and address of the business rather than a video or smooth parallax motion.
However, don't mistake the understated appearance for lack of functionality. The menu allows visitors to access spa treatments, medical treatments, body treatments, about us, specials, payment plans, contact pages, and social media links.
Okay, now that you've seen some really cool examples of how big spa & wellness brands do their website design, it's time we write down some key takeaways and choose a WordPress theme that fits your needs!
First things first, you have to pick a WordPress theme that is compatible with a spa & wellness business and fits your needs. We've broken down our top three picks if we were to create a spa & wellness website.
WordPress themes for spa & wellness websites
Luckily for you, WordPress includes various themes to meet any business's needs, including a spa and wellness website. Let's review a few to better understand what you should look for.
Therapy, Treatment details, Pricing, Spa Booking, spa services, and spa therapist detail pages are available in this Health Spa and Wellness WordPress theme. In addition, you are free to create websites about Hinduism, Chinese Medicine, Buddhism, tantric yoga, wellness, hypnosis, psychics, and tourism, whatever floats your boat.
By scrolling down, you can learn about the Spa's other services, such as Skincare, Massage Therapy, and Body Treatments. There is also an appointment booking form where you can schedule an appointment for the service you require on a specific date. Finally, the Homepage includes a Newsletter pop-up that invites visitors to sign up for your Newsletters to stay updated on the latest Spa offers.
Pricing: $69.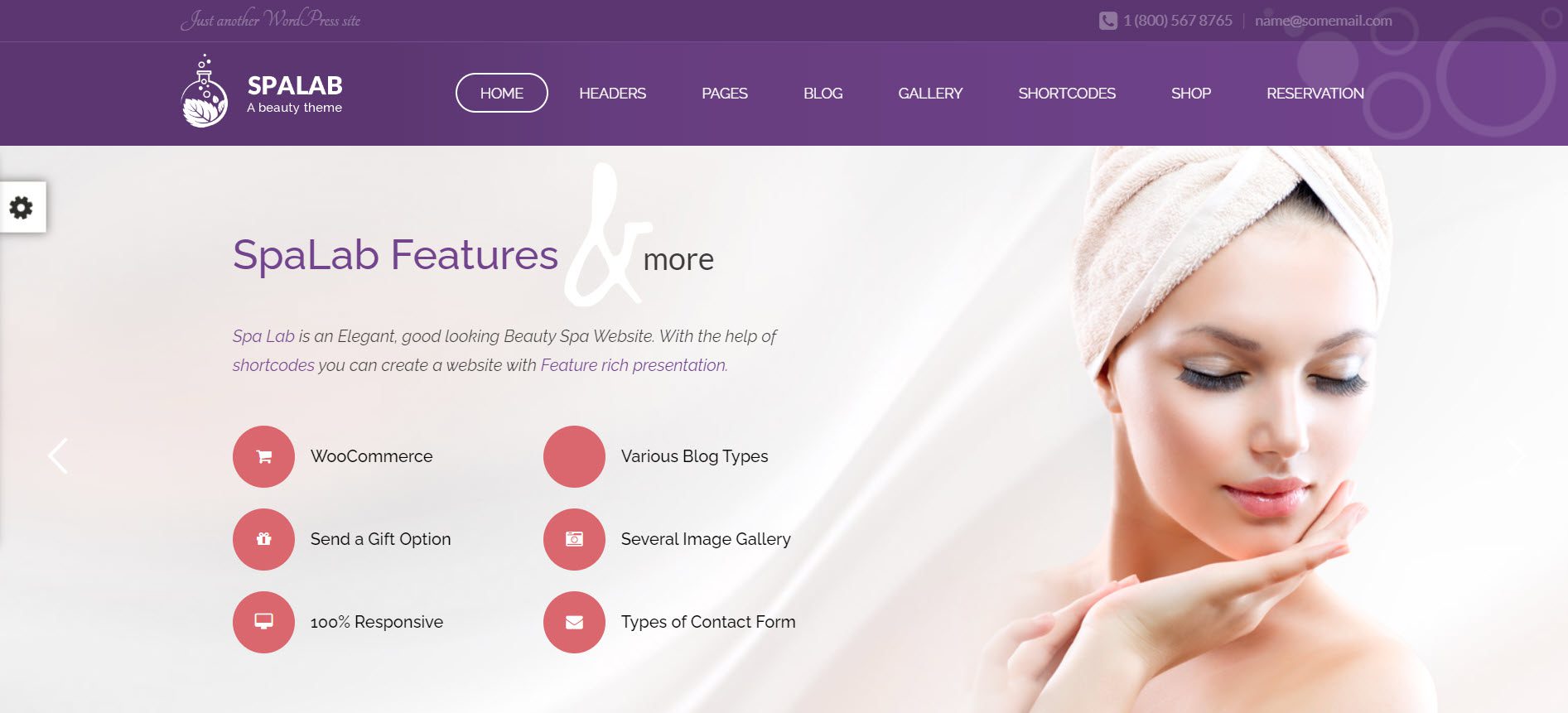 Spa Lab is a handcrafted Beauty Salon WordPress Theme designed for hair salons, wellness centers, yoga/meditation classes, and other health care businesses. The theme includes advanced features like two types of menu card designs, therapists, reservations, gift cards, products and shops, and many more.
Therapist, Spa Booking Calendar, reservation & Appointment, gift card, product offers, and an online Woocommerce shop where you can sell homemade soaps, organic & ayurvedic products, beauty creams, shampoos, and nail lacquer are among the features. Spa Lab is the best beauty theme because of features like Gallery pages for treatments, Blog posts, and numerous Portfolio layouts.
Pricing: $69.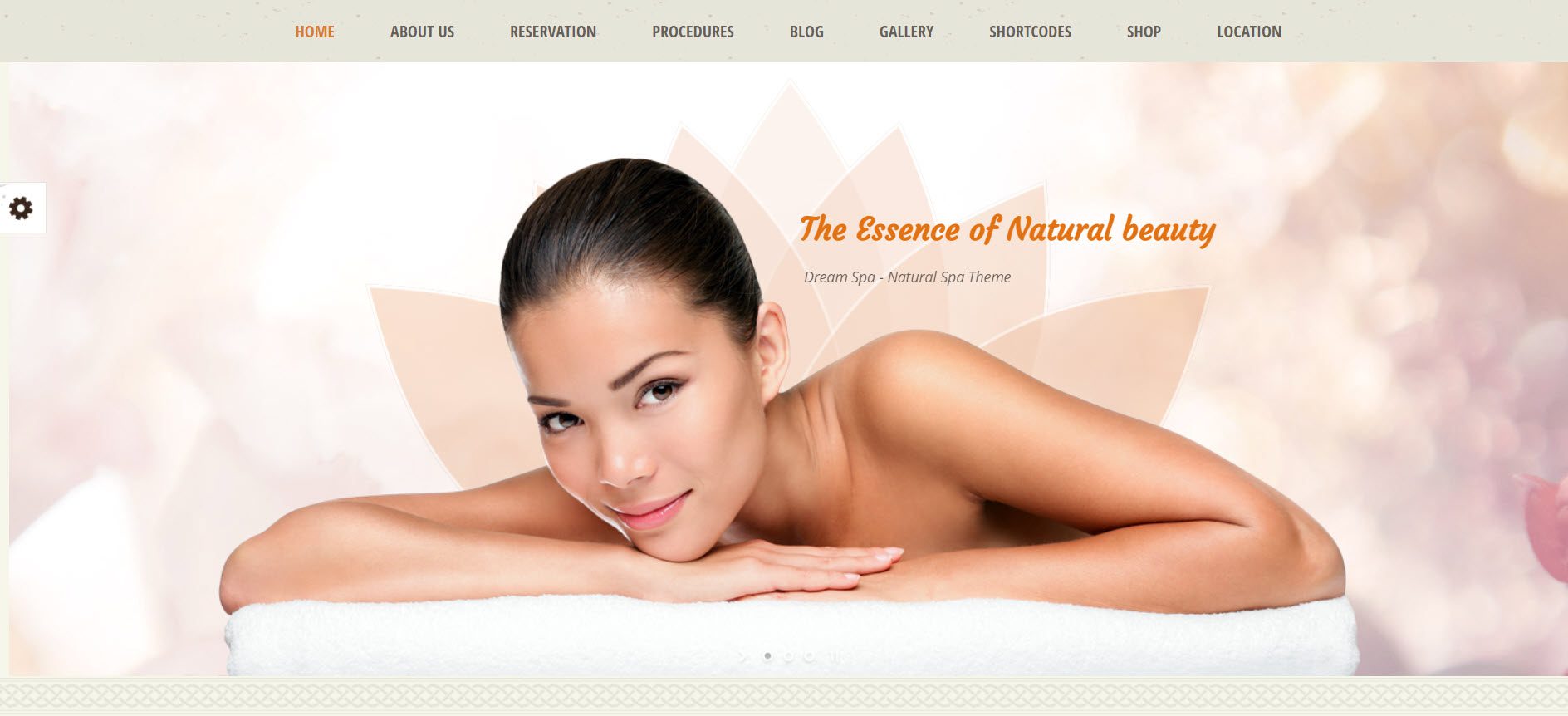 Dream Spa includes a comprehensive set of templates, widgets, shortcodes, and custom posts to highlight your treatments/services, emphasize your packages and offers, sell your products and course materials, spread news, showcase the galley, and more.
The theme is fully flexible and responsive, retina ready, and built with semantic markup and best design practices for search engines.
Dream Spa is a multi-purpose health care business theme appropriate for spa, therapy, massage, yoga, wellness treatments, Ayurvedic cure, and beauty salon websites.
Pricing: $69.
Okay, now suppose you have chosen a WordPress theme and are ready to build your website and make it awesome. Here are some valuable tips and tricks for website design and marketing wise that will help you give that extra boost to it.
Tips to boost your spa & wellness web design and marketing strategy
Create a database and segment your audience
Personalization is the first step toward any successful marketing strategy of any kind. As a result, customer-centricity remains a guiding principle, and each SMART goal session begins with identifying one's target audiences. Simply put, marketing outreach works best when you know who you're reaching out to.
To address this, you could start by creating a database. You can accomplish this by consulting your Customer Relationship Management (CRM) software and segmenting your audiences based on criteria such as:
Demographics: the demographics of your target audience, such as race, gender, age, education, and income.
Psychographics: the psychographics of your target audience, such as their values, interests, and perceived needs.
Behavioral segmentation: the patterns of your audience's behavior, such as purchase and interaction history.
It's important to know your audience. The better you understand them, the better results you'll get in terms of conversion. You can start by clearly understanding the buyer's journey and how to optimize your conversion funnel so you can guide them from simple website visitors to returning customers.
Make use of On-Page SEO Tactics
On-Page SEO, as the name implies, refers to optimizing pages on your website to improve rankings and user experience. A page's on-page SEO optimization ensures that it ranks higher in search engines. On-page SEO is one of the most critical processes to improve your organic search engine rankings and run successful SEO campaigns.
Your on-page SEO checklist is as follows:
Include relevant keywords on your pages;
Improve your meta description and title tag;
Create user-friendly content;
Optimize your images;
Make your URLs more appealing;
Make use of internal links on your pages;
Increase the site's load time;
Make your website more responsive.
Make use of Off-Page SEO Tactics
Off-page SEO refers to external optimization practices outside your website rather than on it. In a nutshell, it helps search engines understand what other people think about your product, services, or website.
Linkbuilding is the most common off-page SEO technique. Building links is critical for search engine optimization. For example, if you have a new health and wellness website, you should seek assistance with link building. In addition, building links by including your website on high authority websites will boost your company's credibility.
There are numerous link-building strategies, and some of the most recent best practices include guest blogging, creating a large number of infographics, and incorporating influencer marketing into your content. In addition, off-Page SEO tactics can help you outrank your competitors.
Leverage email marketing
Spas, wellness centers, and beauty salons can significantly benefit from email marketing. You can increase traffic to your website and grow your business by building a list of subscribers and sending out exciting and engaging content in the form of a newsletter. Additionally, ensure that your newsletter is mobile-friendly and that your email design is appealing and easy to read.
You should consider a few different methods for building a list of newsletter subscribers for beauty salons. For example, you could create a newsletter popup on your website's homepage to collect email addresses and gain leads.
You'll be able to send emails at specific times of the day or week with exciting health and wellness content and exclusive discounts, resulting in increased conversions. The key, however, is that you need an email list, which many people overlook when they first launch a website. To avoid this pitfall, include a prominent signup form on every site page, such as "Join our mailing list" or "Subscribe for Updates." Once someone signs up, they are added to your list, and you can begin sending them updates.
Know your keywords
On the topic of SEO, knowing and picking out your keywords it's a must. Creating content around specific keywords serves to satisfy your audiences' search intent. Thus, it does not help to meet Google's algorithms; rather, it depends on actually providing value to your customers.
A simple Google search will yield a plethora of general and industry-specific keyword lists. However, keyword value changes and is heavily influenced by your strategies and brand identity.
As a result, you may prefer to use keyword research tools instead. Among the most well-known and powerful are:
Google Keyword Planner;
Semrush;
Ahrefs;
Ubersuggest.
Make your spa & wellness website mobile-friendly
If you want to increase the time, visitors spend on your website, ensure they like what they see, whether they look it up on their laptop or phone. This is especially true if you wish to increase organic traffic. As more people use their phones as their primary devices, Google emphasizes mobile-friendly websites.
This means that if your website does not have a responsive design, it will be penalized in terms of organic traffic! That is why it is critical for any health and wellness business owner to ensure that their website is compatible with all devices.
Here's what mobile optimization includes:
Optimize your site's design and content so that the text is readable on a small screen; use short paragraphs and lots of white space around any images or videos to make them easier to view by someone browsing with their phone.
Include links to other pages or websites within these posts; this allows users reading them on a smaller device, such as an iPhone or iPad, easy access without having to zoom in constantly. This also allows readers to access information rather than quickly scroll through everything!
If you intend to use forms or other forms of contact information on your website, ensure that they are all appropriately sized for these smaller screens and that any text is readable when zooming out to a more detailed view of the page.
Ensure that your service menu and search bar are sticking out
This tip has more to do with website design; however, it's crucial to consider if you want to boost sales.
People place a high value on website usability because no one wants to spend hours searching for information on your platform. Nonetheless, many spas disregard this advice and even fail to include their service menu on the salon's website.
Furthermore, they frequently have their service offerings as a PDF file, which adds another layer of complexity for many customers. To avoid making such mistakes, ensure your spa website design is modern and trendy enough to meet your customers' needs.
Select user-friendly spa web design templates with an unlimited number of pages to showcase your services and products. As a result, your site's usability and visual appeal will improve. In addition, this feature will persuade users to book appointments and purchase services through your spa website.
Make use of social media
It's pretty much standard these days for all spas to have a social media presence, as it is for almost all consumer businesses. Any spa & wellness brand worth it's salt must have an attention-grabbing social media presence that new and existing clients can easily find and navigate.
In addition to the prominent details, including location, operating hours, and contact information, the ones that generate the best returns feature detailed descriptions of the treatments they offer, along with captivating images.
TikTok is an excellent opportunity for boutique spas with a younger target audience, but it is not the best choice for those with a more mature target audience. Luxury spas can use social media platforms like Instagram and Pinterest to reach out to an older demographic with the means to pay for deluxe services. Rather than trying to keep up with trends, let your guest data guide this decision, and your efforts will be far more effective on all fronts.
Share client testimonials
Do you need to gain credibility quickly? Then your secret weapon is testimonials, reviews, and referrals! When you say, "We're the best, but don't just take our word for it…" it grabs attention. This third-party endorsement can boost your credibility and set you apart from your competition.
Consider how this works in your life: how often do you consider testimonials when deciding on a business? Are you more likely to visit a company whose website features glowing client reviews? You are, of course!
Monitor and track your marketing efforts
Finally, no marketing effort can be successful unless it is constantly monitored and adjusted. For this final step, you can collect insights from various sources and use them to inform your SEO.
Among the most notable sources for this purpose are:
Google Analytics: Provides an invaluable overview of your website's performance, including traffic fluctuations and sources.
CRM: Your CRM seeks to improve customer relationships and most likely succeeds. Examine interaction histories, purchase records, and any other actionable data to determine the success of your efforts.
Heat maps for websites: Finally, website heat maps provide information about how visitors interact with your website. This includes how far down they scroll, where their cursors hover, and where they click or tap. Understandably, such insights can significantly impact your SEO or other strategies.
Now Over to You
Consumers want to feel understood, empowered to create peak moments, and able to connect with a like-minded community where possible. If you can take small steps in these directions with your digital branding, it will pay dividends in terms of customer retention and the bottom line.
We hope this article has taught you how to improve your marketing strategy and drive more traffic to your spa and wellness website!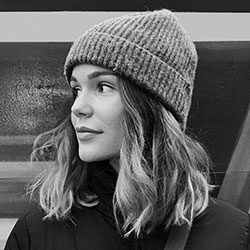 Gabriella is a Digital Content Writer and Marketer with a zeal for all things WordPress. When she's not researching and drafting the upcoming articles, you can find her in the open air exploring the outdoors with her dog.