WooCommerce store credit is worth having in your online store for several reasons. For example, you could give store credit as a refund for a returned purchase to avoid sales loss or give gift coupons using the shop's credit.
Whatever the case may be, it's definitely not something you want to neglect.
Giving WooCommerce store credit to your customer can help increase customer loyalty and ensure repeat business. In addition, customers will be able to redeem the credits only in your store, not in your competitor's store.
But before we dive deeper into the subject, let's start by defining WooCommerce store credit.
So what is WooCommerce store credit?
I'm sure you've had past experiences where you weren't satisfied with a product you purchased and returned it to the store. The cashier or store representative gave you a piece of paper that served as proof of the return, allowing you to purchase other goods of the same value. The same thing can happen with online shops too.
When customers make a purchase, credits are used instead of charging a credit card or PayPal. This essentially means that you give the customer a monetary value as a credit. As a result, the customer spends the credit until it is depleted or its validity expires. This is called store credit.
Store credit can also be referred to as a gift card, voucher, account fund, or gift certificate. All of these are essentially the same thing.
Why is WooCommerce store credit more than just a feature?
There are some reasons why you should give your WooCommerce customer's store credit. For example, perhaps you'd like to share with your customers an extra incentive to shop with you again.
Or maybe you were forced to cancel an order and do not wish to issue a refund. Whatever the reason, giving store credit is a great way to express your gratitude to your customers, and we'll go a little further.
WooCommerce store credit is more than just a simple feature because:
It can compensate for a refund while also retaining customers;
It encourages repeat purchases;
It encourages repeat purchases;
It creates revenue ahead of sales.
Although the default WooCommerce system does not allow you to create store credit, several plugins can add this functionality to your store, which we will discuss and debate in the following chapter.
Top-notch WooCommerce store credit plugins you can use
WooCommerce provides several plugins to assist you in setting up a credit system. Depending on your store strategy, you can use the following WooCommerce store credit plugins to allow customers to use their credit for purchases.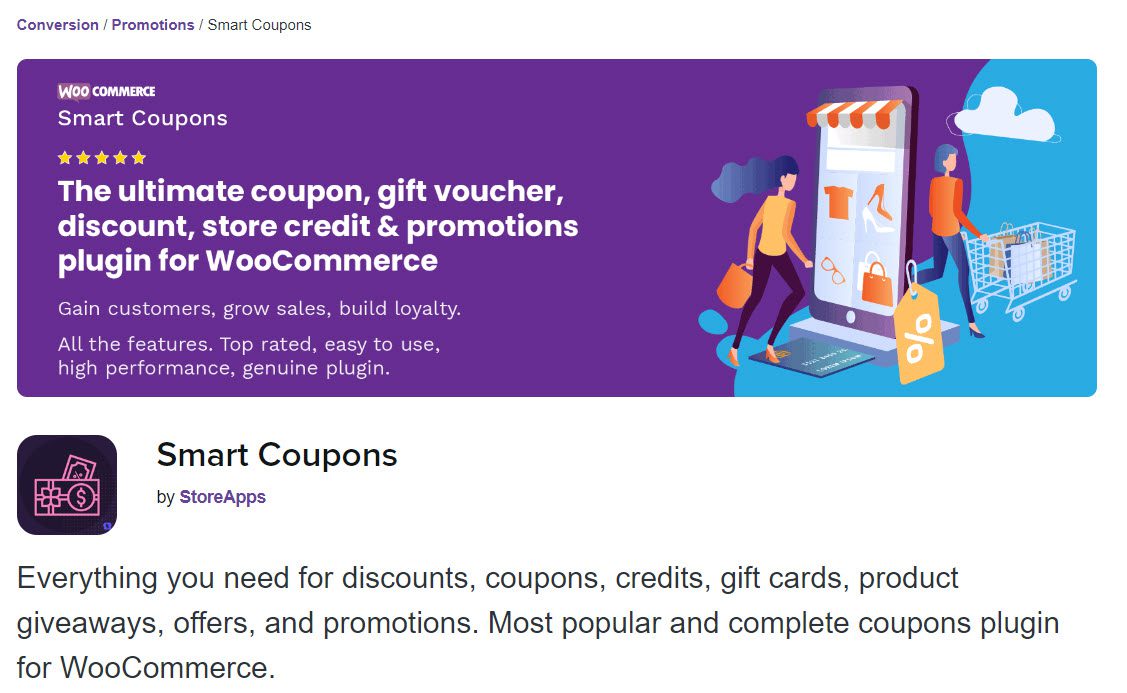 Smart Coupons can be used to generate store credits in your store. Customers can use the credit to make purchases until it expires. Store credits are an excellent way to offer refunds while encouraging repeat purchases.
Customers can also buy store credit to give to their friends and family. That would also be a great way to attract new clients; you can increase client involvement and loyalty. This plugin also helps you create comprehensive coupon strategies and other flexible discount offers.
Plugin features:
A robust set of features that will assist you in creating and managing discount coupons, store credits, and product giveaways;
Customers can be given store credits and gift coupons;
Make and send out coupons in bulk;
Make URL-shareable coupons.
Coupons should be used in conjunction with product purchases;
To apply coupons, set advanced restrictions;
Customize the look of your coupons.
Well, the name of the plugin speaks for itself. With this plugin, you can give customers a store credit coupon of a specific value as a refund or as a special offer. Furthermore, the plugin allows you to sell store credits as a product type.
As a result, customers can use the store credit to make multiple purchases until the amount is depleted or the coupon's validity expires. Additionally, the plugin allows you to limit the truth of store credit to specific products or categories.
Plugin features:
Create store credit coupons;
Provide store credit as a refund;
Sell gift cards made from store credit;
Restrict store credit validity to specific products or categories;
Customers can use store credit in conjunction with other payment methods;
Personalize the store credit coupon format, emails, and so on.

This plugin can add Account Funds as a payment option to your store. Customers can deposit money into their store accounts and use it for purchases.
It also allows store owners to incentivize customers who use account funds as a payment method. Furthermore, you can enable customers to use other payment methods in addition to store accounts for the same order. There are also options for refunding account funds to customers.
Plugin features:
Allow customers to keep money in their accounts;
Offer special discounts for payments made with account funds;
Allow for mixed payments, in which account funds can be used in conjunction with other payment methods;
Detailed reports that allow you to track data related to account funds;
Store owners can edit and manage individual account funds.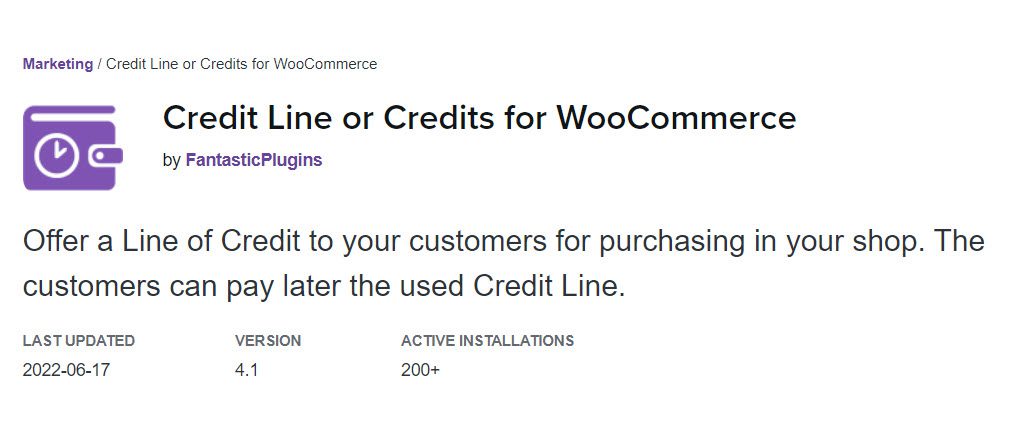 With this plugin, you can provide a credit line for customers to use when making purchases on your website. This option could be handy if you sell relatively expensive products. The idea is that customers will proceed with the purchase using the credit line rather than making an upfront payment.
Furthermore, the plugin allows you to customize repayment periods and the approval process. In addition, depending on the store strategy, you can provide credit lines with no interest.
Plugin features:
Make a credit line for your customers;
Allow credit payments with no interest;
Control the credit line approval process based on the store strategy;
You can change the billing date and the repayment period;
In the event of late payments, the option for a late fee is available;
Reduce cart abandonment while increasing customer acquisition.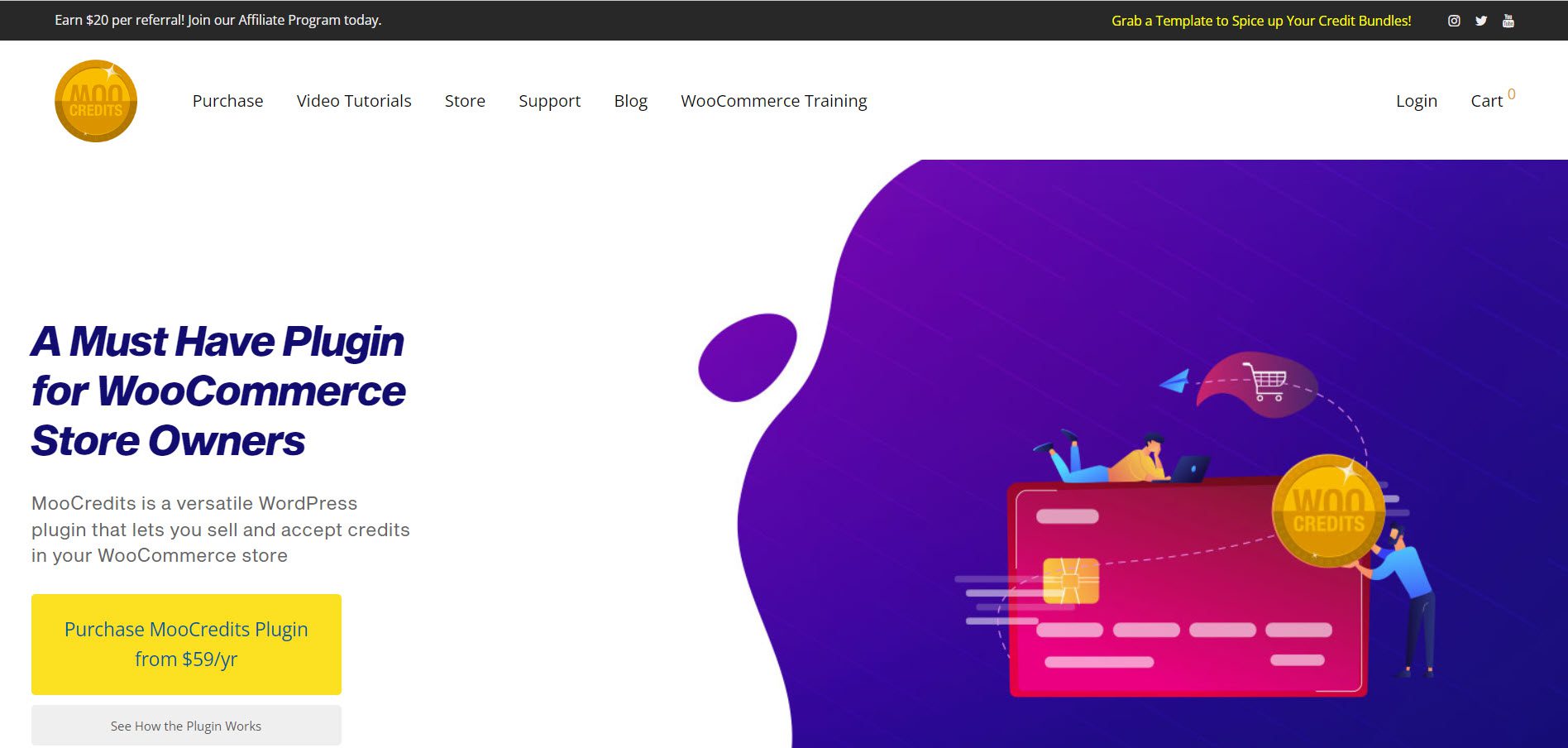 This plugin allows you to sell and accept credits in your WooCommerce store. The credit system will support products that are simple, variable, or subscription-based. You can also configure it with virtual and downloadable products. The plugin allows you to customize the look of credit packages in the store. Furthermore, the plugin provides the option to configure only credit payments, with all other payment options hidden.
Plugin features:
Create credit bundles in your store with ease;
Works with a variety of product types, including subscriptions;
Support for shortcodes to control the appearance of credit bundles;
Configure the store to accept only credit cards by hiding all other payment options;
Reward customers with bonus credits.
And now that we have gone through the theoretical part of things let's get a bit practical and see how you can create store credit for your customers in WooCommerce. So we'll go with this part's WooCommerce Store Credit plugin.
How to use WooCommerce Store Credit
First things first, go ahead and install and activate the plugin. Then, from your WordPress dashboard, go to Plugins →Upload Plugin.

Wait a few seconds before selecting the two buttons "Install Now" and "Activate" to proceed to the next step.
Before you begin, you must enable the use of your coupon codes by going to WooCommerce → Settings → Store Credit.

By selecting the "Include tax" option, you can enter the coupon amount (credit), including tax. This means the coupon credit is applied to the entire order, including tax, rather than the subtotal charge. To activate this setting, the following conditions must be met:
Enable taxes: This option is available under "General → Enable taxes."
Prices entered with tax: check the tax → Prices entered with a tax box.
To round tax at the subtotal, enable the "Tax → Rounding" option.
Both are required to avoid possible $0.01 differences in the total order due to low amounts precise and tax rounding.
Following that, you can choose the format of your WooCommerce store credits like such:

Now navigate to WooCommerce → Coupons →Add Coupon and select "Store Credit" from the dropdown next to "Discount Type." Set your own coupon limit, then go to "Usage Restrictions" to configure the "Allowed Emails" alternative: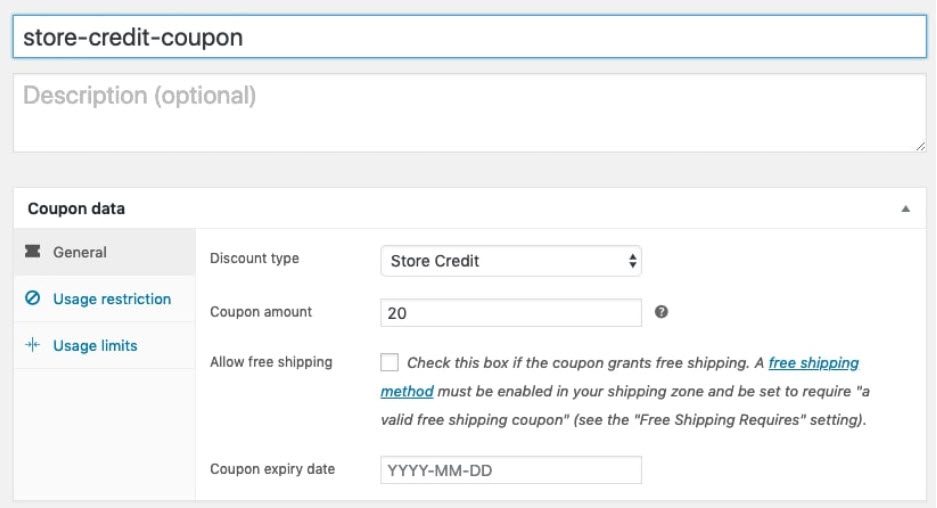 To avoid two separate consumers from sharing the same WooCommerce store credit coupon, set the "Allowed emails" limitation to the email address of the consumer who is authorized to use the voucher.
It's time to start sending WooCommerce store credit to your customers via email now that you've created it. It will only take a few clicks to complete the task. Simply go to WooCommerce → Send Store Credit and fill in the blanks with your customers' email addresses and the total amount of credit they can use.

When you click "Generate coupon and email customer," you will see that an email similar to the one shown below was sent to your customer.
Similarly, when your customer visits their website's "My Account" page, they can view an available WooCommerce store credit code that they can use. To redeem the coupon, they must copy and paste the previous code into their "Cart" or "Checkout" page, just as we did here:

Another thing is restoring the coupon credit.
Usually, online store owners do not have to be concerned about their customers returning WooCommerce coupon credits because, in most cases, they operate seamlessly. However, if your credit is automatically restored, it could be for one of the reasons stated:
The order was canceled, reimbursed, or did not arrive;
Your purchase's products or taxes have changed, and a portion of the coupon discount is no longer required;
In the Edit Order screen, the deal was removed from the order.
If you choose to recover an order that contains restored WooCommerce store credit, for example, change the status from "Canceled" to "Pending payment," and the store credit vouchers will be removed from the order. This is because their credit has already been restored, and these vouchers are no longer valid. You can reassign the coupons by selecting "Apply coupon."
Wrap Up
Okay, folks, that was quite a lot on store credits. Now you know that offering WooCommerce credit to customers can be an excellent way to build loyalty and encourage repeat purchases. Even so, if you want to allow the first-order store credit functionality for your site, you'll need to use a couple of plugins because WooCommerce cannot assist you in this alone.
We hope this article was helpful and will help you maximize the use of this fantastic feature in the future to yield greater profits.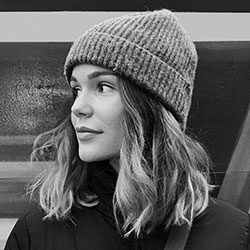 Gabriella is a Digital Content Writer and Marketer with a zeal for all things WordPress. When she's not researching and drafting the upcoming articles, you can find her in the open air exploring the outdoors with her dog.