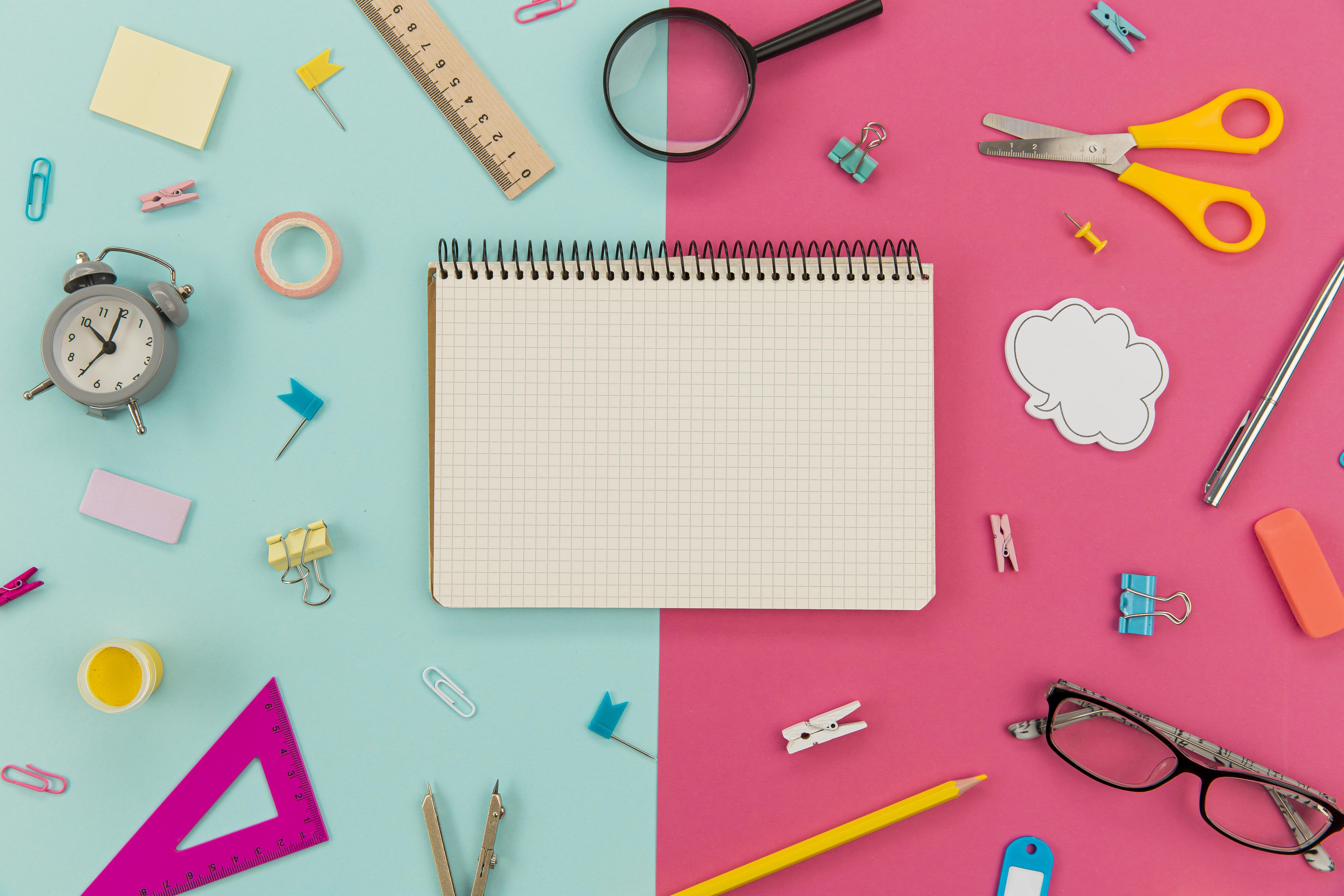 Can you hear it? The bell is about to ring once more! That's right; it's that time of year again.
This is an appealing time for retailers to establish a presence ahead of the holiday season. The Back to School shopping season is America's second-largest retail event, trailing only Black Friday. However, this year could be the most profitable yet.
Parents, students, and teachers worldwide look forward to returning to in-person classes. This means that creative back-to-school campaigns provide a massive opportunity for brands to increase brand awareness and drive sales.
Potential revenue growth means more competition for eCommerce marketers and shifting consumer trends, with parents focusing on necessities and looking for the best deals. This is especially true in light of COVID-19, which has increased spending for many families as their children require more electronic devices to study from home.
But first off, let's see what the numbers have to say about that.
Crunching the Numbers
Parents are bracing themselves to say goodbye to their salary as students prepare to bid goodbye to their summer freedom and return to school. Parents, guardians, and children were expected to spend an anticipated total of 37 billion dollars during the back-to-school buying season in 2021, which generally occurs in the summer and early autumn.
According to the most recent figures since last year's surge, US back-to-school eCommerce sales are about to increase another 13.3% this year, indicating a revenue of $41.26 billion.
There's an expectancy that back-to-school sales will increase significantly in 2021. After falling by 4.6% last year, total back-to-school sales will rise by 9.3% in 2021, making up $95.83 billion in revenue.
That's to say that eCommerce will increase its share of overall back-to-school sales from 41.5% in 2020 to 43.1% this year, which means more than 10% points over the previous year (31.5%).
But what exactly are these parents buying during this season? Is anyone wondering about that? What about the kids? What do they want?
Let's find out!
According to Statista research, these are the top back-to-school supplies and necessities parents buy for their kids.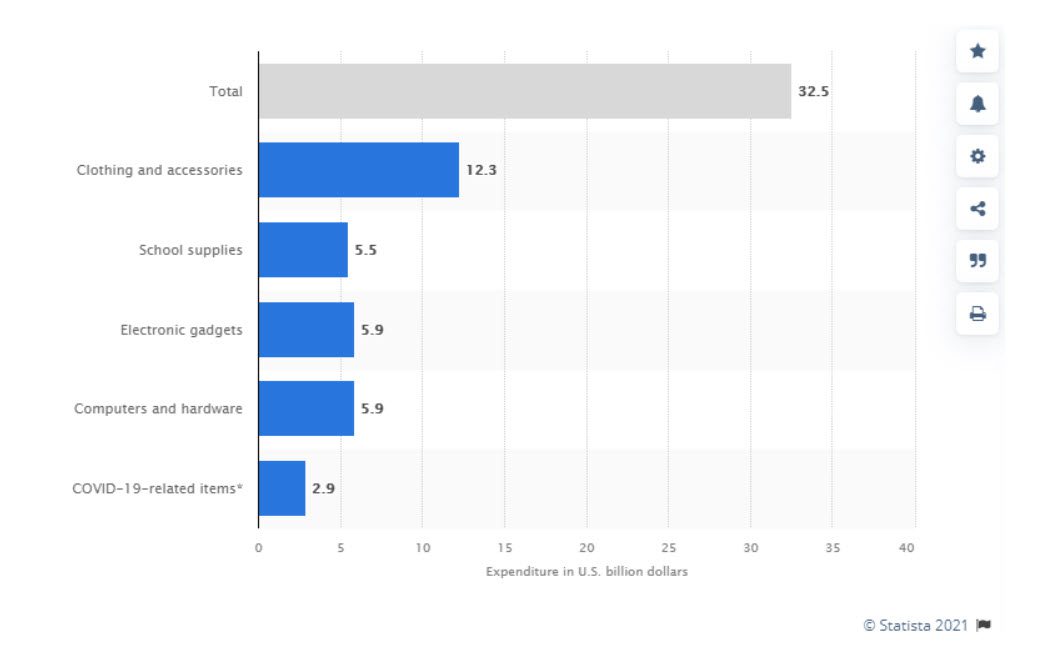 Clothing, accessories, and school supplies such as books, pencils, backpacks, and other items are among the most popular educational essentials purchased by guardians of schoolchildren. However, because the pandemic hasn't yet abated, many people were preparing to spend the most significant money on technological equipment this season.
During the back-to-school shopping season in 2021, consumers in the United States are predicted to spend a total of over 12 billion dollars on clothes and accessories, making it the market's largest spending category. In addition, spending on electronic gadgets for school and computer and hardware goods will rise significantly this year.
What does this imply for your back-to-school marketing strategy?
First, you must reacquaint yourself with your clientele. What kind of deals are they looking for? What is it that they are concerned about? What new issues can you take on? Then, conduct a poll to determine what's essential to your customers this year.
Here are a few back-to-school fashion trends to keep an eye on:
New fashion trends
Intelligent technology
Technology for distance learning
Bigger budgets
Fewer price comparisons
Back to school has evolved, and it is no longer the same experience as it was in 2019. So, pay attention to the latest trends to get the most out of your back-to-school promotions and marketing initiatives in 2021.
How to Kick Off Your Online Store for Back-to-School Season
Students will soon return to school. After a year of remote learning, many students will return to the classroom in many locations. New school clothes, bags, computers, pencils, notes, and other items are all on the way. You know what this means, right? So it's time to start planning your eCommerce brand's back-to-school marketing approach!
According to Deloitte, 60% of shoppers start purchasing 4-6 weeks before the school year, with the peak occurring between the end of July and the beginning of August. Around 60% of all back-to-school spending occurs during this time frame.
Also, three things tend to top everything else when it comes to purchasing back-to-school supplies. Price, quality, and ease of use are all factors to consider. But we'll get back to this later.
So knowing all this information, let's pretend you're the customer and see how we can create a proper back-to-school marketing strategy to boost sales, increase revenue, and, most importantly, leave your customers satisfied. After all, school is stressful enough, don't you think?
There's no secret that most people will look for school supplies online. So to be at the top of your game, there are quite a few things you need to remember regarding your website.
Things such as…
Example: Walmart
Walmart's back-to-school banner features all school essentials from dorm finds to study stationeries and has a clear and straightforward objective that will most certainly encourage people to look closer.
Example: Ikea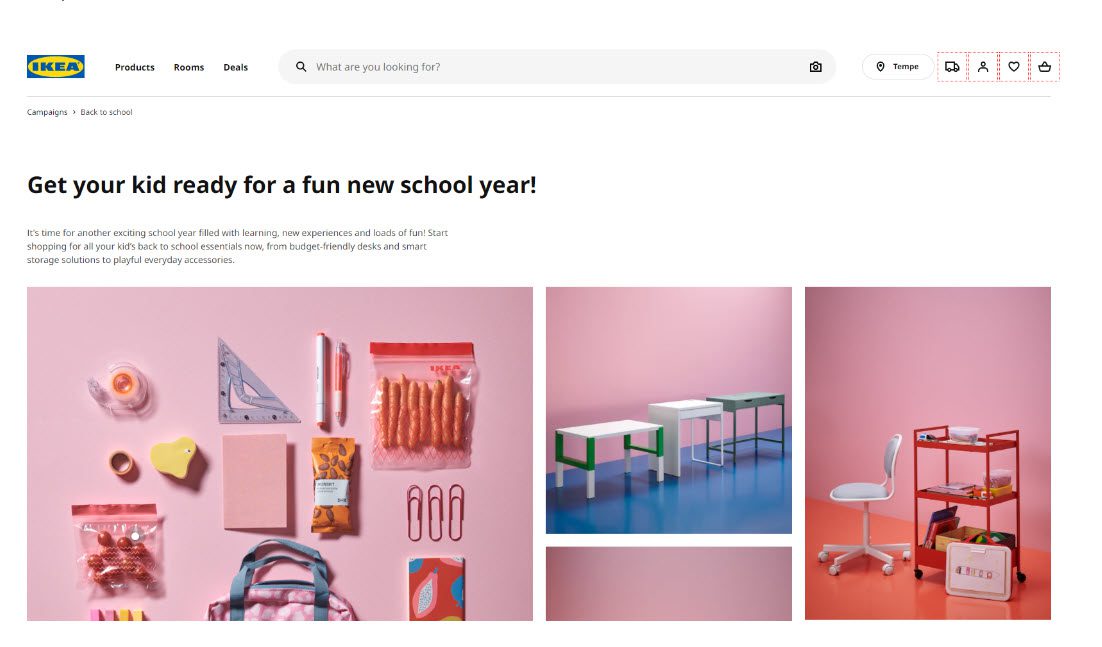 Ikea, like Walmart, has a separate web page dedicated to back-to-school shopping. What makes this so beneficial? Because it makes these products easier to discover. They are grouped under specific clusters that help website visitors easily find their much-needed items. I love Ikea because they have many images showing entire rooms and desks, with multiple Ikea products and their prices. So you can easily hover over a particular item, and you'll see the price.
This way of showcasing products can lead to cross-selling and higher average order values. For example, when someone looks at an excellent desk, they might realize that the lamp also matches the color. So, they'll buy two items instead of one; see where I'm getting at ;)?
Example: Smiggle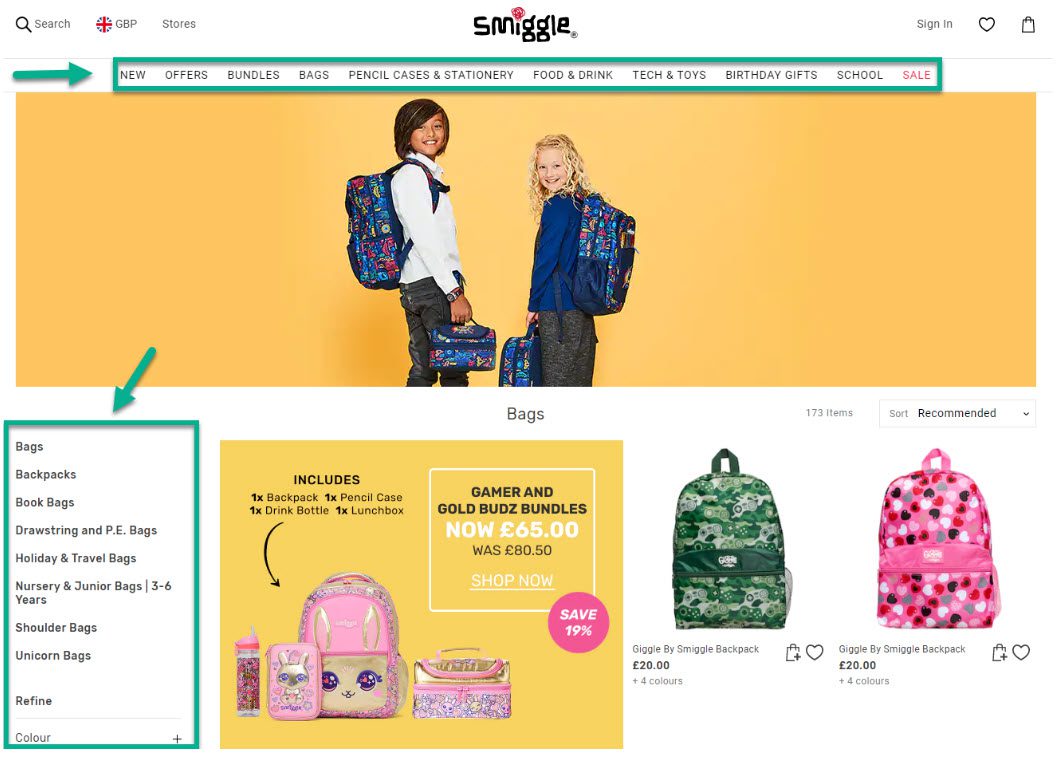 When your clients are looking for something specific, categorizing your products gives them a clear path to follow rather than scrolling endlessly through pages.
A sea of products can be overwhelming and time-consuming to navigate. So be efficient with your time and remember that while you may know all of your products because you've seen them a million times, your customers may discover them for the first time. So make sure to assist them in their shopping experience.
Take a look at what Smiggle has done with their back-to-school product bundle. If you look at their product page, you'll see a category bar at the top and a section at the bottom highlighting the many backpacks they offer based on the child's age.
This last strategy can benefit parents whose children start preschool or kindergarten. Having all products listed by age implies a less time-consuming effort and a better shopping experience—basically, a win-win situation.
Example: Smiggle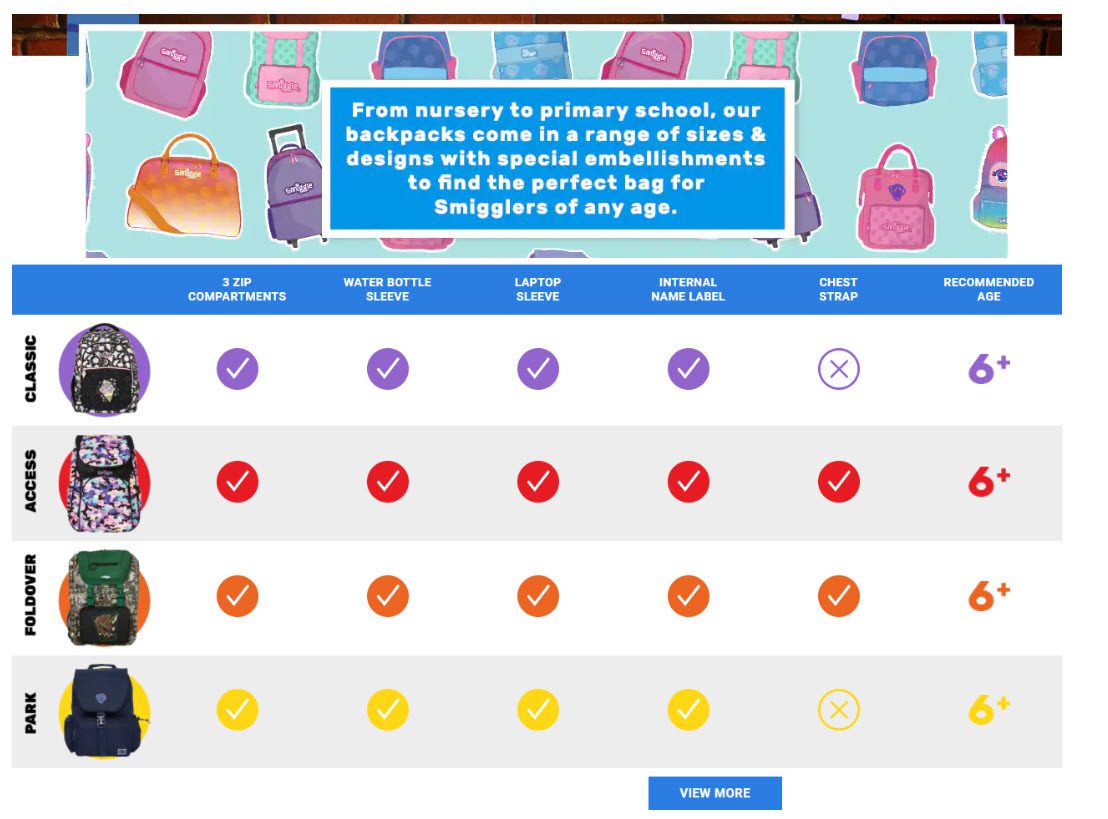 Everyone has experienced the sorrow of ordering something online and being overjoyed when they arrive… only to discover that they do not fit. What went wrong? Why doesn't that backpack fit properly even though you typically order a size medium? Here's the solution: shopping guides.
The same range of inches for each size provided for that specific product is frequently given in shopping guides. If buyers are unsure about choosing, they can use this information to measure themselves at home.
Shopping guides ensure that clients purchase the correct size, avoid returns, dissatisfied customers, and negative reviews, and enhance sales through customer happiness.
Support or raise awareness around a social issue
Example: Smiggle

Nowadays, people not only buy your product; they stand by a brand because they share their values and beliefs. This is why many brands make a stand and launch awareness campaigns that talk about plastics, deforestation, climate change, etc.
Taking a stand may help brands build an authentic and compelling message when done correctly. When a company's actions match its values, it becomes more than simply another corporation, demonstrating that it cares about more than just its products and services.
Now, the folks at Smiggle decided to speak louder about a school-related issue: bullying. So they joined a program that talks about choosing kindness this school season.
You could do something similar. Such a stand requires courage and honesty. Just don't fake it.
Addressing social issues gives your brand a voice and an opportunity to advocate for social change.
How to Get Ready for Back-to-School Email Marketing Campaigns
Customers gradually return to their pre-pandemic life of freedom as things return to normal. As a result, people will be ready to spend as they have in the past. According to Mastercard SpendingPulse, back-to-school sales in the United States will likely increase to 6.7% in 2019 and 5.5% from 2020.
You know what this means, right? It means that this is a fantastic opportunity to boost your sales and drive business growth, and, of course, tailored emails can help you do just that. So let's see how you can achieve that.
Segmentation, Segmentation, and Segmentation
Keep one thing in mind first and foremost: segmentation is everything.
Parents with school children, students, and teachers should all receive separate emails. Ensure your subject line, and copy connect directly to the audience and address their immediate requirements.
The more relevant your email communication is to your audience, the more likely they will continue to connect with it. Of course, no email audience is a monolith, so segmenting your list based on demographic attributes might help you improve relevancy.
Keep 'Back-to-School' Your Subject Line
The subject line of an email is the first thing that catches a recipient's eye. Therefore, your marketing efforts will gain more traction with a strong topic line. Your subject line should be one-of-a-kind and intriguing, piquing your audience's interest and encouraging them to learn more. Ensure your subject line explains the email so your subscribers are more likely to open it.
Here is a list of email subject line samples that you can use in your back-to-school email campaign. Take a look at the subject lines below for ideas and to help you design your email.
It's back to school time!
Back-to-school basics are now 20% discounted!
Are you looking forward to returning to school?
All backpacks with a 40% discount!
Back-to-school is cool!
Don't miss out on Back to School specials!
It's almost time to go back to school!
The next goal is to direct your email subscribers to the landing page after opening your email. This is determined mainly by the return to school email's structure and appearance.
Pick Vibrant Colors
The colors, not the text, draw the reader's attention when they open an email. Color selection aids you in your email marketing activities and ensures that you select the appropriate color combination for your needs.
When choosing colors for your email marketing campaign, the first thing to examine is how they relate to your product. Next, ensure that your selected colors encourage your viewers to take action.
According to a study titled "The Importance of Color to the Consumer," color could be the deciding factor in 85% of product purchases. A strategically chosen color can do the following in addition to nudging us toward a purchase choice (or pushing us away from one):
Increasing brand recognition. Using the right colors in your marketing operations can help establish your brand in the thoughts of your email receivers, increasing brand recognition by 85 percent.
Increasing sales. This color trick may entice customers to purchase items based on color selection.
Boosting click rates. The greater the CTR, the more successful the marketing strategy was in attracting visitors to a website.
Use Appealing Fonts
While we may not notice what fonts our favorite brands employ, the fonts we select do much more than transmit your well-prepared brand messaging; they elicit solid and emotional responses.
Fonts are an essential aspect of your email design for back-to-school. In addition, your marketing approach is heavily influenced by the fonts you use. To make your emails appealing, you must demonstrate to your readers that your style is distinct in everything you do.
Compose emails using typefaces that suit your company's style. During this back-to-school season, a joyful font is a terrific method to attract younger children and parents.
Here's an example of a back-to-school email from the folks of Bando.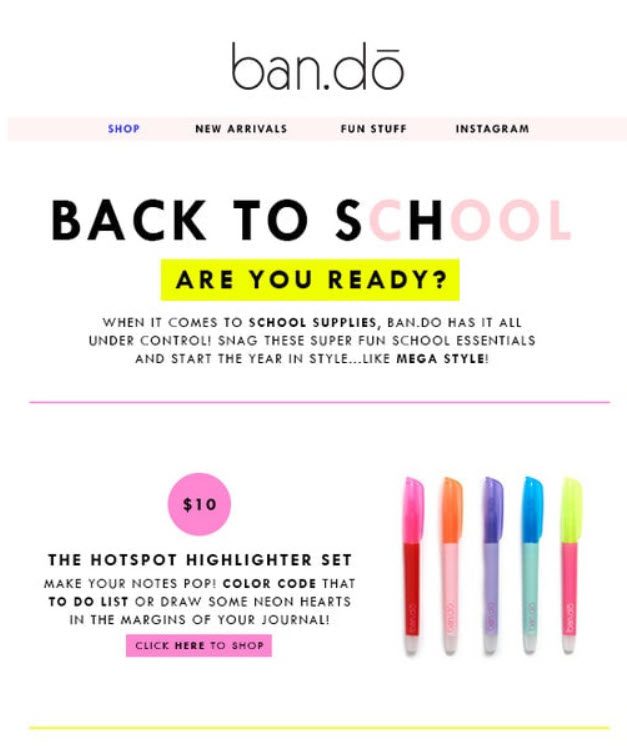 Offer Giveaways and Discounts
In the congested retail sector, it might not be easy to stand out with back-to-school email advertising. You'll need more market research if you're just getting started. Creating compelling emails that meet your clients' wants and expectations, on the other hand, will inspire them to take action.
You can use discounts and gifts to entice clients and increase sales. It will assist parents and kids in purchasing the things they seek, particularly during the back-to-school season.
Buy one, get one free, coupons, discounts, gifts, buy more, save more, flash sales, free delivery, and so on are all popular promotions. You can apply these concepts to your back-to-school email marketing campaign.
If you want your email to stand out in your readers' inboxes, you must genuinely mix new tactics with the proper messages. First, however, make sure you're not merely selling reduced items or school supplies.
Here's an example from Oasis City Center and their most recent back-to-school backpack giveaway.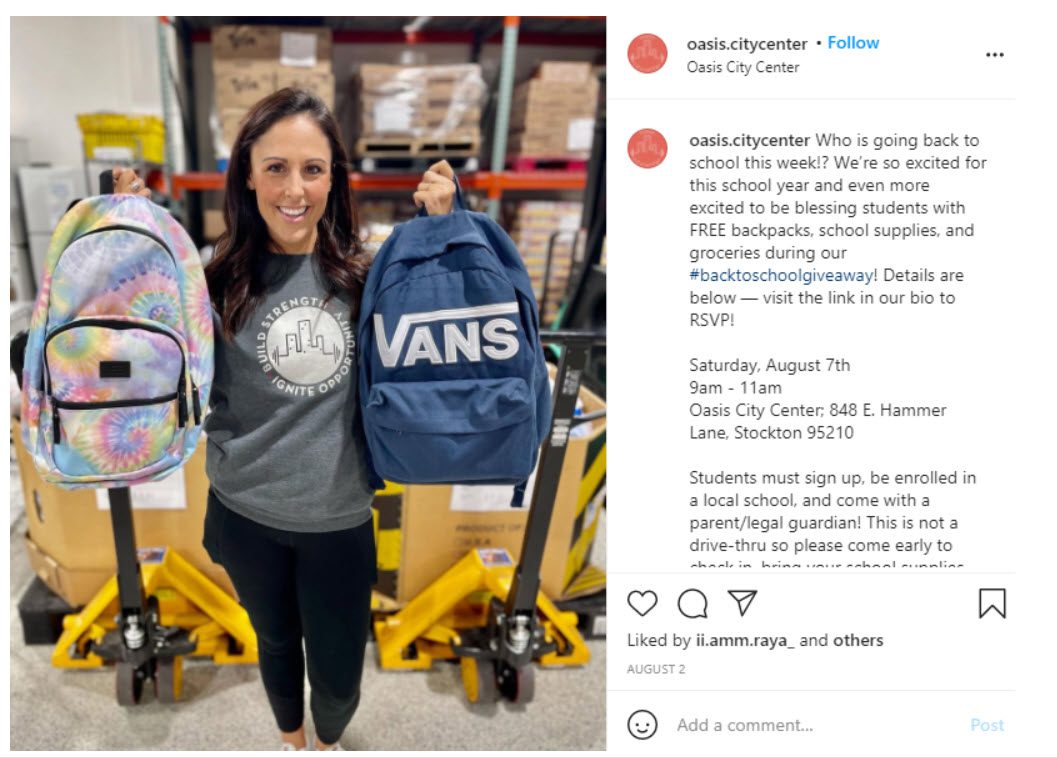 For many youngsters, returning to school is a highly emotional experience. Demonstrate your concern. Approach your customers with a solid emotional connection. This is how you can provide your customers with something of worth.
Don't Forget to Keep Your Key Target Audience in Mind
Back to School shoppers come in all shapes and sizes, including:
Parents and caregivers;
Elementary and secondary school students;
College students;
Teachers.
Back-to-school marketing campaigns should always be tailored to your target audience. You can even tag them in your CRM to quickly reach out to them with targeted offers. The channels, campaigns, and promotions may change depending on the needs and preferences of your target audience.
Make your marketing relevant to popular trends for your targeted demographic, whether targeting elementary, high school, or college back-to-school shoppers. You can even reach out to the parents and relate to their concerns or emotions. If a product resonates with the consumer, they are much more likely to buy from your company than your competitor.
When executing your back-to-school marketing campaign, there are several tips and trends to consider. The first step is to determine who you want as your target audience. Social media is the place to be if you want to reach out to children. Whether they're teenagers with their own money to spend or convincing their parents to buy them the latest book bag, social media platforms are a great way to reach them.
Instagram contests featuring images of children posing with or wearing your product are a hit. Another way to interact with your target audience and raise brand awareness is to create a Pinterest board dedicated to back-to-school ideas. Then, share the board on social media along with links to your products.
And speaking of social media…
What About Social Media Marketing for Back-to-School?
Did you know that in the fall of 2020, approximately 48.1 million students, including ungraded children, attended public schools from kindergarten through grade 12? Yup! Let that sink in for a while. Then, increase this figure by including parents, who are more involved in the planning and purchasing decisions than their children. Finally, add in teachers and other school workers who are also starting a new academic year.
Seems like a lot, right? That's because it is. These individuals make up a sizable audience united by a shared challenge: they all need to be ready for school in the most cost-effective and stress-free manner possible.
Here's where social media comes into play. Social media platforms are ideal for reaching out to your audience in a more personal and considerate manner. Here are five social media marketing strategies worth including in your content strategy.
Embrace Video Marketing
Video is quickly becoming the most popular kind of online material, and you'd have to look hard to find a company that doesn't use it to promote its goods.
Beyond text or photos, video can provide your future students with an in-depth, immersive view of life at the school. Those prospective pupils can see your film and put themselves in the characters' shoes.
According to HubSpot Research, social networks account for four of the top six worldwide channels consumers view videos.
What is the significance of this? First, you're probably lagging if you're not making a video. Second, for most videos, the more straightforward and raw the content appears, the more authentic it looks, and that's what your audience cares about.
Consider collaborating with a professional videographer or someone who can really put together unique video content. You'll see why when it's done. But for now, here's an example from the most recent Next and Adidas collaboration for their back-to-school campaign streaming on Youtube.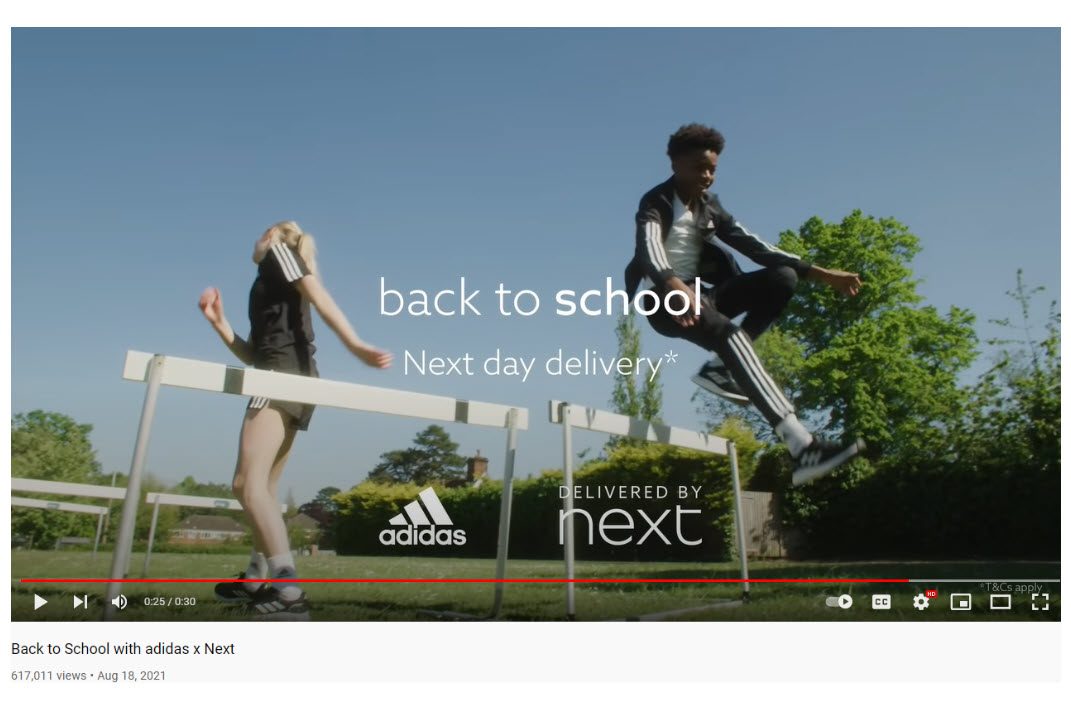 Promote Special Deals
Back-to-school is a tremendous advertising season, almost as big as the night before Christmas. So don't sit on the fence; deploy paid ads on social media to reap the fall crop's benefits.
Here's an example from Mint Basil Market and their special back-to-school offer featured on Instagram.
According to a new RetailMeNot poll, offers significantly impact customer acquisition, brand loyalty, and brand perception among consumers, particularly millennials. Although it should be no surprise that coupons promote sales, the ability of promotions to improve a business is often overlooked.
Promote Sustainability and High-Quality Products
Customers will go deeper into their pockets if they believe they are getting a top-of-the-line product or an item from a reputable brand. In fact, according to a 2018 Deloitte holiday shopping habits research, 71% of respondents stated they look for high-quality items and trusted brands when it comes to the importance of a product.
Quality is essential for delighting our customers and preserving their loyalty to continue to purchase from you in the future. In addition, long-term income and profitability rely heavily on high-quality items.
Here's an example of how the folks from Levi's approached their back-to-school marketing campaign on Instagram.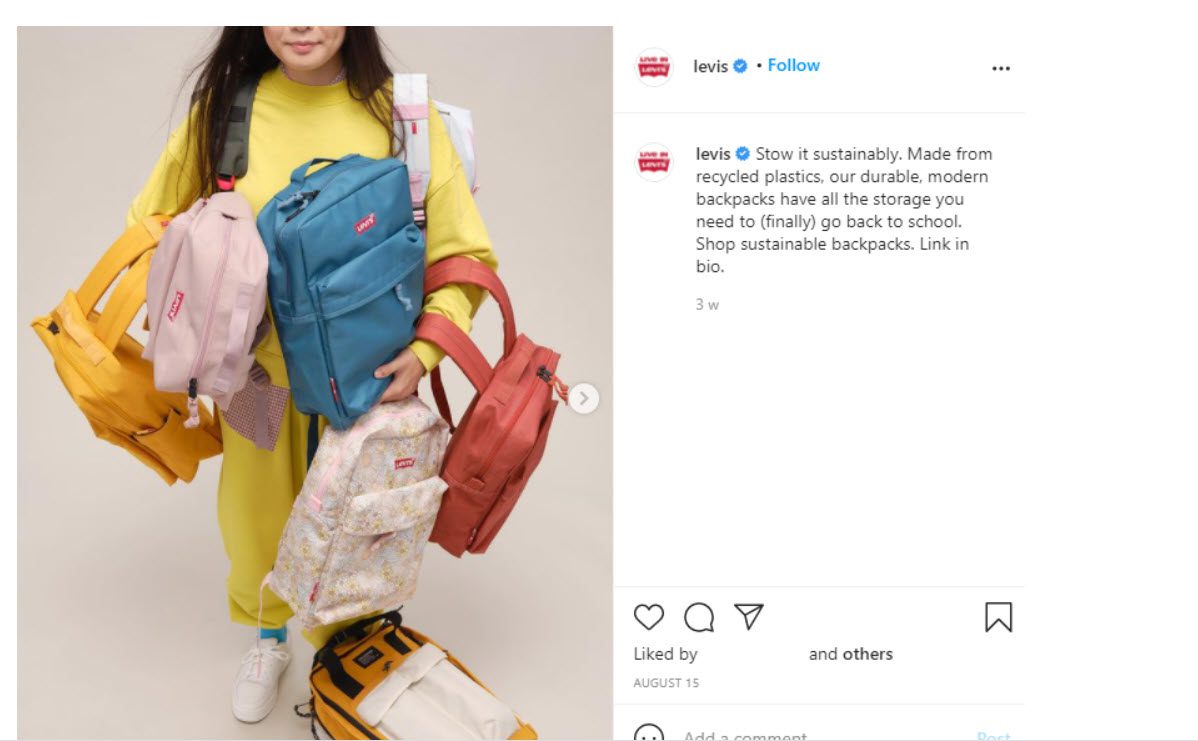 Aside from an aesthetically pleasing Instagram picture, the quality, sustainability, and modern backpacks speak for themselves.
Top it Up With a Motivational Quote
Summer is winding down, and it's time to get back into the swing of things. Studying can be difficult and time-consuming, and it takes dedication and discipline. But perseverance always pays off!
Encourage the pupils by sharing a motivational quote. Instead of boring cramming, evoke the anticipation of discoveries and expanded perspectives. Here's an example from Creative QT and their funny Instagram message that got people to break a smile on their faces.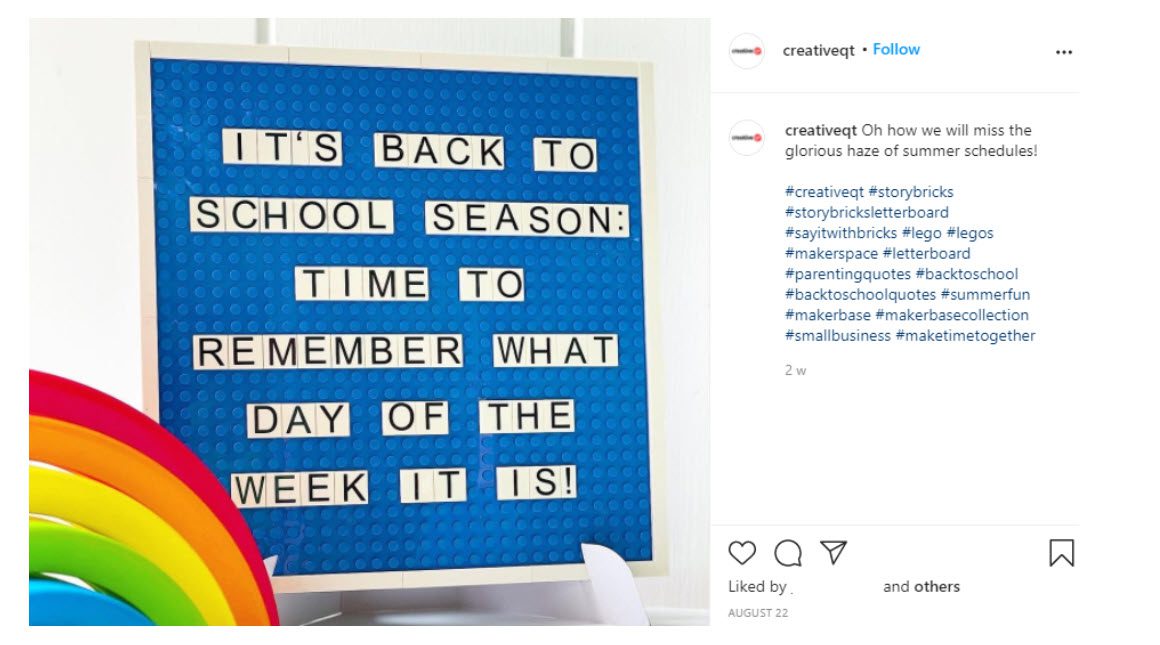 Collaborate with Bloggers and Influencers
You already know that collaborating with bloggers who already have a following is a terrific approach to reaching a larger audience and establishing trust in your business. In addition, securing a suitable partnership contract is an excellent advertisement for your company and allows you to get a broader audience quickly.
Here's how Tesco did it in their back-to-school campaign by reaching out to bloggers who happened to be mothers whose children were starting school.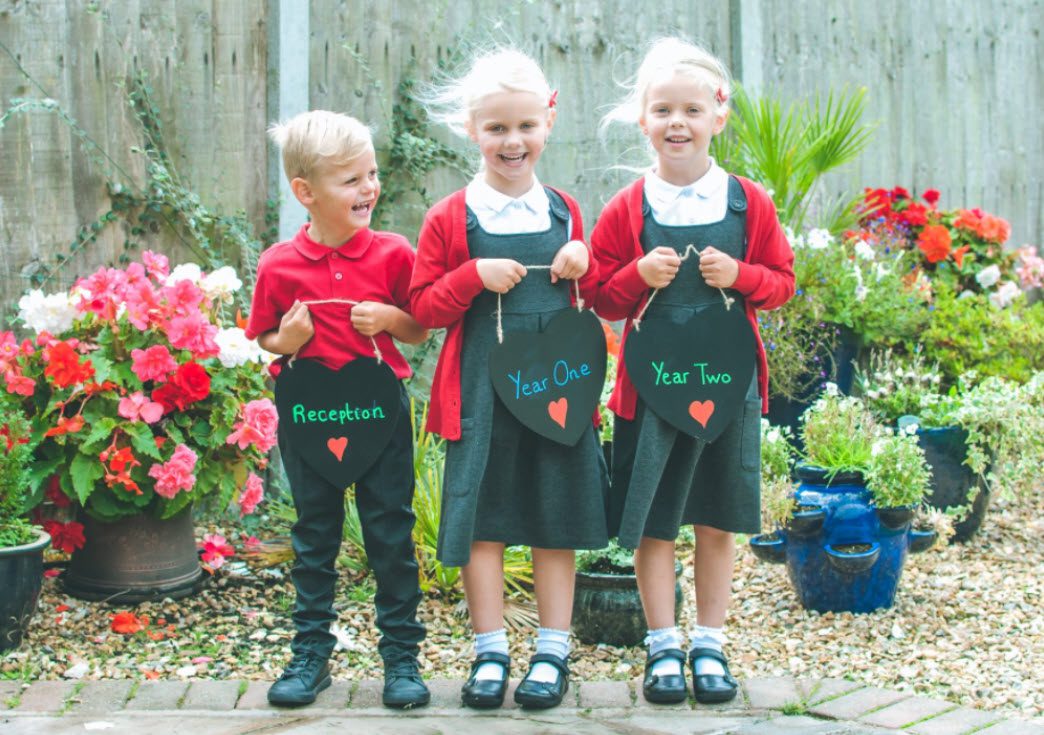 Tesco's offering of school uniforms, which allows parents to get their groceries and take care of their children's school attire in one trip, was already clever. So it's fantastic to have bloggers create stories around the concept.
Take-Home Message
This year's back-to-school season will be tremendous. Students want to make an impression as they rejoin their classmates and teachers for the first time after a year of in-person and virtual learning.
We've included a few ideas to help you make the most of this year's back-to-school season. So now is the time for you to respond. How will you involve parents and kids in preparing for the next school year?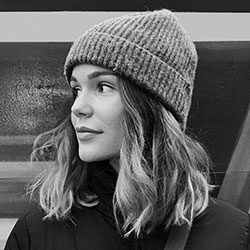 Gabriella is a Digital Content Writer and Marketer with a zeal for all things WordPress. When she's not researching and drafting the upcoming articles, you can find her in the open air exploring the outdoors with her dog.