Looking for a way to offer an engaging shopping experience on your online store? Product videos on your WooCommerce product pages are the ideal enhancement for an overall better shopping experience and increase in sales.
Adding product videos is a great way to showcase your products and present more information about them. Think about it: don't you like seeing something from all angles and maybe a person even wearing it when you are shopping online?
It also helps customers make informed purchase decisions and can increase sales for your business.
In today's know-how article, we'll examine why you should add product videos to your WooCommerce product pages, see some examples from big-name brands that successfully use product videos, and some plugin recommendations.
Ready to dig in?
Why use WooCommerce product videos?
Videos are already highly effective in persuading purchasing decisions in every industry, and their effectiveness is expected to grow even more in the coming years. As a result, businesses must develop robust video marketing strategies to ensure their growth and success in 2022 and beyond.
Adding product videos to your online store gives customers a better idea of what they can expect. Besides, According to Google, 55% of consumers use videos to make purchasing decisions.
Here are some of the main areas in which you should definitely consider adding product videos to your WooCommerce store:
Selling clothing and fashion accessories: Product videos can help showcase and promote your WooCommerce site's apparel and fashion accessories. You can, for example, show a model wearing the apparel items so that customers can better visualize the colors and styles of the items before adding them to their shopping carts. It also makes it simple to showcase the product from various angles.
Selling custom-made goodies: If you sell custom products on your WooCommerce site, including a video that explains all of the product's features can help you sell more. It allows customers to see your unique value proposition.
Selling digital assets: Because digital products have few options for product images, uploading a video screen recording of the digital product in use is your best bet. For example, a screen-recorded video can show how the back-end layout looks and feels if you sell POS software.
Here's an example from The Lip Bar: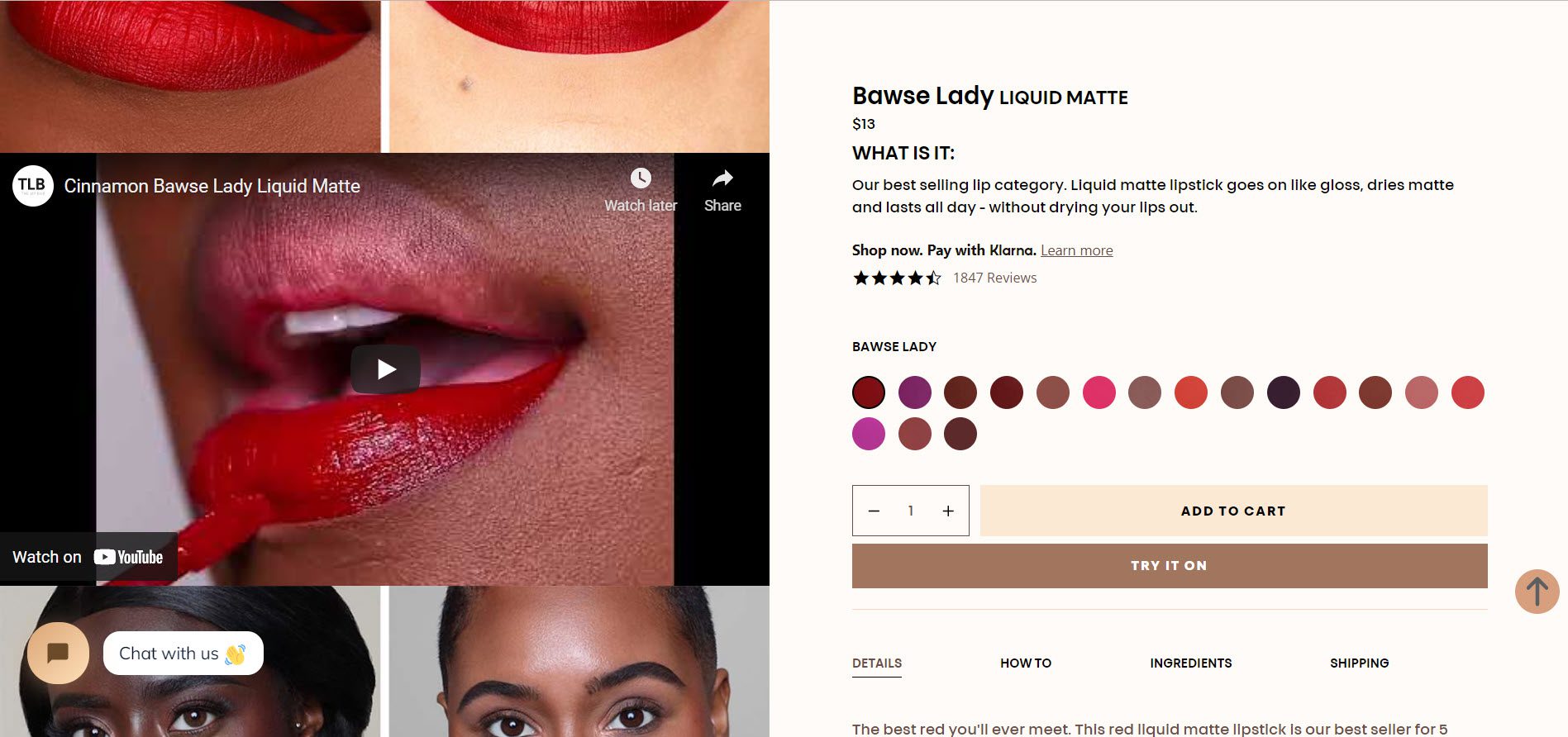 Video is in high demand among consumers, so most marketers are looking for ways to capitalize on it. For example, in the case of this lipstick. People can get a little closer to reality if they see the lipstick in use rather than just a photo of it.
What are the benefits of product videos?
While adding product videos allows you to better showcase your products, it also serves many other purposes too, such as:
Increasing brand trust: Videos can help your business reach new audiences and attract new viewers to your social media pages and website, which is likely why the number one reason brands use video is to "increase brand awareness."
In addition, more information about your WooCommerce products gives customers a better understanding of what the product is and what it brings to the table. As a result, you build trust between your company and its customers.
SEO optimization: Did you know that including videos on your website can significantly improve your SEO efforts and drive more traffic? Including product videos on individual product pages can help with SEO because search engines may display them higher in SERPs.
What's the link between the two? For starters, we know that when Google displays a video thumbnail next to a search result, which it does for 26% of search results according to BrightEdge, users are likely to click on that listing. Because the thumbnail is present, the result is a "rich snippet," and rich snippets have higher click-through rates than standard snippets.
Increasing sales and conversion rates: Consider creating entertaining or informative videos to increase brand exposure. Because brand awareness can foster trust and increase brand equity, so your company's bottom line is critical. This way, you will increase sales and better conversion rates on your online store if you encourage more people to buy your WooCommerce products.
Best case practices for your WooCommerce videos – How the big brands are doing it
To properly understand how to add product videos to your online store, let's look at some brands that use product videos and see what they did right and what you can learn from them.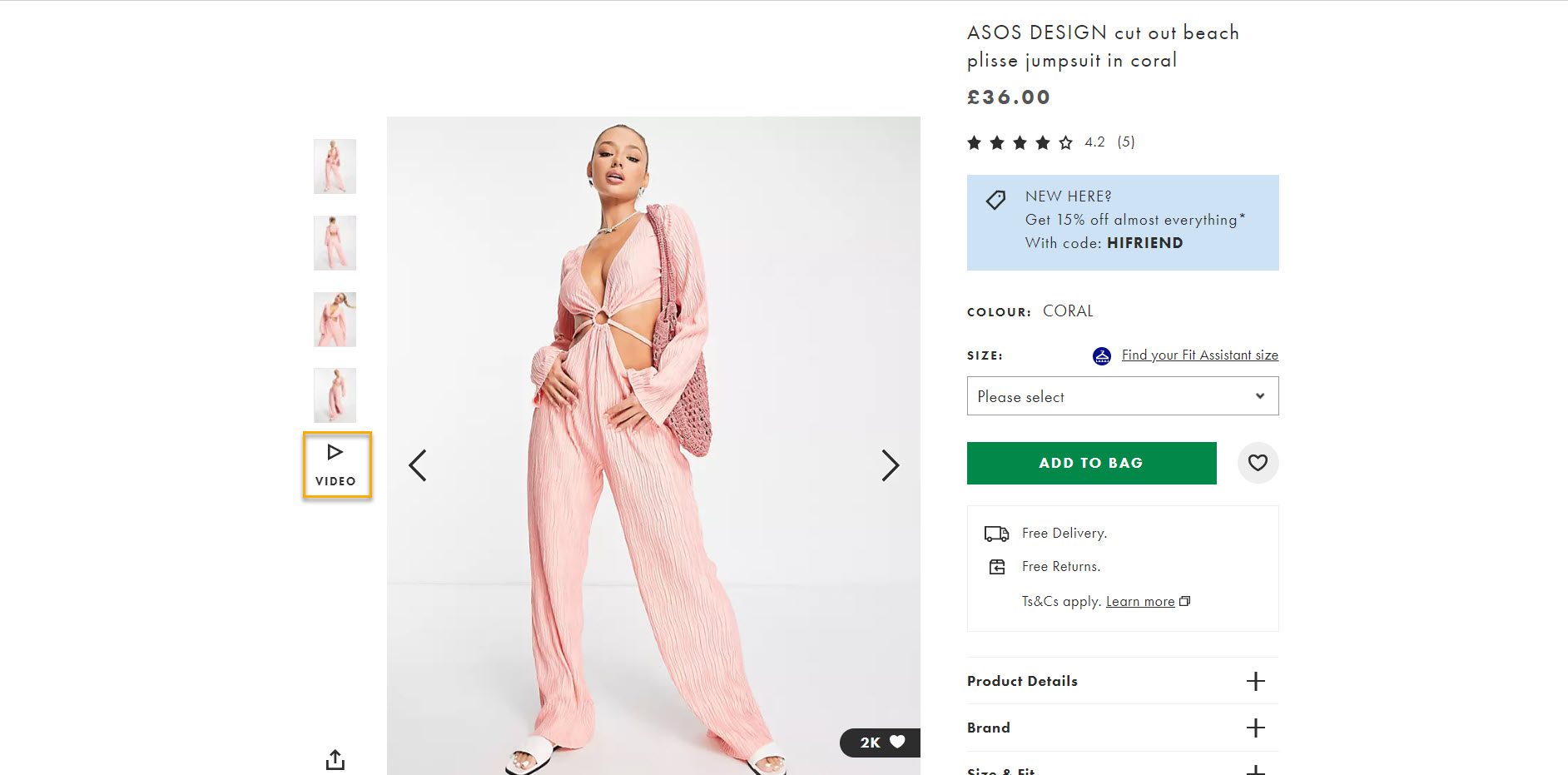 On their website, Asos sells clothing and fashion items. In this case, they've added a product video to their famous jumpsuit. As a result, customers can now view product images and a product video that better showcases the clothing items. This gives their customers a better idea of how the product will look and feel in real life.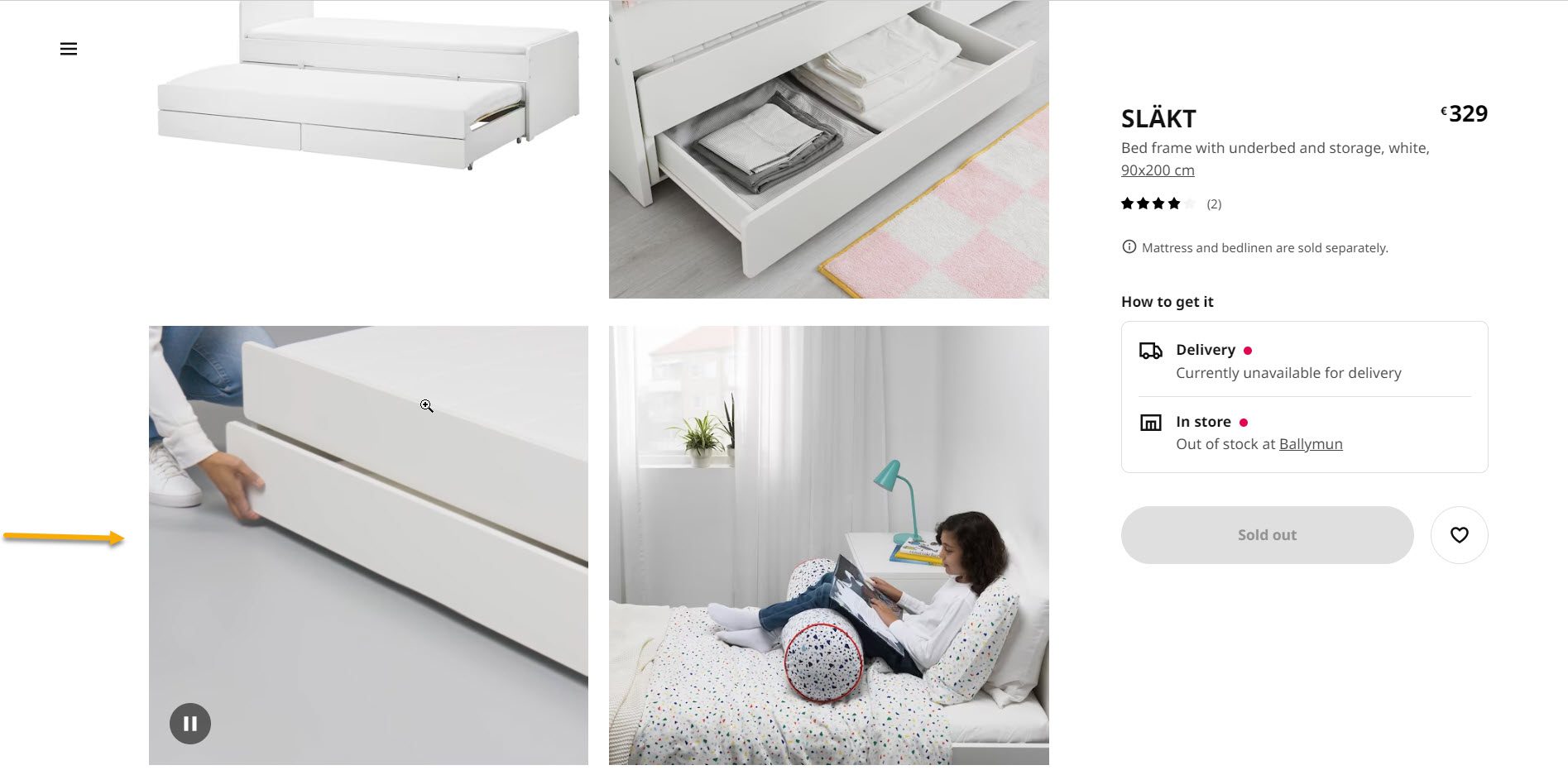 IKEA is an excellent example of how the brand uses the See-Think-Do-Care Framework (STDC) to provide different types of videos to meet the intent of its customers at each stage. STDC is a practical and empowering tool that helps you assess how to communicate with your target customer in this digital culture.
They are well-known for displaying product videos alongside photos of the products on their single product pages to add dynamism. This particular example grabs the visitor's attention immediately and helps them learn about the product quickly.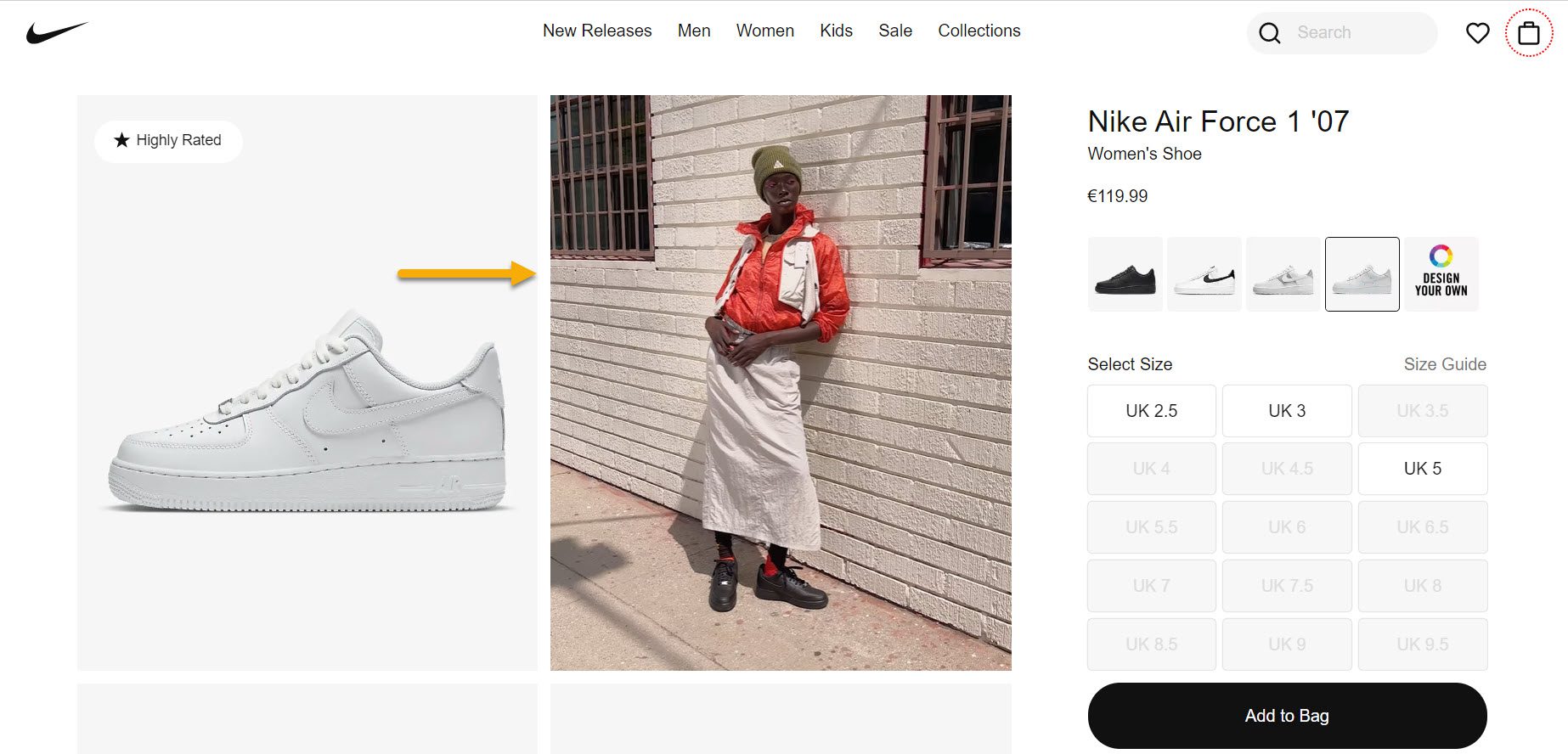 Nike does not stray too far from the product video category either. For example, suppose you want to buy a Nike product. In that case, you can not only see high-quality, detailed pictures of the shoes, but you can also watch a product video of someone wearing them in various situations. This enables customers to make more informed purchases when purchasing from Nike online.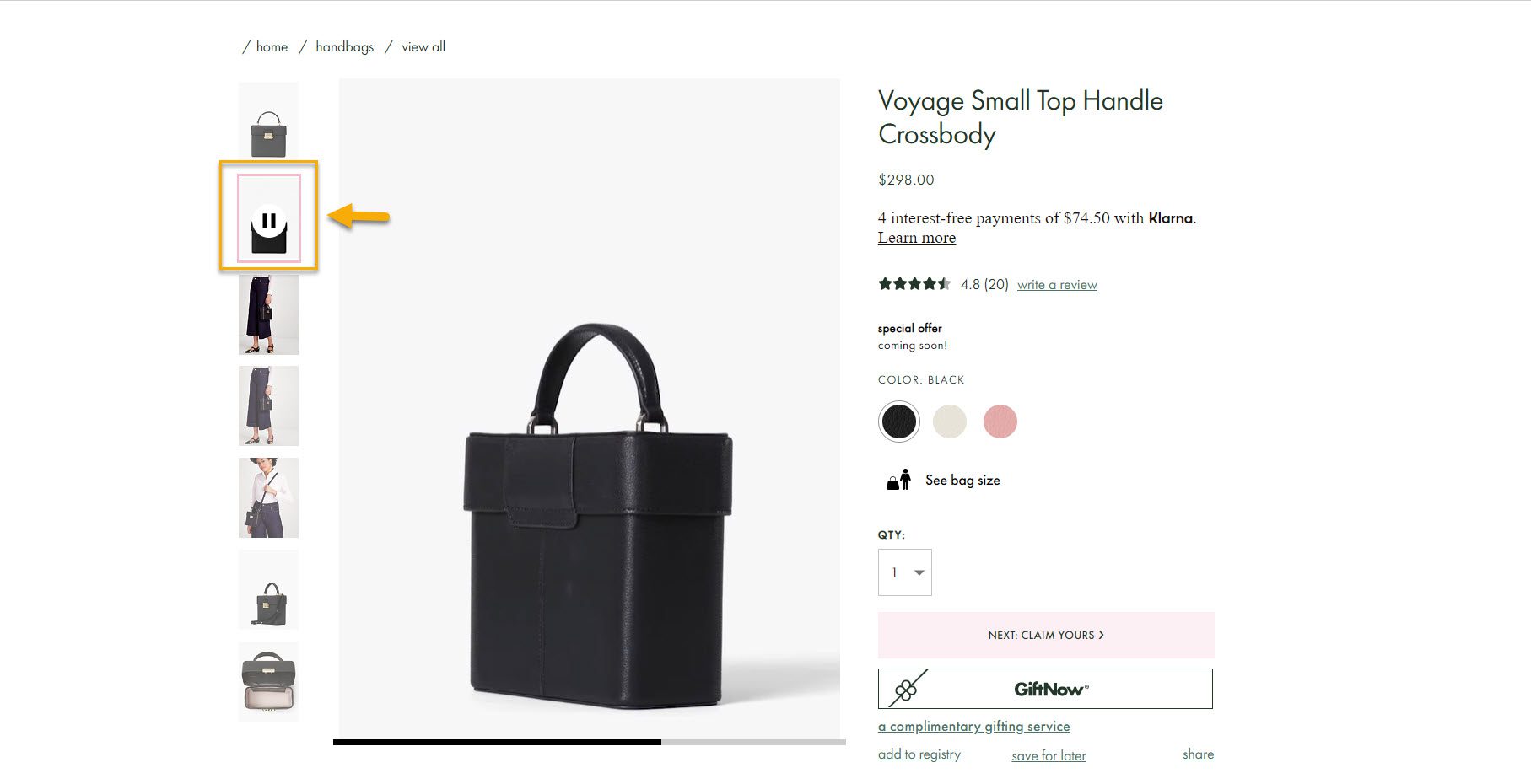 Kate Spade provides a rotating product video that shows its products from all angles, providing a 360-degree experience. This improves the presentation of their products and assures customers that the product will look the same as it does in the video.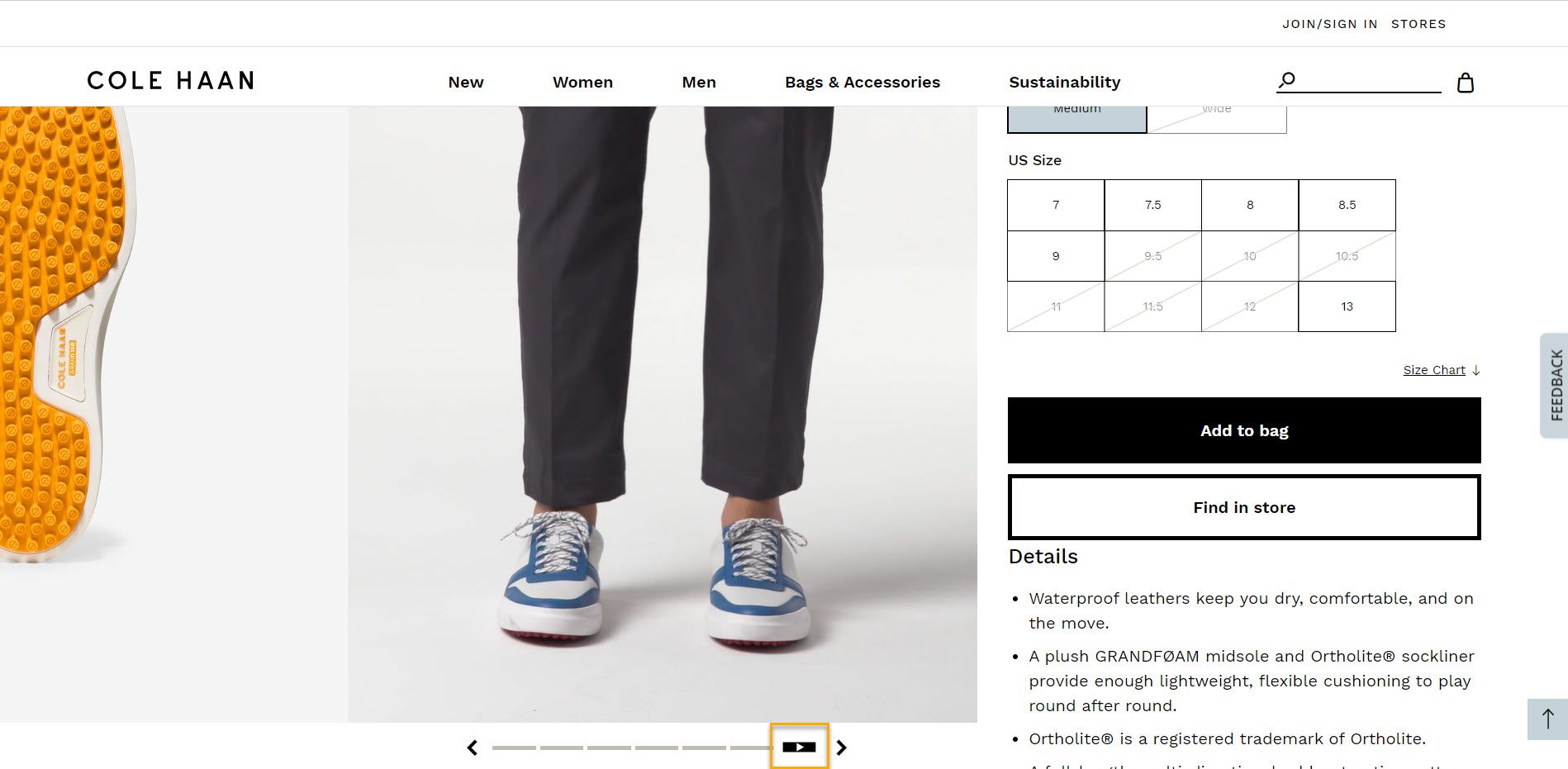 Cole Haan has released a product video for their "GrandPr AM Golf Sneaker." Customers can easily view and select different product variations, as well as which color of the shoe they prefer. From the single product page, they can view separate product images for each color option and a product video.
Key takeaways from these brands:
Keep your product videos short and on point.
The most critical aspect of product videos is to keep your customers engaged while demonstrating how it works in real-world scenarios. This does not imply that you include a lengthy and detailed 2-minute explainer video of the product. Ideally, product videos should be under one minute long so that they are easy to consume and customers can quickly see what the product looks like without losing interest.
Check that the play/pause button is easily visible.
It's critical to keep the play/pause button for videos visible when adding product videos to your online store. This allows your customers to see the product videos as soon as they land on your product page and pause it whenever they feel like it.
Point the product video towards the end-user.
We're trying to say here to make it about your customer, not your sales. Creating a product video for your customers is more important than selling the product. So when creating a product video, consider what your customers would like to see about the product to make an informed purchase decision.
Hint: Product videos can also be used to cross-sell products. For example, if you're showcasing a pair of jeans in a product video, you can also include a pair of sneakers or a t-shirt that you sell. This is an excellent way to create a get-the-look section to increase the average order value.
Your videos should play automatically and open in a lightbox popup.
Ideally, your product videos should autoplay when customers click on them and open in a distract-free popup lightbox on the same page. This keeps customers interested in your product and encourages them to add it to their shopping cart quickly.
Top-notch WooCommerce product video plugins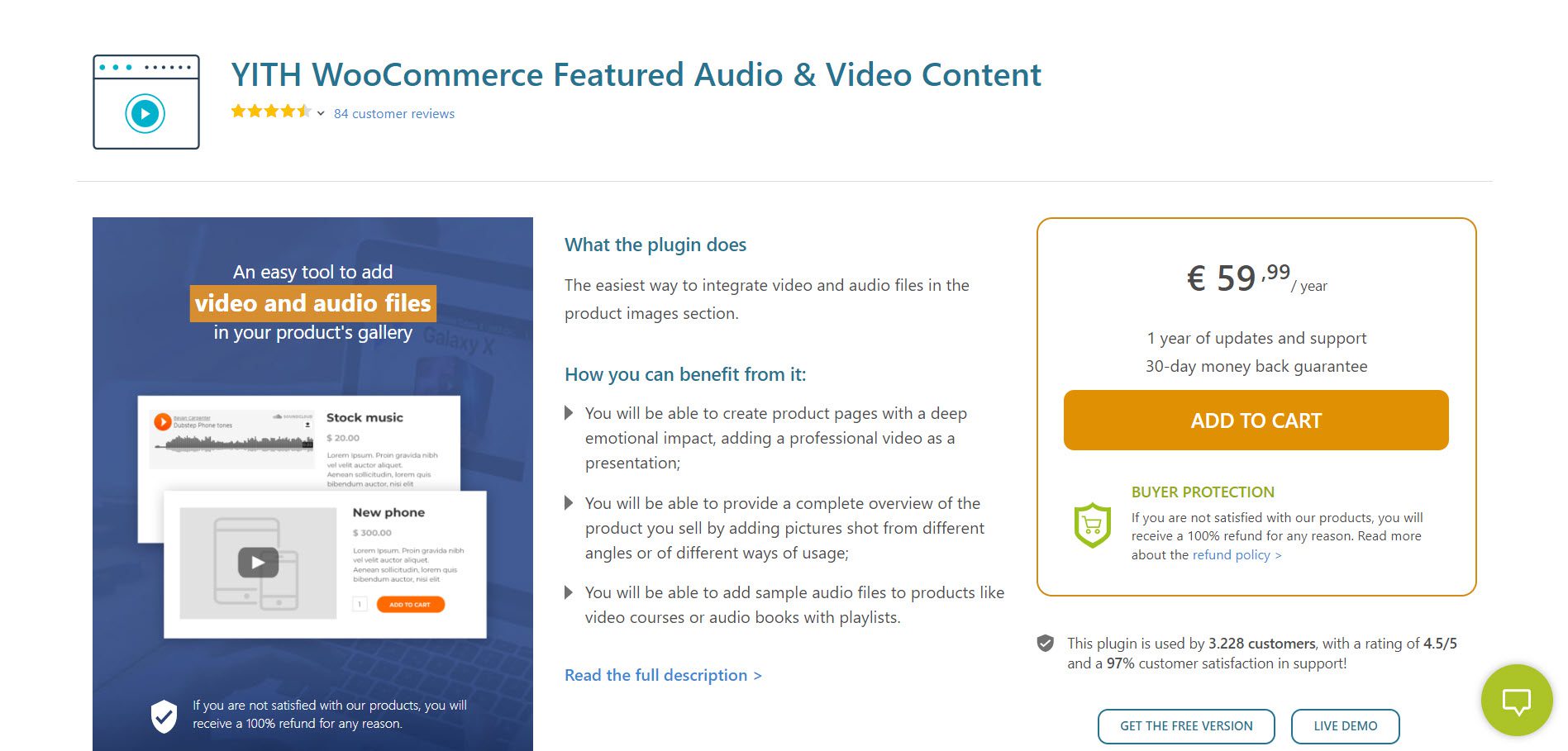 YITH WooCommerce Featured Audio & Video Content is a simple video plugin with a free and premium version. This plugin allows you to upload both audio and video files to WooCommerce.
What's more, you can upload multiple videos simultaneously with no pauses. We can use it to upload videos from Vimeo, YouTube, and other video-sharing websites. You can even self-host video by integrating it into your WordPress media. You can show multiple videos for different product versions if you choose the premium version.
Plugin features:
Substitute the featured image with a YouTube or Vimeo video;
Include videos in one or more of the store's products;
Set a custom video aspect ratio;
Capable of having sample audio files in products (audiobooks, video tutorials).
Product Video for WooCommerce plugin allows you to add visually appealing product videos. This plugin can embed videos from YouTube, Facebook, Vimeo, and other sites. One of its best features is that it works flawlessly on all product pages. Unfortunately, adding videos can sometimes slow down our website.
Plugin features:
This plugin allows you to insert videos from YouTube, DailyMotion, Vimeo, and other websites.
It also lets users watch videos in a popup and full-screen modes.
You can upload videos in various formats, including MP4, MKV, AVI, MOV, FLV, and others.
It allows you to personalize the video's thumbnail.
The Product Video for WooCommerce plugin includes many features for embedded and self-hosted videos.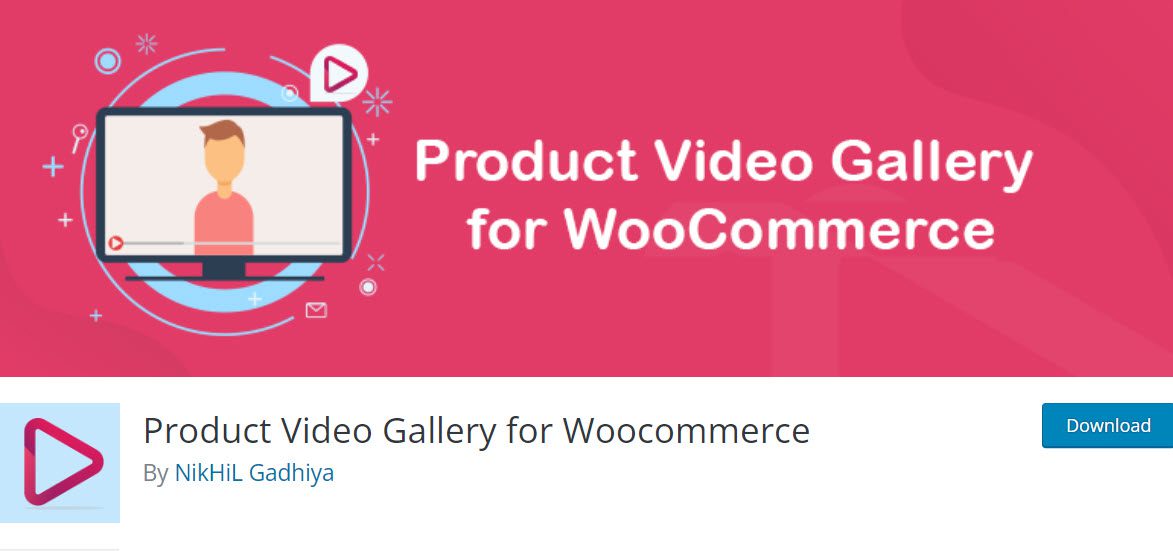 WooCommerce Product Video Gallery comes with free primary and advanced features. Moreover, its most notable feature is that it allows you to embed videos and images.
This plugin's goal is to help you increase your sales and profits. Therefore, it has a lot of advanced features and an appealing interface. Furthermore, this will work smoothly on all devices with varying aspect ratios. Finally, you can use this plugin to display both images and videos in a single gallery.
Plugin features:
It can display media files in either horizontal or vertical orientation;
You can also enable or disable the autoplay video feature;
You can use this plugin to enable or disable the arrow sliders;
It works with popular website builders like Divi Builder and others.
How to Use Product Video Gallery for WooCommerce
First, from your WordPress dashboard, go to Plugins → Add New and type in the search bar the plugin's name, then hit Install and Activate.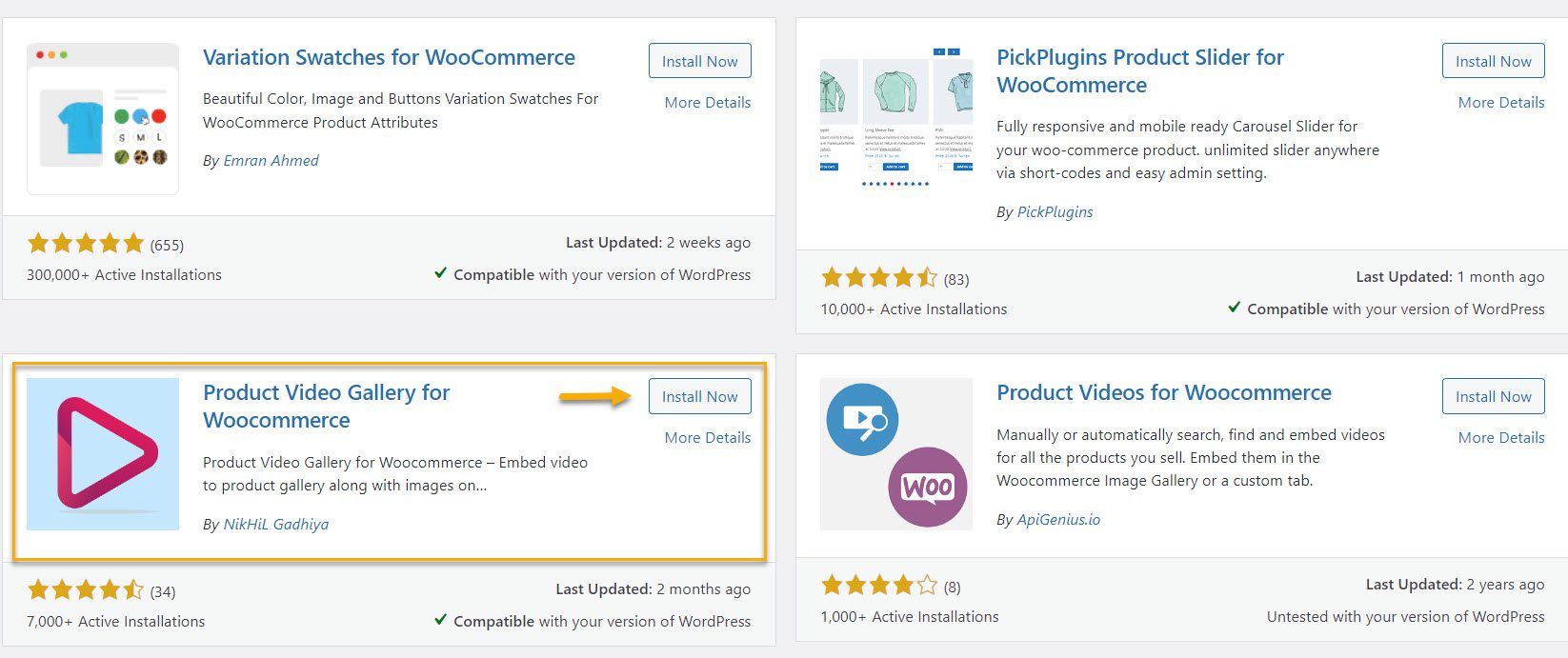 After activating the plugin, go to Products → Product Video WC.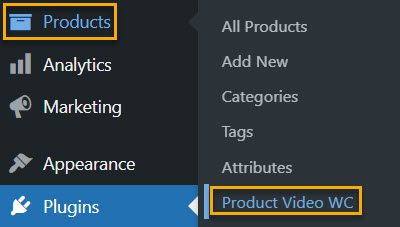 Here you will find a set of features for organizing the interface according to your needs. First, select the settings from the dropdown menus provided—Tick the relevant checkboxes based on your WooCommerce video needs.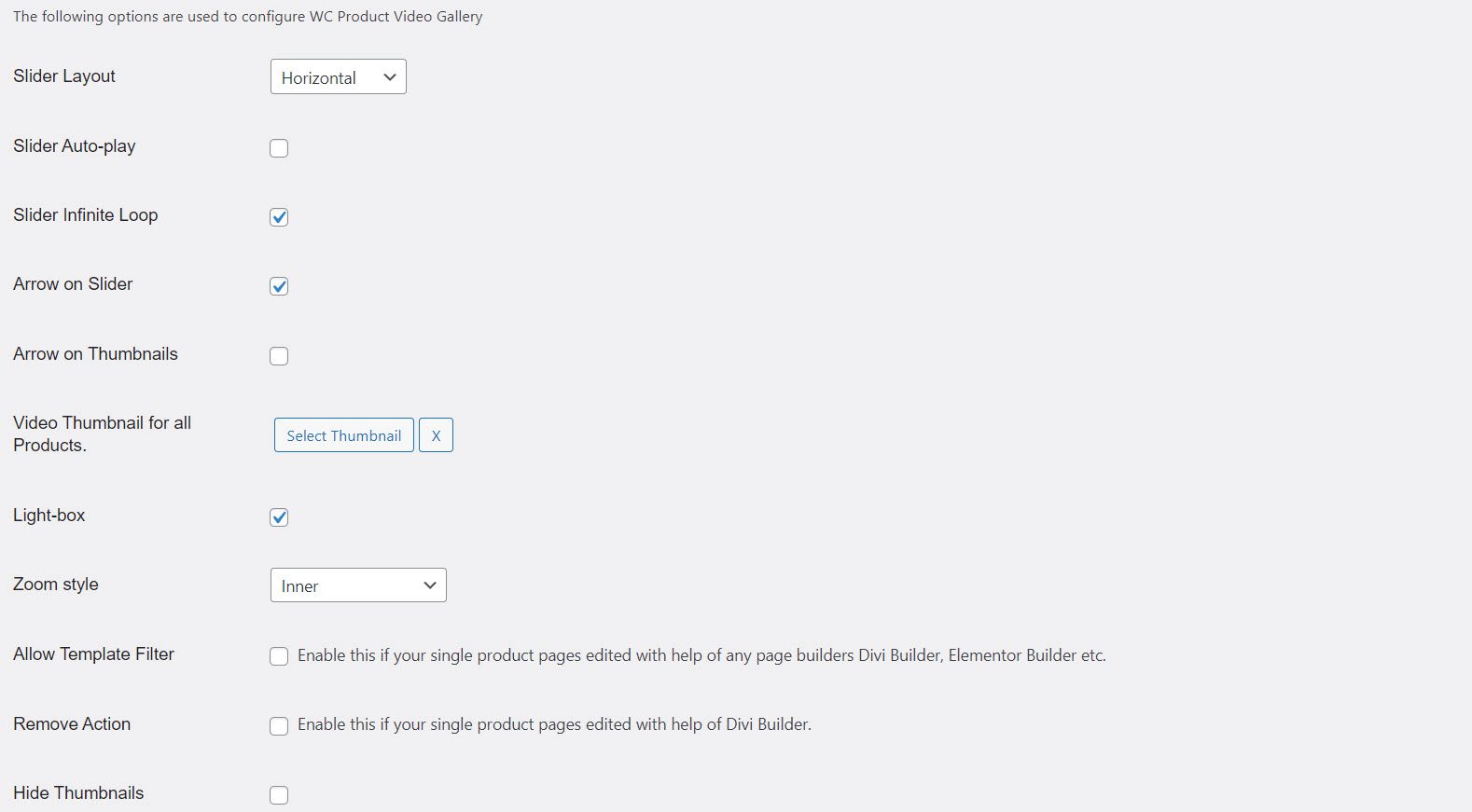 When you're finished configuring, make sure to click the 'Save Changes' button. We can now move on to adding videos to the WooCommerce product gallery.
Go to the product page to add the video to the product gallery. You can access the product page by going to Products → All Products.
If you want to add a video to the gallery for an existing product, click Edit for the product. If you need to add the video gallery to a new product, you must first add a new product from this page.

You'll be taken to the product edit page, where you'll find a field called 'Product Video URL' at the bottom of the edit product page.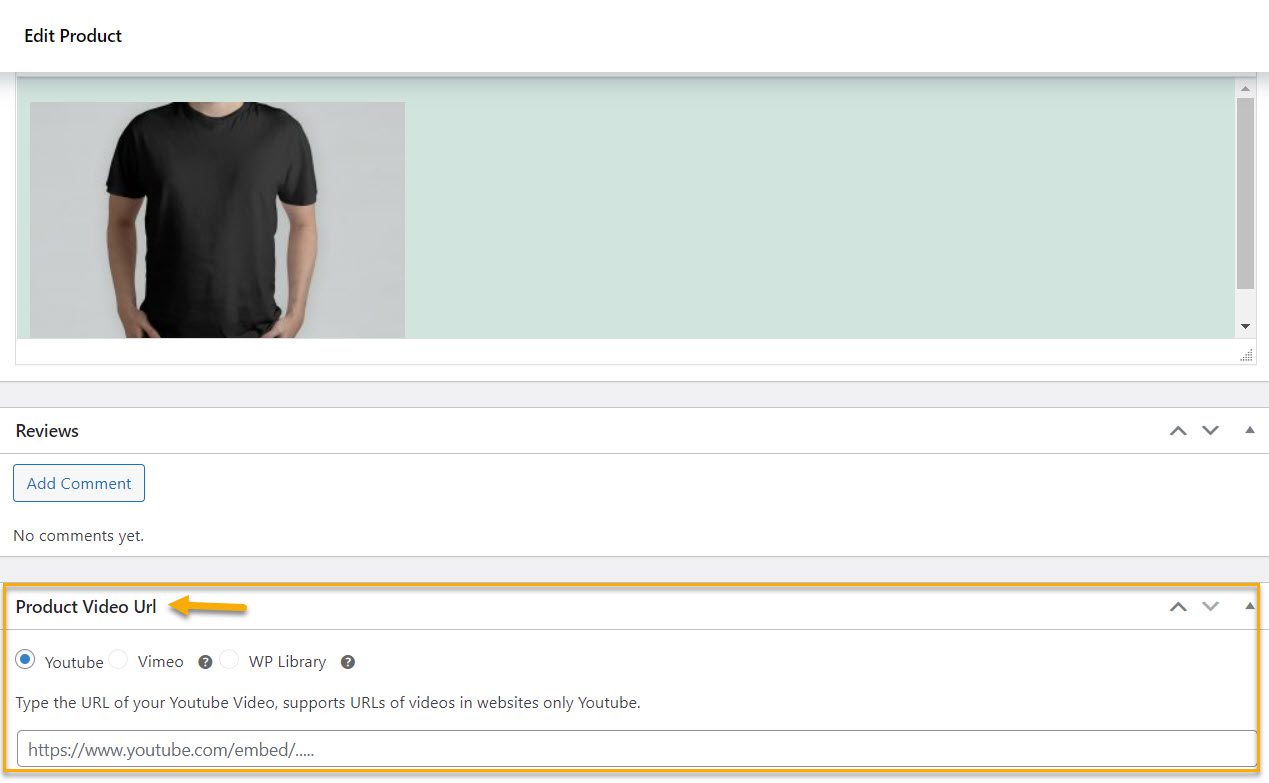 Simply copy and paste the URL of the video you want to embed in the product gallery. Then, to save your changes, click the 'Update' button.
If you are a premium user of this plugin, you can also add Vimeo videos to your media library and add them to the product gallery. After you've added the link, go ahead and check the product page to see if the video has been added.
And that's it! All set!
Now Over to You
And now we've arrived at the pinnacle. WooCommerce store owners do not need to physically present the product to sell it. They can always choose video content, and this solves their issue.
Including videos on product pages is an excellent way to provide additional information about your product. It demonstrates how the product will appear in real life and allows customers to make informed purchasing decisions quickly. As you can see from the extensive list of WooCommerce product video plugins available, adding product videos is a piece of cake.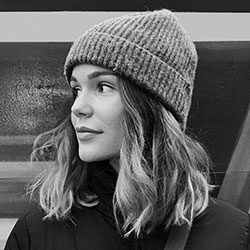 Gabriella is a Digital Content Writer and Marketer with a zeal for all things WordPress. When she's not researching and drafting the upcoming articles, you can find her in the open air exploring the outdoors with her dog.