TikTok: skyrocketing social media since 2017.
TikTok is the tale of two apps. In 2016, the Chinese company Bytedance launched Douyin, a video-sharing social network app. When they released the international version of their app in 2017, they named it TikTok. And so the madness began.
TikTok is a video-sharing app that allows users to make and share 15-second videos on any particular topic. While many still think of TikTok as a Gen Z platform for dance challenges, it has expanded to include all types of content and communities.
TikTok amassed over 3 billion downloads in less than four years and reached one-third of all social media users.
Needless to say that it took Facebook and Instagram nearly a decade to reach that size of a user base; it appears TikTok knew how to work the social media growth playbook like a pro.
But, before we get explicit into that playbook, here are some tasty TikTok stats to get you started.
TikTok statistics: the basics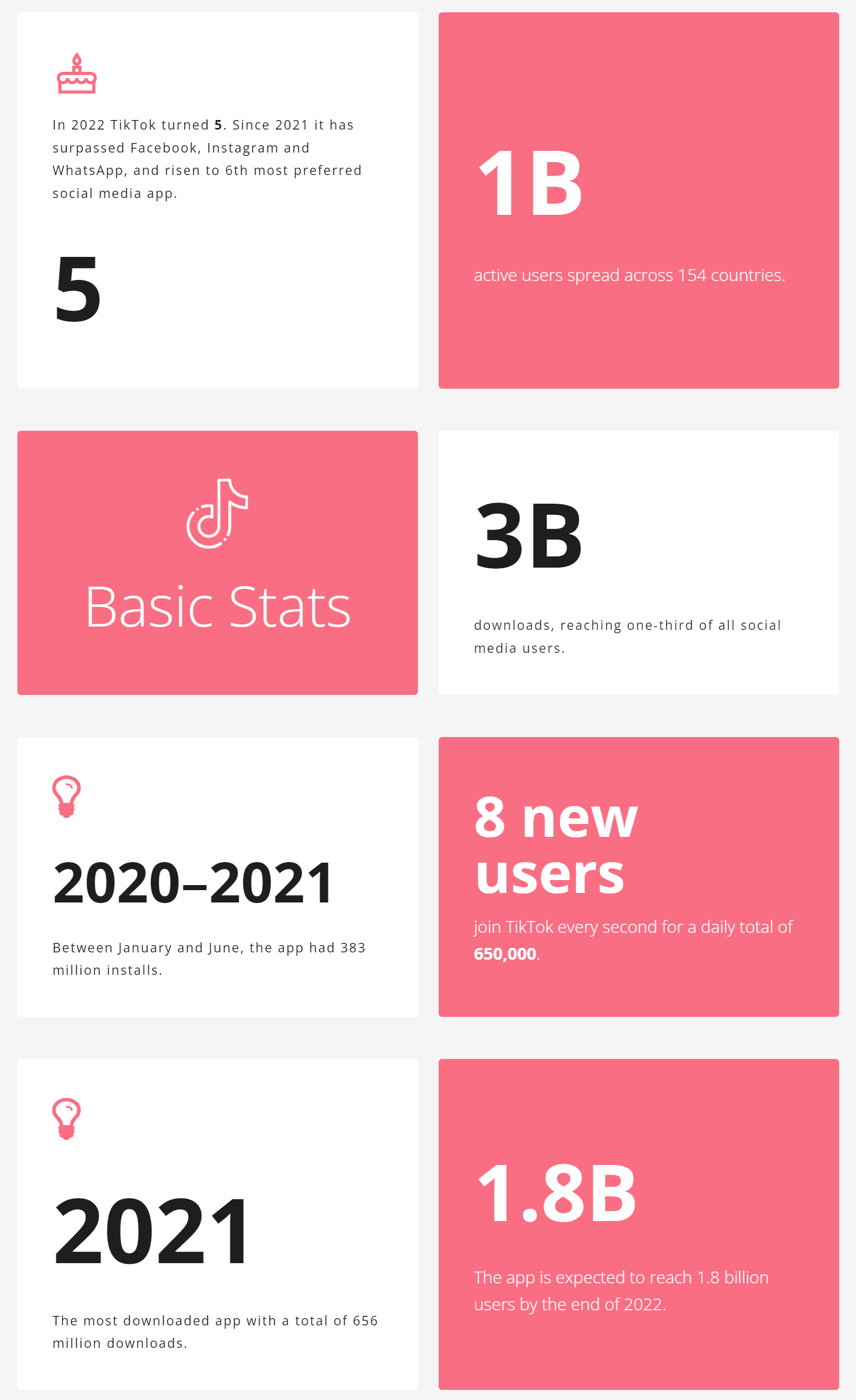 TikTok had 383 million installs between January and June of 2021 and was the 6th most popular social media app surpassing Twitter, Telegram, Reddit, Pinterest, and Snapchat in monthly active users.
As of now, according to Statista, TikTok has over 1 billion monthly active users. Here's a graph that shows where the other social media platforms stand in terms of monthly active users: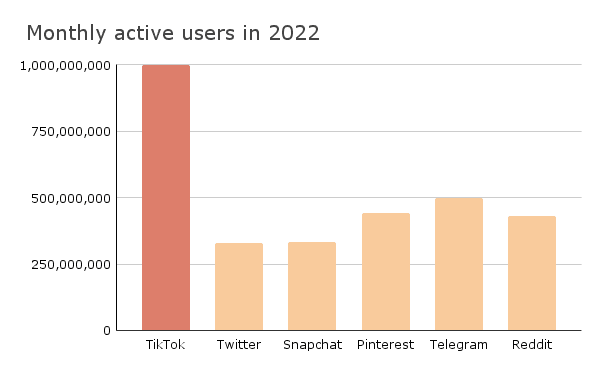 As you can see, we have a winner.
This means that…
Out of 4.8 billion internet users worldwide, 20.83% use TikTok.
Out of 4.48 billion active social media users, 22.32% use TikTok regularly.
Moreover…
According to Hootsuite, eight new users join TikTok every second for a daily total of 650,000.
TikTok reached a billion users in five years, as opposed to Facebook and YouTube, which took eight years.
TikTok is also expected to have 1.5 billion users by 2022.
TikTok demographics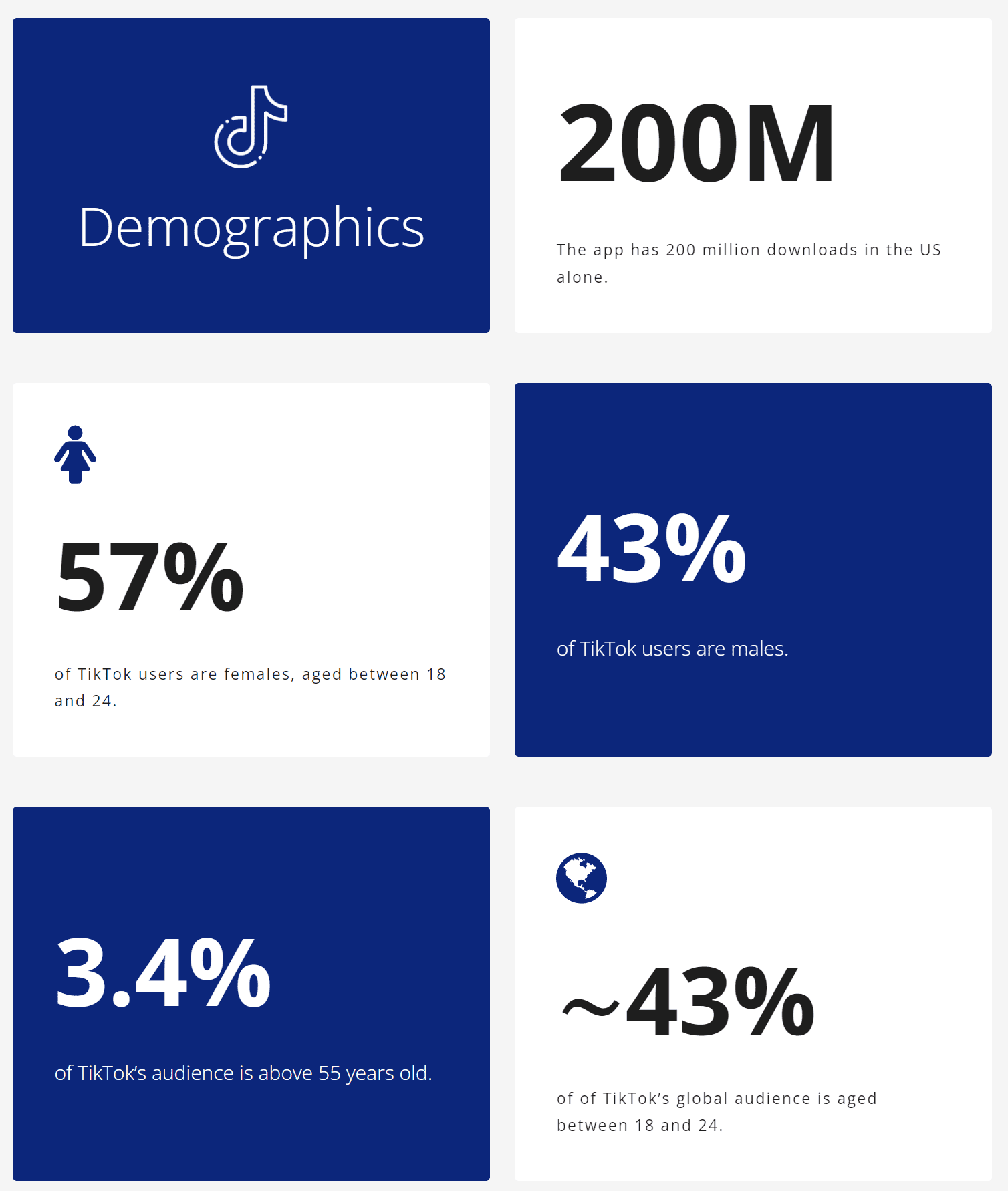 TikTok is available in more than 150 countries, has over one billion users, and has been downloaded more than 200 million times in the United States alone.
Here's a chart that shows how popular this social media app is in different countries: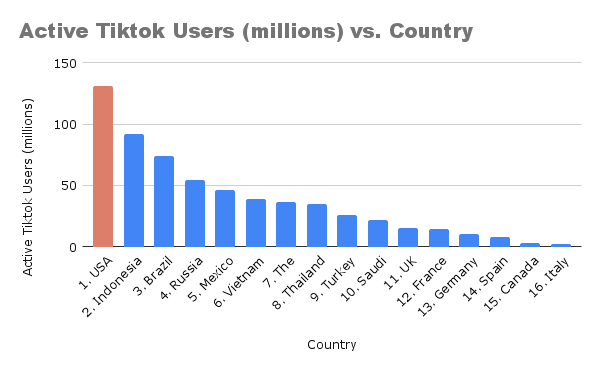 As you can see, the United States unquestionably has the most TikTok dominance.
57% of TikTok users are female, and 43% are male. (Omnicore Agency)
Approximately 43% of TikTok's global audience is aged between 18 and 24.
TikTok users are mainly between the ages of 25 and 34. Only 3.4% of the TikTok audience is above 55 years old. (Omnicore Agency)
TikTok had approximately 78.7 million users in the United States in 2021. This figure is expected to grow by around 8% yearly, reaching 84.9 million users in 2022.
60% of TikTok users are Gen Z. Next year, 74 million people in the United States will be part of "Gen Z," making it the largest generation ever. (Statista)
Even if TikTok saw spikes in usage during the COVID-19 lockdowns, it is estimated that a user spends 48 minutes daily on the app. That equates to 9 openings per day. This means that 90% of users use the app at least once daily. (SproutSocial)
37% of TikTok users have a household income of $100,000. In comparison, only 9.6% of users have a household income of less than $25,000. (Marketing Charts)
In 2020, children aged 4 to 15 spent an average of 75 minutes per day watching TikTok videos worldwide. This figure is even higher in the United States, at 87 minutes.
30% of Gen Z'ers use TikTok for market research. (SproutSocial)
According to a TikTok-commissioned survey, 43% of its users go somewhere or try something new after watching it on the platform.
TikTok engagement statistics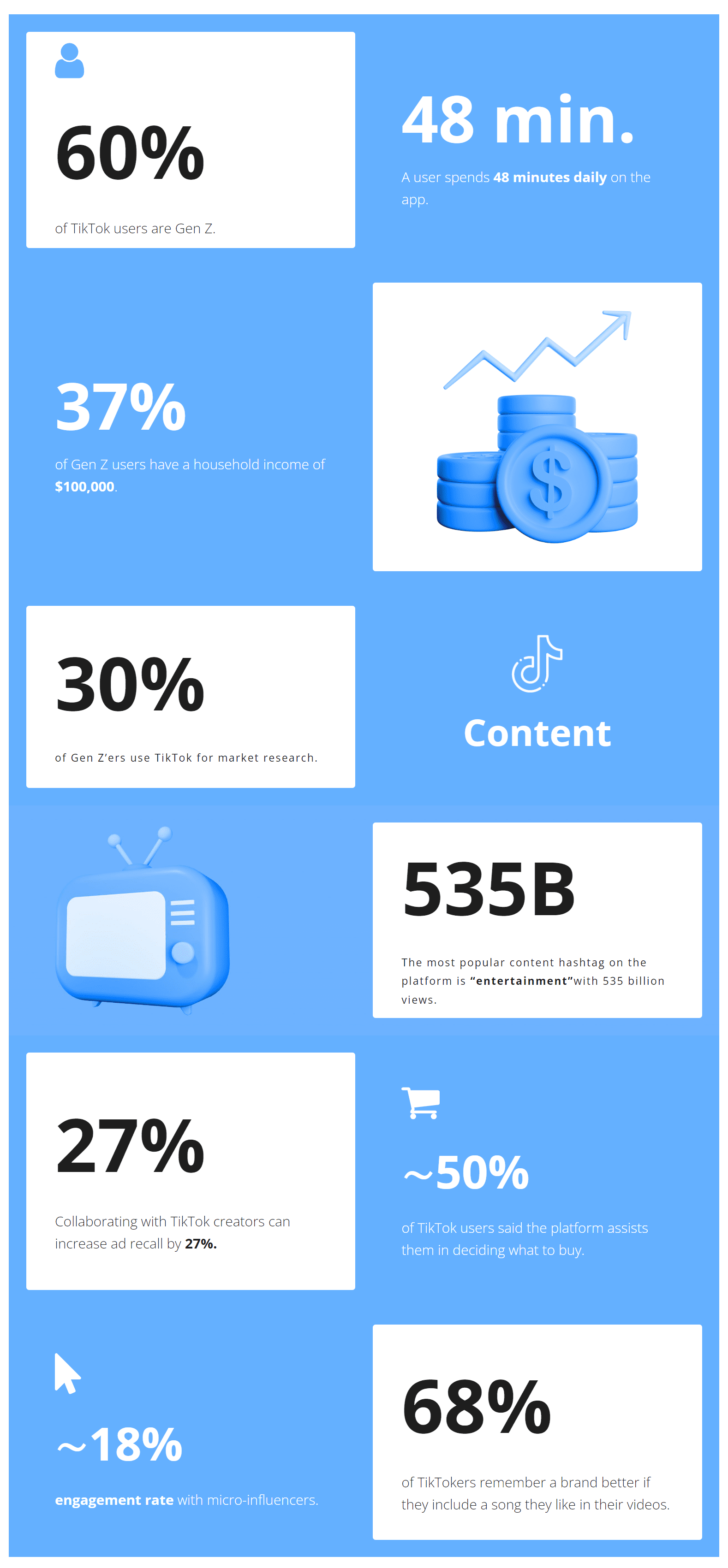 According to advisors, in 2022, US users will spend an average of 38 minutes daily on TikTok. In comparison, they are expected to spend 35 minutes on Twitter and 31 minutes on Facebook.
Even though TikTok is at the top of the charts this year, it is still two minutes less than the time US users spent on the platform in 2021. So, let's look at the most popular entertainment categories that people like to binge on.
Based on hashtags, entertainment is the most popular category people like to search for.
According to TikTok statistics, the most popular content hashtag on the platform is "entertainment" itself. This hashtag has received 535 billion hashtag views. (Statista)
The following most popular categories are dance, pranks, fitness/sports, and home renovations/DIY. (Statista)
Charli d'Amelio, best known for her dance videos, continues to be the app's most prolific creator. Charli had over 134 million followers at the time of this post.
Khabane Lame, on the other hand, is not far behind her, with 130 million followers of his own.
According to Mediakix, there is a 50,000 average range of influencers on TikTok with more than 1000 followers.
TikTok influencer distributions are as follows:
The distribution of 1K to 10K as Nano-Tier is 15%.
The distribution of 10K to 50K as Micro-Tier is 16%.
The distribution of 50K to 500K as Mid-Tier is 29%.
Macro distribution ranges from 500K to 1 Million.
MediaKix data also shows statistics on influencer overlap across platforms, with 90% of all influencers who make a top 1,000 account list doing so for one platform only (TikTok, Instagram, or YouTube).
TikTok's most popular creators and videos
Top 10 TikTok Creators
| | | | |
| --- | --- | --- | --- |
| Name | Followers (millions) | Main field of content | Country |
| 1. Charli D'Amelio | 141.8 | Dancer and social media personality | United States |
| 2. Khabane Lame | 140.9 | Social media personality | Italy |
| 3. Bella Poarch | 90.1 | Singer and social media personality | United States; Philippines |
| 4. Addison Rae | 87.9 | Social media personality and dancer | United States |
| 5. Will Smith | 72 | Actor and film producer | United States |
| 6. Zach King | 68.7 | Filmmaker and social media personality | United States |
| 7. Kimberly Loaiza | 63.6 | Singer and social media personality | Mexico |
| 8. Burak Özdemir | 59 | Social media personality | Turkey |
| 9. Dixie D'Amelio | 57.4 | Singer and social media personality | United States |
| 10. Spencer Polanco Knight | 55 | Beatboxer and social media personality | United States |
Top 10 TikTok Videos
TikTok has everything from optical illusions and dances to people taking on hilarious and sometimes dangerous challenges. Let's see what videos made it to the top.
| | | |
| --- | --- | --- |
| Name | Views (millions; billions) | Description |
| Zach King's Magic Ride | 2.2 billion views | This video features Zack King, the king of illusion, an American-based filmmaker and illusionist who has recently taken the internet by storm. |
| James Charles' Christmas Sisters Party | 1.1 billion views | James Charles is a beauty magnate known for his amazing makeup skills. This video has absolutely nothing to do with beauty. It's actually a clip from James' sister's Christmas party in 2019. |
| 3. Zach King's Unexpected Hiding Spots | 1.1 billion views | In this one, the illusionist finds his hide-and-seek buddies in the most unexpected places. |
| 4. Glass and Cake Illusion by Zach King | 966.4 million views | Zack's video of him pouring water into a glass takes an unexpected turn. What the audience mistook for a glass of water was actually a glass-shaped cake. |
| 5. "M to the B" lip-Syncing by Bella Porch | 690.6 million views | The TikToker can be seen lip-syncing and bopping her head to the beat of Millie B's viral song. |
| 6. Zack King's Wet Wall Illusion | 659.5 million views | Zack employs optical effects throughout the video to make you question whether you know the difference between a wall and a passageway. |
| 7. Sorrel Horse Dancing to 'Say it Right' | 421.3 million views | The TikToker can be seen lip-syncing and dancing to Nelly Furtado's "Say It Right." |
| 8. An Adorable Baby Laughing by Daexo | 392.4 million views | Dae Warner, the owner of the Daexo account, posted the video. Her baby is the story's focus, where we can see her laughing and giggling. |
| 9. How to Spot an Approaching Car by Khaby Lame | 350.3 million views | Khaby shows viewers how to check to see if another car is approaching from behind. Khaby's advice is simple: lower your mirror and use your eyes. |
| 10. Billie Eilish's Time Warp Scan | 348 million views | And here's a video of Billie Eilish using the Time Warp scan filter. Even though this was her first TikTok, it reached the top. |
TikTok as an advertising platform
TikTok levels the playing field for marketers in terms of reach and engagement. Unlike social media platforms like Instagram or YouTube, TikTok accounts with zero followers can receive millions of views on a new video due to the algorithm's viral nature. In addition, engagement will follow as long as the content is appealing to the audience.
68% of TikTokers remember a brand better if they include a song they like in their videos. (SproutSocial) This has a variety of consequences, ranging from increased brand retention to more robust connections.
Almost 50% of TikTok users said the platform assists them in deciding what to buy after seeing a product advertised or promoted on TikTok.(SproutSocial) Collaboration with the right influencers can help promote products while ensuring that the content is funny or entertaining.
63% of TikTok videos with the highest CTR convey their message in 3 seconds. (SproutSocial)
Vertical TikToks have a 25% higher 6-second view CTR..(SproutSocial)
Collaborating with TikTok creators can increase ad recall by 27%. (SproutSocial)
TikTok has a nearly 18% engagement rate with micro-influencers on the platform, significantly higher than Instagram's 3.86% and YouTube's 1.63 % engagement rates.
Twitter and Snapchat are expected to generate $5.58 billion and $4.86 billion in advertising revenue in 2022, respectively, with the total worth still less than TikTok's projected $11 billion ad revenue.
TikTok generated 4 billion US dollars in advertising revenue in 2021. (Statista)
This figure is expected to rise to 13.8 billion US dollars by 2026. (Statista)
Conclusion
Tiktok is definitely a no-brainer when it comes to users' interactions and engagement. It's also the fastest growing social media platform compared to others, according to these latest stats and social media trends.
In addition, because of its entertaining character, marketers may use it to create fun content and sell their products or services to a younger demographic.
Remember that you are dealing with a fast-pushing algorithm. Feed it with constant material that spreads great vibes to entertain and convert your audience into high-paying consumers.
Resources used for this article: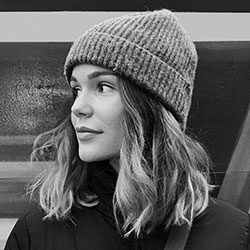 Gabriella is a Digital Content Writer and Marketer with a zeal for all things WordPress. When she's not researching and drafting the upcoming articles, you can find her in the open air exploring the outdoors with her dog.