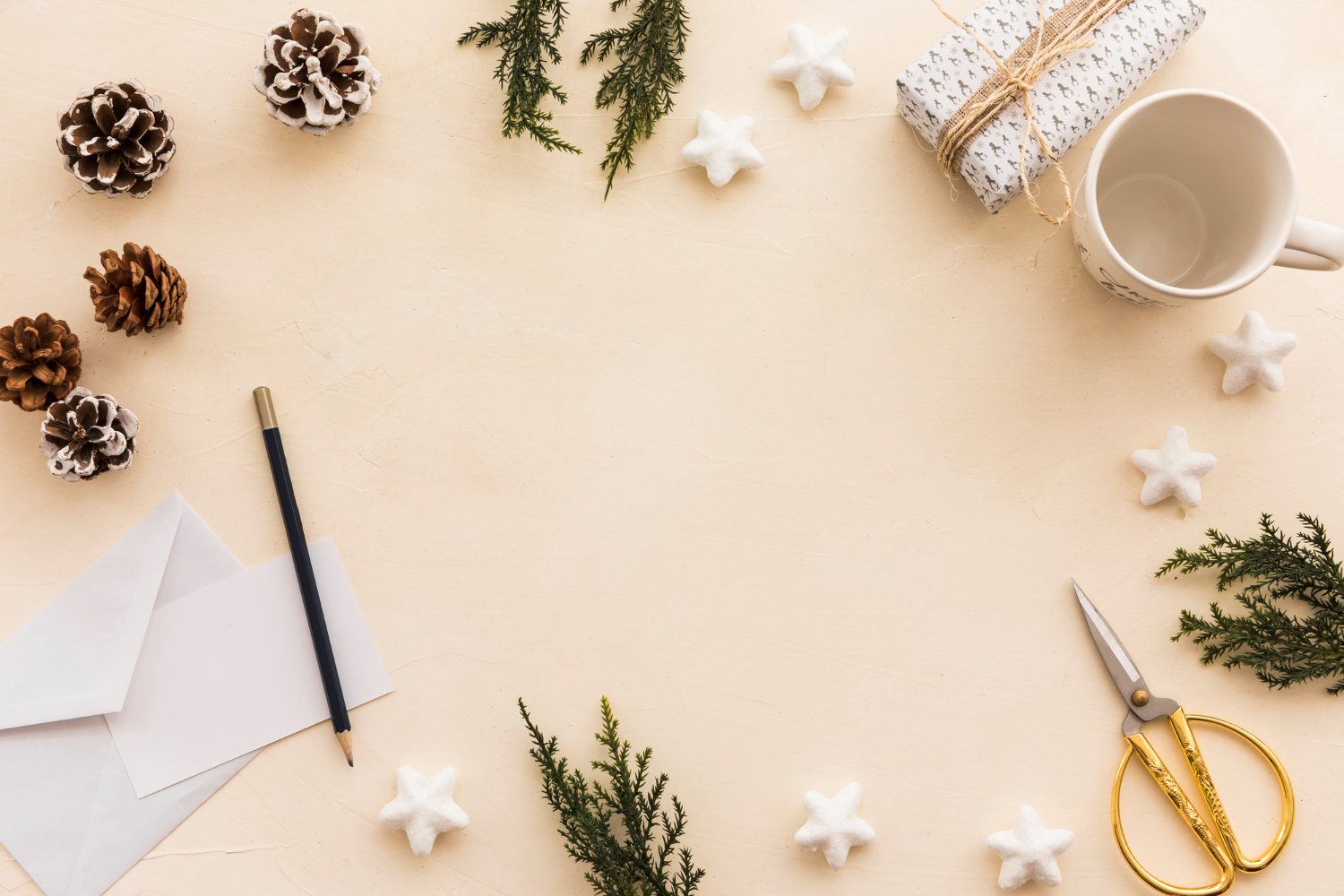 Christmas is a time for giving, gratitude, kindness, and, of course, marketing! So, now is the time to have yourself a merry little Christmas marketing campaign and let your eCommerce store shine brighter than ever!
And this is exactly what we are going to do today! We'll delve into the best Christmas promotional ideas, efficient tips and tricks on how to do Christmas marketing, and more! So are you ready to get your Christmas present?
First of all, let's do a little background check on the last Christmas spending pattern.
Holiday Spending Stats in 2020
According to data from Renolon, in early November 2020, 49% of shoppers began shopping for winter holidays, rising to 85% by the end of the month. In addition, holiday retail sales in the United States reached approximately 755.3 billion US dollars in 2020.
Americans planned to spend 63 U.S. dollars on average decorations for the holiday season in 2021. This increases by almost ten dollars compared to 2015 when consumers spent around 54 U.S. dollars.
During the holiday season, eCommerce stores grew by 16.7% and profited $123.90 billion.
People started shopping for Thanksgiving, Christmas, and New Year's Day as soon as possible, and they continued to shop until the last minute of each of these holidays.
In 2020, overall online spending in the United States increased by 32% year on year, and social commerce exploded, with sales rising by nearly 39%. 2020 holiday retail sales were up over 8% from the previous year, thanks to eCommerce.
Now that you have the numbers, you can draw your own conclusions, but we'll give you a hint: Predictions for 2021 holiday sales will not be very far behind.
Top Six Factors That Influence Christmas Shopping
Before we dive into ways for you to prepare for your upcoming Christmas campaign, let's take a second and analyze some of the vital factors that contribute to customer satisfaction. What do people look for when gift shopping? What are the elements that can make or break their purchase?
Price
Price is definitely a major contributor to the buying decision. And this is why Christmas discounts and coupons are highly recommended. People will not hesitate to fill their carts with products when they see a good deal.
Product Availability
As we already know, Christmas is a time when people rush to buy everything they need, thus probably emptying some stocks way faster than they normally would. This is where you need to be up to date with every item you have in your store as well as keep your inventory on top. Nobody likes to see that the product they wanted to buy for so long is no longer available.
Product Options
We are creatures that love to have options at our disposal. And because we really don't want to screw up our gifts for friends and family, we like to rely on product options. Whether that's a hoodie that comes in multiple colors or sizes, or whether that's a coffee mug that has a personalized message on it, options are always welcomed during this time.
Free Shipping
And speaking of not screwing up the gifting choices we make, not paying for shipping comes more than in handy during this time. People will be more enticed to complete their purchase if they can be spared from the shipping taxes.
Hassle-Free Checkout Experience
Nobody likes a complicated checkout page. In fact, this is one of the main reasons for cart abandonment. At this moment, nothing should prevent the buyer from making a purchase and departing satisfied that they have made one of the best purchases of their lives.
Site Performance
Online shopping is an intense competition, and a slow-loading website is a surefire way to lose potential customers. So while measuring site performance is essential all year, it is critical when websites and apps see increased traffic during the holiday season.
Performance has been shown to impact eCommerce KPIs significantly: for example when Tempur-Pedic reduced their site load times by 20%, their average order value increased by 14%.
Now, all it's left to do is optimize the best way you can your online store for it to be ready for the holiday season. Considering that this is the most profitable time of year, you must find a way to stand out from the crowd so that your deals are seen.
You must ensure that your ads will help you drive traffic to your website, that your website runs as smoothly as possible, and that your discounts are top-notch so that you can convert a good portion of your visitors and leave them smiling.
So, without further ado…
Here's How to Optimize Your Online Store for the Holiday Season
Leverage Email Marketing
Even though social media has taken over the marketing industry, email marketing remains one of the most cost-effective methods of generating leads. It can also aid in developing stronger ties with prospects and consumers.
Ensure that you deliver weekly email newsletters to your target group over the Christmas season. Make sure you provide your prospects with exciting and relevant content to create leads successfully.
The holiday season is an excellent time to inform your customers about unique Christmas campaign offers and discounts. This type of Christmas marketing effort, when done effectively, can treble your Christmas sales.
Take a look at Good Pair Days' email example: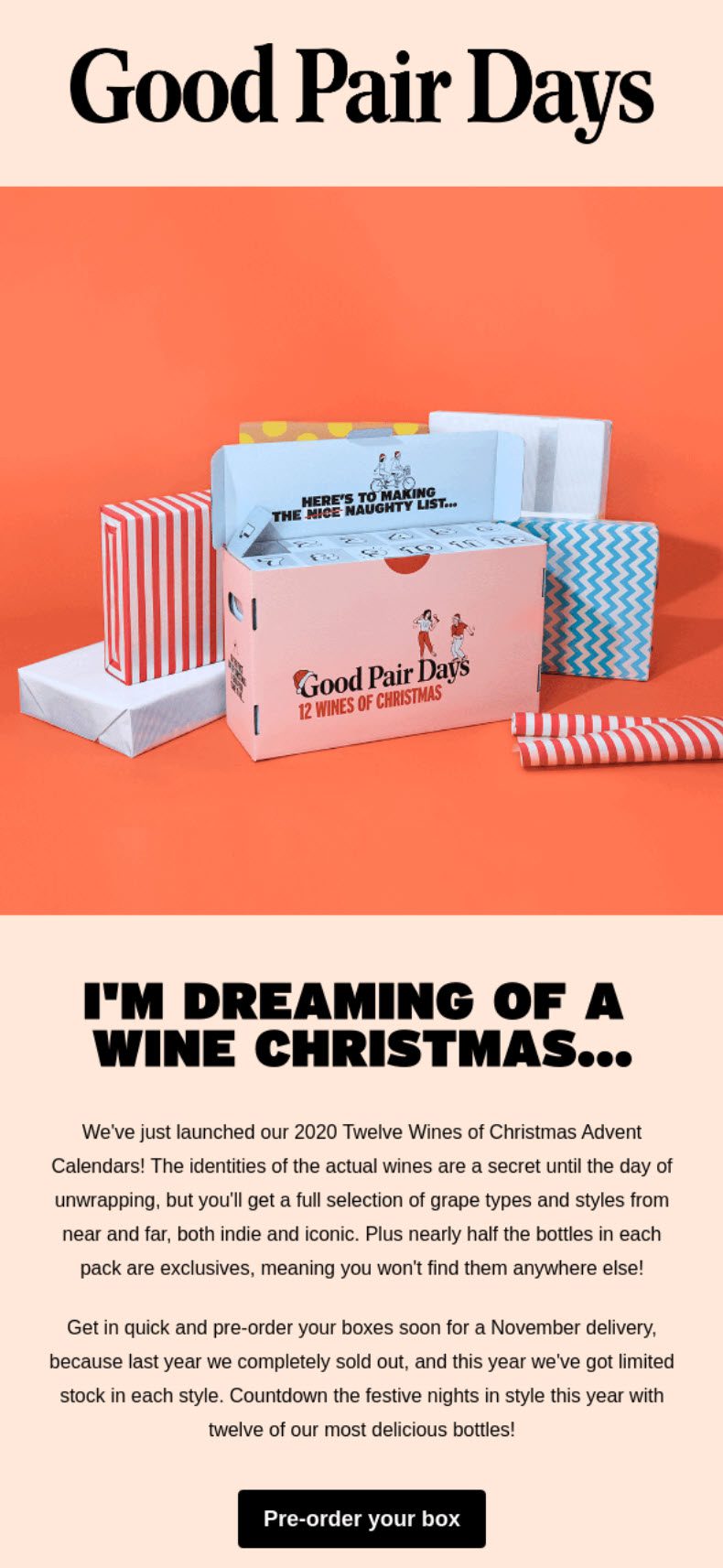 Ensure you send out festive emails to your customers to inform them of your December specials and discounts. Remember to include a creative subject line and vibrant product images in your email. 
Offer Free Shipping and Returns
Your customers will most likely need to source products from multiple sources to obtain gifts for all of their loved ones. As a result, shipping costs might soon pile up!
If you don't already offer free delivery, do it throughout the holiday season to increase your chances of converting holiday customers. If your online visitors can choose between a similar store that offers free shipping and yours, they're more likely to choose the one that does, so don't give your competitors the upper hand here.
Just like Tattly did!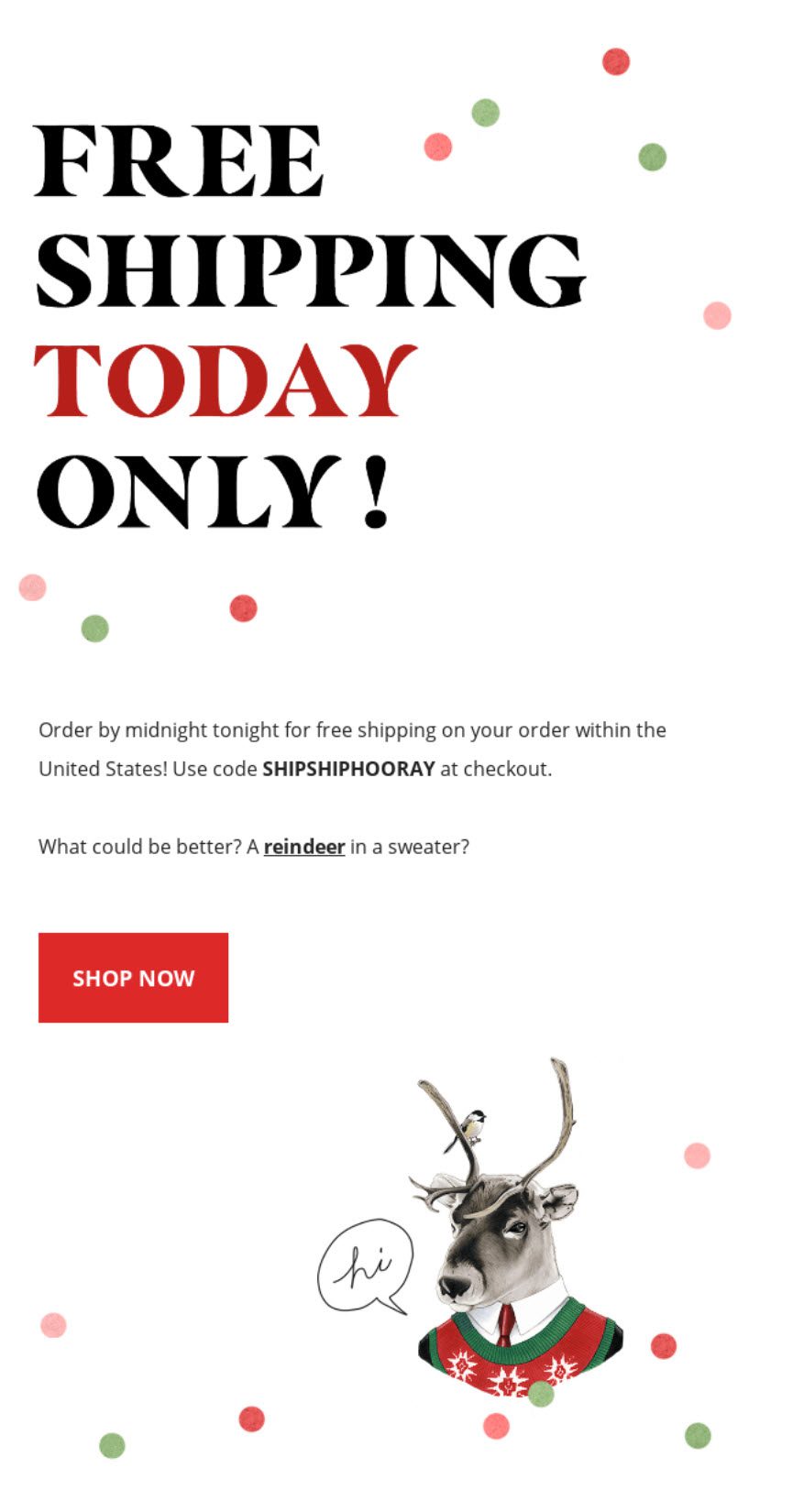 It's up to you whether you offer free shipping or not, but since many people go nuts about gift shopping and maybe don't always get it right, free shipping may just save them from an extra burden.
Boost Christmas Sales With Coupons and Discounts Codes
Like free shipping, holiday sales and discount codes are the icings on the cake when it comes to buying presents for our loved ones. 
Current and prospective customers all appreciate traditional Christmas campaign discount codes and coupons, and let's be honest, who doesn't?! And the good news is that your Christmas marketing campaign can generate a lot of money from this marketing tip.
In fact, according to some stats conducted by Blippr, customers who use Christmas campaign coupons and discount codes, on average, spend 24% more than other customers. When prospects sign up for your newsletter or your newsletter, you can give them a coupon. There are no hard and fast rules for using coupons.
Take a look at Rifle Paper Co's example: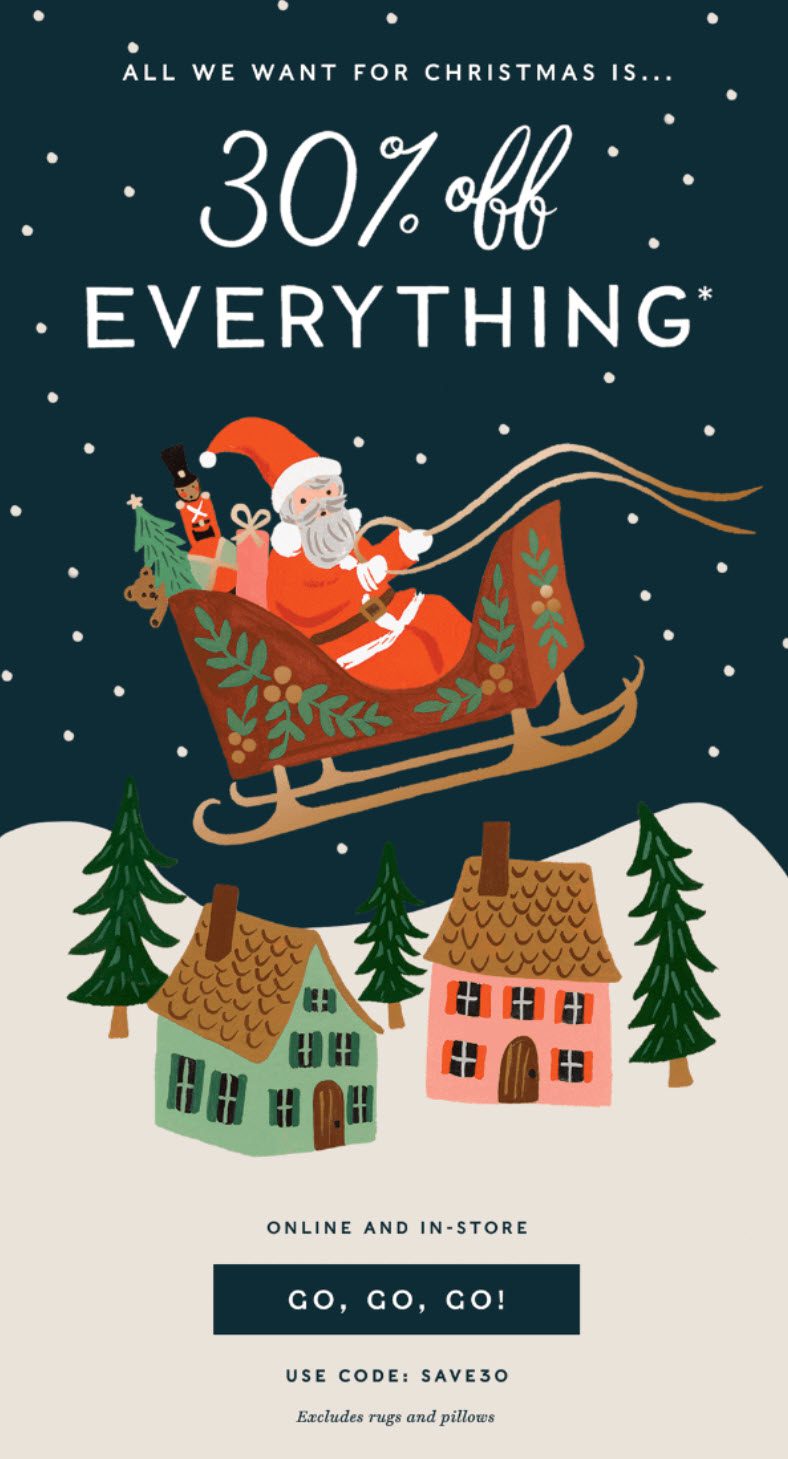 A sale is an excellent promotional tool for bringing customers in the door. Setting a deadline for sale can significantly increase the stakes. Urgency is a tried-and-true method of closing a deal. Short-term holiday deals can turn an interested shopper into a paying customer in a few seconds. 
Create a Christmas Themed Landing Page
It is not enough to build Christmas campaign ads and offers for the holiday season. You should also create a Christmas landing page to capture potential customers' attention and convert them into customers.
The landing page is the first thing your prospects and customers will see after visiting your website. As a result, you must make it more engaging, interesting, and interactive. You can also include a video wishing everyone a Merry Christmas on your landing page. In fact, according to Tech Jury, including videos on landing pages can boost conversion rates by 86%.
Here's an example of a holiday-themed Christmas landing page from Uncommon Goods: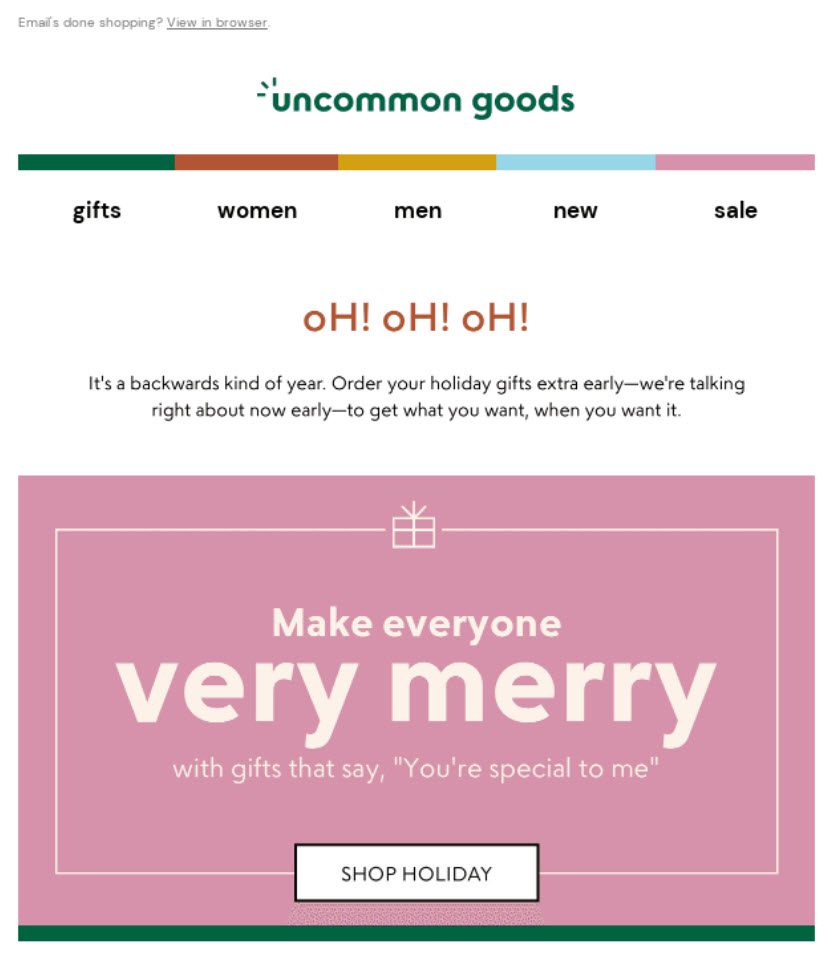 As the introduction mentions, Christmas is a season of gifts and holiday cheer. As a result, you may not need to offer discounts to attract the attention of your prospects. Make sure, however, to create eye-catching seasonal landing pages. Also, don't forget to inform your customers about the advantages of your products or services. This will assist you in persuading prospects that you understand precisely what they are looking for.
Entice Your Target Audience With Paid Promotions
Christmas is the time of year when you may take advantage of your paid marketing to its full potential. These will assist you in attracting more visitors to the landing pages you desire.
Even if they don't buy, they'll be exposed to your products, services, and special deals, which will benefit you in other ways. So, not just for Christmas, but one should never overlook paid marketing when developing a seasonal campaign.
According to Social Insider's most recent ad analysis, Facebook's average ad expenditure has climbed by 7.16% year over year, while Instagram's ad spend has increased by 8.69%.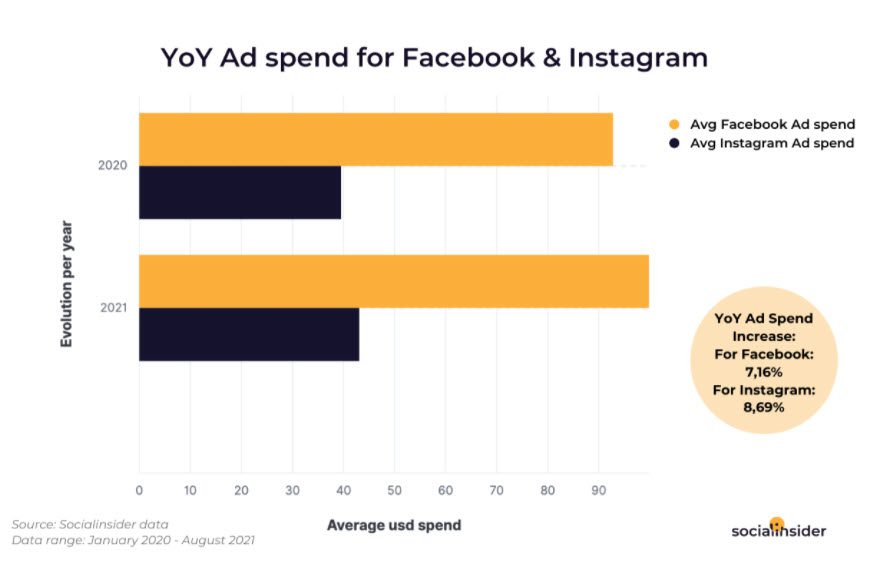 This only goes to show that paid promotions do work. Ensure everything you promote is appropriate for the Christmas season you're targeting. You can't, for example, advertise Christmas on Thanksgiving.
Your adverts must include seasonal terms and specific promos. Also, have clear, thorough, and appealing offers. Adding features such as review extensions, site links, and call extensions to your ad is a beautiful way to make it stand out from the crowd and convert Christmas consumers.
Take Advantage of cross-promotional Marketing
There's a good chance that some of your audience didn't get what they expected or needed for the holidays. You may take advantage of this by establishing a cross-selling campaign to motivate them to make more purchases based on their holiday shopping experience. For example, is it true that they bought a pair of hiking boots? So, send them a hiking accessory to complete the set!
Remember those 'Related products' or 'You might also like…' headlines on certain stores you were visiting? That's precisely what we're talking about. Recommending another extra product might just be of your service. 
Just like Happy Socks does it in the example below: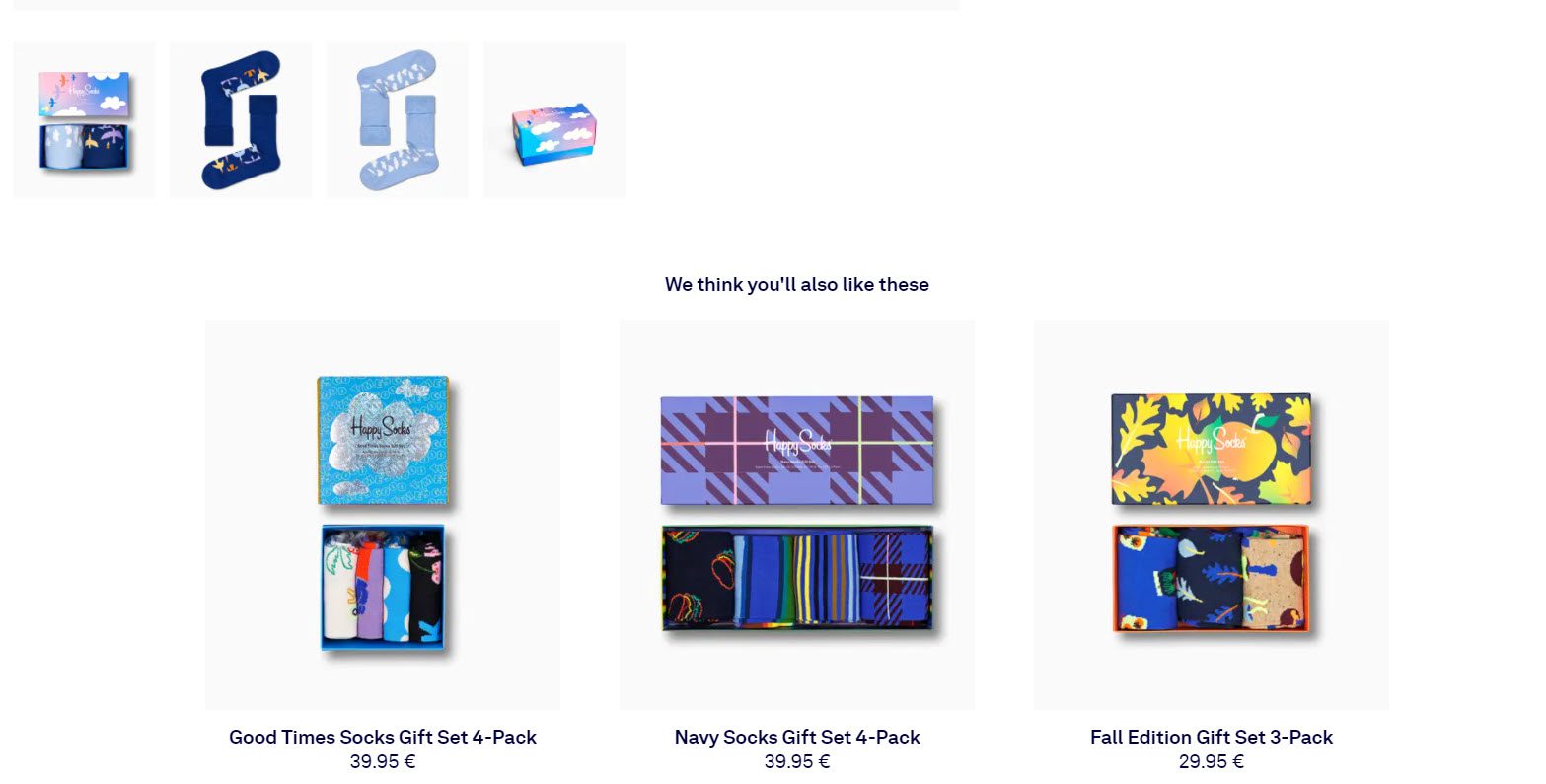 And now, let's talk about the decisive factor when it comes to customers completing a purchase:
Let's talk cart abandonment
So you've brought a significant amount of visitors to your website. What now? You need to ensure that navigation is smooth and that the visitors can easily find the product they need via sorting and filtering features. Next, it's time for them to add an item to the cart and click the "Pay"  button…Well, the story ain't that simple…
Statista says the mobile cart abandonment rate is over 80%, and the desktop cart abandonment rate is around 66%. The good news is that you can take steps to reduce cart abandonment rates.
According to users, unexpected shipping costs are the leading cause of cart abandonment. Be transparent about shipping costs, or consider offering free or reduced shipping during the holiday season, as we've mentioned earlier.
It would help if you also made it simple for a guest to "save" a shopping cart to return to later. Then, follow up with cart abandoners via cart abandonment emails and dynamic ads whenever possible.
When it comes to improving your checkout flow, there are a few things to keep in mind:
Identifying and removing friction in your checkout process can help reduce the likelihood of a potential customer leaving due to a bit of error or annoyance. Analyze and address friction in the checkout process by seeing how customers journey through your checkout flow. Create a path analysis in Google Analytics to show user pathways with page visits and events.
Feel free to learn more about avoiding checkout errors with good UX and other valuable tips and tricks from our previous article. 
And for a hint of extra inspiration and motivation, we've compiled a list of five of the best Christmas advertisements over the years, some that really made an impression on people.
Five of the Best Holiday Advertisements, Both Ancient and Modern
If you're not already feeling the jingle bells in your spirit, these ten brands will definitely spark a light for your motivation and inspiration. 
Iceland Foods, 'Choose a Christmas Without Palm Oil', 2018
In this commercial for the UK supermarket chain Iceland Foods, an orangutan attempts to befriend a young girl in her home because he has nowhere else to live after his forest was destroyed to make way for palm oil.
The campaign used a repurposed Greenpeace video to promote Iceland Foods' ban on palm oil products. While it was banned from television due to being too political, it has gone viral on social media due to word of mouth. A petition to re-air the ad has already received 750,000 signatures on change.com.
Its success: Iceland Foods successfully brought a political issue to the fore with minimal public backlash because it appealed to people's emotions. The campaign has brought to light a problem that many people are deeply concerned about.
Coca-Cola, 'White Christmas', 2014 
This Cola-Cola campaign, created by Ogilvy Asia, brought the magic of a 'white Christmas' to people in Singapore who would typically never experience anything like this, with tropical heat being the order of the day during the Christmas season.
Its success: The campaign brought Coke's tagline "share happiness" to life by allowing people from all over the world to share their Christmas experiences.
Apple, 'Share your Gifts', 2018
This animated campaign puts a new spin on the term "gifts" for the holiday season. Its unique take on Christmas combines three of the most powerful marketing tools: a good story, a great song (Billie Eilish can do no wrong), and, of course, a dog.
Its success: The video has already been viewed over 9 million times in less than a month, even though there was no prominent advertising behind it.
Aldi, 'Santa Crashes Christmas' 2018
The story behind this commercial is that Santa's plane crashes in the middle of nowhere, and some helpful Aussies assist him in getting back to work.
This short Aldi film follows a down-and-out Santa who has lost his way after crash-landing in the Australian outback. Santa is unaware that community members have rebuilt his sleigh and prepared him to deliver gifts for Christmas. When he discovers the truth, he is overcome with gratitude. 
Its success: The ad has gotten much attention from the industry and trade press, and it's sure to win some awards. People passionately comment on it on YouTube, and Aldi Australia's Christmas commercials have been compared to John Lewis's.
John Lewis, 'Moz the Monster', 2017
John Lewis is well-known for its Christmas campaigns, and in 2017, the UK retailer launched the 'Moz the Monster' campaign with the tagline, 'For gifts that brighten their world.' The campaign revolves around a young boy afraid of the dark until he meets Moz, the Monster, who entertains him every night, keeping him from being fearful until he allows a nightlight to do the job for him.
Its success: Because nearly everyone in the Western world is familiar with the fable "monsters under your bed," the campaign was well received.
Over to You
So there you have it! You now know how to optimize your website for the upcoming Christmas campaign, what tips and tricks you should implement in your marketing strategy, how to avoid checkout friction and a little inspiration from the giants out there! 
Whatever industry you're in, there's always something unique you can do on social media for your Christmas marketing campaign. Remember that the ideal Christmas post is relative. However, with the assistance of data, you may be able to create the perfect post for your audience!
We hope these ideas will come in handy when drafting your holiday campaign. And lastly, we wish you one heck of a merry Christmas! 🎄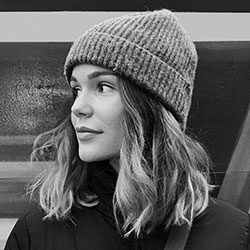 Gabriella is a Digital Content Writer and Marketer with a zeal for all things WordPress. When she's not researching and drafting the upcoming articles, you can find her in the open air exploring the outdoors with her dog.