They say love is in the air, but not just love, but an unpleasant pandemic too. There has never been a better time to disrupt the season of love and intimacy than this one. Unfortunately, Valentine's Day will be a little different this year, as people worldwide are still dealing with a major pandemic.
But don't give up just yet! Now, more than ever, marketers are rethinking the meaning of Valentine's Day and repackaging the holiday to appeal to all – couples, singles, families, nature lovers, adventurers, you name it! So that each of us can find joy and spark amid the chaos!
Before we jump straight to the pinky-winky of things, let's do a little background check on how successful valentine's day marketing campaigns were in the last couple of years and how much money did people actually spend.
Valentine's Day Spending Stats Between 2019-2021
Valentine's Day spending in the United States was estimated to be around $20.7 billion in 2019.
In 2019, more than 135 million Americans went shopping for Valentine's Day.
Over $886 million was spent by Americans on Valentine's Day gifts for their pets.
In 2020, expenditures went up to 27.4 billion dollars.
As in previous years, candy (purchased by 54% of celebrants, up from 52% last year), greeting cards (44%), and flowers (44%) are the most popular gift purchases for respondents.
In 2021, 41% of those polled said they would host a special dinner or celebration at home rather than going out.
Compared to 2020 statistics, 2021 saw a decrease in sales, which dropped from $27.4 to $21.8.
Fun fact: Americans buy approximately 58 million pounds of chocolate for Valentine's Day every year, including 36 million heart-shaped boxes.
In 2021, the average amount spent on Valentine's Day was $164.76 per person.
You can draw your conclusions now that you have the numbers, but we'll give you a hint: V Day is an important date for both lovers and businesses. As a result, the holiday spending trend isn't expected to slow down anytime soon.
Purchases With The Highest Spending Probability on Valentine's Day
It's not just about hearts and chocolate. Valentine's Day is a time when people spend money on a variety of items.
When the National Retail Federation narrowed it down, it discovered that the top categories consumers spent on Valentine's Day were jewelry, an evening out, clothing, candy, flowers, gift cards, and greeting cards.
Here's what it looks like: 
Jewelry purchases equaled 5.8 billion USD (given by 21%)
USD 4.3 billion on a night out (34% )
Clothing costs USD 2.9 billion (20%)
2.4 billion USD on candy (52%)
Flowers cost USD 2.3 billion (37%)
The value of gift cards in the United States is USD 2 billion (19%)
Greeting card purchases equaled USD 1.3 billion (43%). 
Another significant trend that has emerged, particularly among millennials, is the gift of experiences. Whether it's a concert ticket or a spa visit, 41% of consumers appear to want an experiential gift, while 28% plan on giving one.
The role of social media appears to be one of the main reasons why gifts of experiences are so popular, especially among millennials. The ability to record and remember the experiential gift – making it 'permanent' – appears to be more valuable than simply receiving something physical.
The desire to brag about your one-of-a-kind, wild experiences isn't the only thing driving people to give experiential gifts.
According to Cornell University research, sharing an experience with someone is more likely to result in long-term happiness than simply giving them a smartphone.
In a world where you can purchase almost anything with the tap of a finger, it appears that satisfaction from material purchases fades quickly. This ultimately leads me to say that marketers must take their holiday campaigns to the next level to keep up with the ever-changing flow. And here's how you can do so! 
How to Increase Your Revenue With The Most Adorable Valentine's Day Marketing Campaign
Create an Engaging Social Media Campaign
Every campaign you create will take time, effort, and coordination on your social media team. So, you might be wondering if it's worth your time and money to run a particular Valentine's Day promotion.
Consider all factors that can make or ruin your social media campaign for the forthcoming Valentine's Day. Hashtags, giveaways, and discounts, to name a few examples.
Another pro tip would be to promote your best-selling products. First, list your most significant assets and devise a Valentine's Day marketing strategy that will impress even your harshest critic. After that, strive to create a proper context around the product and idea to merge seamlessly.
Here's an example from Whichn Wicks: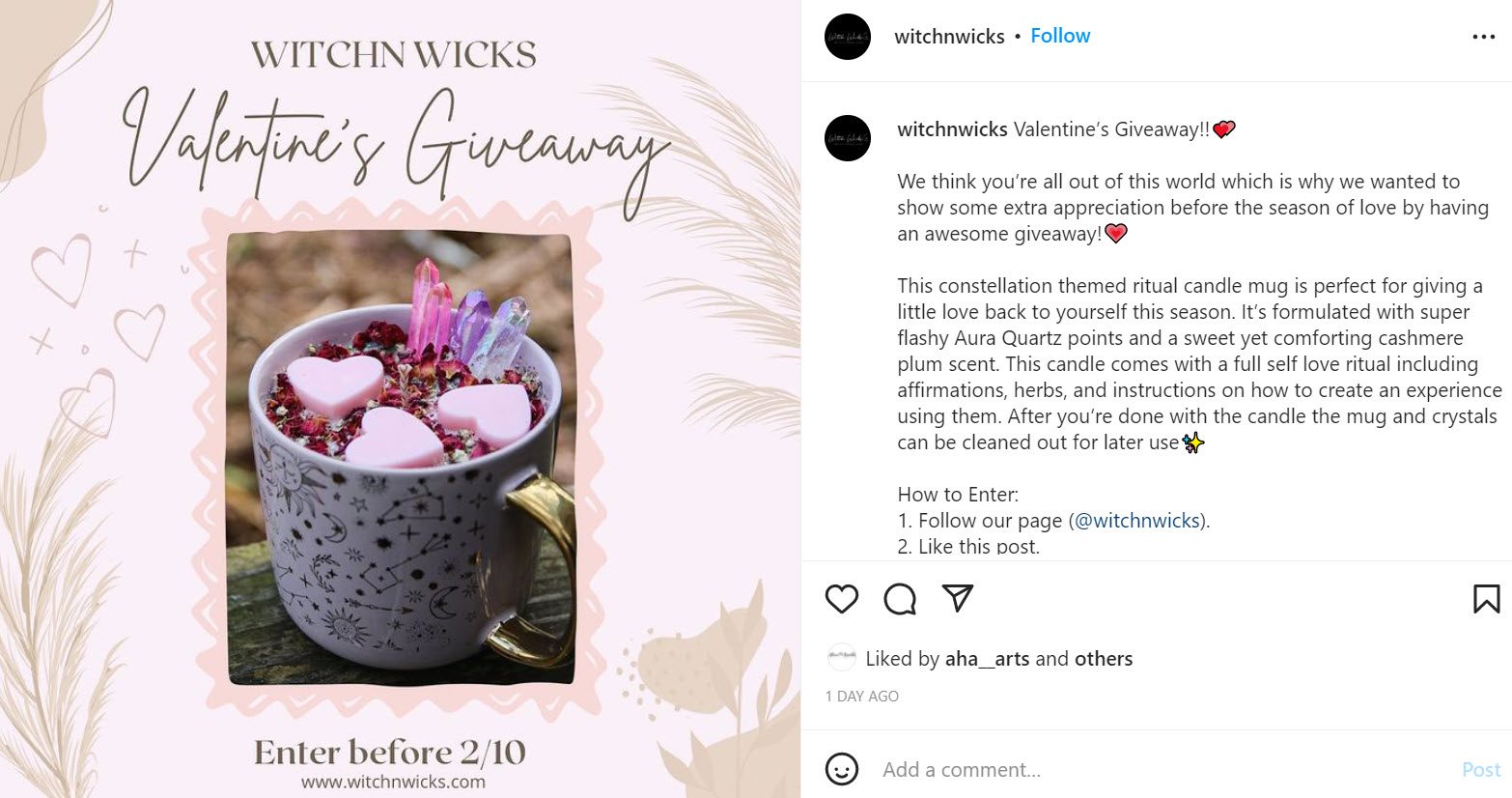 Giveaways on social media are an excellent method to energize and strengthen online communities. People will share your postings extensively in the hopes of winning, giving you a lot of exposure and potentially even new clients.
However, don't be discouraged if your business does not sell the typical Valentine's day staple products like chocolate, flowers, gift cards, etc.
Social media managers have linked Valentine's Day with less romantic products with great success. So soak up some ideas from a book publisher and a low-cost hotel chain. Penguin India's #LoveInOtherWords campaign and Oyo Rooms' #NoRoomForHate campaign both celebrate and promote the concept of love.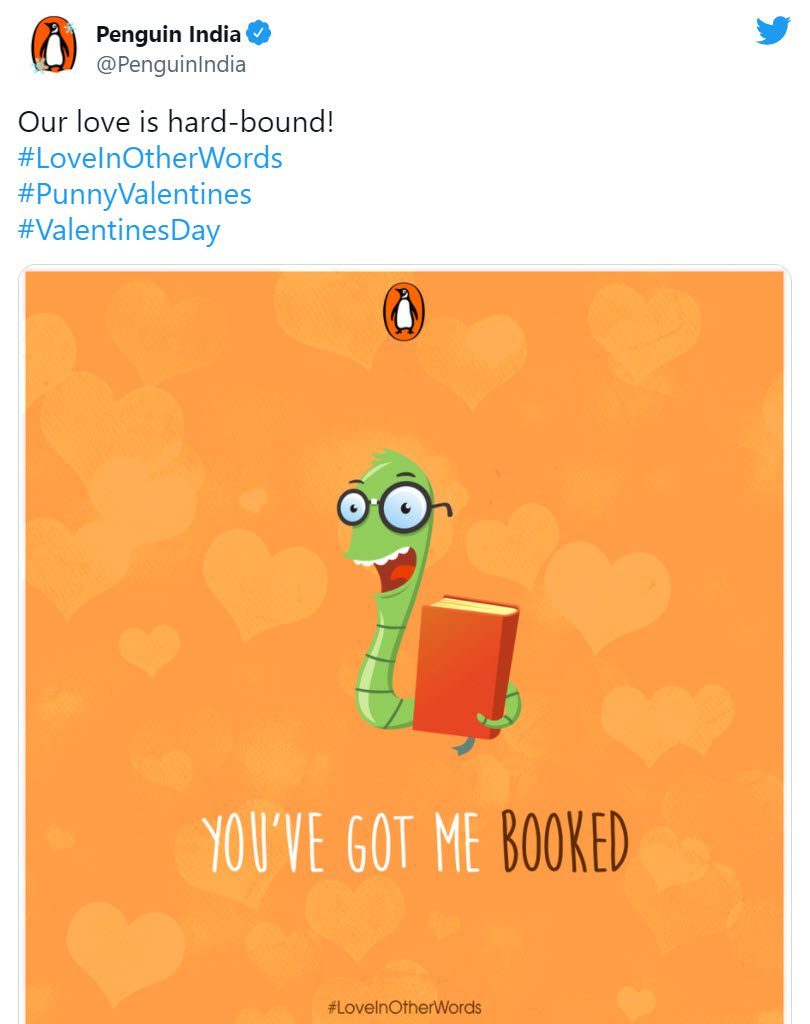 Rely on Email Marketing
This Valentine's Day marketing campaign aims to go big with the sales, right? The duration of your newsletter campaign is determined by this goal and the time it takes to deliver your goods.
Unless your delivery takes longer, we discovered that launching your campaign six to seven days before February 14 is the optimal time.
Valentine's Day newsletters are a great way to surprise and excite your subscribers by sending a unique email. Include a romantic or hilarious film, a cute animated GIF, a surprise inside a Gift Box, or Scratch Card. It will elicit a good response from subscribers, encouraging them to click on the call-to-action button.
Here's an example from Postable and a fraction of their Valentine's Day newsletter: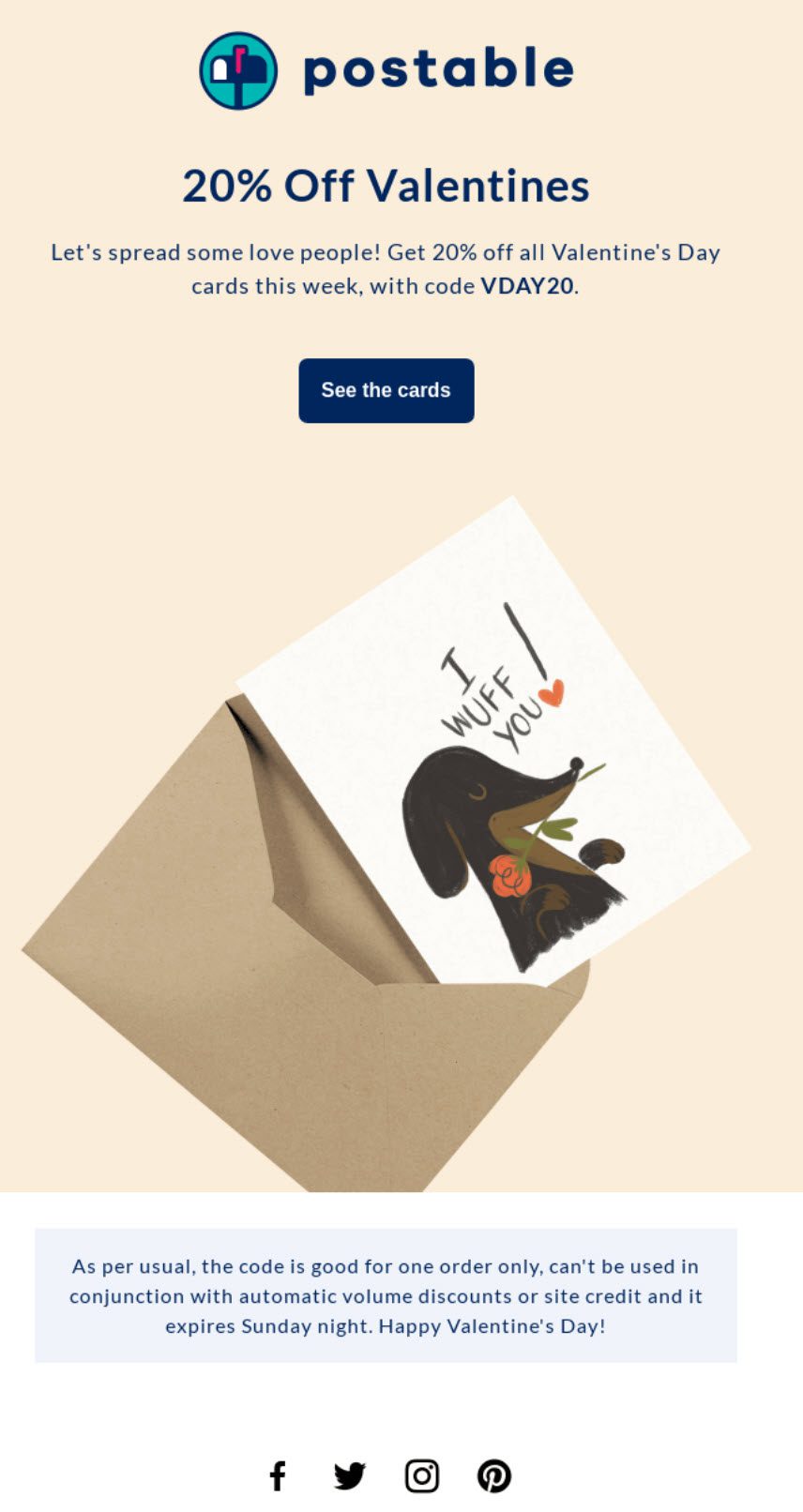 Consider using a color other than red in your newsletter typography. Consider how many emails will be highlighted in red. Your goal should be to stand out! Then choose a variety of colors for your email campaign! Use catchy headlines, cheerful faces, and other elements to build romance and increase clicks.
Spread The Love Through Loyalty Programs
By making simple tweaks to your loyalty program to meet the currently targeted holiday, you may make the most of Valentine's Day or other non-federal holidays. The holidays are perfect for trying out a new campaign or promoting your rewards and loyalty program.
Customers who have visited your business several times but need a little extra encouragement to join your loyalty program could be offered different rewards points or bonuses. For example, adding a new Valentine's Day reward to your loyalty program could be all it takes to attract a few more customers and deepen your brand's engagement with them.
Just like Fitbit did: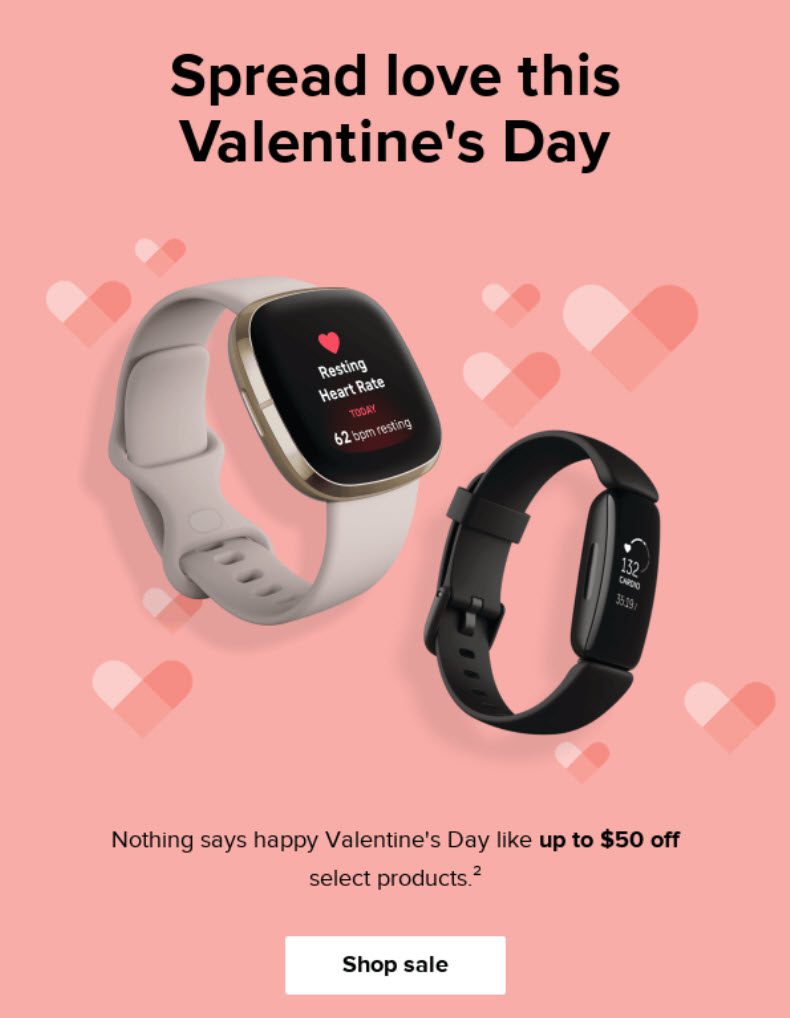 Offer an exceptional holiday bargain to entice shoppers. For example, you could run your promotion for the week leading up to Valentine's Day or simply for the weekend of Valentine's Day. You can also give your loyalty program members a unique Valentine's Day prize!
Promote Season-Relevant Products
Valentine's Day gifts differ from Christmas or birthday gifts by their very nature. After all, Valentine's Day is all about love, hearts, and glitter, which aren't necessarily associated with other holidays.
That being said, it is a great time to showcase such products as gift ideas if you sell items with that theme. For example, take a look at this email from Cotton Bureau, which is promoting its Valentine's Day heart print t-shirts:
Or, take a look at Etsy's V Day-related product categories, such as this couple's name print: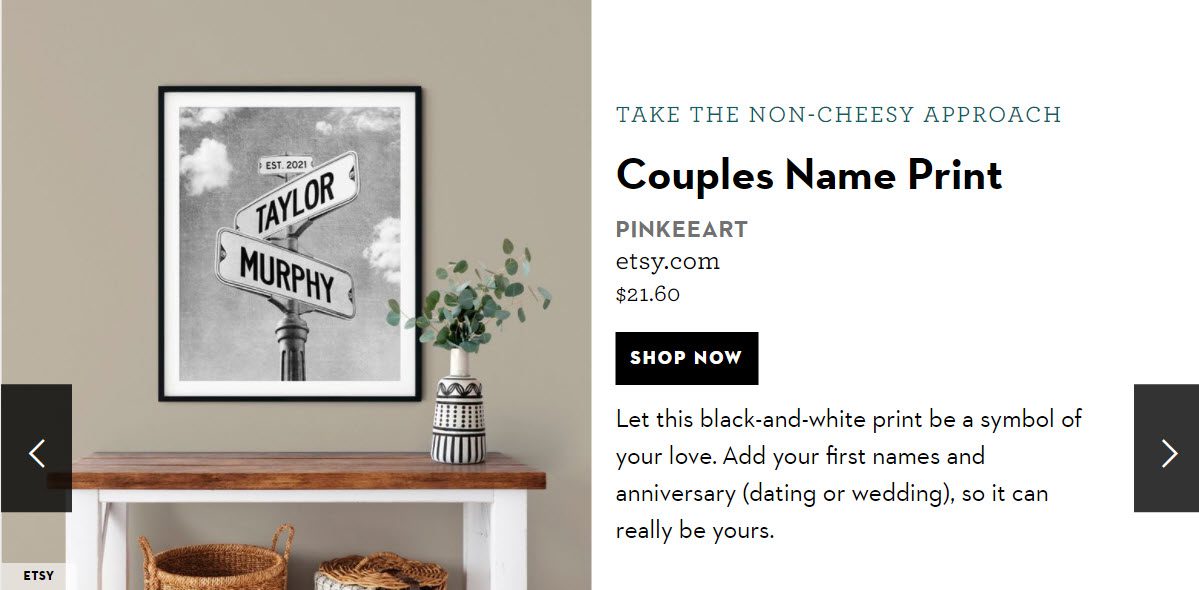 It's critical to develop a design that may be used for personalization and is appropriate for the Valentine's Day season. However, even if you don't have this type of business, you must remain open to new ideas and invest in something that will capture the attention of your visitors.
Offer Gift Bundles
There has never been a better moment to advise prospects with relevant and helpful gift guides in the days running up to Valentine's Day. You can help prospects make smarter buying decisions and suggest your products in the form of emails, popups, or landing pages.
Here's an example from Sugarfina: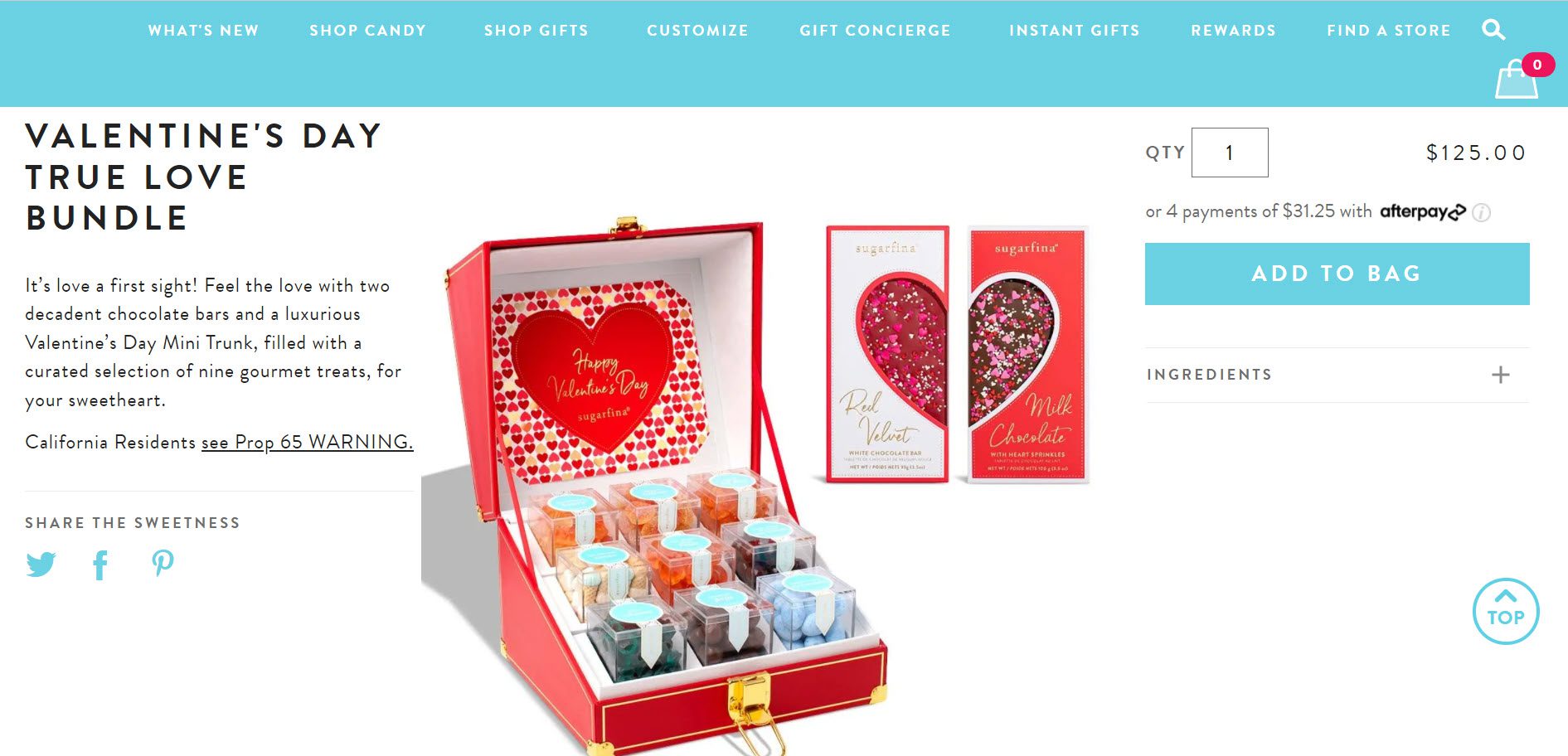 You can stick to gender-based categories or delve deeper into personality and interests, as Huckberry does: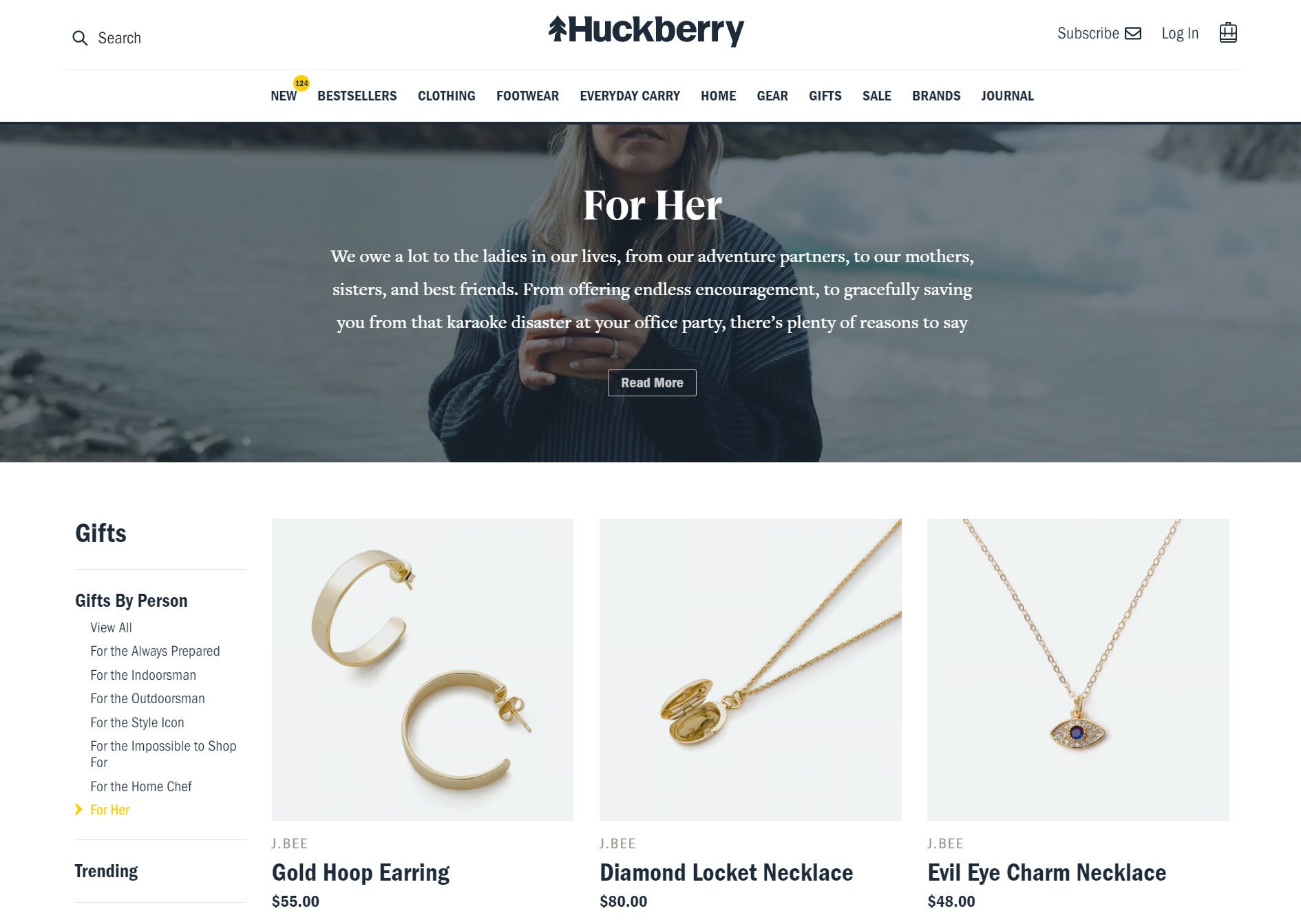 Or, here's an example from Man Crates:

The ability to label product categories such as 'For Her' or 'For Him' is a game-changer. This approach allows the company's content to be easily skimmed. For example, if your Valentine is an adventurer, you can start browsing from this category immediately.
Create a Sense of Urgency
The fear of missing out (FOMO) is a highly effective technique for instilling a strong sense of urgency. You can use FOMO to your advantage by telling the prospect how many products are currently in stock or how many spots are available at your exclusive event.
Using scarcity in conjunction with a countdown timer is an excellent way to create urgency in last-minute buyers. The key is to do so without making people feel bad about themselves.
Here's an example from La Perla: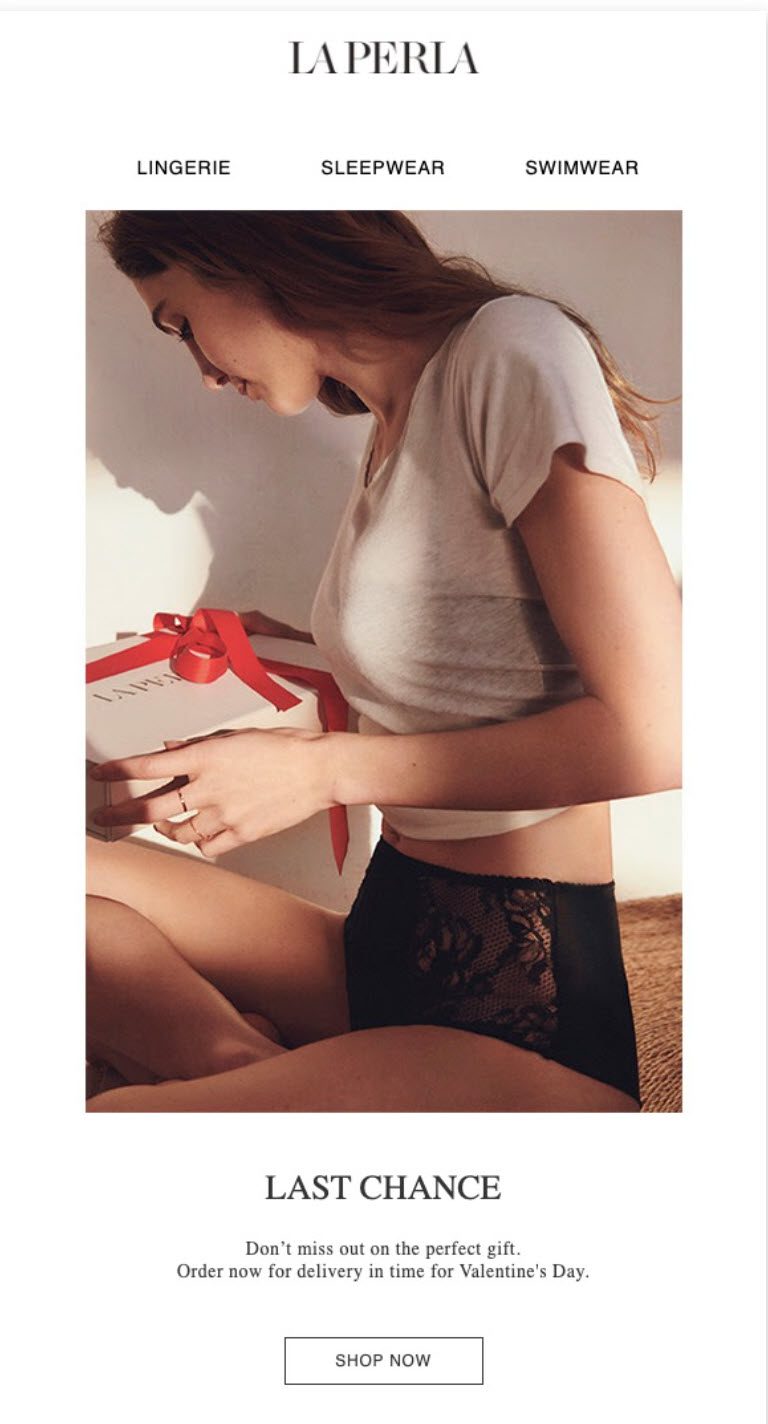 When combined with a sense of scarcity, a good marketing campaign will activate the prospect's loss aversion instinct, making it irresistible for them to complete their purchase from you as soon as possible.
Try warmer typography and design colors. Marketers use specific colors to create a sense of urgency. For example, Hubspot's A/B testing revealed that warm colors like red, yellow, and orange convert better than cold colors like green and blue. Warm colors like red are perceived as signs of danger, importance, and action. These colors are eye-catching and help to convey a sense of urgency.
Think of Those Who Are Single Too
For decades, Valentine's Day has burnt-out marketers with the sweet relief of a ready-to-go campaign: a few animated hearts, a flirty pink font, and sultry copy tug on heartstrings (and guilty consciences) until sweethearts all over the world rush out to buy overpriced cards and chocolates.
However, a new facet of the Valentine's Day marketing cycle has emerged in recent years: rebellious taglines and "treat yourself" campaigns aimed squarely at single people, encouraging them to forego tradition and celebrate themselves on the international day of love.
And let's be honest, Valentine's Day can be a pretty divisive holiday. If you don't like this time of year, whether you're single or just a cynic, the last thing you want to see is an inbox full of hearts and messages about love.
However, brands can deliver email campaigns celebrating a single life using the right tone and style. Here's an example from Starbucks and Match that helps bring customers together!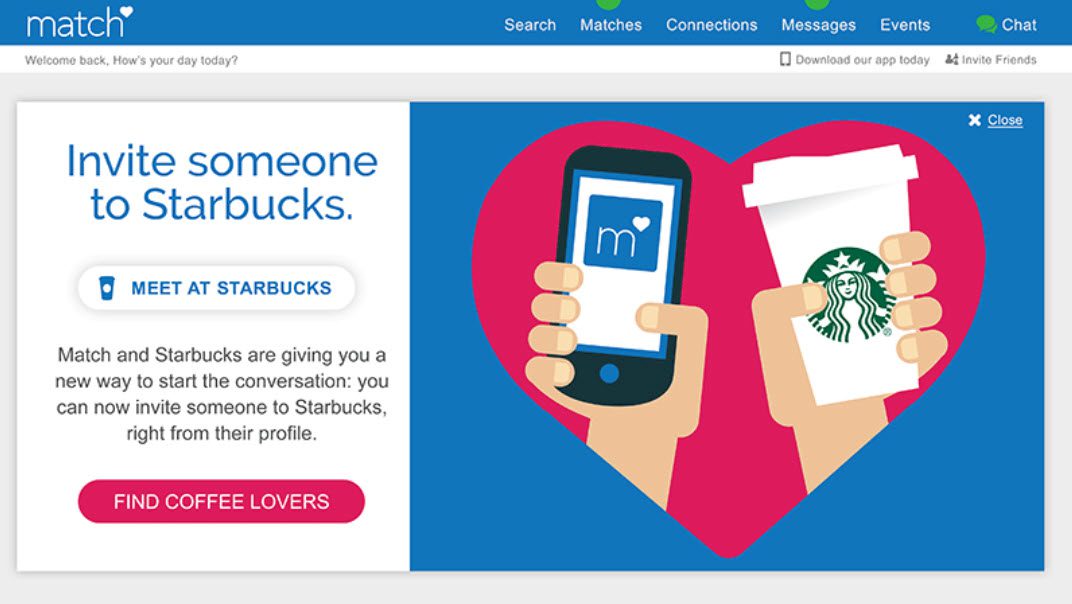 Final Thoughts
Give these tactics a shot if you're looking for last-minute Valentine's Day email ideas or a high-commitment, out-of-the-box holiday marketing strategy.
Remember, Valentine's Day is about love, but it isn't just for couples. Consumers adore their friends, children, pets, and themselves, providing ample opportunity for brands to use the power of emotions to connect with customers regardless of their relationship status.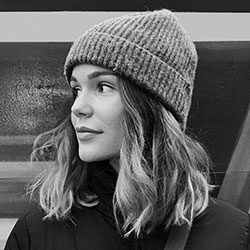 Gabriella is a Digital Content Writer and Marketer with a zeal for all things WordPress. When she's not researching and drafting the upcoming articles, you can find her in the open air exploring the outdoors with her dog.